Accept Stripe Payments vs Paymattic | Which One is the Best WordPress Payment Plugin?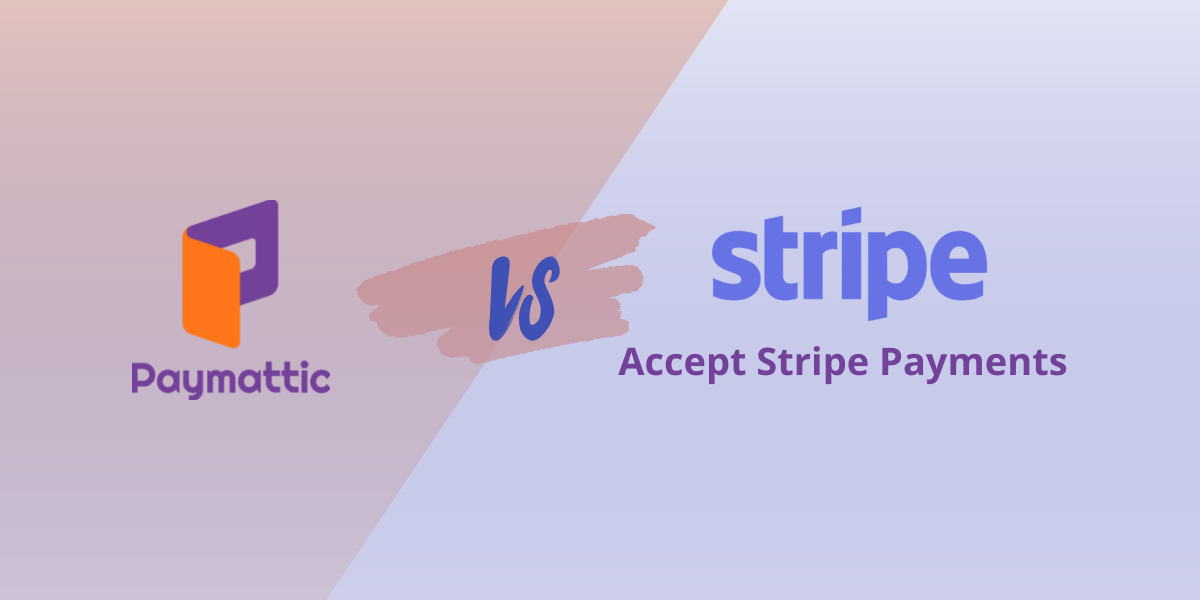 It's the era of bits and bytes and almost all businesses are racing for online payment solutions to make their revenue basket bigger!
So, if you are serious about the business and do not want to leave money on the table, you should start taking online payments with no delays.
But how?
In WordPress, it's just a matter of a few clicks! You can take online payments through your website easily by using a WordPress payment plugin. Accept Stripe Payments and Paymattic are the two very popular payment plugins for WordPress. Today we will talk about Accept Stripe Payments vs Paymattic to help you decide which one is the best WordPress payment plugin.
Paymattic is an excellent WordPress payment and donation plugin for online payments. You can build payment forms in minutes to collect funds from your customers.
It gives all of your forms a polished appearance and smooth functionality. With this popular payment form builder plugin, you can also integrate payment gateways such as PayPal, Stripe, Payrexx, Billplz, Square, Mollie, Razorpay, Paystack, and SSLCOMMERZ.
If your website offers subscriptions for any service you can also collect subscription payments with this amazing WordPress payment plugin. On top of that, you can integrate User Registration, Mailchimp, ActiveCampaign, FluentCRM, Fluent Support, LearnDash, LifterLMS, TutorLMS, Twilio, Telegram, Webhooks, Slack, and Zapier with your payment form using Paymattic.
Some of the key payment features of Paymattic include:
Subscription payment
Simple one-time payment
9 payment gateways
Coupon codes
Payment history
Payment summary
Email notifications
SMS notifications
70 pre-built form templates
This Stripe payments plugin makes it simple to accept credit card payments on your WordPress website via the Stripe payment gateway.
It has a simple shortcode that allows you to place Stripe payment buttons for a product or service anywhere on your website. You can also accept payments through Stripe with this plugin.
This plugin is straightforward to set up. You are just required to install the plugin and set your Stripe API credentials. Your website will be ready to accept credit or debit card payments through Stripe.
Accept Stripe Payments vs Paymattic – 6 core differences
Though both of the plugins can fulfill your requirement for online payment collection still, there are some differences that make them unique. Let's unpack the key facts about Accept Stripe Payments vs Paymattic in this blog.
Custom form fields
The Paymattic WordPress payment plugin has 35+ form field choices. To add these fields to your donation form, simply click on them or use drag & drop. It's nice to know that these fields are completely editable to suit your needs. You'll also find several unique features, such as a subscription payment field, hidden input field, and address field among others.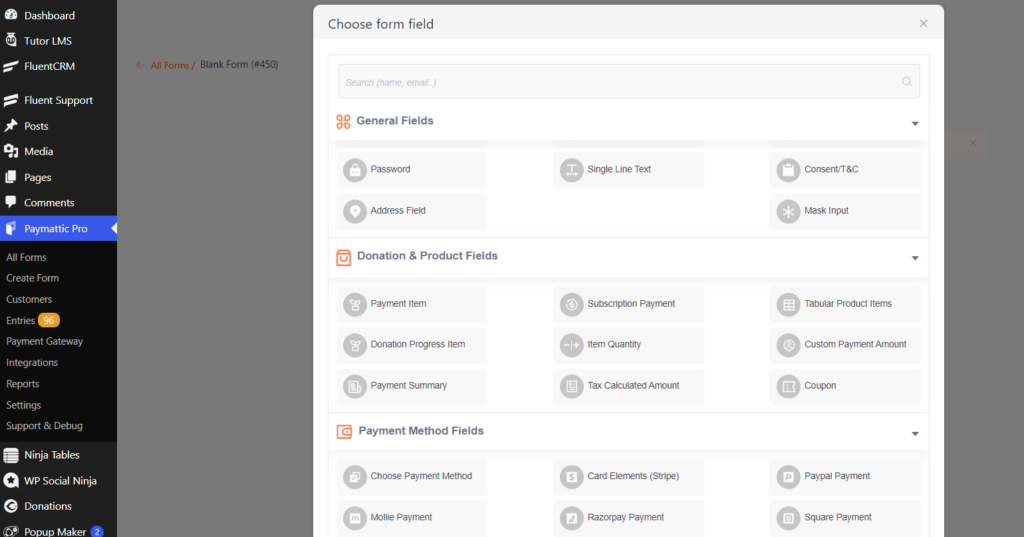 The main feature of Accept Stripe Payment WordPress plugin is that it adds a "Buy Now" button on your webpage rather than creating a payment form. You have to purchase an additional custom field add-on to add fields during checkout.
Payment gateways
Paymattic currently supports 9 different payment methods for receiving payments from your website. With the Paymattic WordPress payment plugin, you may use the Stripe payment gateway for free. Moreover, with the premium edition of the plugin, you can now use other major payment gateways. The premium payment gateways include PayPal, Payrexx, Billplz, Square, Razorpay, and many more.
The Accept Stripe Payment plugin supports only the Stripe payment gateway without any add-on. You have to open a Stripe merchant account to receive funds with this plugin. To use other payment gateways you have to purchase additional add-ons for each type of payment gateway provider which is much more costly than Paymattic.
Form templates
Pre-built form templates allow you to quickly design beautiful forms. Paymattic has now 70 pre-built form templates that you can edit to match your specific requirements. In the Advance Editor options online donation forms, payment forms, product purchase forms, restaurant order forms, hotel booking forms, taxi booking forms, and other types of forms all are available as templates. You can find donation templates in the Simple Form Templates option.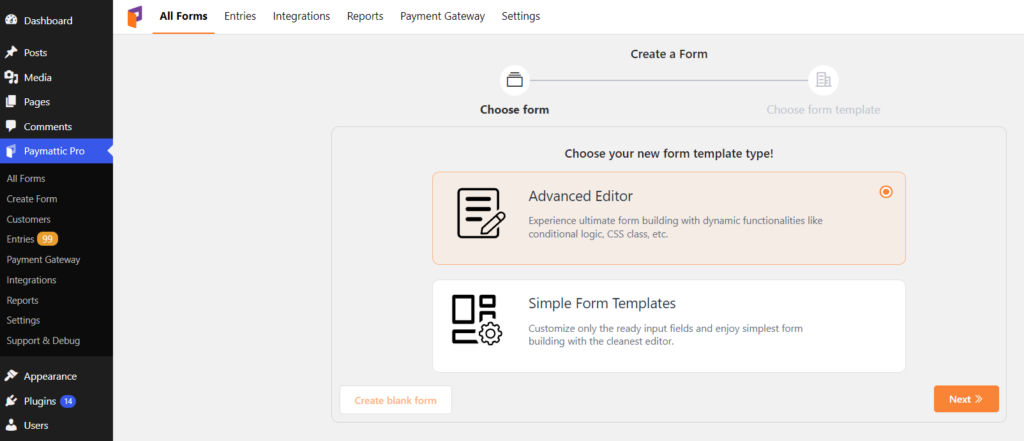 On the other hand, the Accept Stripe Payment plugin does not include any form templates. So, if you are in search of a plugin that can swiftly create payment forms, Paymattic is the best option.
Check out best WordPress ready-to-use payment form templates.
Integrations
The Paymattic WordPress fundraising plugin has advanced integration capabilities. FluentCRM, Fluent Support, LearnDash, LifterLMS, TutorLMS, Mailchimp, Google Sheets, ActiveCampaign, Twilio, Telegram, Slack, and Zapier are all compatible with the plugin. It's remarkable that all of those platforms can be integrated into your form with only a single site license. Moreover, you can add even more dimensions with the Zapier module.
The Accept Stripe Payment supports Mailchimp, Google Analytics, AWeber, and some other platforms with premium add-ons. If you need to collect information from customers while they fill out the form and connect it to various platforms, Paymattic is the most effective WordPress plugin available.
Import-export
The Paymattic WordPress donation plugin's form import-export feature allows you to move your forms from one site to another without having to start over. It's a brilliant feature that made Paymattic payment plugin really worthwhile. You can download a form to your device in JSON format using this plugin. You can also export all form entries in JSON, ODS, Excel and CSV format.
The Accept Stripe Payment plugin does not come with any import-export option. So, if you want to use the same form for multiple websites without creating from scratch, you should try Paymattic.
Currency
If you wish to collect payments from beyond the border, multi-currency is a must-have feature of any payment plugin. Paymattic presently supports 135+ currencies and does not charge users any fees. The wide range of currency choices made this plugin accessible to global users.
The Accept Stripe Payment WordPress plugin supports only 43 currencies. Such limitation in currency support is a major roadblock for any website that wishes to accept payments from people all around the world. So, if currency choices are essential for your website, you may rely on the Paymattic plugin blindly.
Pricing
At this point, you must be thinking of affordability. The best part of Paymattic WordPress plugin is that it fits your budget. The personal license starts from only $59 annually. You can upgrade to an agency or unlimited license for $129 or $299, respectively. This plugin also offers lifetime license, which ranges between $249 and $699 based on the site usage.
Accept Stripe Payments WordPress plugin offers add-ons to use its premium feature. Each add-on will cost you $39.95 annually for a single site. You can purchase a license for 5 sites at $60 and for 10 sites at $120. So, in terms of pricing, Paymattic is the most affordable than any other plugin in the market.
Accept Stripe Payments vs Paymattic: Comparison table
Product fields
Payment method fields
General fields
Final thoughts
Finally, it's time to pick one payment plugin for your WordPress fundraising website. After comparing Accept Stripe Payments vs Paymattic I suggest you try the Paymattic plugin for a mind-blowing experience.
We always strive to make our products better for you. Let us know your feedback in the comment section after using the Paymattic plugin. Feel free to suggest any improvement for our product.