12 Ready to Use WordPress Payment Form Templates [2023]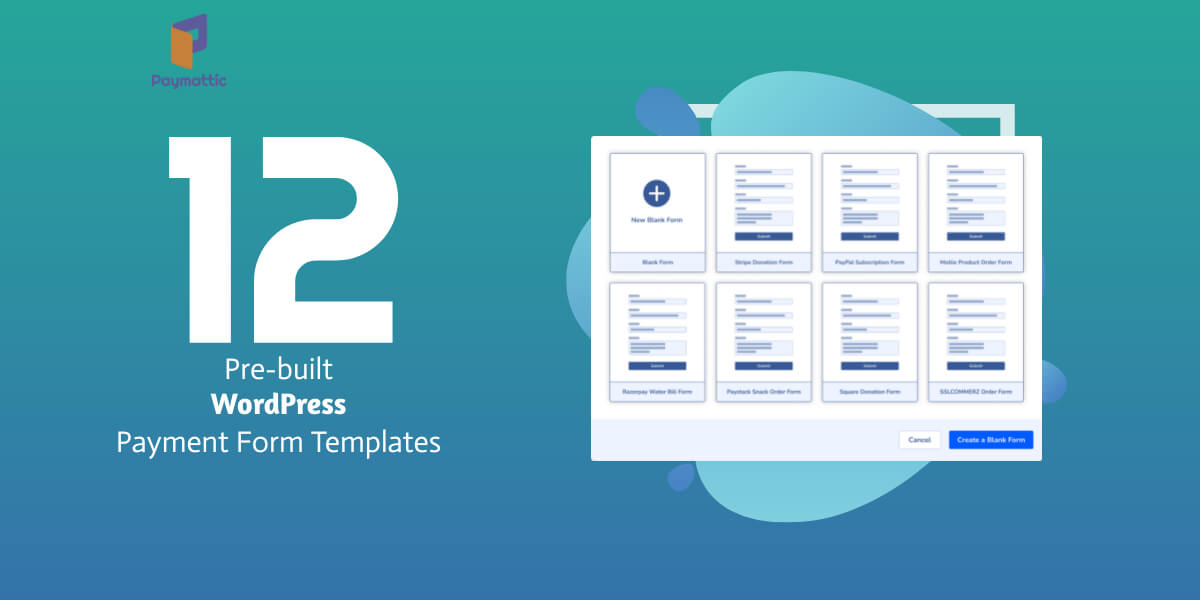 Isn't it awesome if you can collect online payments with ready-to-use payment form templates in WordPress? It's really amazing! You do not need to worry anymore about building a form from scratch. With the Paymattic WordPress payment plugin, you can get 70 ready-to-use payment form templates for WordPress sites.
Add these beautifully designed payment forms to your website and accept online payments in minutes. First, choose an online payment form template based on your business needs. Then, easily customize the form with the magical form fields. Let's explore some of the popular WordPress payment form templates below.
Ready to get started?
Experience WordPress payment and donation like never before. Try Paymattic now!
1. Shopping cart form with multiple payment gateways
The ready-to-use shopping cart form allows you to sell products and display them in tabular formats. This form is a step form that users find easy to navigate through various steps during their shopping experience. You can add multiple payment gateways with this form such as Stripe, PayPal, Mollie, Razorpay, Billplz, Square, Paystack, Payrexx, SSLCOMMERZ and let your customers pay with a variety of payment options.
You can add products, write product descriptions, set prices, upload images, add product categories and do many more with this amazing shopping cart form. All you need to do is simply download the demo form and import it into your WordPress website.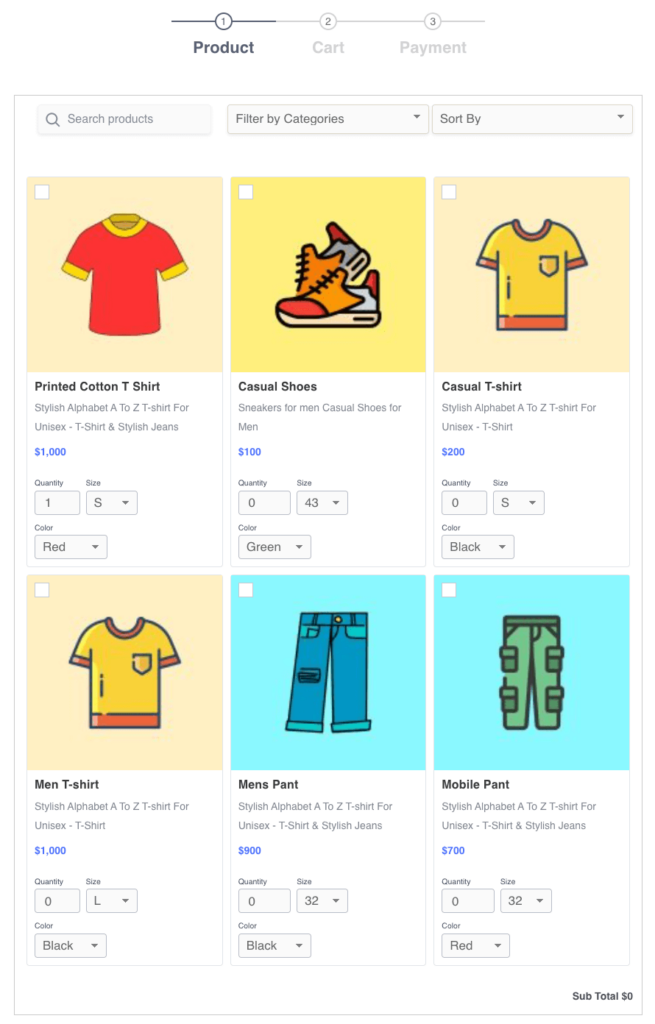 2. Furniture shopping cart form with multiple payment gateways
The furniture shopping cart form is a demo form to sell furniture or any physical goods. You can filter and add various categories and search for products. This form is fully customizable as per your needs. You can place images and texts on the form using HTML markup.
Besides, you can edit product images, descriptions, titles, pricing and many more. The best part of every form in Paymattic is flexible payment options. You can add 9 payment gateways with this form so that users can select any payment gateway to pay with. Simply download the demo form and import it into your WordPress website.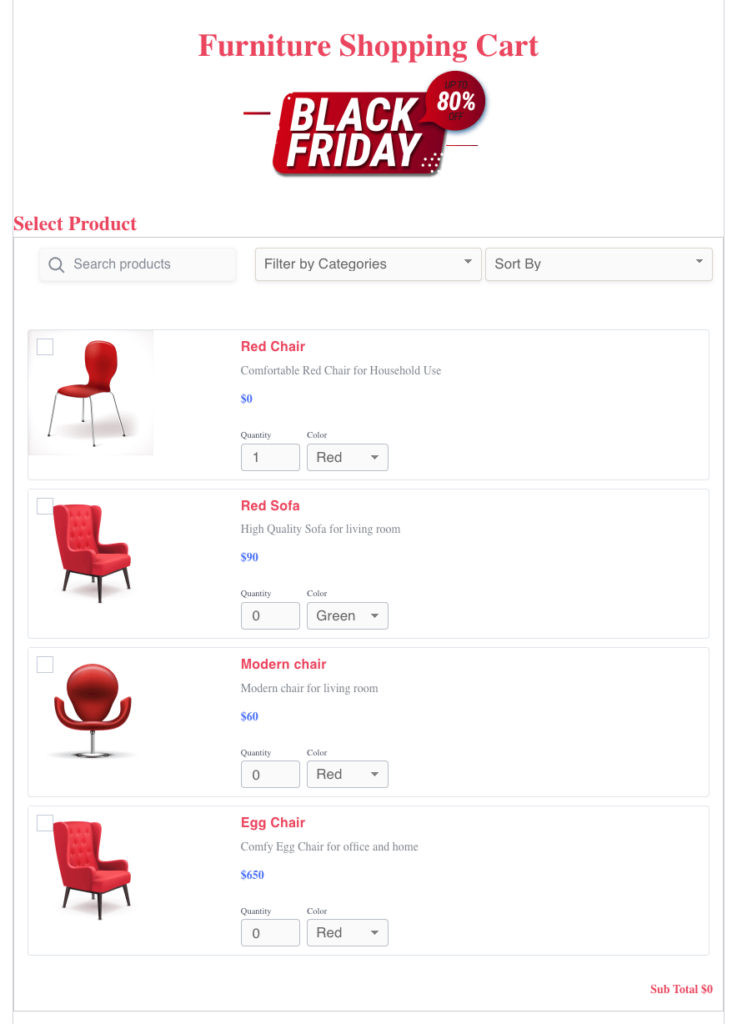 3. Product Purchase Order Form with PayPal
This online form template helps you to take automated purchase orders from your customers. It can be used by distributors, wholesalers, or manufacturers to process orders directly from customers. You can add your business logo or company information along with this form using the HTML Markup field.
This WordPress payment form template displays products in a list with fixed price and quantity fields. You can take payments through the PayPal payment gateway using this template. You can also integrate it with powerful apps such as FluentCRM, Mailchimp, ActiveCampaign, Google Sheets, Twilio, Telegram, Slack, Zapier and more.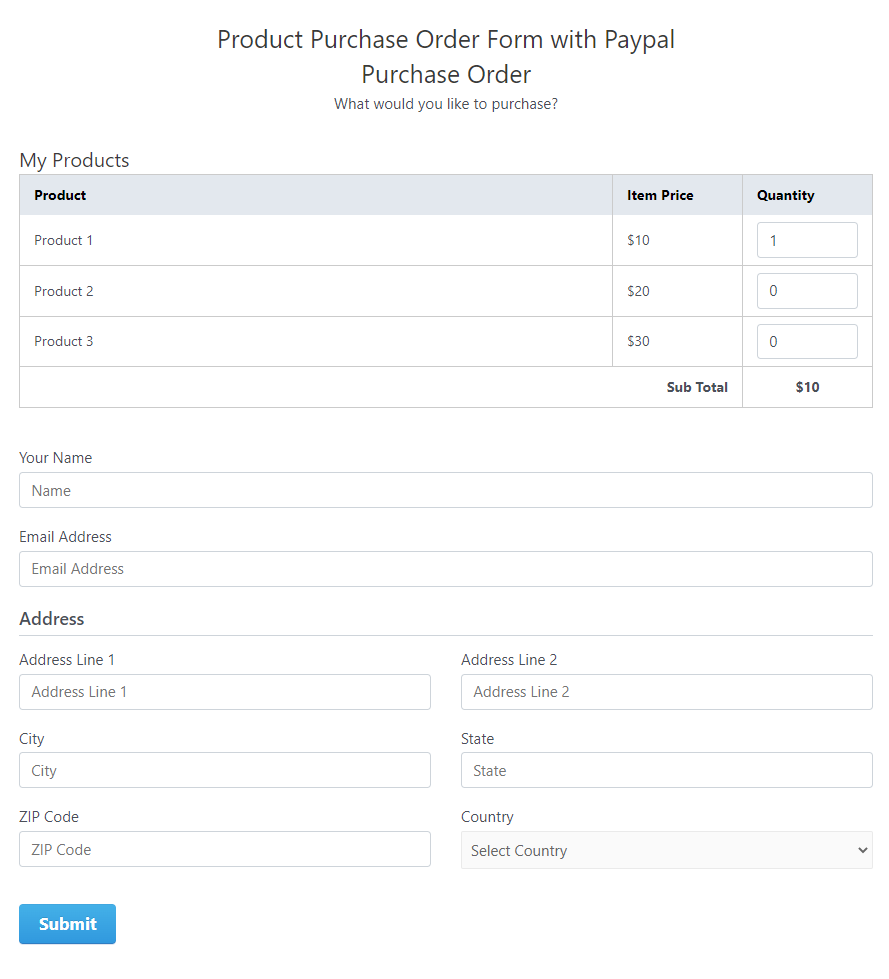 4. Tabular Product Order Form with Stripe
This classic WordPress Stripe payment form template lets you sell products or services online without having any e-commerce website. It smartly displays the product image with description and price information right in the form.
No matter which industry you belong to, you can use this form to receive website payments instantly with the Stripe payment gateway. With the smooth form editor option, you can easily customize any fields to add more products and price information.
The embedded checkout option by Stripe lets your customer make digital payments without having to leave the form. Additionally, with the drag-and-drop form builder, you can customize the form to match your business need perfectly.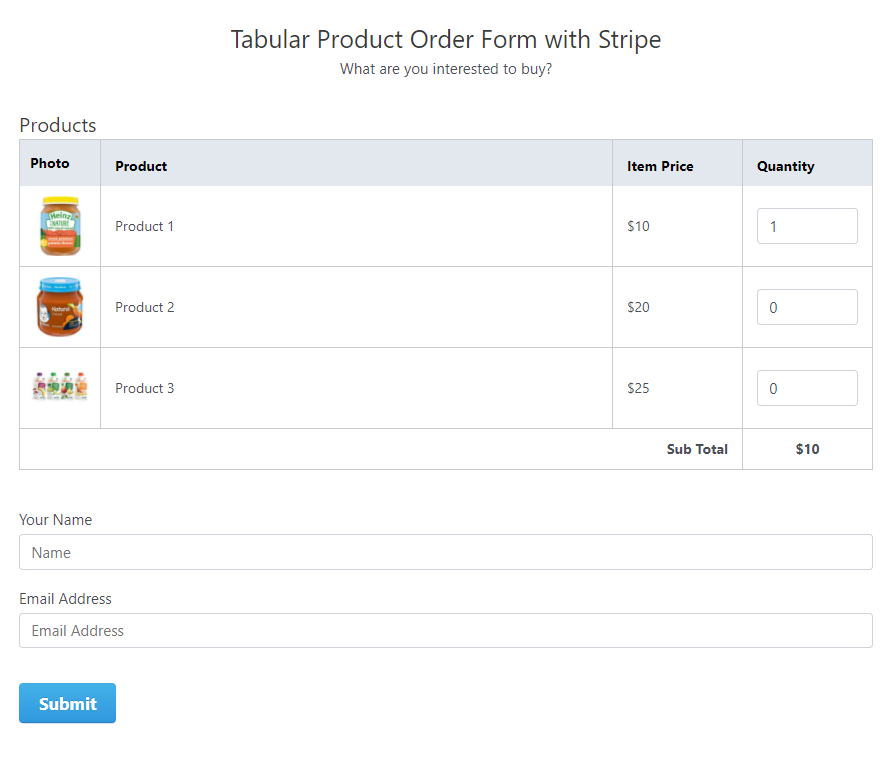 5. Product Pre-Order Form with Mollie
If you are planning to take pre-orders for your upcoming product, then this form template is a perfect choice. You can readily collect a customer's name, contact number, shipping address, preferred model, and quantity with this form.
This form comes with the Mollie payment gateway. However, you can add other popular payment gateways as well such as Stripe, PayPal, Square, Billplz, Payrexx, Paystack, Razorpay, and SSLCOMMERZ. If you want to collect payment through direct bank transfer or cheque then set payment instructions using the Offline payment method option.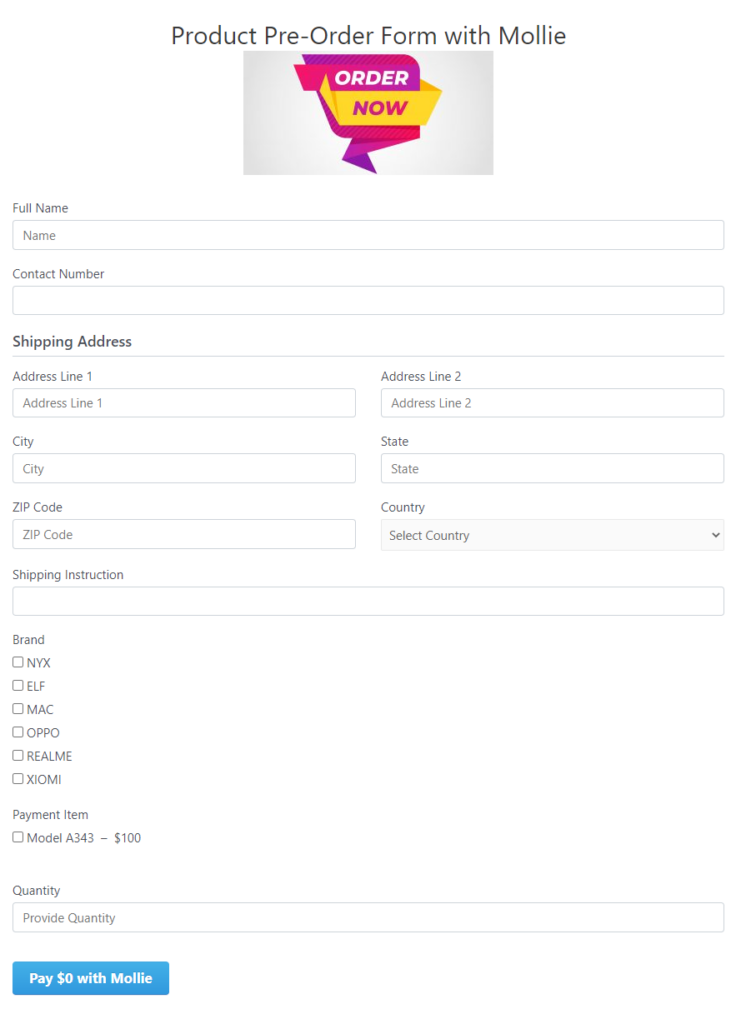 6. Customer Bill Pay Form with Razorpay
This is a great WordPress payment form template, especially for service providers. Collect bills from your customers instantly with the Razorpay payment gateway.
You can use this form for your businesses to collect information from clients who pay their bills through your website. Customers can provide their invoice number and pay a custom amount in this form.
Simply customize the form as you like and share the link of the form with your customers. They can easily submit information and pay the bills without having any trouble. You can view payment history from your WordPress dashboard even when you are not at your desk.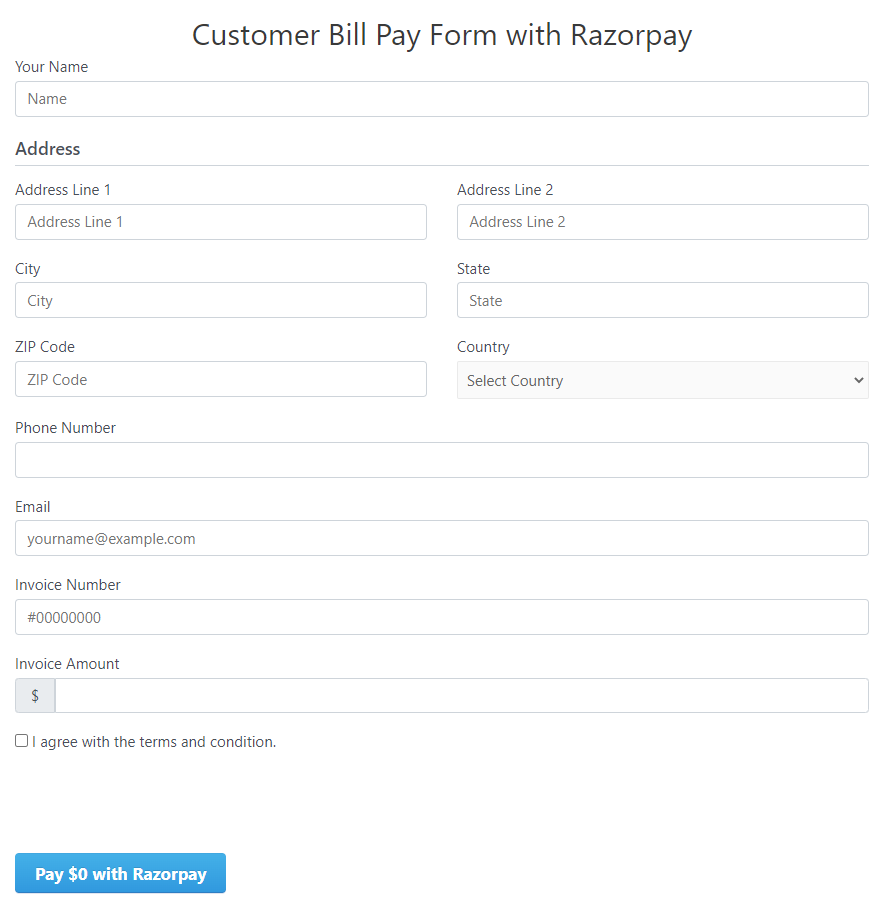 7. Hotel Booking Form with Square
Take the booking and manage reservations on your hotel's website with this hotel booking form template. Streamline your booking process with this ready-to-use WordPress form template integrated with the Square payment gateway.
This form can collect the guest information as well as display a room type selection field. It automatically generates payment amounts based on selected room types. You can also take check-in date, pickup details, flight number, and special booking instructions with this form.
So, simply publish the form on your website and start taking bookings for your hotel.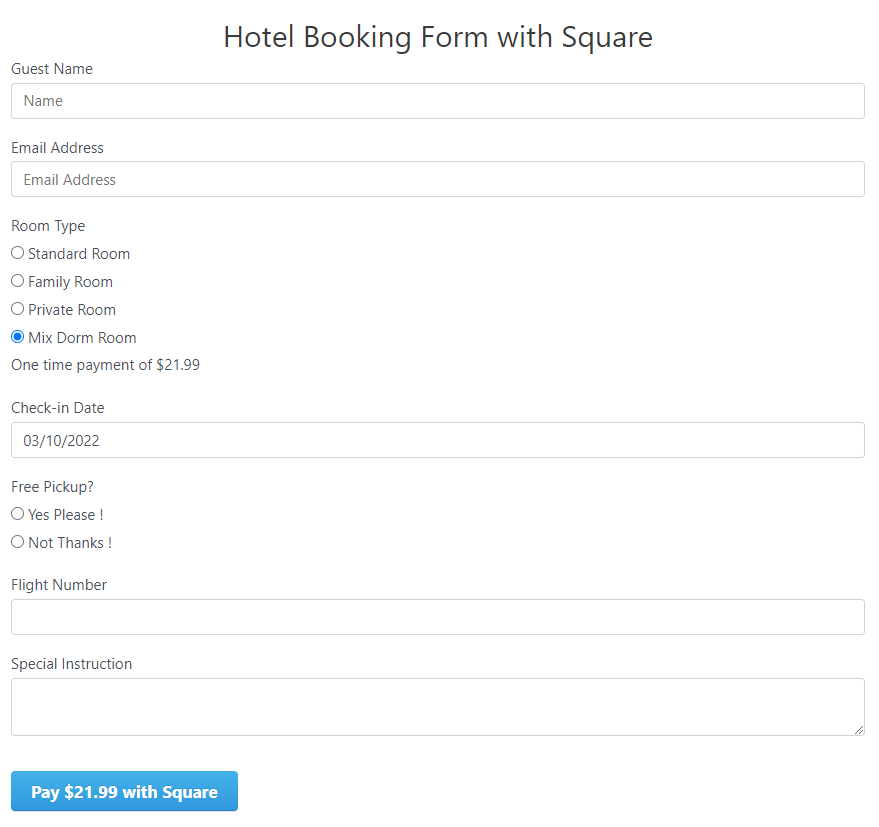 8. Restaurant Order Form with Paystack
This template is helpful for taking food orders for your restaurant business. You can add as many options in the menu as you want with this WordPress order form for restaurants.
This form cleverly shows images of food items along with the price. Also, you can take customer information, delivery address, or pickup details with the restaurant form. You can view and manage all submitted orders straight from your WordPress dashboard. Additionally, the comment field lets your customers mention any special instructions about the order.
The best part is, that it automatically calculates the total amount for the order and you can receive it through Paystack.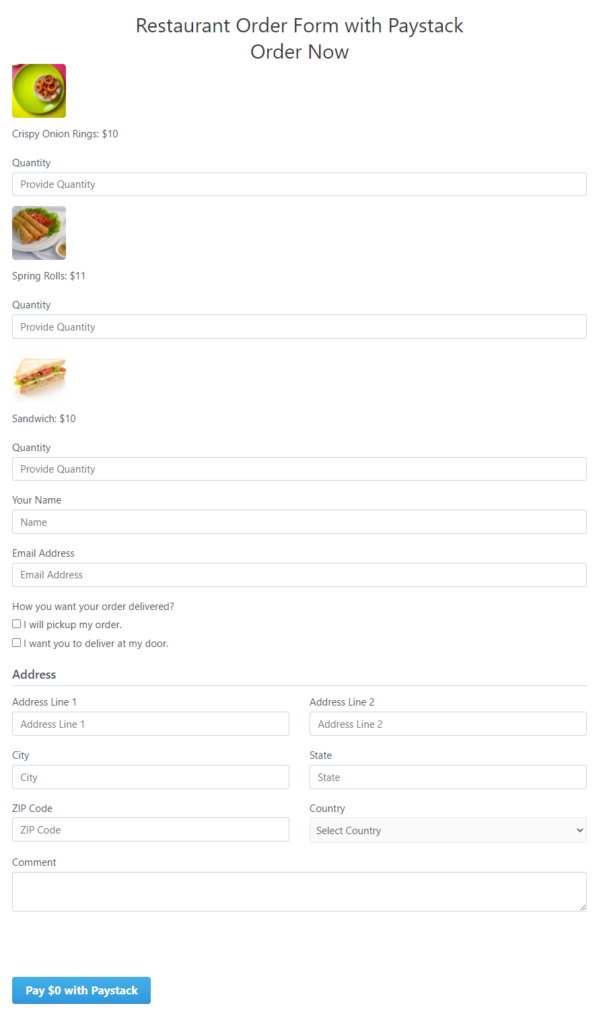 9. School Fee Payment Form with Payrexx
If you are running a school, college, or any educational institution this payment form template is exactly what you need. You can collect school fees from parents who want to enroll their children. You can also use this template as a WordPress registration form with payments option. Cool, right?
This school fee payment form includes all the appropriate input fields that ask for student information, guardian contact details, payment item section, and many more. There is also a checkbox available with the form for the terms and conditions field.
Though this form collects payments with Payrexx, you can customize it as per your need. You can add several WordPress payment methods such as Stripe, PayPal, Square, Billplz, Mollie, Razorpay, Paystack, and many other secured payment gateways with this form.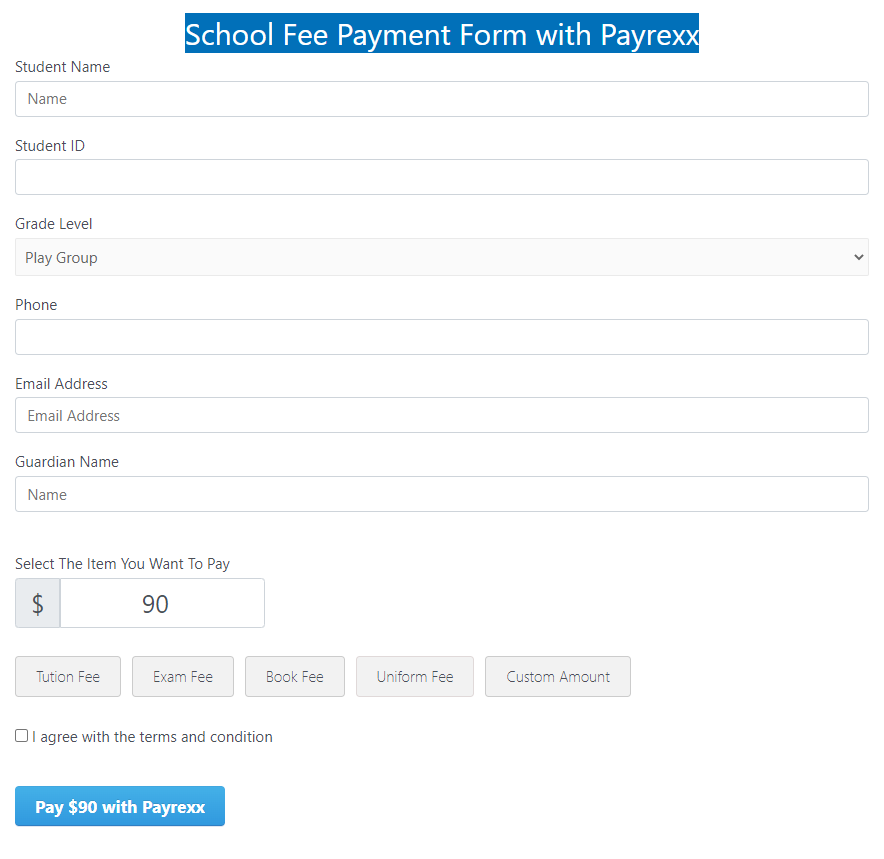 10. Multiple-choice Subscription Form with SSLCOMMERZ
This multiple-choice subscription form allows you to accept regular payment at a scheduled time automatically. It comes with a list of subscription plans with a trial period option. The payment button is completely customizable with dynamic tags. You can mention the total amount in the button label as well.
If you are selling a service and it requires collecting a subscription fee then the subscription form is the perfect solution for you. You will get the SSLCOMMERZ payment gateway with this form. However, you can change it if you like to use another payment gateway.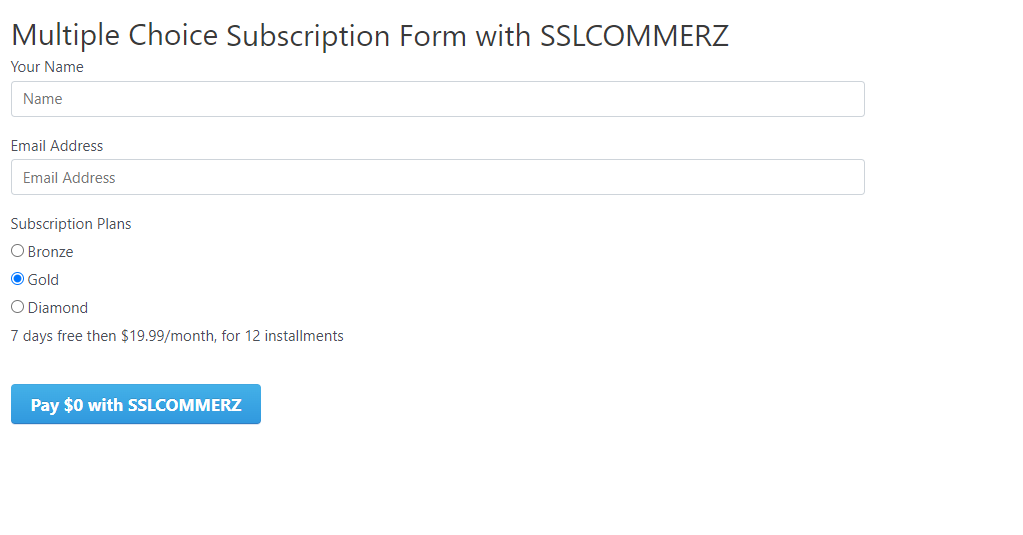 11. Rental Payment Form with Offline Payment
Landlords and leasing agencies use a rental payment form to keep track of rent payments from their tenants. You can track and manage rental payments online with this free Rental Payment Form! Simply send the form to your tenants to fill out on any device, or fill it out yourself to keep track of cash, cheque, and money order payments.
This form includes several fields asking for tenant name, email, address, rent amount, date of payment, and mode of payment. It uses an offline payment method so that you can easily specify bank details and offline payment instructions to your tenants.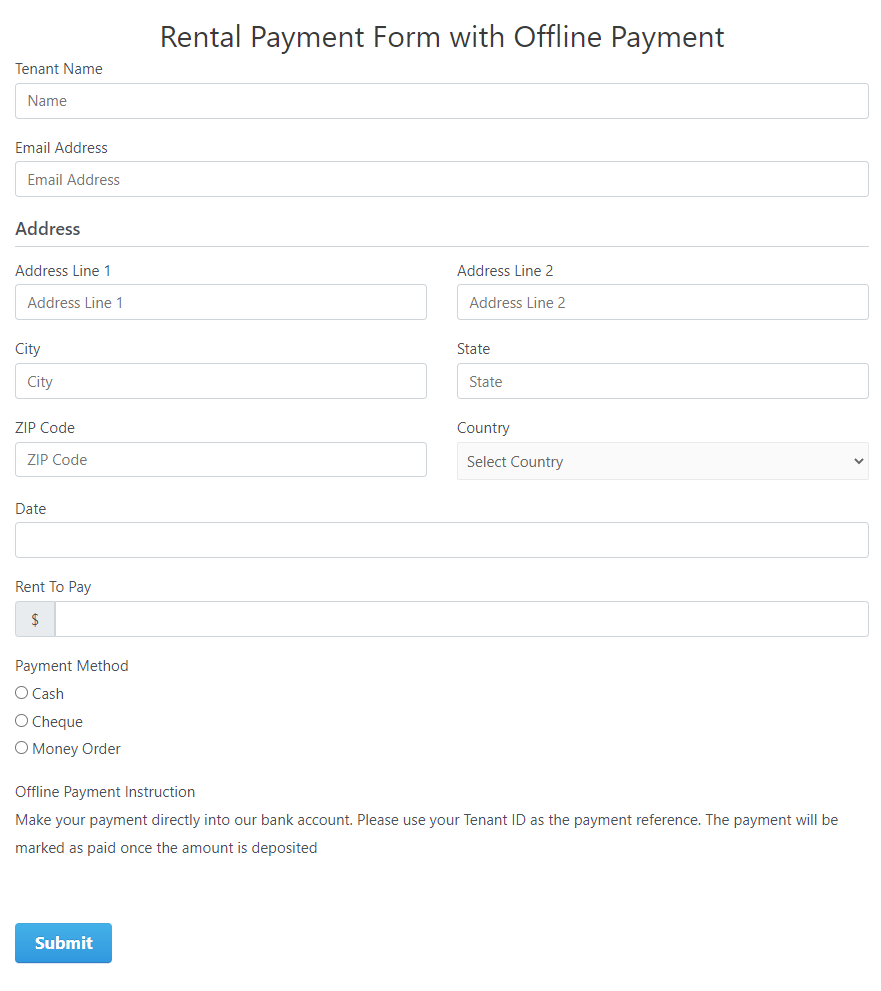 12. Taxi Booking Form with Multiple Payment Gateways
This basic and easy-to-use taxi booking form template allows you to provide an online taxi booking service to your customers. This form collects passengers' details along with pickup and destination addresses. It also provides options to choose different price ranges based on distance.
The unique feature of this template is it supports multiple secured payment gateways. Customers can select any of the payment gateways while submitting the form. On top of that, this form is fully customizable to meet your business goal.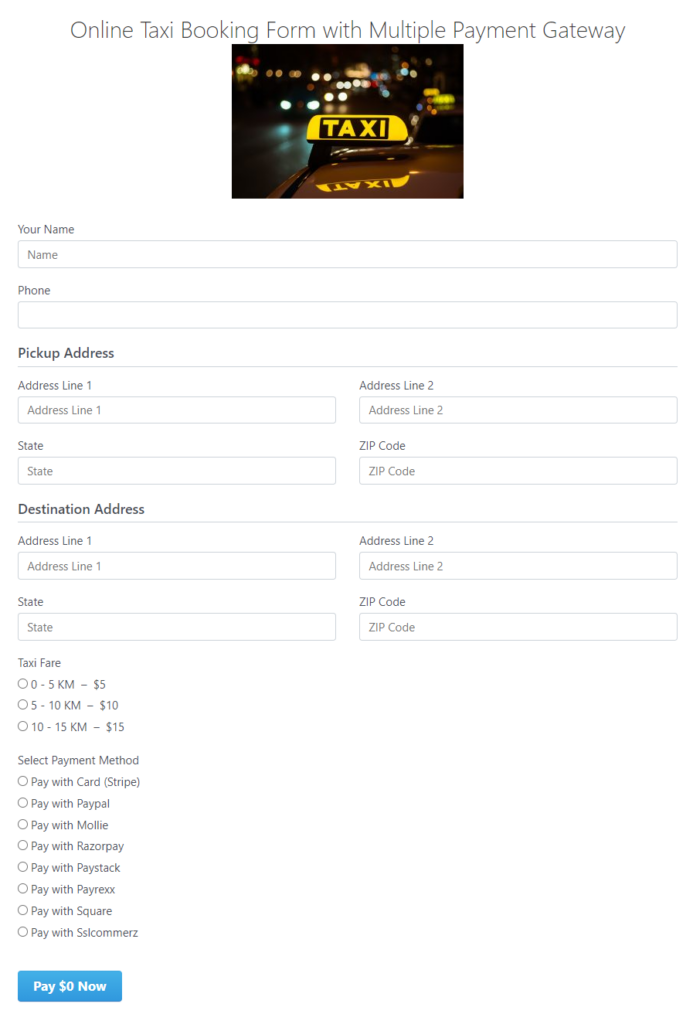 How to use the payment form templates in WordPress
To use the forms you need to install and activate the Paymattic WordPress plugin on your website.
First, Go to Plugins> Add New from your WordPress dashboard.
Search for the Paymattic plugin and click on the Install button.
After installing, you can view the Activate button.
Click on the Activate button to activate the plugin.
Once you are done activating the plugin go to Paymattic > All Forms.
Then, click on Add New Form from the top right corner.
Select Advanced Editor and click on Selelct from demo button.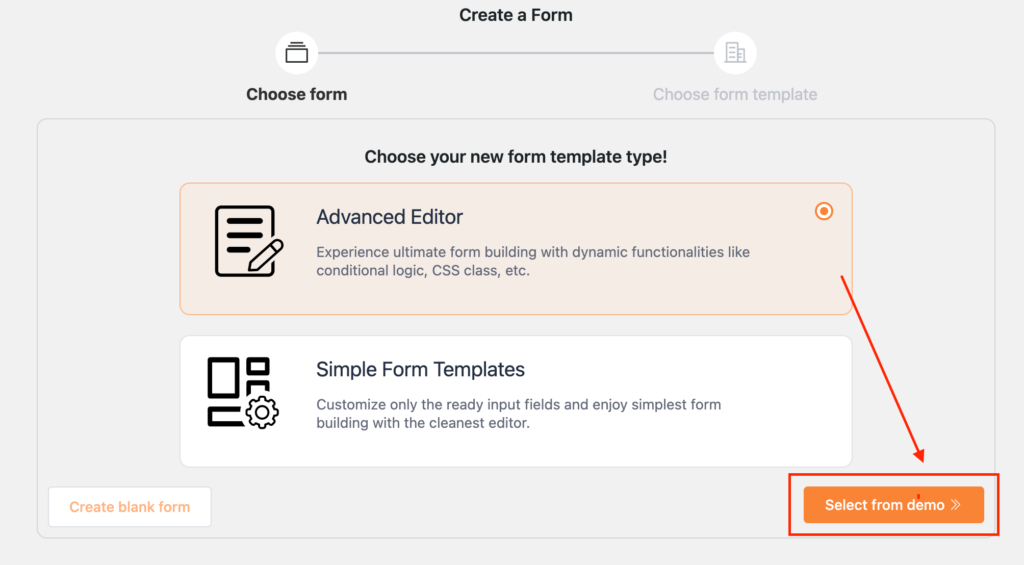 Now, you can see all the WordPress prebuilt form templates here. Select your chosen form field and start converting your clients immediately.
Read this blog and learn how you can accept donations with multiple payment gateways.
To conclude
Either startup or a giant, for any sort of business, the Paymattic WordPress plugin provides the most dependable, efficient, and secure payment form templates. It's the best WordPress payment plugin for any type of website. Get Paymattic today and see how simple it is to grow your online business with Paymattic!
Try Paymattic & join the thousands already enjoying it.