Best Bloomerang Alternatives and Competitors in 2023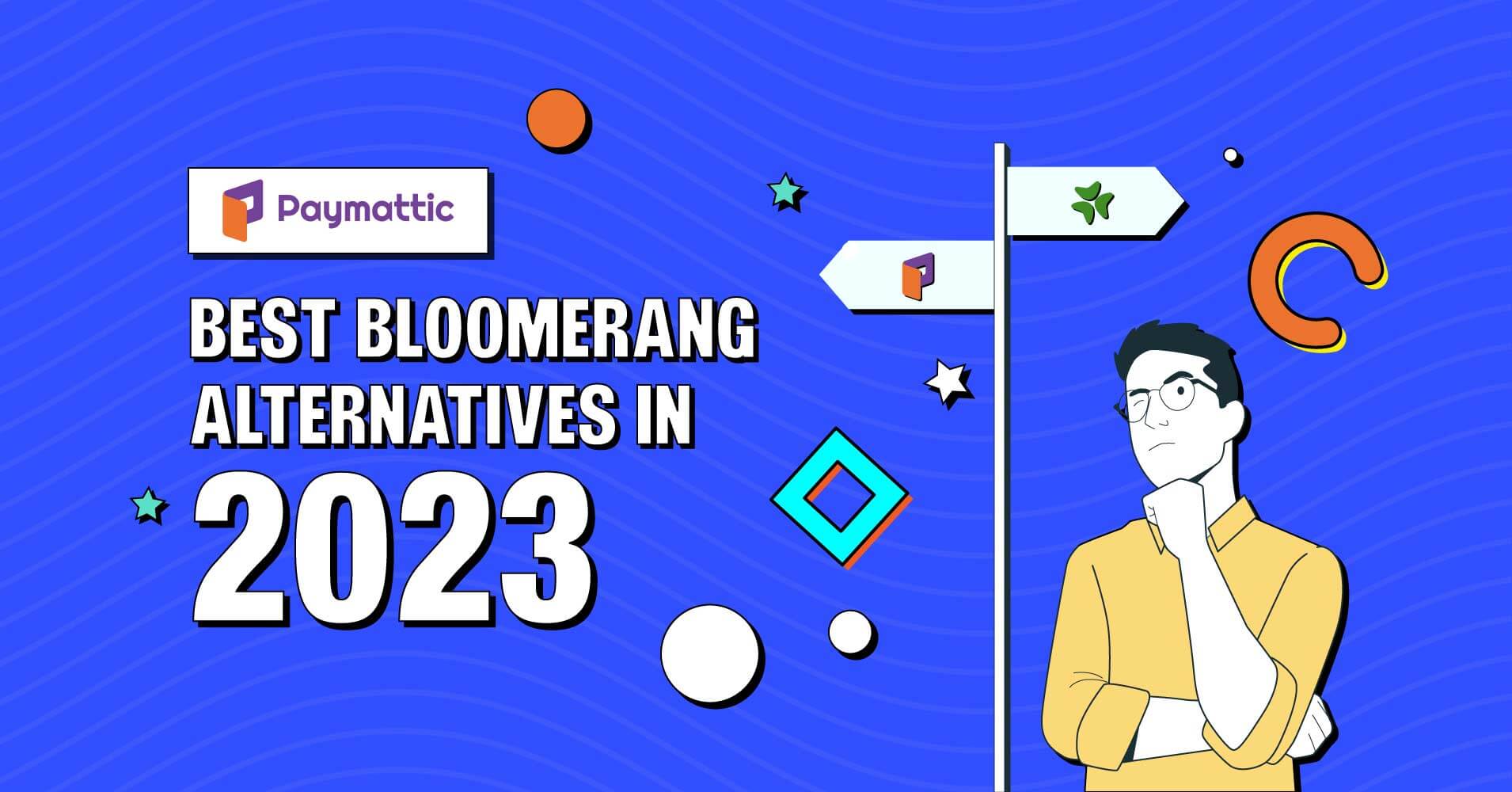 Fundraising is something like relationship raising. Yes, you heard it right! It's like creating a relationship between the organizers and supporters. But before making any relationship, first, it's important to build a comfortable environment.
In that case, a fundraising platform plays a vital role here. Because if you pick the right tool to fundraise then it will automatically give a pleasant feel to your donor while donating. Bloomerang is good enough to cultivate a better fundraising experience. But there are lots more Bloomerang alternatives available to help your cause.
So today we will help you to find some best Bloomerang alternatives that your non-profits will actually love!
Before jumping into depth, do you know what Bloomerang actually is? If you are a beginner and don't have a clear idea about Bloomerang, then don't worry. Here we will cover some basic ideas for your better understanding.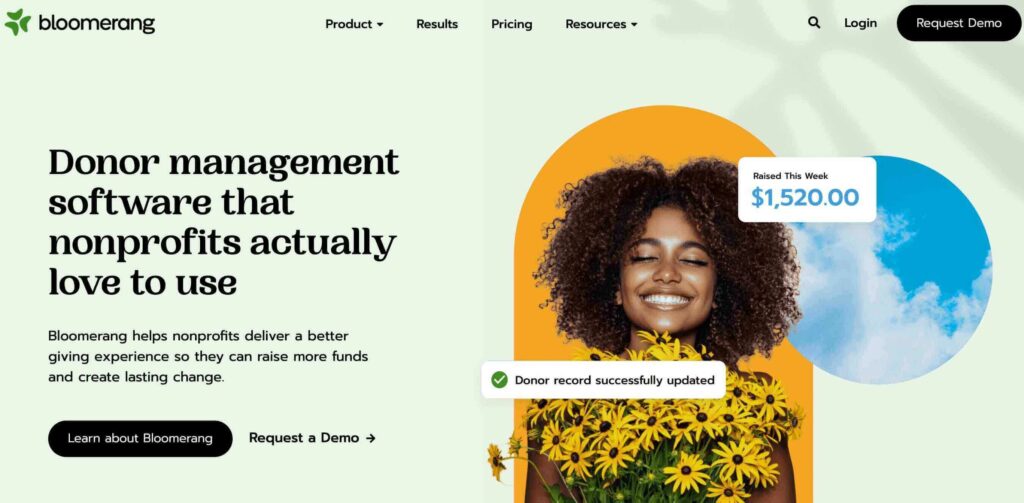 Bloomerang is a donor management software that helps non-profits to deliver a better giving experience. Almost 1500 non-profit organizations use this donor management software to raise funds and create a long-lasting bond with the donor.
Some of its core functionality includes:
Full CRM functionality
Data segmentation capabilities
Donor database
Engagement meter
Email marketing tool
Customizable
Filter-based reporting
Integrated online giving forms and more
Moreover, this is a cloud-based donor management software that is designed for helping your cause to reach your desired fundraising goals and donor retention.
What is Bloomerang used for?
Users like to use Bloomerang because of its easy and smooth functionality. This fundraising platform is mainly used for its fast implementation, library of video tutorials, functionality and to manage relationships with your supporters, donors, or any group of people who are important to your organization.
Furthermore, Bloomerang allows you to raise more funds by creating a flawless giving experience for donors and building a relationship that lasts forever.
Why do people look for Bloomerang alternatives?
Bloomerang is obviously a good platform to improve donor experience but there are few downsides for which people may look for Bloomerang alternatives. Some notable downside includes:
This software is not well designed so it may be complex to use for non-technical stuff.
It offers limited features. It is unable to provide all the features that is needed for a fundraising campaign.
Another problem appears when you want to integrate it with other platforms. This platform offers limited integration, and for that, it becomes difficult to transfer data between systems.
Customer support is not available at all times. You have to connect with them within a very specific time frame.
One of the major issues is that it is very costly to purchase and implement. So it's not a perfect platform for all types of organizations.
It's worth mentioning that the downside of any software varies on organizations and particular use cases. So it's essential to overlook any software by your preference before purchase.
Best Bloomerang alternatives and competitors
Your wait is over! Here we listed the best Bloomerang alternatives and competitors for your cause. Take an in-depth look at the following popular fundraising platforms and pick one which seems right to meet your needs.
Meet Paymattic! It is one of the most robust WordPress payment and donation plugins fit for your small business, online fundraiser, or membership program. This is the ultimate donation plugin packed with all features and functionalities which you are looking for. It can let you build a donation form like a pro with a few clicks.
To collect donations flawlessly it supports almost 135+ currencies and 10 payment methods. Let's explore some of its key fundraising features:
Recurring donation
Prebuilt donation templates
35+ input fields
Unlimited customizations
Donation progress item
Custom donation amount
Customizable image upload
Detailed report analytics
Donor profile
Integration with multiple platforms
Not only that, it gives value to customers' security and privacy. Multiple layered security are ensured in every form to protect from unwanted spam and bots.
Ready to get started?
Experience WordPress payment and donation like never before. Try Paymattic now!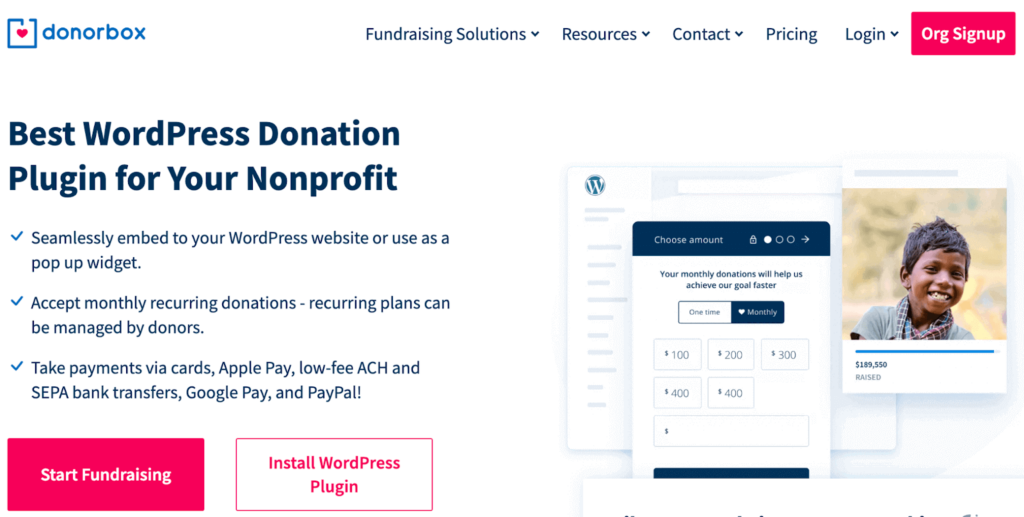 Donorbox is a SaaS platform that is used by thousands of non-profits worldwide. It is an online fundraising software that allows non-profits and individuals to accept donations over the internet. It provides non-profits with the simplest way to manage fundraising activities and connect with supporters.
This platform supports PayPal, ACH bank transfer, Apple Pay, Google Pay and more to make the donation checkout process effortless. Donorbox is designed with features like recurring donation, customizable templates, PCI compliance, activity tracking, integration with various platforms, and more.
It charges 1.5% for transactions of a donation amount, so it's not an ideal platform to raise funds for a large amount.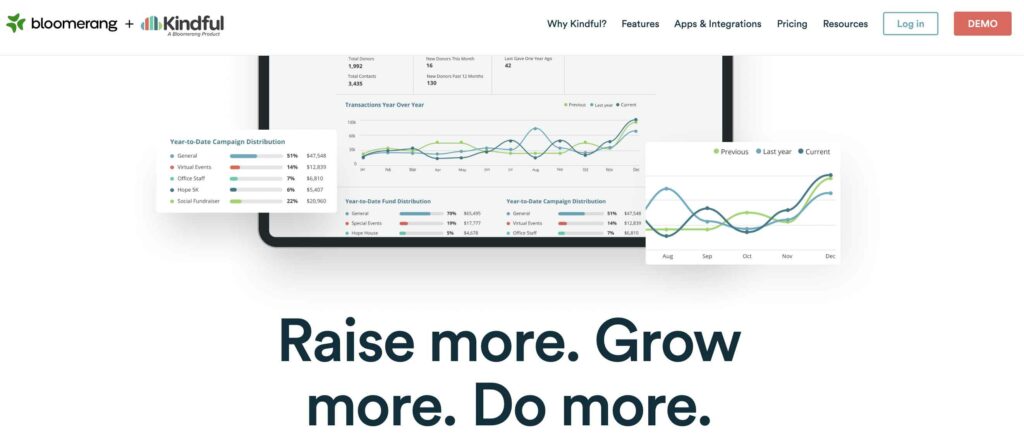 Kindful is a cloud-based online fundraising software, specially designed for growing non-profit organizations. It is a mobile-friendly application and anyone can donate directly from their mobile phone.
This fundraising platform allows you to create beautiful fundraising campaign, add it to your website, provide a detailed report, donor profile, and track all of your fundraising efforts. You can integrate Kindful with many major platforms like Mailchimp, PayPal, Eventbrite and let non-profits gather all their data in one single hub.
Overall Kindful helps non-profit organizations by increasing fundraising effectiveness through an intuitive CRM system and building a stronger relationship with their supporters.
Its starting price is $119 per month, which may not affordable for small non-profit organizations.
Subscribe to Our Newsletter
Join the crowd for more promotional offers, product updates, fundraising tips and tricks.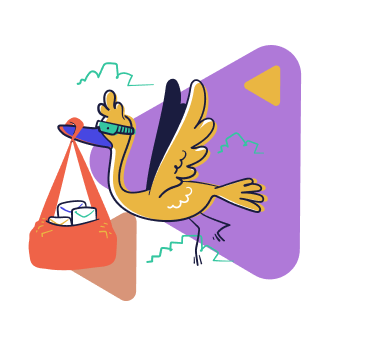 Little Green Light is a donor management software that helps small and midsize non-profit organizations to raise funds. It can establish workflows like adding donations, retrieving donor information, creating email campaigns, and recording event attendance.
Some core features of this plugin include donor and fundraising management, online donation forms, a customizable dashboard, pledge tracking, event tracking, data segmentation, volunteer management, and more.
Ultimately, Little Green Light delivers power and flexibility to every non-profit at an affordable price. But there is lots of scopes available to improve this software.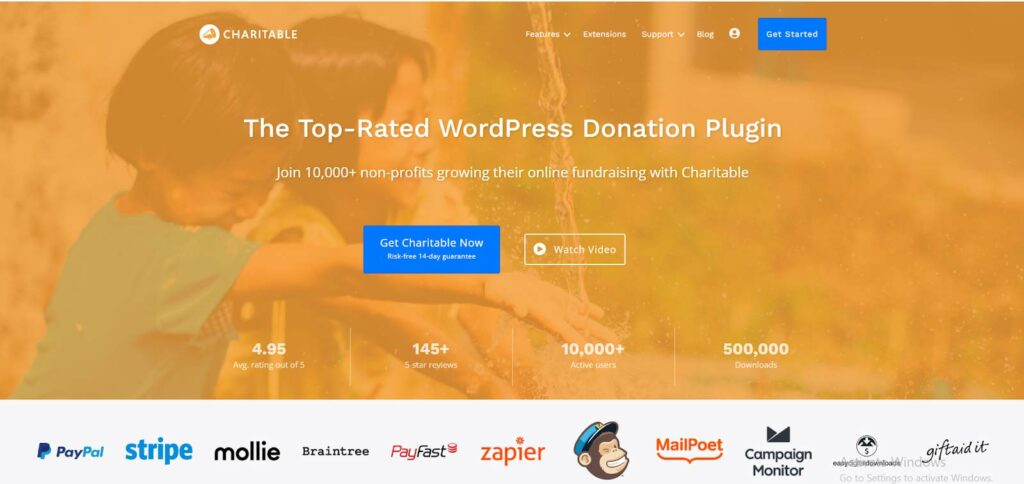 Charitable is one of the top-rated WordPress donation plugins that assist 10,000 non-profits to grow their online fundraising. It's very easy to use and is able to securely accept donations. It never stores any sensitive payment details.
With Charitable you can run unlimited campaigns, set up peer-to-peer fundraising, and email marketing programs. This donation platform is designed with features like GDPR-ready donation forms, easy customization, various payment methods, integration with multiple platforms, and more.
Charitable pricing plan starts from $129 for the basic plan and also has money-back facilities within 30 days. But this pricing may not be fit for any type of organization.

Donorperfect is a customer relationship management tool that is trusted by almost 50,000 non-profit professionals worldwide. This platform helps non-profits to manage donations, reporting, emails, contacts, receipts, and all of the fundraising initiatives.
It can be accessed through mobile devices, from both android and IOS. Some of the top features of this plugin include mobility, auction management, email marketing, account integration, crowdfunding, constituent tracking, and more.
This fundraising platform ultimately provides you with all the essential fundraising tools that you need to engage your donor and flawlessly run a fundraising campaign. But its reporting and user management system is complicated to understand.

Givebutter is an all-in-one fundraising platform that lets you do everything for free. It has an extremely user-friendly interface and anyone can use it easily. This fundraising platform enables organizations to raise funds, manage campaigns and connect with donors.
Some notable features of the plugin are forms, fundraising pages, event management, peer-to-peer fundraising, recurring donation, ticketing, supporter feed, contact management, segmentations, and more.
Givebutter also supports integration with CRM tools, payment processors, analytical modules, and websites. The donation plugin is totally free to use instead of charging a traditional SaaS subscription fee.
But they offer custom donation pages only for premium account holders and also it's very difficult to customize events.
Ready to choose the best Bloomerang alternatives?
In this article, we tried to list the best Bloomerang alternatives for your organizations. All these fundraising platforms are perfect in their own way. Now it's your decision to choose one, depending on your organization's preferences.
Before committing to any plugin do visit on Paymattic website and explore its features and functionality. Donation-specific features like donor profiles, donation goals, progress bars, recurring donations, etc make it a splendid Bloomerang alternative. We hope you will get everything you are looking for in your fundraising plugin.
You don't need to believe our words try Paymattic Pro and be the judge yourself.