14 Best WordPress Plugins of 2023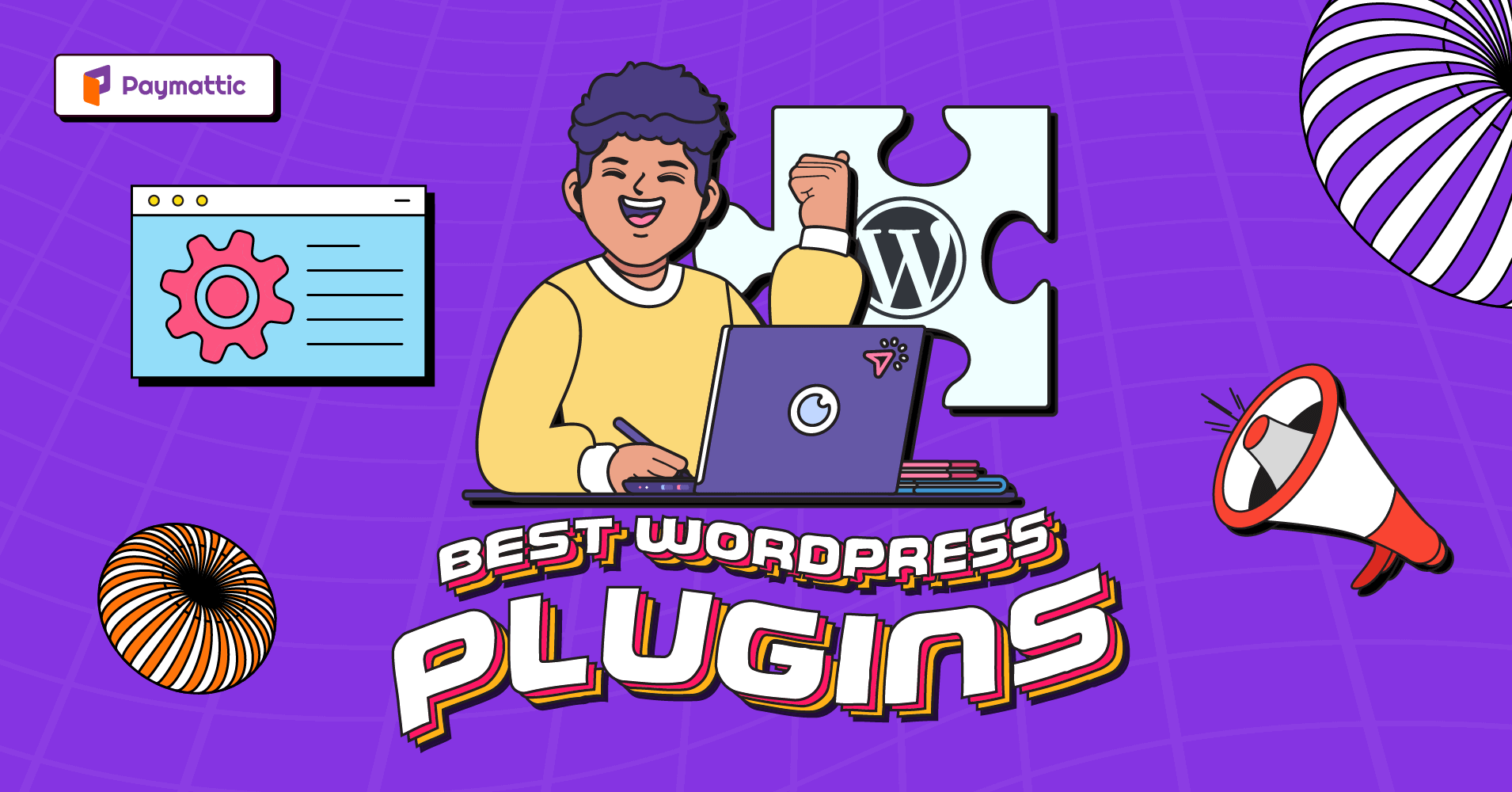 WordPress is the most proven and widely accepted content management system (CMS) in use today. The major reason behind its popularity is easy-to-use plugins that are readily available. These plugins allow you to add various features to your website without any coding.
Among thousands of plugins, it is really challenging for you to find the best WordPress plugins of 2023. This blog will help you learn ins and outs of some popular WordPress plugins.
What are WordPress plugins?
If you are new in the WordPress sphere, you need to have a clear understanding of plugins. In WordPress, a plugin is a software tool you can install on a WordPress website to add new features or functionality. A WordPress plugin is written in the PHP programming language and integrates seamlessly with the WordPress platform.
There are tonnes of WordPress plugins available, ranging from simple tools that add small features to complex plugins that provide extensive functionality. Plugins are easy to install and can be managed within the WordPress dashboard, making them a popular choice for website owners who want to add new features to their sites without the need for extensive coding knowledge.
You can install multiple plugins on a single website. In light of this, use caution when installing WordPress plugins. Too many WordPress plugins might increase security risks and slow down loading times. It's also crucial to activate reliable plugins.
14 Best WordPress Plugins of 2023
You can find thousands of WordPress plugins in the market. We have done in-depth research to find out the best WordPress plugins of 2023. Here we listed the 14 most popular WordPress plugins you can use on your website.
Paymattic
FluentCRM
WP Social Ninja
Fluent Forms
Ninja Tables
Fluent Support
FluentBooking
Ultimate Blocks
LiteSpeed Cache
Tutor LMS
Akismet
AzonPress
Elementor
WooCommerce
Paymattic is the most modern payment plugin for WordPress that allows you to accept payments easily on your website. With Paymattic, you can accept payments using 10 global payment gateways. It is designed to be easy to use and integrate into your WordPress website, and it can be installed and configured from within the WordPress dashboard.
Paymattic supports the following payment methods –
Stripe (free)
PayPal
Square
Mollie
Xendit
Razorpay
Payrexx
Paystack
SSLCOMMERZ
Billplz
If you are not comfortable collecting payments online, you can also collect payments through offline payment methods. Here, you can set instructions to pay through cheques and bank accounts.
You can integrate Paymattic with multiple platforms. You can set up email automation, team communication through Slack and Telegram, Google Sheets integration and many more with 14 integration modules.
Below are some of the most outstanding features of Paymattic –
Subscription payment
14 integrations
10 payment methods
LMS integrations
Advanced editor
135+ currency support
Recurring donations
Form import-export
Detailed reporting
Individual customer profile
Paymattic pricing
This amazing multi-purpose plugin is a freemium product from the WPManageNinja team. You can try the trial version for free and Its licensing package starts from $9.99/month only and ranges up to $899. It offers both annual and lifetime licenses. All the plans include the same features and only they differ in terms of license validity and domain usage.
Single-site for $9.99/month – single site license billed annually.
Agency for $19.99/month – 20 site licenses billed annually.
Unlimited for $29.99/month – unlimited licenses billed annually.
Single-site (Lifetime) for $349 – single site license for a lifetime
Agency (Lifetime) for $599 – 20 site licenses for a lifetime
Unlimited (Lifetime) for $899 – unlimited licenses for a lifetime
These pricing plans are subject to change based on various deal offers and other factors. We suggest you check the Paymattic website for the most up-to-date pricing information.
Ready to get started?
Experience WordPress payment and donation like never before. Try Paymattic now!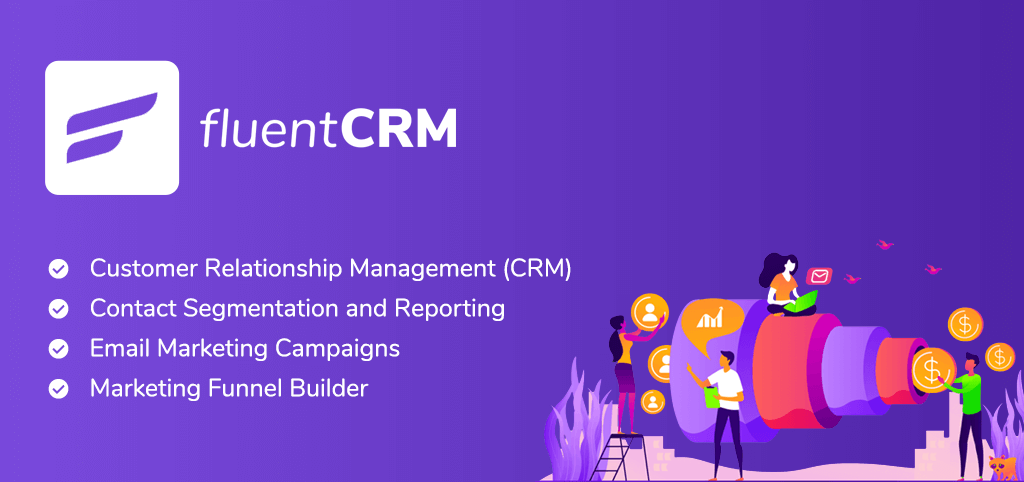 FluentCRM is a plugin for WordPress that provides email automation functionality to WordPress websites. It allows users to manage customer data and interactions from within the WordPress dashboard and includes features such as contact management, email marketing, and lead generation. FluentCRM is designed to be easy to use and integrate with other WordPress plugins and tools.
FluentCRM seamlessly works with third-party plugins such as eCommerce plugins, contact form builders or other lead generation plugins. You can manage your email campaigns with FluentCRM easily.
There's more, you can track your customer data including transaction history, email open rate, click rate etc.
Some notable features of FluentCRM are –
360° contact overview
Email marketing automation
Email sequencing
Smart contact segmentation
Granular reporting
FluentCRM pricing
The basic version of FluentCRM is free to use. However, it offers three premium licensing plans. Among all the three plans, the 5-sites license is the most popular. However, they offer lucrative discounts on various deal seasons. So, keep your eyes on their website regularly for exclusive deals and discounts.
Single-Site for $129 – single domain license for a year
5 Sites for $249 – 5 domain licenses for a year
50 Sites for $499 – 50 domain licenses for a year
Bonus, you can ensure email deliverability by pairing FluentCRM with FluentSMTP for free.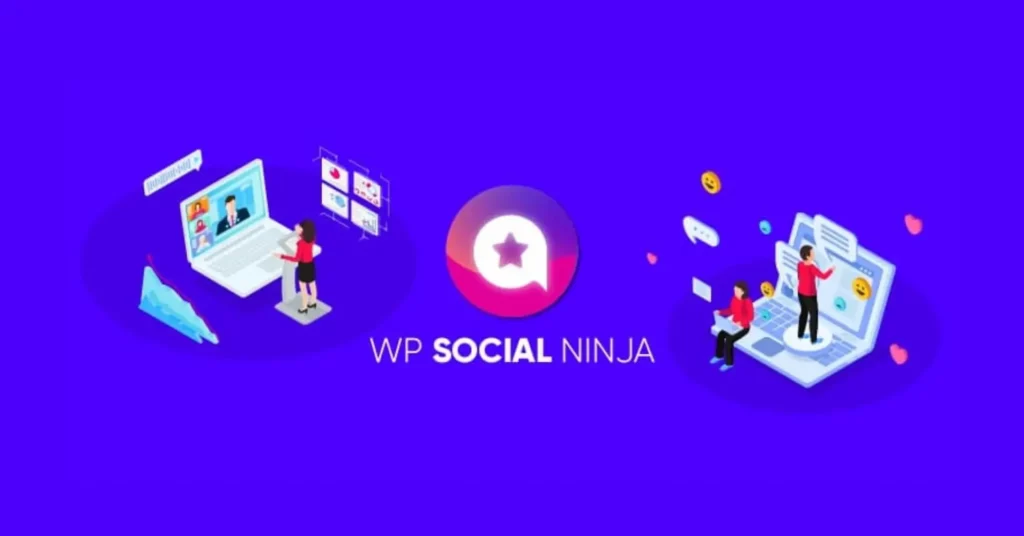 WP Social Ninja is the best social media plugin that can seamlessly fetch social feeds, user reviews, and social chat widgets into your WordPress website. It presents itself as a swiss knife for social media integration in WordPress.
This amazing plugin can replace some complicated plugins such as Smash Ballon, Elfsight and Rich Plugins etc. Now, you can engage with your audiences more effectively with WP Social Ninja. Let's take a look at the major features of WP Social Ninja plugin –
Set the number of reviews to show
Filter by reviews ratings
Filter by reviews title
Ask for more reviews
Layout variation
Display reviewer name and image
WP Social Ninja pricing
WP Social Ninja plugin provides three pricing plans other than the free version. All the plans include priority support and the same features. Let's check out the pricing of WP Social Ninja –
Single site license – $79 per year, which includes single site license.
Agency license – $249 per year, this license can be used for 25 domains.
Unlimited license – $399 per year, it is perfect for big usage that includes unlimited domains.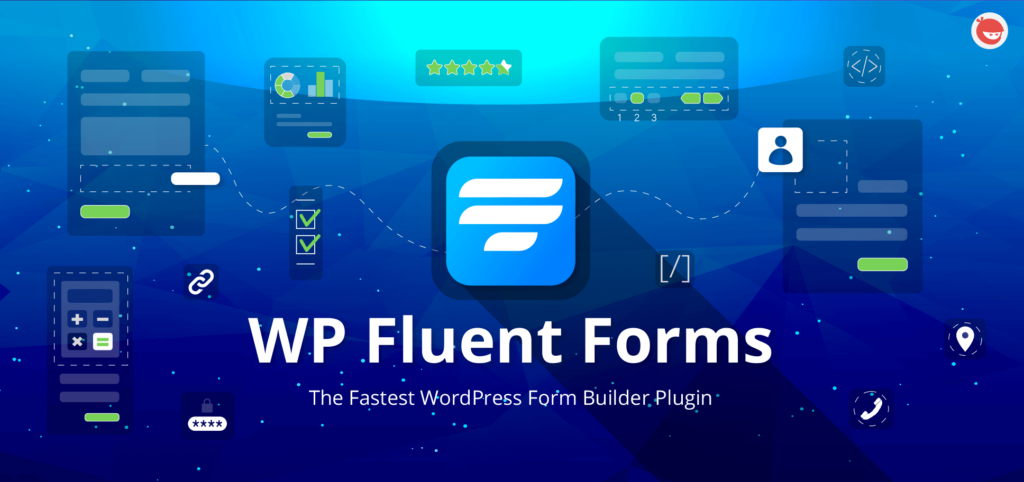 Fluent Forms is a WordPress form builder plugin that allows you to create custom forms and surveys for your website. It provides a drag-and-drop interface for building forms, as well as a variety of customization options to help you create the perfect form for your needs. Fluent Forms also includes features such as integration with popular email marketing platforms, CRM and payment methods.
Almost all websites have a contact form. So, Fluent Forms is a plugin suitable for all types of websites. Besides, you can integrate Fluent Forms with the following platforms –
FluentCRM
Sales Force
Mailchimp
Google Sheets
Slack
Telegram
Fluent Forms has all the powerful features perfect for a form builder plugin. It includes –
Drag and drop form builder
Conversational forms
Multi-step forms
40+ integrations
Quiz module
Conditional logic and many more
Fluent Forms pricing
Fluent forms offers six pricing plans in annual and lifetime packs. The annual single-site license starts from $59 only. All the licenses include the same features except for site usage and the license duration. You can try the free version before you make a purchase. Here is all the license plans of Fluent Forms –
Single-site for $59 – single site license for a year
Agency for $129 – 5 site licenses for a year
Unlimited for $199 – unlimited licenses for a year
Single-site (Lifetime) for $299 – single site license for lifetime
Agency (Lifetime) for $499 – 5 site licenses for lifetime
Unlimited (Lifetime) for $899 – unlimited licenses for lifetime
Subscribe to Our Newsletter
Join the crowd for more promotional offers, product updates, fundraising tips and tricks.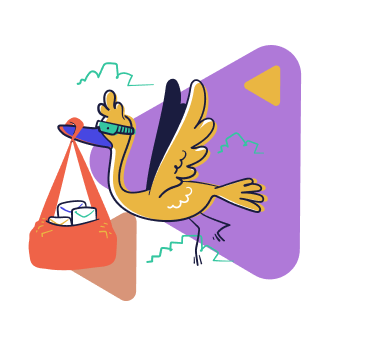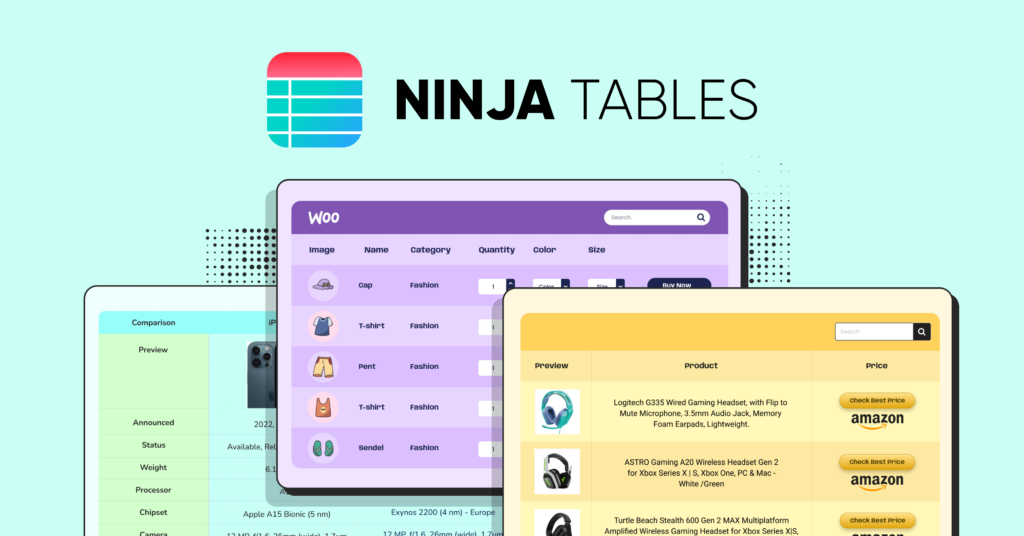 Ninja Tables is a WordPress table builder plugin that allows you to create and manage tables on your WordPress site. It offers a variety of features and customization options to help you create tables that are useful, visually appealing, and easy to understand.
Some of the key features of Ninja Tables include the ability to import and export data, create responsive tables, and use custom CSS to style your tables. It is a popular choice among WordPress users for creating and managing tables on their websites.
Ninja Tables comes with lots of exciting features that you can't get in other table plugins. Here are some features –
Drag & drop table builder
WooCommerce product tables
Add media to the table
Custom table design
Import-export
Google Sheets integration
Fluent Forms integration
Pre-made table templates
Custom CSS
Ninja Tables pricing
Ninja Tables is free to perform basic tasks such as creating and editing tables. You need to get the pro version to access the advanced features. The pro version of Ninja Tables is available at six different pricing tiers. These are –
If you want to avoid the hassle of renewal every year you can go for lifetime plans. It also offers the above three tiers with unlimited validity. Ninja Tables offers lifetime licenses at three different price points –
$249 for single-site
$399 for 20 domains
$599 for unlimited domains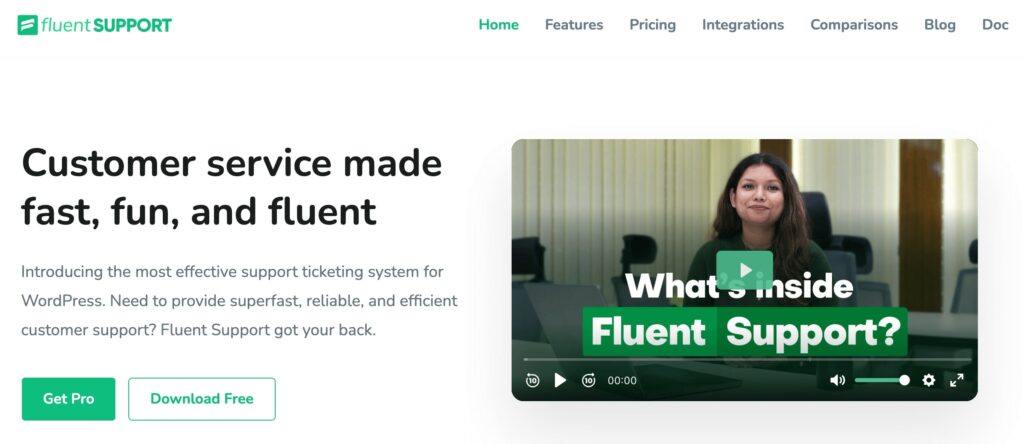 Fluent Support is the fastest and most intuitive customer support ticket plugin for WordPress. You can enjoy all the help desk features in this single plugin.
Fluent Support enables you to easily create and manage customer support tickets on your website. This all-in-one support plugin provides some exciting features such as email piping, automatic assignment, collision detection, customizable support automation etc.
Below we list down some valuable features of Fluent Support –
Unlimited support agents
Unlimited tickets
Customize email notifications
Product-based agents
Custom fields
Advanced filtering
Whatsapp notification
Saved replies
Workflow automation
Fluent Support pricing
Fluent Support is the perfect plugin for better customer support without paying more. So many sophisticated features are really worth the price. You can get the free version from here. The premium plans include the following –
Single-site for $129 – single domain license for a year
Agency for $249 – 5 site licenses for a year
50 Sites for $399 – 50 domain licenses for a year
No other plugin can beat this price. Go for Fluent Support and make an ever-lasting business relationship with your customers.
You may find this blog helpful – 10 Best WordPress Fundraising Plugins in 2023
FluentBooking is a WordPress appointment and scheduling plugin that gives a stylish scheduling UI on your website and is super responsive on every device. If you need a booking plugin for WordPress that makes your scheduling and appointments seamless then FluentBooking is the right choice. It's an all-in-one appointment management plugin that manages appointments, bookings, webinars, events, and sales calls without a hiccup.
Some top-notch features of FluentBooking are –
Easy User-Interface
Mobile responsive
Automated emails & reminders
Customizable calendars
Time-zone management
Attendee insights
Appointment rescheduling
Ecosystem
Customer Support
FluentBooking pricing
FluentBooking is already on the buzz for its outstanding features. Currently, the FluentBooking Lifetime deal is going on at up to 50% discount. The LTD offer may close anytime soon. So, we recommend you check the website for the latest pricing and discounts.
Here are the current lifetime deal pricing details –
Single-site for $99 – single domain license for a lifetime
Agency for $249 – 5 site licenses for a lifetime
50 Sites for $499 – 50 domain licenses for a lifetime
Since November 2018, the release of the Gutenberg block editor has brought remarkable changes to the WordPress content management system. It has made creating and formatting blog posts and pages super easy, including other types of content using custom blocks.
By default, Gutenberg offers you a handful of custom blocks. But most of them come with limited features, so you can't create advanced and high-quality content. Ultimate Blocks is an all-in-one plugin that can save you from this problem. It's a Gutenberg block plugin with 22+ super-exciting custom blocks with advanced features.
Some of its most popular blocks are Testimonial, Call to Action, Social Share, Content Toggle, Button, Tabbed Content, Star Rating, Review, Image Slider, Content Filter, Styled Box, How To, Advanced Video, and more.
Using them, you can craft eye-catching content and showcase them to web visitors in highly presentable ways. Some blocks have built-in schema feature that increases the likelihood of your content being organically more viewed on search engines.
You can use Ultimate Blocks as a content marketing and a basic-level page builder if you don't want to make your site heavy using traditional page builders Divi, Elementor, and WPBekary Builder.
Some notable features of Ultimate Blocks are:
Lightweight and doesn't make the website heavy
Offers an intuitive interface for beginners
Comes with extensive customization options
Automatically adjusts to different devices and screen sizes
Will release more custom blocks in the coming days
Ultimate Blocks pricing:
Ultimate Blocks have a free version available on WordPress.org. In addition to that, the plugin has three premium packages. Take a look at them below:
Single Site – $49/year
Unlimited Sites – $69/year
Lifetime – $349/lifetime/unlimited sites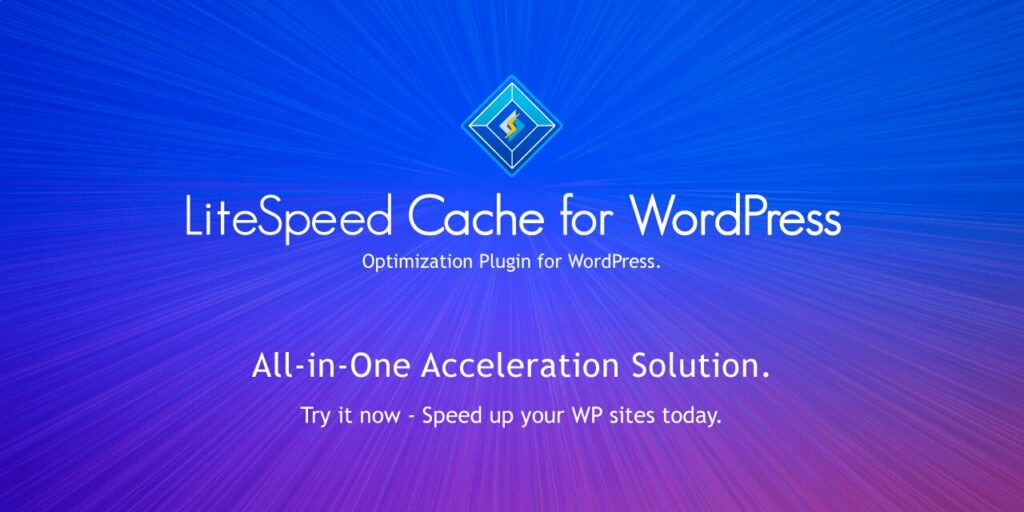 LiteSpeed Cache is a caching plugin for WordPress that is designed to improve the performance of WordPress websites. It does this by creating a cache of static HTML files for pages on the website, which can then be served to visitors without having to run the PHP scripts and database queries that are required to build the page on each request.
This can significantly reduce the time it takes for a page to load, improving the user experience and potentially increasing the conversion rate for the website.
This WordPress plugin can be run by any web server. You can get the following features with LiteSpeed Cache –
Free QUIC.cloud CDN Cache
Image Optimization
Lazy-load images/iframes
Multiple CDN Support
Cloudflare API
WordPress CLI commands
HTTP/2 support
HTTP/3 & QUIC support
LiteSpeed Cache pricing
This plugin is free to use and open source. But, you have to avail of a LiteSpeed server edition to use the cache features. Some LiteSpeed server addition requires costing based on various usage level. It starts from $11 and ranges up to $97 including LiteSpeed full-page caching module.
Agency: $99 per year – which includes a 20-site license and all pro features.
Unlimited: $199 per year – This plan is the best for bulk websites. You can use this license for unlimited domains.
Single site: $49 per year – This plan includes a single site license and access to all pro features.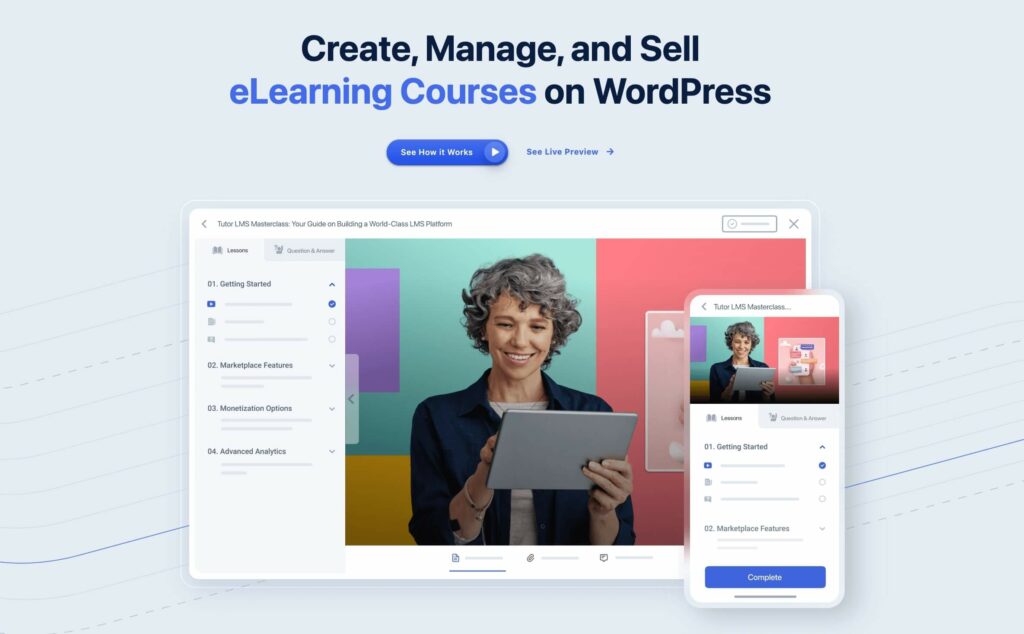 Tutor LMS is a popular learning management system (LMS) plugin for WordPress that makes it easier to create, deliver, and manage course content and materials. This LMS plugin is built completely based on UI and you can create courses and quizzes right from the WordPress dashboard.
You can integrate Tutor LMS with WooCommerce, Paid Membership Pro and Easy Digital Downloads to monetize your courses. Instructors and admins can have flawless transactions with commission allocation and withdrawal options.
Here is a list of some important features of Tutor LMS –
Drag & drop course builder
Personalized dashboard for teachers & students
Unlimited quizzes
Assignments
Learning from mobile
Advanced analytics
Tutor LMS pricing
The core Tutor LMS plugin is free to use. However, you have to bear some additional costs for advanced features. All premium annual licenses come with one year update and priority email support. They also provide lifetime licenses at an affordable price. Tutor LMS offers the following pricing plans –
Individual for $199 – single site license for a year
Business for $399 – 10 site licenses for a year
Agency for $799 – unlimited licenses for a year
Individual (Lifetime) for $499 – single site license for lifetime
Business (Lifetime) for $899 – 10 site licenses for lifetime
Agency (Lifetime) for $1899 – unlimited licenses for lifetime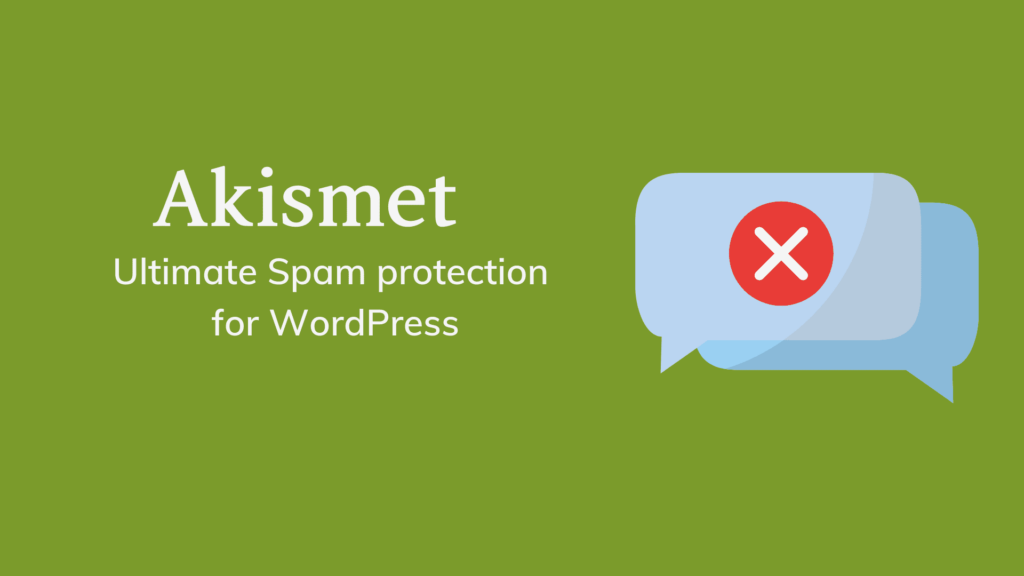 Akismet is a spam-filtering plugin that helps protect WordPress websites from spam comments and contact form submissions. The plugin uses advanced algorithms to analyze incoming comments and determine which ones are spam, based on factors such as content, IP address, and behavior pattern.
Akismet is highly effective at blocking spam, and it is used by millions of websites around the world. If you have a WordPress website, you can use the Akismet plugin to automatically filter out spam comments and contact form submissions, helping you keep your site clean and free from spam.
The major features of Akismet are –
Automatic spam protection
Status history of comments
Visible URL to reveal hidden links
Moderator access to approved comments
More disc space with discard spam feature
Akismet pricing
Akismet is very much flexible in terms of pricing. It offers both annual and monthly pricing plans. You can get two months free if you avail of a yearly billing plan.
You can pay any amount for the Personal license and enjoy spam protection features. There are three more packs for commercial use. These are –
Plus – 10K to 40K API calls are available per month only at $10 per month.
Enterprise – 60K API calls are available monthly only at $50 every month.
Enterprise Plus – This license offers a custom API limit only at $250 per month.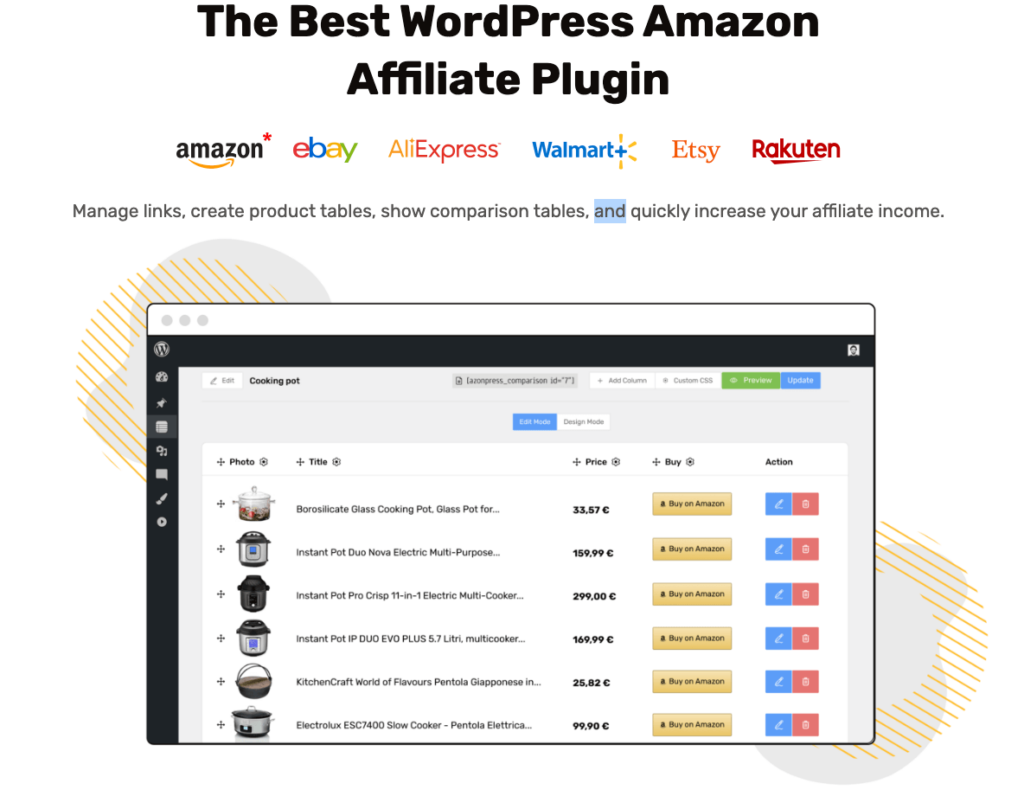 If you are an affiliate marketer you might have heard of the AzonPress plugin earlier. It is the best Amazon Affiliate plugin for WordPress. This affiliate plugin lets you create affiliate links easily and promote any products over the internet.
AzonPress has a dashboard view that makes it simple to keep track of affiliate revenue and other information. Besides, you can create comparison tables with AzonPress so that your customer can make the decision better.
Other features of this Amazon affiliate plugin are –
Product tables
Unlimited affiliation
Best-seller list
Geo-targeting
Accurate tracking
Shortcode-enabled
Customizable layouts
AzonPress pricing
AzonPress is a premium plugin for WordPress. There are six available pricing options in both the annual license and lifetime license categories. These are –
Single-site for $39 – single site license for a year
Agency for $79 – 20 site licenses for a year
Unlimited for $159 – unlimited licenses for a year
Single-site (Lifetime) for $149 – single site license for lifetime
Agency (Lifetime) for $249 – 20 site licenses for lifetime
Unlimited (Lifetime) for $349 – unlimited licenses for lifetime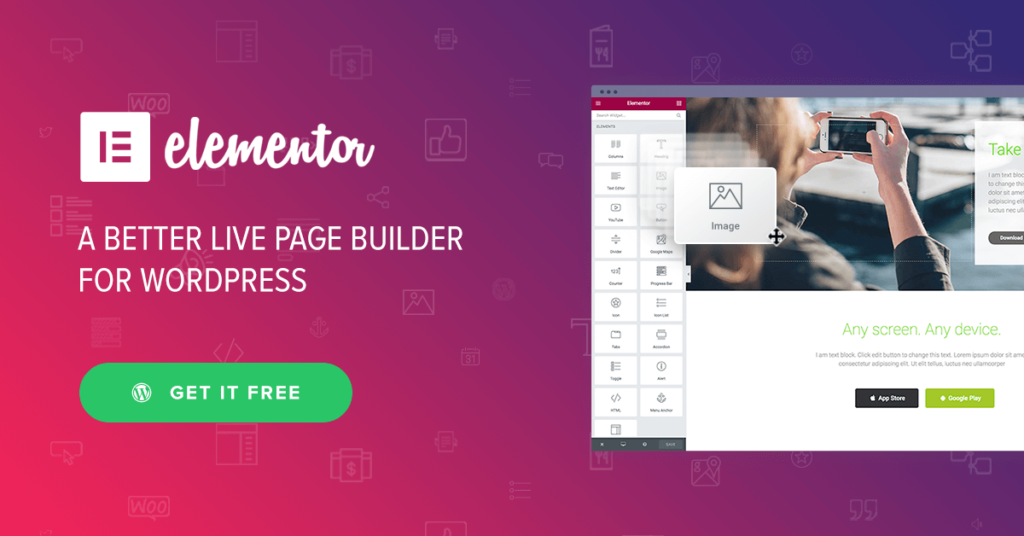 Elementor is a WordPress plugin that allows users to create professional-looking websites using a drag-and-drop page builder interface. It comes with countless features, including pre-designed templates and widgets, the ability to customize the look and feel of your site with custom CSS, and integrations with popular WordPress plugins like WooCommerce and MailChimp.
With Elementor, you can create custom landing pages, blogs, and other types of websites without the need for coding knowledge. It is easy to use and is suitable for beginners as well as advanced users.
More than 5 million websites are using Elementor to create web pages. Here are some of the best features of the Elementor WordPress page builder plugin.
Drag & drop editor
300+ design templates
100+ widgets
Live responsive editing
WooCommerce builder
Form builder
Theme builder
17+ integrations
Elementor pricing
Elementor offers several pricing plans for users to choose from. The Free plan is available to all users and includes basic features such as access to a limited number of widgets and templates, the ability to design and publish a single page, and basic support. The paid plans include the following –
The Essential plan – $59 per year, includes one pro website activation.
The Expert plan – $199 per year, offering all the features of the Essential plan as well as 25 pro websites activation.
The Agency plan – $399 per year, includes all the features of the Expert plan and 1000 pro websites activation.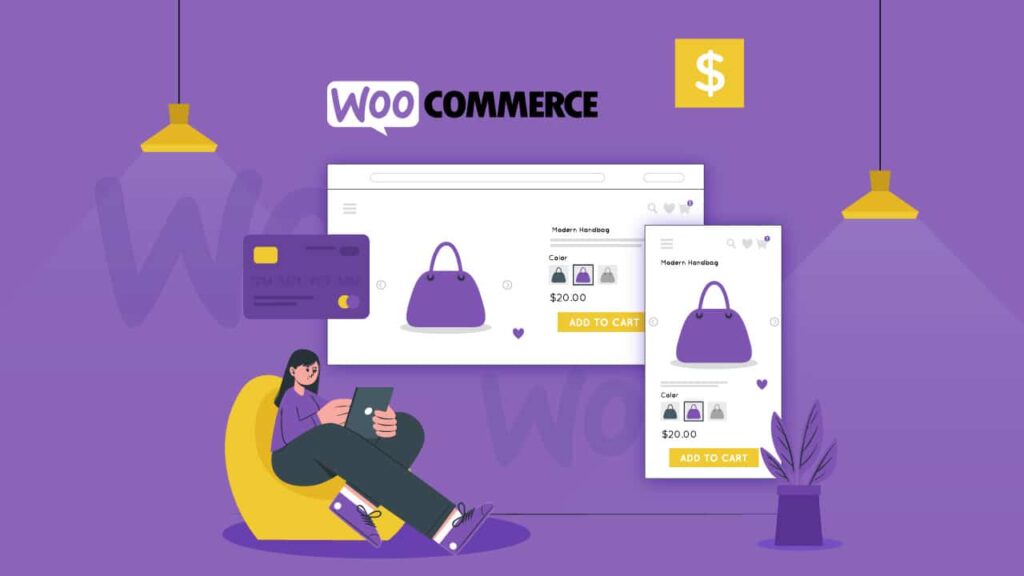 WooCommerce is a freemium and open-source eCommerce plugin for WordPress. It is designed for small to medium-sized online merchants to sell products and services on their websites. With WooCommerce, you can turn your simple website into an eCommerce platform in minutes. Users can set up an online store and manage products, process payments, and handle shipping and tax options, all from within the WordPress dashboard using WooCommerce.
It offers a variety of features, including customizable product pages, support for multiple payment gateways, and the ability to manage inventory and track orders. It is popular among WordPress users because of its ease of use and wide range of customization options.
WooCommerce currently has more than 5 million active users worldwide. It has the following powerful eCommerce features –
100+ payment gateways
Large extension library
Open-source platform
Pre-built storefront themes
Order management
Multiple integrations
Email automation
Google Analytics
WooCommerce pricing
The core WooCommerce plugin is free to download and use, but you may need to purchase additional extensions or add-ons to add certain features to your online store. For example, if you want to accept payments through Alipay, you must purchase the appropriate extension. These extensions typically range in price from $49 to $299, depending on the features they offer.
Final words
You'll need the appropriate tools to create an efficient website. Sure, the visual appeal of your website matters, but so does its usability. Install one or more of the best WordPress plugins of 2023 so you can build a fully-armed website and keep expanding your business.