How to Create a User Registration Form in WordPress?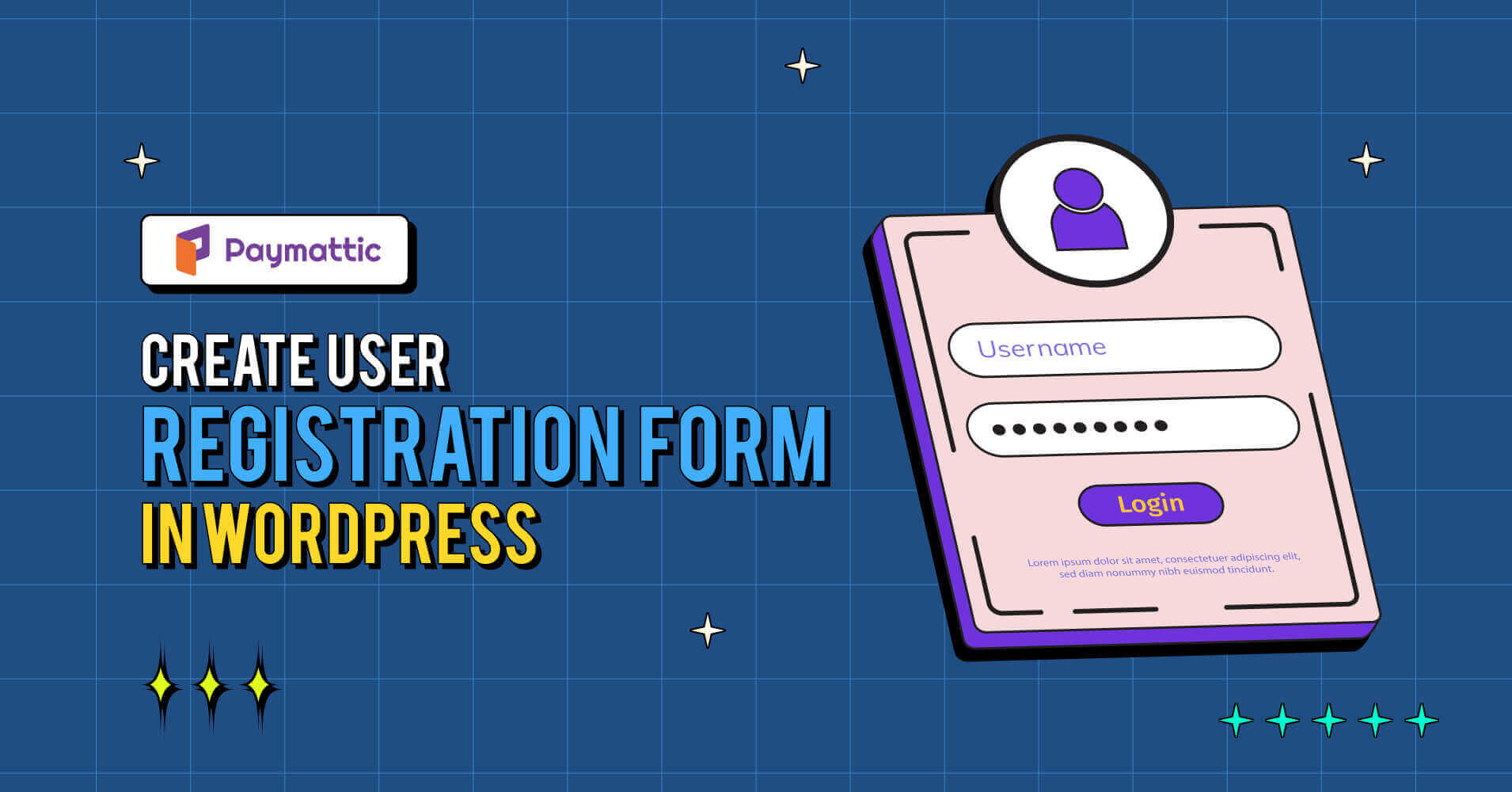 Do you have a subscription site or want to run a forum community? You can allow registered members to access your site with a simple user registration form.
There are so many reasons you would like to enable WordPress user registration on your site. Whatever the reason is, today we will tell you how to create a user registration form so that users can log in to your site with their own accounts.
What is a user registration form?
Let's have a closer look at the WordPress user registration form. A user registration form in WordPress is a built-in or custom-designed form that allows visitors to register and create user accounts on a WordPress site. It typically includes fields for users to input their desired username, email address, password, and any additional information such as name, profile picture, or bio.
The form captures the user's details and creates a new user account within the WordPress database, allowing them to log in and access specific features, content, or functionality based on their user role and permissions.
You can create such a user registration form in WordPress using Paymattic. This plugin also allows you to accept payments with 10 payment gateways right in the user registration form. It's a perfect solution for websites that accept subscription payments and want to get their users registered automatically. 
Paymattic for WordPress user registration
Paymattic is a dynamic WordPress plugin that lets you accept donations, online payments, build forms, register users and more.
It supports 10 payment gateways and 14+ integrations to make your website more powerful. On top of that, it comes with an advanced editor so that you can build your form in minutes without any coding. 
Some simple drag & drop, then boom! It's that simple with Paymattic. So let's have an eye upon some of the most exciting features of Paymattic –
Subscription payment
One-time simple payment
135+ currency support
14+ integrations
10 payment methods
70+ pre-built form templates
Export-import
Recurring donation
Donation progress bar
User dashboard
Advanced reports
Customer profile and more.
Ready to get started?
Experience WordPress payment and donation like never before. Try Paymattic now!
How to create a user registration form in WordPress using Paymattic
The user registration module is one of the most fantastic features of Paymattic. It allows users to fill up the form and create their own account. However, the perks of a user registration form go beyond just creating accounts. You can send automated notification emails, user credentials with this form.
So, let's figure out how you can smoothly create a WordPress signup form for your users.
First, go to the Paymattic (Pro) → Integrations from your WordPress admin dashboard & then Enable User Registration on the Paymattic Modules page.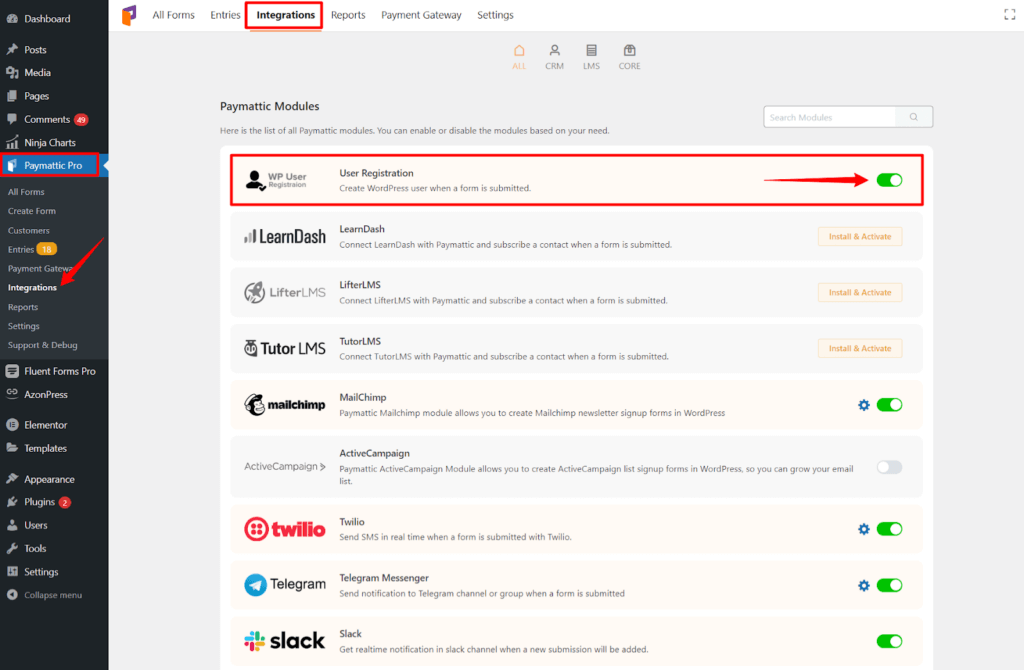 Now, create a form with the required fields. It is recommended to create the form with the Name, Email Address, and Password fields. The Email Address field is vital for user registration. However, you can add more fields but it's better to keep the form short & quick.
Next, go to Paymattic (Pro) → All Forms if you want to view the list of all created forms.
Click on Edit right below the form that you have created for user registration.

Go to Integrations → Add New Integration from the top bar and click on User Registration Integration.

Now, map your form fields with corresponding user registration fields.
Here, you can set permission for new users from the Default User Role section.
If you want to dive more advanced, create a user meta key and assign a user meta value if you want to pull any additional information about a new user.
Then, select the checkboxes as per your need.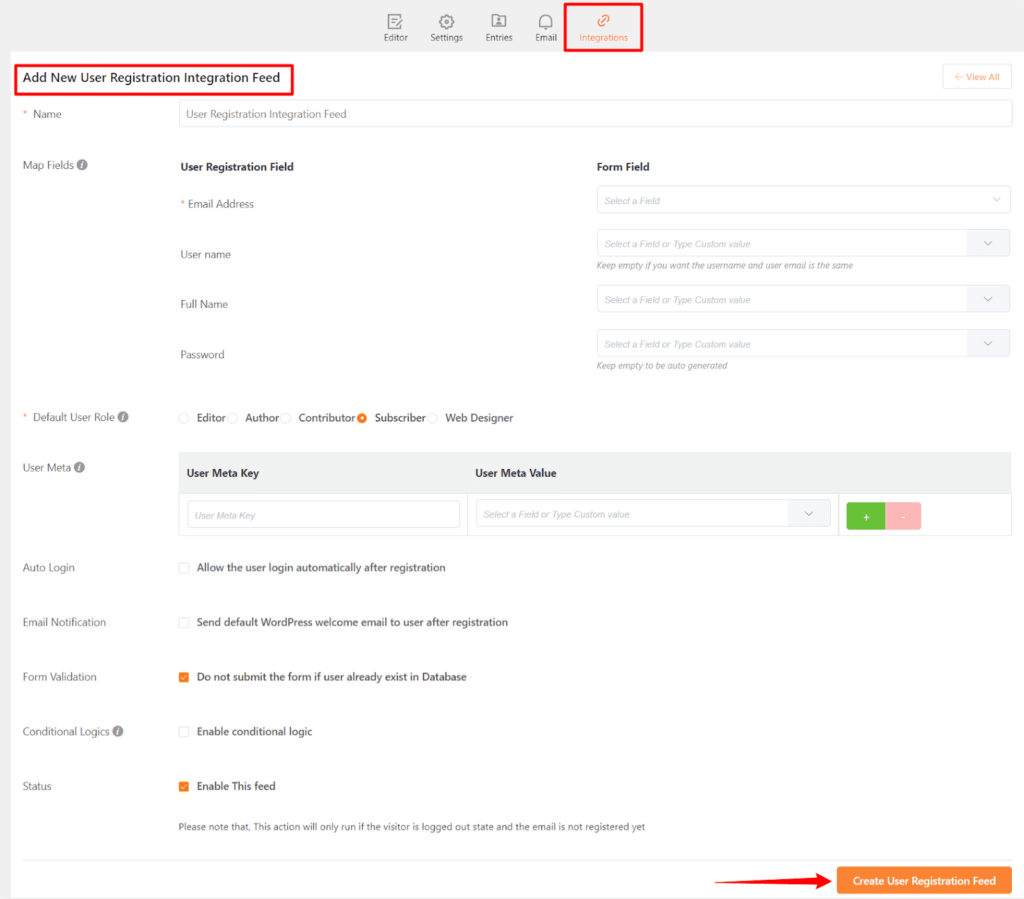 Finally, click on Create User Registration Feed button located at the bottom right corner.
Fantastic! You have successfully created a user registration form. A new WordPress user account will be created automatically every time a user submits the data. To view the submitted user information go to Users → All Users from your WordPress dashboard.

Final words
Making a user registration form with Paymattic is easier than you think. User registration opens up possibilities for creating personalized user experiences, granting access to exclusive content or features, and building communities around specific interests or industries.
Overall, the Paymattic user registration feature empowers website owners to build interactive and thriving online communities while providing users with enhanced experiences and opportunities for engagement.
So, try Paymattic today, join the trends, and let your users enjoy the enormous benefits of Paymattic.