How to Create Online Payment Form in WordPress (5 Easy Steps)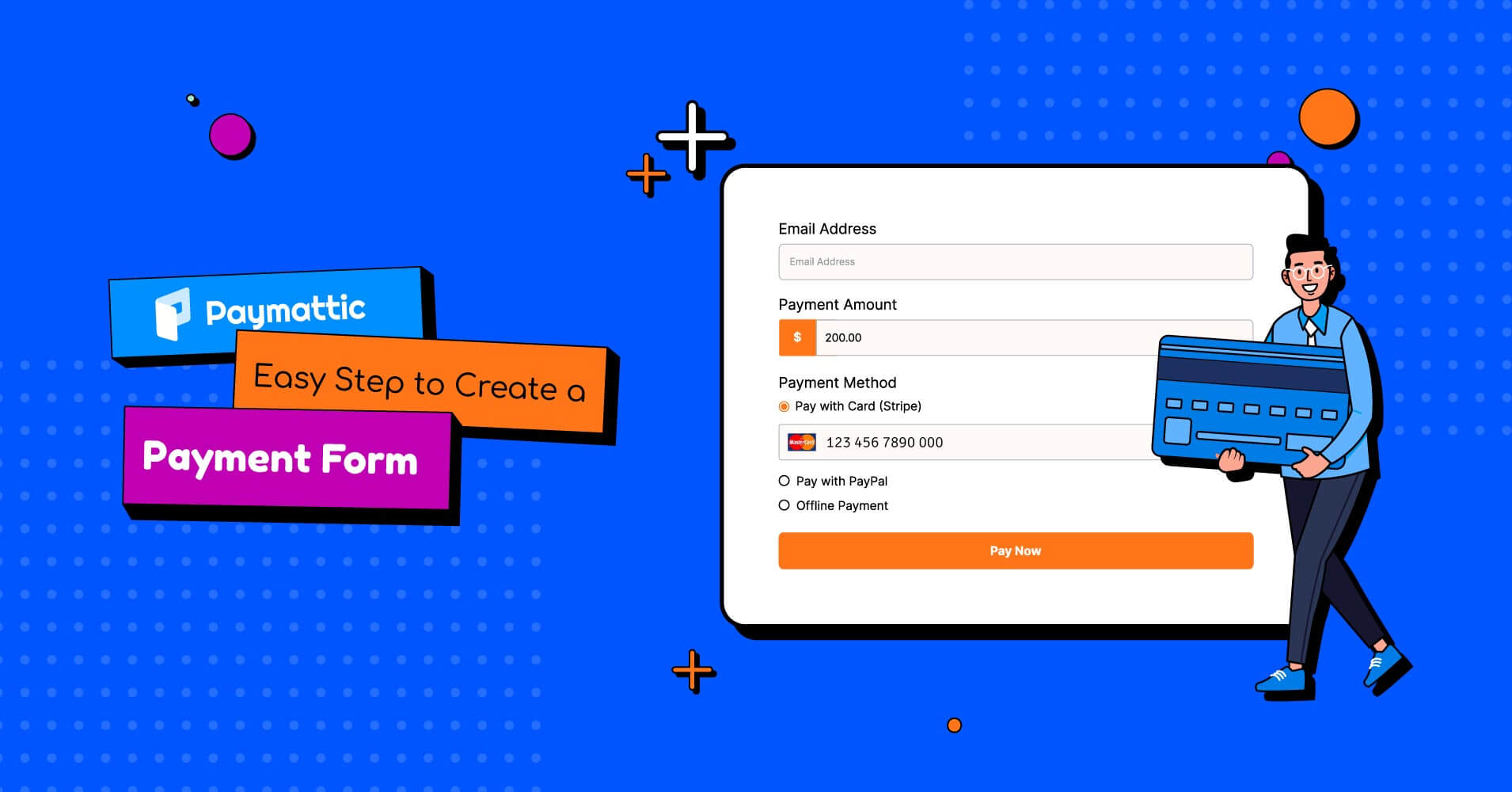 Online has become the most convenient platform to grow anyone's business. Every day the number of online sellers is getting larger. Web forms help these business owners to accept payment online easily.
Thousands of plugins are available in WordPress to create a payment form. But not all of these plugins are able to provide you flawless services.
In this blog, we will show you the step-by-step process of creating an online payment form in WordPress with an outstanding plugin.
Payment form-at a glance
Payment forms are one of the most versatile online tools. Majority of people prefer to purchase online at this present time. If you want to sell a product or provide a service online, you must need a payment form to collect payment.
In general, an online payment form is a form that online stores use to authorize payments from customers with a given credit card. This form also allows you to collect basic information about your customers along with payments.
Subscribe to Our Newsletter
Join the crowd for more promotional offers, product updates, fundraising tips and tricks.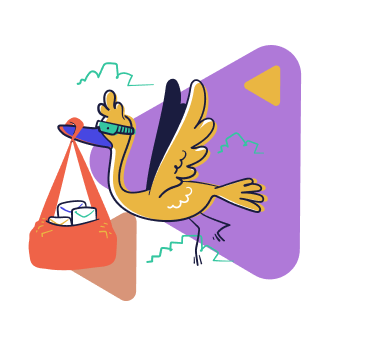 Why you should use a payment form in WordPress?
We live in a wonderful age where we can easily send money to every corner of the world. With the help of a payment form, any online business owner can earn revenue by sitting at home.
When you decide to start selling online, the first thing that may come to your mind is how you can collect payment for your product. In WordPress, you can effortlessly accept payment with a secured payment form. Payment forms will allow you to set different options for your products and order process. You can also set a one-time payment or subscription payment method in your payment form.
However, if your payment form interference can satisfy your customer, it automatically generates your store's sales rate.
You probably have an idea that multiple options are available in WordPress to build your payment form. But you obviously like to choose the best one for you. Keeping your concern in mind, we decided to share the process of how you can simply create a payment form in WordPress.
Find out the easy way to design your payment form in WordPress
Choose a plugin to create a payment form in WordPress
When it's about creating a payment form in WordPress, you must look for a dedicated plugin that is user-friendly, convenient, and easy to use. Before selecting a plugin, you have to make sure about its features because a wrong step may be the reason for losing customers. Your chosen plugin should contain the following things:
Easy to use
All advanced features and functionality
Unlimited customization option
Painless payment processing
Understand customer's value and security
And most importantly affordable price range
To create a secure and cost-effective payment form, we recommend you go with Paymattic.
Why Paymattic?
Among the tons of plugins, you may think, why did you pick Paymattic? We suggest Paymattic because we know this plugin has the capability to meet your search need.
Paymattic is one of the most dynamic WordPress plugins with amazing functionality. This single plugin can offer all the freemium features for the users that none of the other competitor plugins can!
To provide the best services to your targeted audience, Paymattic has the following wondrous features:
35+ input fields
Unlimited customizations
Subscription payment
Integrating with all major platforms
Multiple payment gateways
Email notification
Subscription payments
Customer profile
Multiple layers security
Now let's focus on the form editor features of Paymattic, which can be used to build and design a payment form.
Gutenberg style editor
Custom input fields
Prebuilt form templates
WP User registration
Form layout
Export-import
Scheduling and restrictions
Try Paymattic without a second thought because these helpful features never let you go down.
Ready to get started?
Experience WordPress payment and donation like never before. Try Paymattic now!
5 easy steps to create a payment form with Paymattic
Paymattic is a multi-purpose plugin that lets you create a donation form and payment form with a few clicks. Follow this simple step mentioned below to create an online payment form easily.
Install Paymattic
To install Paymattic. Go to WordPress dashboard > plugins > Add new.
Search Paymattic, and click on the Install and Activate button.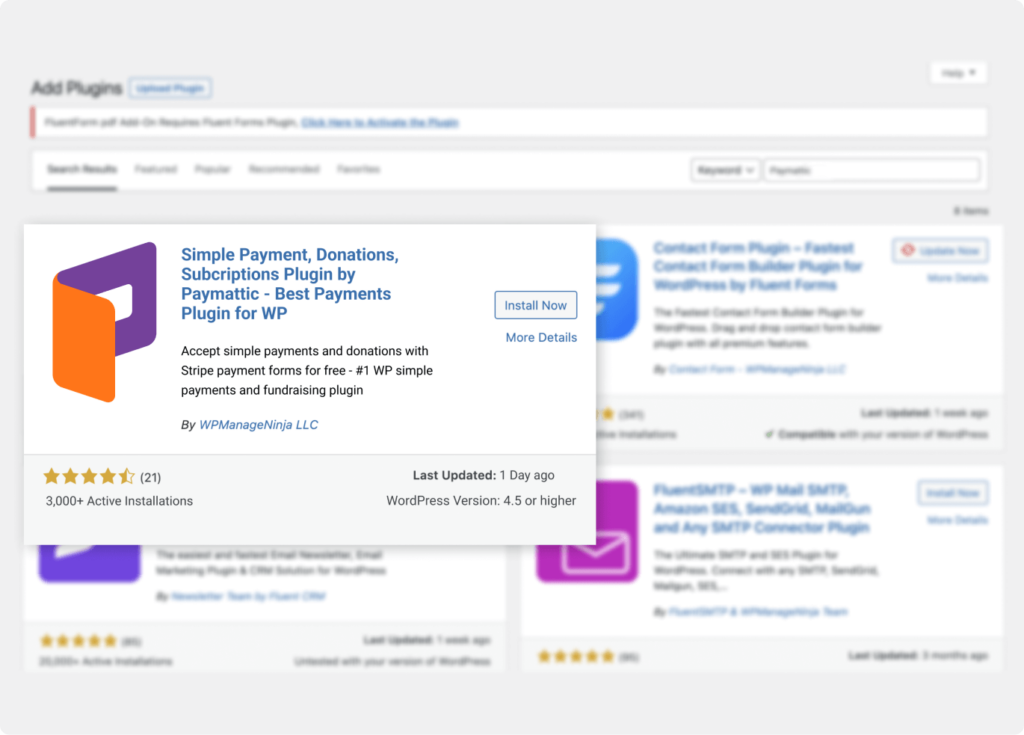 Configure payment gateway
You have to configure a payment gateway to collect payments from your customers.
For this, go to Paymattic dashboard > Payment Gateway. Here you will find all the available payment methods. Select your preferred payment system and insert the API credential for your merchant account.
Create a payment form
To create a payment form with Paymattic, go to Paymattic dashboard > All forms > Add new forms.
Here you will find two prebuilt form templates. Select Advanced Editor from here.
In Advanced Editor, you will get ready payment form templates.
You can create your payment form using these templates or create a new one with a Blank form.
If you select Blank Form, you will get input fields to customize your own. To put input fields on your form, click on the (+) icon.
Here you can find three different form fields – General Fields, Donation and Products Fields, and Payment Method Fields. Put your preferred fields on your form.
Finally, click on the Save button after completing the configuration.
You can add custom CSS to design the form as per your own style.
That's all! Your form is ready. Isn't it super easy?
Preview form
Paymattic allows you to preview your form before publishing it. To preview your form, go to All forms and click on the preview option below your form name.
Here is the preview result; your form might look like this.
Add payment form in WordPress
After you are done with the above stuff, now it's time to embed the payment form on your website. For this, go to Paymattic > All forms.
Then copy the shortcode of your form, which is located on the right side of the form name.
At last, paste this shortcode on your web page where you want to embed the form.
Start collecting payment today
We hope you are now ready to start collecting online with an eye catchy payment form. As we mentioned already, Paymattic is a fantastic plugin for building your payment form. Its easy and smooth functionality lets you create any form, like a donation form, contact form, payment form, registration form, and more, without any hassle.
This plugin also lets you export-import your forms for further use. So what are you still looking for?
Try Paymattic today, to get amazed.