10 Ready-to-Use Donation Form Templates in WordPress 2023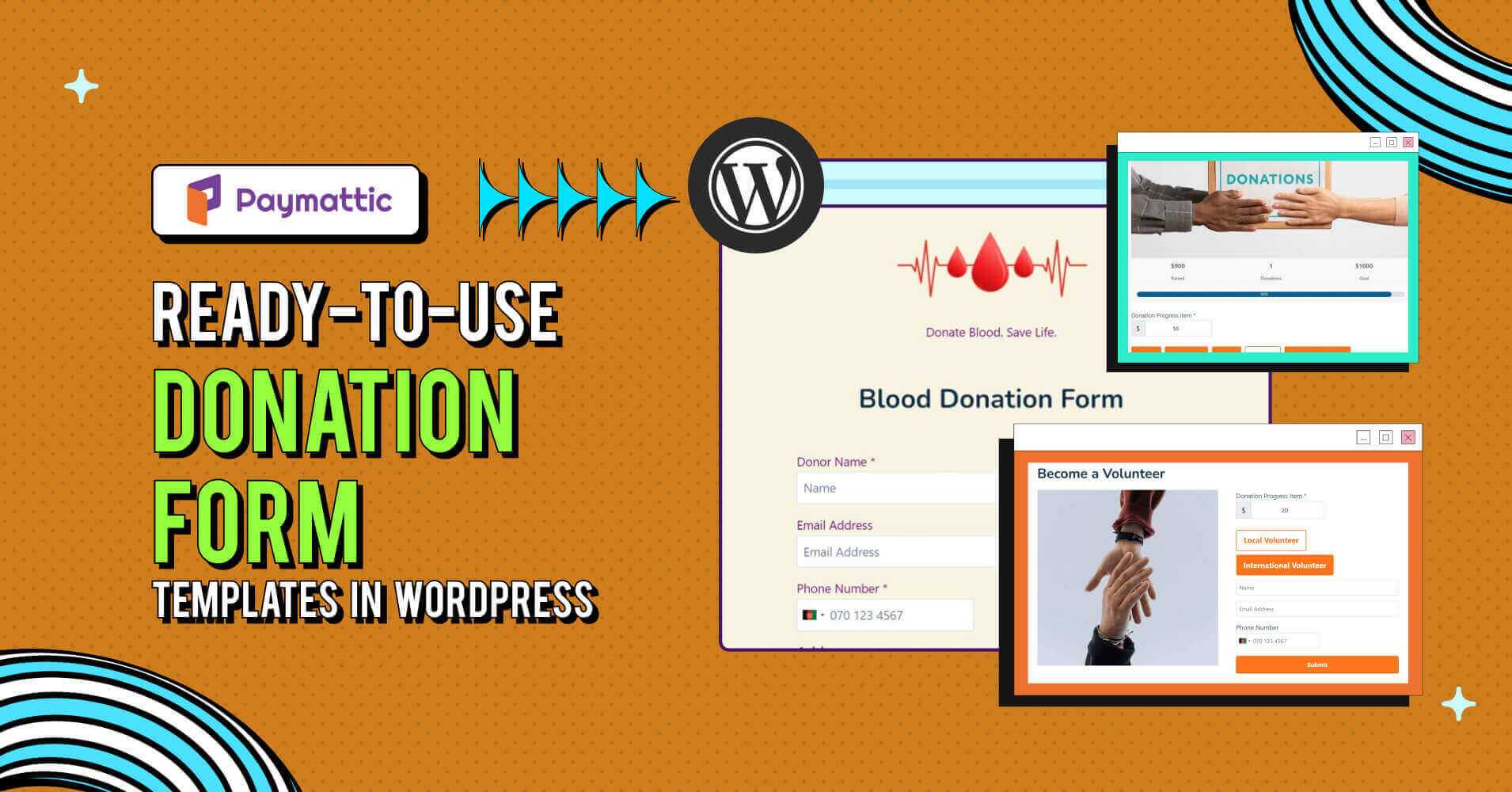 Say goodbye to the hassle of creating donation forms from scratch or relying on clumsy and outdated systems. Use readymade online donation form templates to offer a smooth experience to your donor and collect donations effortlessly.
Whether you're a nonprofit organization or a charity, to empower organizations by fundraising, providing a consistent, user-friendly solution to the contributor is a must.
To enhance the donor experience a pre-designed donation template for WordPress can make the donation process faster and more transparent. It'll help you to create a meaningful impact to maximize your fundraising goals.
In this article, we'll dig deeper into the 10 well-designed and ready-to-use donation form templates in WordPress that'll add a new dimension to your fundraising process.
What is a donation form template?
A donation form template is a built-in form for WordPress that allows nonprofits and charitable organizations to collect donations and essential donor details. It offers a fast and easy way for your organization to collect the funds it needs.
It also reduces time and effort compared to the analog process of taking donations. A fundraising form template provides a smooth experience for your donors to make secure donations. It allows your donor to donate whenever is convenient for them.
What to include in a donation request form to collect donor data?
The donation request form template for nonprofits should be simple. The more complex the form you make the more it'll discourage your potential donors from completing their contributions.
Don't ask for too much information. Otherwise, they'll become confused about whether they're here to help or on an interview board. You'll need the donor's name, you wouldn't need their marital status.
Each nonprofit is different, but some common fields need to be in an online donation form template. Consider only collecting vital information from the contributors.
Name
Contact information (Email and mobile number)
Donation amount
Payment method
Don't hesitate to add more fields if your cause asks for more.
10 Ready-to-use donation form templates to make donations easier
You don't need to take the hassle of building a form from scratch nowadays. There are WordPress plugins to help you with a built-in form template for donation.
The Paymattic payment plugin offers you a lot of ready-to-use donation form templates for a seamless experience for your donor.
Use and customize them according to your business needs. Here are the 10 useful donation form templates for nonprofits to accept donations in a minute with 10 payment gateways.
Subscribe to Our Newsletter
Join the crowd for more promotional offers, product updates, fundraising tips and tricks.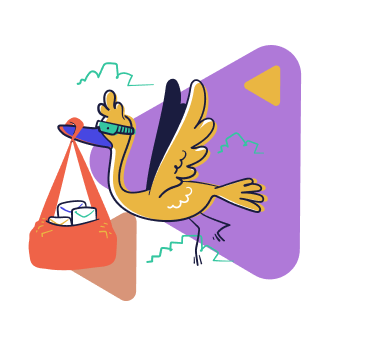 This item donation form template is designed to streamline the process of receiving and maintaining charitable contributions. Its user-friendly layout allows you to provide information effortlessly about the product you want your donor to donate.
From clothing and household goods to hygiene essentials, using this nonprofit donation template you can add products from any category. Moreover, it allows your donor to donate multiple items at once.
When it comes to blood donation, you must need more information about the donor compared to the other donation form. As a result, the form will be a bit long, isn't it?
But you want to keep the form simple and easy for the donor.
Nothing to be worried about; this blood donation form for nonprofits covers all the important information about a donor you should know, such as personal data, medical history, previous donation, and eligibility criteria.
By utilizing this template for donation, hospitals, blood banks, and healthcare organizations streamline their operations and enhance donor management.
You're also allowed to customize the form if you want any additional fields.
Need to raise money simply? Try this ever-simple online nonprofit donation form template. This template offers you to accept donations with 9 different regional-based payment gateway.
It's fantastic, right?
You don't need to take the tension of payment methods and integrate them separately. If you plan to raise money worldwide, this is your ultimate solution.
This form template collects donations quickly. Your users can also view the goal and statistics in the same form which gives them clarification about your motive.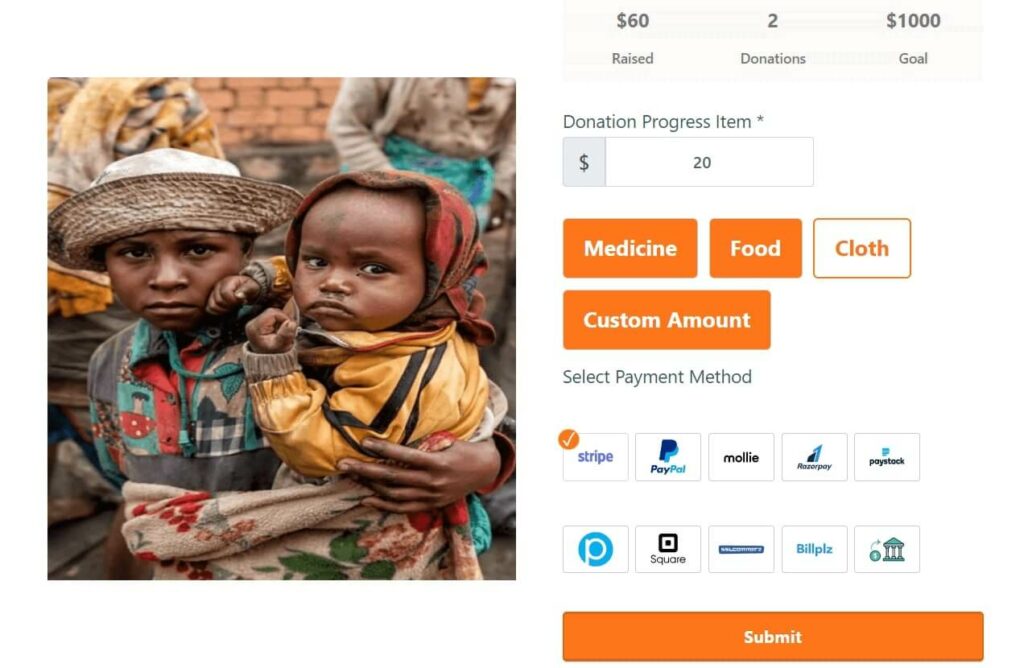 Whenever you run an organization, you can't handle or look after everything alone, right? You must need help from others. You'll need some people who'll be interested in being a part of your organization and taking part in the event under it.
Use this volunteer registration form template to streamline your volunteer recruitment process.
This user-friendly template allows prospective volunteers to provide essential information about their contact details and availability.
Customize the form to add more sections to know more about their skills, interests, and previous volunteering experience. By utilizing the information on the form you can efficiently manage volunteer registration and match volunteers with suitable roles.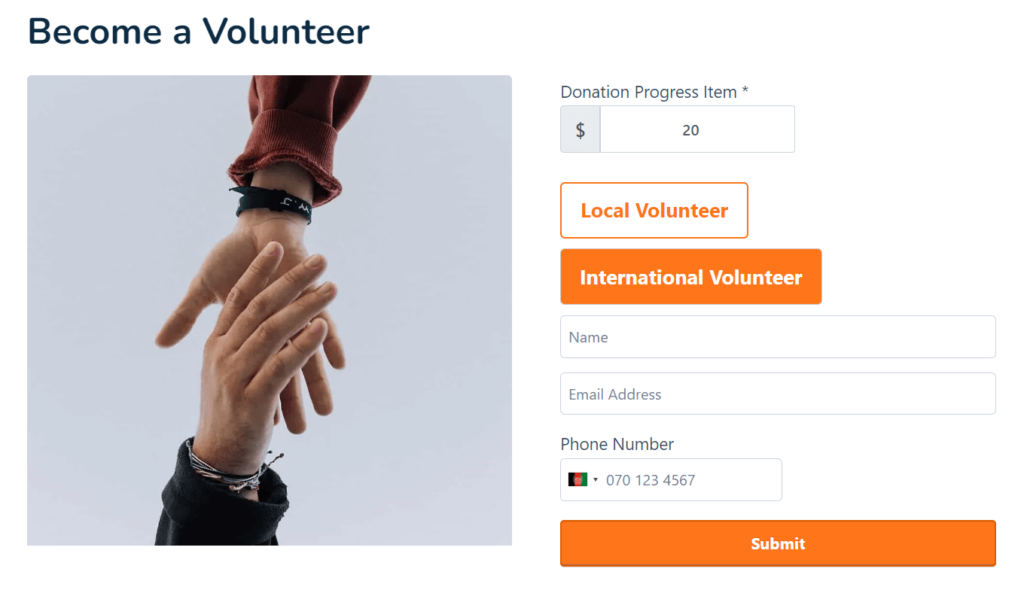 A fundraising form for treatment with a progress bar makes donations more transparent. Donors can see the goal you've set for the cause and the progress towards it.
They can also see how many donors have donated for treatment, and somewhere, it inspires them to take part in a life-saving situation.
With this template, you can accept donations from any corner of the world.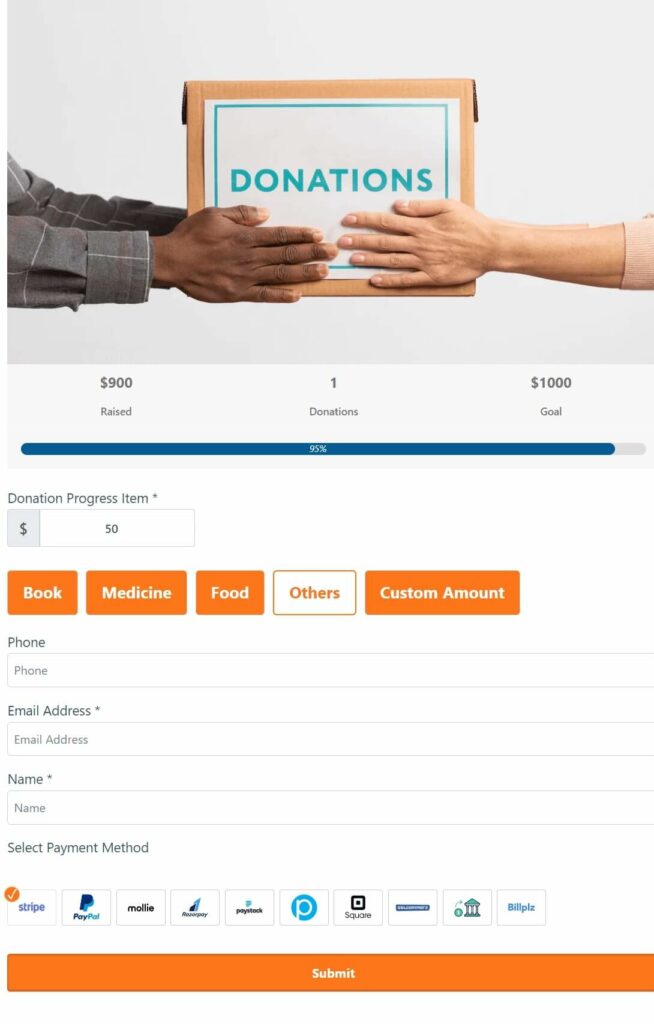 Ready to get started?
Experience WordPress payment and donation like never before. Try Paymattic now!
Orphanage Donation Form
The orphanage donation request form template is a valuable part of facilitating and managing contributors toward supporting orphanages and the children in their care.
This nonprofit donation template allows donors to easily provide their essential information about donation, such as donation amount, type of donation, or any specific instructions.
A recurring donation is a better option than a one-time donation in the case of availing sustainability. And it's kind of a mandatory option to raise money for running an orphanage.
This donation template offers you the option to take donations on a one-time, weekly, monthly, or yearly basis.
Church Donation Form
Churches or organizations can use this donation form to support and promote community growth. It can be used as a secure method for collecting potential donors' information and specifying the amount of their contribution.
Try this demo fundraising form template to continue the service to God, any constructive church work, or to help the less fortunate.
Other religious communities such as mosques, temples, or synagogues can also raise funds using this form template. These templates are responsive to any device, so anybody can make a donation using any kind of device.
Animal Shelter Donation Form
The animal shelter WordPress donation form template is a customizable online solution that facilitates a secure and efficient collection of donations from individuals or companies for animal welfare organizations.
With this form template, in addition to the personal information, you can allow your donor to choose whether they want to donate money or any products related to animal welfare.
The contributors can donate to feed the animals, for veterinary treatment, build or maintain shelters for them, for management, or anything for animal welfare.
Its easily operated interface and reliable payment processing make contributions convenient for the donor.
Charity Donation Form
For any kind of charity work, raising money is a must. This charity contribution template offers an efficient way to collect donations for a charitable cause.
Its user-friendly layout simplifies the donation process and makes it convenient for both donors and organizations.
Personal information, donation amount, and payment details are included in this template to ensure a secure transaction. Customizable fields allow you to add specific fundraising goals to provide transparency and encourage donor engagement.
Whether it's disaster relief, education, healthcare, or any other charitable effort, this template aligns with all the charitable causes for collecting funds and empowering the organization.
Auction Donation form
For organizations that host an auction to gather information about donated items, this auction form template can be handy to them. Your donors can put the details into the template about the things they want to contribute, such as description, image, value, and any additional notes they want to add.
Moreover, this template gives a smooth experience to the contributor while collecting their personal information. And remember, you can customize these things anytime.
How to Use These Templates?
Using these aforementioned templates is very easy. No hassle, no coding, just follow a few steps, and you're ready to go.
Login to your WordPress dashboard.
Install & Activate Paymattic.
Go to Paymattic → Settings → Tools
Click the Choose File button.
Press the Import Form button.
Match the CSS ID from – Paymattic → All Forms → Settings → Custom CSS/JS.
Now you can customize it if you want or can go straight with the template.
Wrapping Up
Whether nonprofits or charity organizations, the Paymattic WordPress plugin provide these cool and customizable donation form templates to give your contributors a smooth and user-friendly experience by making donations simple and secure.
Get rid of the manual form-building process and capitalize these built-in templates with a maximum number of payment gateways to empower your organization and maximize the fundraising potential.