Set Suggested Donation Amount To Increase Revenue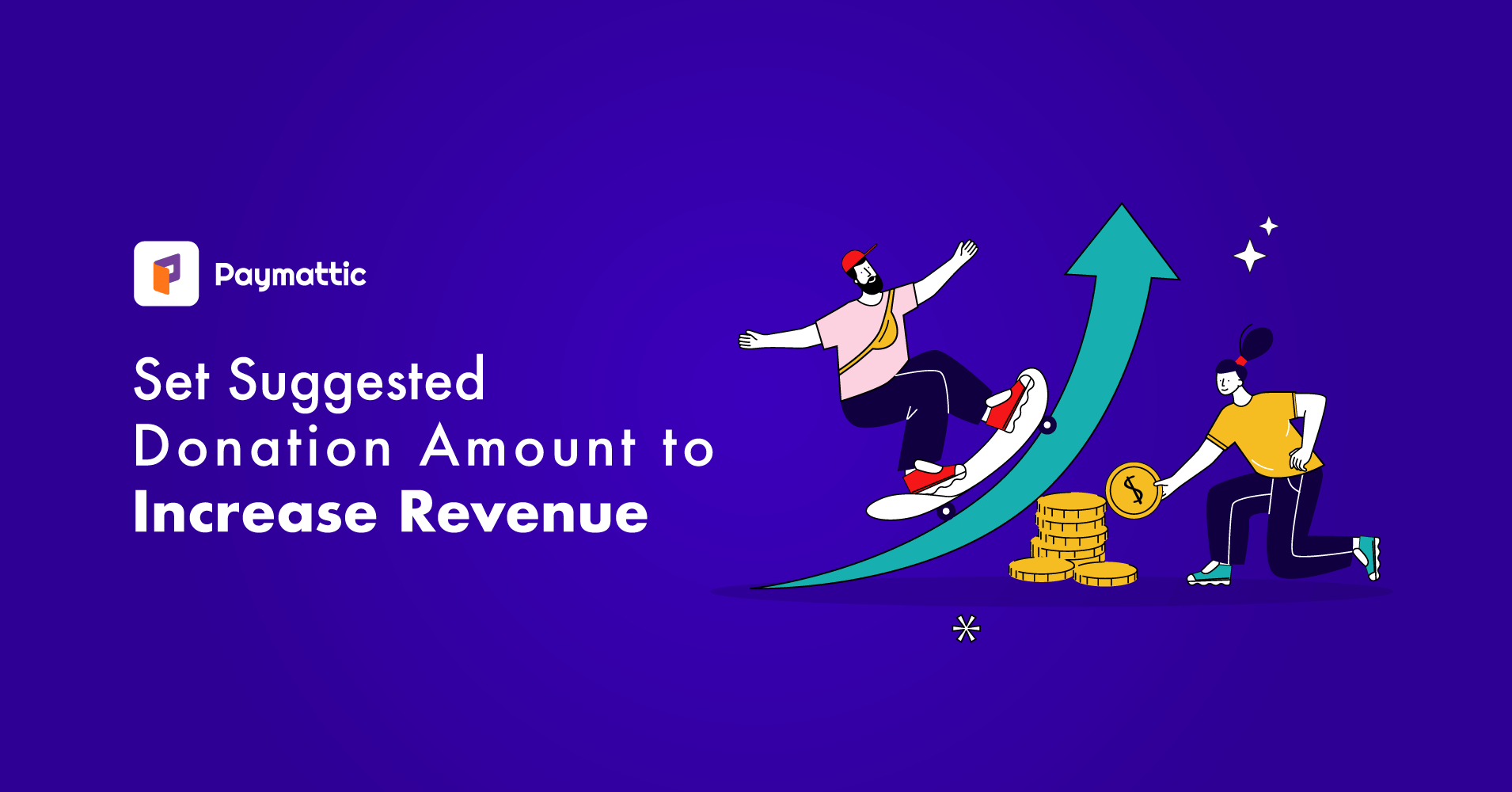 As an organizer, you have to think about how to increase revenue. The more you make a comfortable environment for your follower, the more you have the chance to increase revenue. Your responsibility is to provide contributors with opportunities to give in ways that seem simple, secure, and valued.
Suggested donation amounts help to create a comfortable environment for supporters and customers. It removes donors' burden of thinking about how much they should donate.
In this blog, we will discuss how to set the suggested donation amount. Before diving in, let's get some notion about the suggested donation amount feature that Paymattic offers.
What is suggested donation amount?
Suggested donation amounts are your organization's provided gift amount options to supporters. Donors always want to know a minimum donation amount that can affect a fundraising campaign. This feature makes it easier for your donors to choose the amount needed for your organization. It may be helpful to users in several ways, such as:
By mentioning a specific amount
By allowing donors to select their desired amount from your suggestion
By suggesting any amount which is needed for your organization
Subscribe to Our Newsletter
Join the crowd for more promotional offers, product updates, fundraising tips and tricks.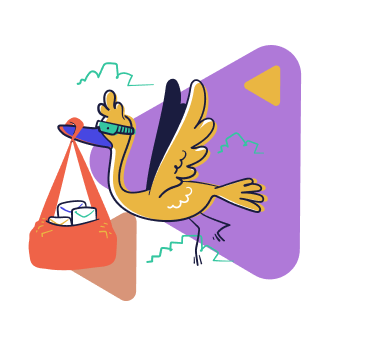 Why should you set suggested donation amounts on your website?
Your WordPress website is a mirror of your fundraising campaign. So it needs to be crystal clear to your supporters. Pre-defined donation amount presents your organization's preference.
When any supporter lands on your fundraising campaign, sometimes they get confused about deciding the donation amount. So if you set a suggested donation amount on your campaign, it helps your donor make decisions and maximize the benefit of your organization.
The purpose of setting user-defined donation amount is:
It improves donors' giving experience by reducing their pressure to think about donation amounts. Additionally, it helps donors select one from your suggested amount.
The suggested donations feature gives you more opportunities to raise your donation. Because when a donor finds you have set a pre-defined amount with an appropriate amount, it encourages them to donate more.
So to raise more donations, you can set up a suggested donation amount on your WordPress website.
Read this blog – GiveWP vs Paymattic and explore which is better for you.
Tips for setting a pre-defined donation amount
A pre-defined donation amount affects your fundraising campaign, so it needs to be set perfectly. Here we give you a few tips to set the suggested donation amount that will work like magic.
Suggest a relevant amount to your donor
To influence your donor's decision, you can suggest a donation amount. This suggestion must be relevant. If your last year's average donation rate was $30, and you suggest your donor give 600$, it will look irrelevant. Try to suggest an appropriate amount for donation.
Fill suggested amount based on the past amount
Before setting the pre-defined amount, always keep your campaign's previous average donation amount in mind.
You may suggest the following way:
If your average donation amount was 30$ last year, you might suggest your donor minimum value of $10 and a maximum value of $50. People who donate 30$ will be more like to donate 35$, 40$, or 50$, but they won't reduce their amount to $10.
That's the trick!
Choose a plugin to set suggested donation amount
Pre-defined donation amount feature may be found in so many plugins, but if you are looking for a plugin that sets up the procedure of suggested donation amount simply and easily, then you can try Paymattic.
Paymattic is a WordPress donation and payment plugin that comes with almost every key fundraising and payment feature. Some top fundraising features of Paymattic are:
Recurring donation
Custom payment amount
Guest donations
Donation progress item with progress bar
Goal amount
Predefined donation amount
Preferred billing intervals
Paymattic also supports 135+ currencies and 10 payment gateway, by which you can collect donations and payments globally.
Set suggested donation amount with Paymattic
With Paymattic, you can easily set a pre-defined amount. This feature will help your donor to decide the donation amount.
It may sound like a lot, so we are breaking down every step to set a user-defined amount with Paymattic. Let's dive in:
First, you need to create a donation form. For that, go to the Paymattic dashboard and select All Forms. In All Forms, You will find Add New Forms button. You can choose a new form template type from here by clicking this button. To start with donation templates, click on the Simple Form Templates.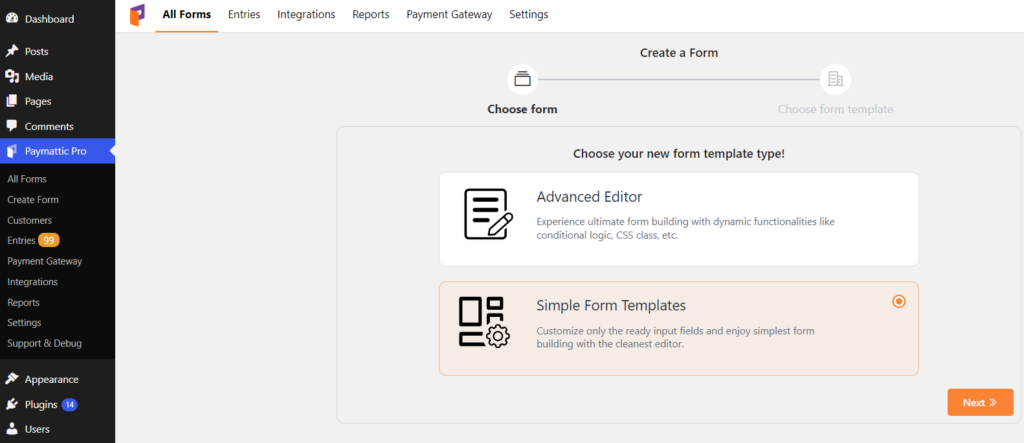 Here you will find two ready donation templates; choose one.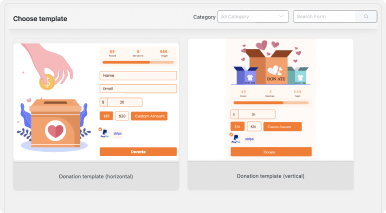 When you select any templates, you will find the Donation Progress Item fields. Set your suggested donation item and price here. If you click on the Allow custom amount checkbox, then your user will be allowed to set a custom amount. Finally, click on the Update fields button.
That's all! With this simple step you can easily set the suggested donation amounts with Paymattic.
Final word
With Paymattic, you can build donation forms as well as many types of payment forms. It is quite simple to set up, and its elegant look and smooth functionality sets it apart from other plugins.
Pre-defined donation amount is a pro feature of Paymattic. So you can try it among other cool functionalities that it offers. Lots of interesting features are also available in Paymattic Pro.
Thanks for checking out our blog. We hope this blog will help you set up a pre-defined donation amount for your fundraising campaign.