Ninja Tables Review: Pros, Cons & Top Features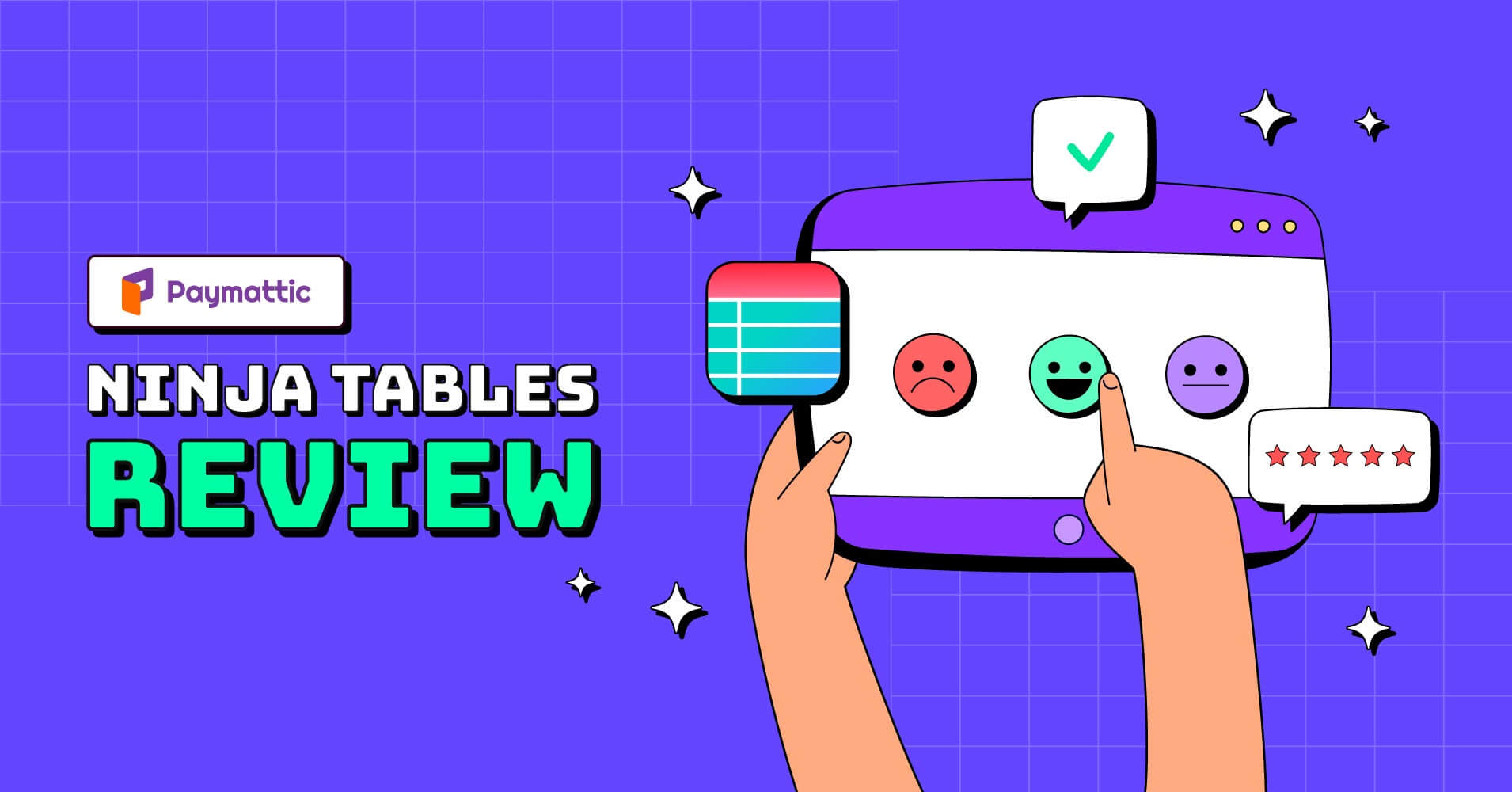 Do you know 43% of all websites on the internet use WordPress as a content management system? Though so many websites are built on WordPress, it comes with a very basic table builder.
It is a big pain point for naive users to display rich data in tabular format. You will require a lot of custom coding if you want to create a table with hyperlinks, images and complex data in your own style. So, Ninja Tables is the perfect solution for you.
Ninja Tables lives up to the hype as the best WordPress table builder plugin available in the market. Today we will walk through the Ninja Tables review: pros, cons, and features to see if it is really worth your time.
Let's go!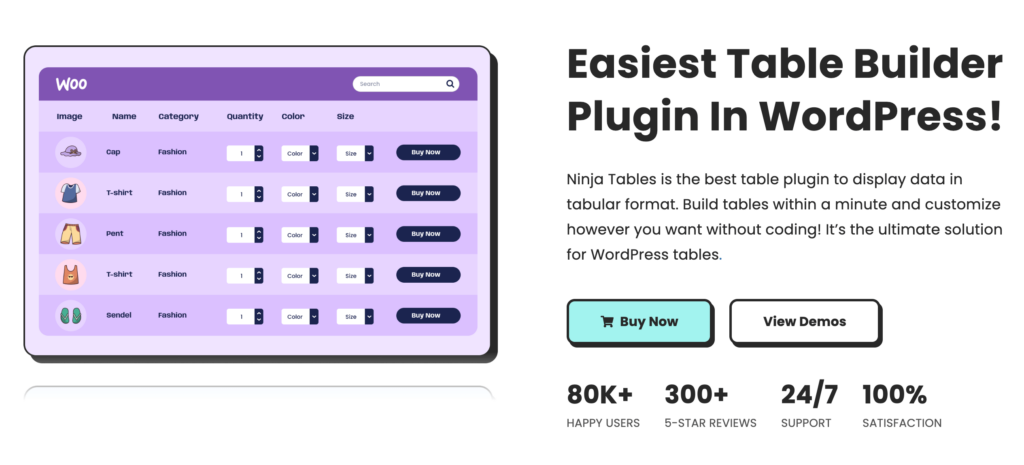 Ninja Tables is the best WordPress table builder plugin from the WPManageNinja team. It helps you to create stunning, enticing and user-friendly data tables on the WordPress website with literally zero lines of coding.
Adding a table to the WordPress site might be boring for you unless you meet the Ninja Tables. In addition, it spares a lot of your time to manually insert data in the table. So, the simple and super fast user interface of Ninja Tables made building data tables fun.
Even if your table contains thousands of data, it doesn't slow down your website performance. You can use Ninja Tables to present your eCommerce products, pricing plans, product catalogs, job listings and many more.
You can also build lots of dynamic tables such as WooCommerce, pricing tables, product comparison tables, and many more.
You can build an interactive table that is customizable from the front end with Ninja Tables. Below is an example of an interactive table where you can filter data based on various parameters and change its color.
| Name | Position | Office | Age | Start date | Salary |
| --- | --- | --- | --- | --- | --- |
| Zorita Serrano | Software Engineer | San Francisco | 56 | 2012/06/01 | $115,000 |
| Zenaida Frank | Software Engineer | New York | 63 | 2010/01/04 | $125,250 |
| Yuri Berry | Chief Marketing Officer (CMO) | New York | 40 | 2009/06/25 | $675,000 |
| Vivian Harrell | Financial Controller | San Francisco | 62 | 2009/02/14 | $452,500 |
| Unity Butler | Marketing Designer | San Francisco | 47 | 2009/12/09 | $85,675 |
| Timothy Mooney | Office Manager | London | 37 | 2008/12/11 | $136,200 |
| Tiger Nixon | System Architect | Edinburgh | 61 | 2011/04/25 | $320,800 |
| Thor Walton | Developer | New York | 61 | 2013/08/11 | $98,540 |
| Tatyana Fitzpatrick | Regional Director | London | 19 | 2010/03/17 | $385,750 |
| Suki Burks | Developer | London | 53 | 2009/10/22 | $114,500 |
| Sonya Frost | Software Engineer | Edinburgh | 23 | 2008/12/13 | $103,600 |
| Shou Itou | Regional Marketing | Tokyo | 20 | 2011/08/14 | $163,000 |
| Shad Decker | Regional Director | Edinburgh | 51 | 2008/11/13 | $183,000 |
| Serge Baldwin | Data Coordinator | Singapore | 64 | 2012/04/09 | $138,575 |
| Sakura Yamamoto | Support Engineer | Tokyo | 37 | 2009/08/19 | $139,575 |
| Rhona Davidson | Integration Specialist | Tokyo | 55 | 2010/10/14 | $327,900 |
| Quinn Flynn | Support Lead | Edinburgh | 22 | 2013/03/03 | $342,000 |
| Prescott Bartlett | Technical Author | London | 27 | 2011/05/07 | $145,000 |
| Paul Byrd | Chief Financial Officer (CFO) | New York | 64 | 2010/06/09 | $725,000 |
| Olivia Liang | Support Engineer | Singapore | 64 | 2011/02/03 | $234,500 |
| Michelle House | Integration Specialist | Sidney | 37 | 2011/06/02 | $95,400 |
| Michael Silva | Marketing Designer | London | 66 | 2012/11/27 | $198,500 |
| Michael Bruce | Javascript Developer | Singapore | 29 | 2011/06/27 | $183,000 |
| Martena Mccray | Post-Sales support | Edinburgh | 46 | 2011/03/09 | $324,050 |
| Lael Greer | Systems Administrator | London | 21 | 2009/02/27 | $103,500 |
| Jonas Alexander | Developer | San Francisco | 30 | 2010/07/14 | $86,500 |
| Jennifer Chang | Regional Director | Singapore | 28 | 2010/11/14 | $357,650 |
| Jennifer Acosta | Junior Javascript Developer | Edinburgh | 43 | 2013/02/01 | $75,650 |
| Jenette Caldwell | Development Lead | New York | 30 | 2011/09/03 | $345,000 |
| Jena Gaines | Office Manager | London | 30 | 2008/12/19 | $90,560 |
Ninja Tables review – Top features
Ninja Tables is an all-in-one plugin packed with so many advanced features. Let's take a look at the top features of Ninja Tables.
Drag & drop table builder
Ninja tables comes with a fantastic drag & drop table builder. It has recently tweaked the feature with a new update. This drag & drop module is a game-changer and beats all the competition behind.
With this fun tool, you can see instantly what elements you are adding to the table. Text, button, HTML, image, rating, icon, shortlist – anything you want to place in the table, simply drag it from the elements tab and drop it in any cell you want. That's all! It's so simple and intuitive.
WooCommerce product tables
Your eCommerce website is more powerful with Ninja Tables. You can enjoy seamless integration with WooCommerce and display all your products in an organized table. Add CTA button right in the table and sell products directly from the table without redirecting your customers to any other page. That's so cool, right?
And the big plus is your WooCommerce table is fully responsive to all devices. That's not the end here. Your customers can search and filter products in the table. You may add a dropdown for each cell so you can easily add subcategories for each product. Amazing!
Subscribe to Our Newsletter
Join the crowd for more promotional offers, product updates, fundraising tips and tricks.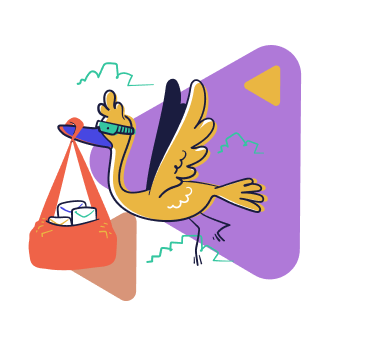 Add media to the table
Make your table visually appealing and more informative with images, videos, links, gifs and music. A table loaded with so much data looks lifeless unless you add some media to attract users' attention. So, Ninja Tables lets you add media to the table with a few clicks.
You can redefine the way a table works on a website with Ninja Tables. If you are a little smarter, you can build something more than just a table. Here is an example of how an image gallery is made only using the media features of Ninja Tables.
Custom table design
Ninja Tables allows you to design your table exactly how you want it. You can change the color, table layout, and responsiveness – everything is customizable with the Ninja Tables WordPress table plugin.
Texts, cells, backgrounds, borders, rows, columns, header, footer, or hover-color – every little detail can be colored from a wide range of color schemes.
Talking about responsiveness, Ninja Tables gives you the best experience. You can stack the rows on top of each other and select breakpoints based on device types. And yes, you don't need to reload the browser every time you make a change, view the changes in real time just like an artist.
Import-export
Maybe you are wondering if you can copy or move a table from one website to another with Ninja Table. Ninja Tables saves you from the hassle of creating the same table from scratch. You can import or export any table in JSON and CSV format to another website.
You can import tables from other tables too. Ninja Tables currently supports Table Press, Ultimate Tables and Data Tables Generator by Supsystic. So, moving to Ninja Tables with all your data is not rocket science now.
Google Sheets integration
Whether working with simple or complex data, Google Sheets is a very popular data analysis tool for everyone. Google Sheets integration with Ninja Tables lets you update your data on the website directly from Google Sheets.
It will make managing data easier and you can manage your website table without accessing the dashboard.
Fluent Forms integration
Make your website table dynamic by integrating Fluent Forms with Ninja Tables. Create beautiful forms with the Fluent Forms WordPress plugin and present all the form entries in tabular format.
Editing the table after form submission is as easy as pie with Ninja Tables. Customizing or filling up your data directly from the table saves a lot of time.
You may find this blog helpful too – How to easily add donation forms in WordPress?
Pre-made table templates
With the Ninja Tables WordPress data table plugin, you can build tables in no time. It has 14 pre-made table templates in different categories. These categories include pricing tables, comparison tables, employee tables and schedule tables.
Custom CSS
Ninja Tables takes table designing to an advanced level with the custom CSS feature. You can tweak your table as you want, even setting up the custom margin and padding for each row. If you are familiar with HTML and CSS, designing a custom table is like playing with a toy.
Other features
Ninja Tables offers other valuable features such as dynamic data, custom filtering, merge or split cells, WP Posts, conditional formatting, HTML and Lightbox. On top of that, you can create advanced charts from the table using the free add-on Ninja Charts. All those exciting features made Ninja Tables a full-fledged WordPress table builder plugin.
Pricing
At last, we come to the keystone question, pricing. Luckily, Ninja Tables offers multiple pricing options best fit for both single-site users or agency users. The annual license starts from $59 only and ranges up to $224 for unlimited domains. Lifetime licenses are also available starting from $247 and go up to $599 for unlimited domains.
However, this pricing is subject to change based on deals and discount offers. We recommend you check the Ninja Tables website to know the latest price.
Frankly saying, it's the best pricing with so many powerful features. Still, there's a free version available if you really don't want to touch your wallet.
*This pricing table is made with Ninja Tables.
Ninja Tables review – Pros & cons
Every WordPress plugin has some strengths and weaknesses. Let's find out some pros and cons of Ninja Tables that matters to you.
Here are some perks of using Ninja Tables that you will love –
Simple interface
Editing from the front-end
Transform data into hyperlinks
WooCommerce integration
Highlight columns
Ribbon/badge for pricing table
Smooth & faster performance
Dedicated support team
Though Ninja Tables is winning the battle with its cutting-edge features, you may face some difficulties in the following cases –
You can import tables only in JSON and CSV formats.
Some workarounds are complex for newbies.
Is Ninja Tables really worthy?
Whether you want to build a basic or advanced table, Ninja Tables has got your back. This WordPress table builder plugin has all the features that you require in a powerful and dynamic data table.
Besides, the Ninja Tables team is very much proactive in releasing new features and polishing the plugin. With this honest Ninja Tables review, your search for a table plugin for WordPress should end here. Undoubtedly, Ninja Tables is the perfect WordPress table plugin for your website.
Give it a shot today and let us know your experience with Ninja Tables in the comment section below.