Why Should You Set Up Recurring Donations For Non-profits?
When it's about fundraising for a non-profit, a recurring donation is best. A significant donation is always valuable, but a recurring donation to a non-profit gives a reliable source of financial support. It removes the organization's burden of thinking about seasonal falls. Moreover, a monthly giving program is a significant financial support that has a terrific impact on the long-term financial health of an organization.
Before discussing recurring donations for non-profits, it's essential to know what donation is and how it works.
Donation – at a glance
When you gift something (cash or goods) to a non-profit organization or a charity, this is called a donation. It is an accessible contribution, and a vital aspect of this contribution is to help others. There are many types of donations, such as:
One time donation
Recurring donation
In-kind donation
Stock donation
Planned gifts
Why is donation significant?
Isn't it good to help others? There is a maxim that God will help you if you help others. Moreover, if you are helping others, you will be rewarded not only by the same person but you will also get helped in many other ways!
The key aspects of such an organization are trustworthiness, transparency, honesty, and accountability. The non-profit organization is mainly built for social benefit. They work for others' happiness.
There are 1.5 million registered non-profit organizations in the USA alone. They include private foundations, public charities, and other non-profit organizations. If anyone donates to their organization, they distribute it among those who need it. Donating is not just helpful for other people but also helps you in many other ways. For instance, a donation to non-profits has the following effects:
makes you feel good
strengthens your value
spread positivity among all the people
helps to teach your next generation to help others
encourages others to do the same beneficial work for people
All types of donations are important for a non-profit, but this article will discuss why you should set up recurring donations for non-profits.
First, let's give an eye on a few basics.
What is a recurring donation?
When a contributor contributes to your non-profit organization regularly, it can be called a recurring donation for a non-profit. It's a circle of making donations, which will be repeated after a specific period. This repetitive donation is beneficiary to a non-profit organization.
Because if you contribute to a non-profit organization regularly (every day, month, or year), it will be helpful for an organization to help people regularly. When a donor or contributor makes a monthly donation to a non-profit organization or a charity, this is called a recurring donation for non-profits. The donations made repetitively are known as recurring donations or gifts.
Why monthly donations are important?
Any non-profit organization greatly appreciates donations (one-time or recurring). But making a monthly donation is beneficial for both the contributor and the organization because recurring donation to non-profit helps this organization make it easier to budget and plan.
A recurring donation to a non-profit is a great way to maximize your impact on an organization. Moreover, monthly giving is important for both the organization and the contributor. You may not be clear enough; ok, let me explain the benefit for you.
Subscribe to Our Newsletter
Join the crowd for more promotional offers, product updates, fundraising tips and tricks.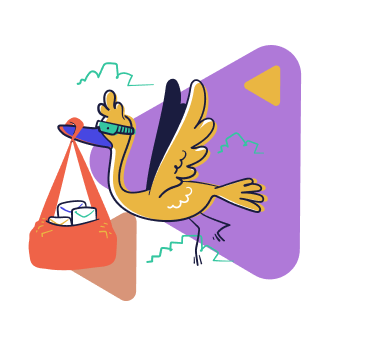 Organizational benefit from the recurring donation
Getting unexpected donations is excellent! But monthly donations allow a non-profit to rely on consistency regarding individual contributions.
Recurring donations for non-profits help donors to build a relationship with the organization. Because when you start giving a regular donation to an organization, it will auto-connect the donor with this organization regularly; you can call this a donor retention process.
Suppose any organization knows how much regular donation it will get from a recurring donor. In that case, it will be helpful for that organization to plan smoothly how it will distribute among the people. Getting a quick cash flow is better for an organization because getting a one-time gift helps an organization do a specific action needed to be done at that moment. Still, when an organization wants to make a long-term plan. If the organization knows its monthly donation amount, it can be effective for this organization to make a long-term plan about how it will spend the money. Monthly donation helps an organization save money and time.
Contributors benefit from the recurring donation
Recurring donations for non-profits are not just helpful for the organization but also for donors. Recurring donation reduces the burden of a donor who wants to make a large amount of donation but can't be able to give it at once. For example, if anyone wants to donate 240 dollars, it becomes more manageable if they donate 20 dollars monthly rather than donating it all at once.
Research shows that monthly contributors are more likely to give year over year. It is helpful for organizations to have a sustained impact. It also helps them get to know you are a donor. Giving a monthly donation also helps keep positivity in donors' minds.
Three-step framework for successful recurring donations for non-profits
The framework is a set of ideas that can be set up to decide something. To set up recurring donations for non-profits, there need to be some ideas for making it successful.
Here we are giving you these simple three ideas to make a successful recurring donation for non-profits campaign:
Step 1: Don't kill the donor buzz
When it comes to donation, emotions should be the leading factor. When your mission and message move supporters, they feel inspired to give to your cause.
Your fundraising tool can have a large effect on your supporter's minds. If your tool annoys donors by asking lots of questions or doesn't work well, the donor will get discouraged from donating. And ultimately, they will not remain there and will give up on donating to your organization.
So your first priority must be to hold donor buzz in your campaign by giving them comfort. You can find many plugins in WordPress for collecting donations, but my suggestion is to remove donors' hassle; you may try to use the WordPress fundraising and payment plugin paymattic; because its simple, hassle-free feature will smooth your donation-making journey.
Step 2: Become an expert in card security
Once you've streamlined your online donation process, it's time to shift your focus to building stronger relationships with donors.
Building stronger relationships mean convincing donors to save their card information with you on the technical side. Consider the online business platform once more. How many online companies do you trust to create an account and save your credit card information? How can others trust you easily if you do not trust others to save your credit card information? So it's very important to use a plugin for your campaign which provide you with many transaction methods with the best security. You can relax about this issue with Paymattic. In this multi-purpose plugin, you will get ten different payment methods in which you can save your card information by closing your eye. You don't need to think further.
Step 3: Promote recurring donation
After completing the previous step, it's time to push recurring donations.
If the donor already saves their card on file, it is easier to persuade the donor to make a monthly donation because there is no hassle of putting in new information. To promote recurring donations to your supporter, you can send them regards for donating by email, it will encourage the donors to make further donations.
In Paymattic, there is a free feature to send donors regards after completing a donation by email or message on telegram. So you may try Paymattic for free to promote recurring donations.
Compare GiveWP and Paymattic side-by-side and pick up the best plugin.
How to get recurring donations online
Nowadays, people collect donations online. And collecting donations online is much easier than any other process. You first need a donation form to start collecting donations online. You can simplify collecting donations through your website using a WordPress fundraising plugin. Most WordPress fundraising plugins include form builders with multiple payment gateways, making the fundraising process painless. A perfect plugin with advanced features will convert your website into a donation platform in a few clicks.
Many fundraising platforms are available that will assist you in creating a successful recurring donation for non-profits. But if you want the best one, you can go for Paymattic.
So, now let me introduce you to the Paymattic WordPress donation and fundraising plugin that can help you turn your WordPress website into a donation website. It is a great WordPress donation plugin to manage your online fundraising campaign.
Paymattic's user-friendly design and smooth interface make it easy to create WordPress donation forms with a few clicks.
You can also collect monthly donations with this plugin. The Donation Progress Item input field simplifies recurring donation collection. The custom form fields will allow you to design the donation form as you wish. Furthermore, the coupon code functionality gives a competitive boost to this fantastic plugin.
It comes with a sleek design and smooth functionality. In addition, you can integrate several payment gateways, including PayPal, Stripe, Payrexx, Xendit, Square, Mollie, Razorpay, Billplz, Paystack, and SSLCOMMERZ. Multiple app integrations are one of the enticing features of Paymattic. You can connect your form with Mailchimp, ActiveCampaign, FluentCRM, Fluent Support, Twilio, LearnDash, LifterLMS, TutorLMS, Webhook, Google Sheet, Telegram, Slack, and Zapier.
The good part is that it is free to use with its essential features and functionalities. You have to upgrade to the pro version to use premium features. You can get features and functionalities in every package, and we think this is the amazing part of Paymattic because this facility you can't find in others!
Ready to get started?
Experience WordPress payment and donation like never before. Try Paymattic now!
Set up a recurring donation with Paymattic
Paymattic is made with user-friendly features. Anyone can easily create a donations form with a few clicks using this fantastic plugin. To set up a recurring donation for the non-profit, you can follow this simple step mentioned below:
Set up recurring donations with Donation template:
If you looking for a more simple way, then you can choose ready Simple Form Templates.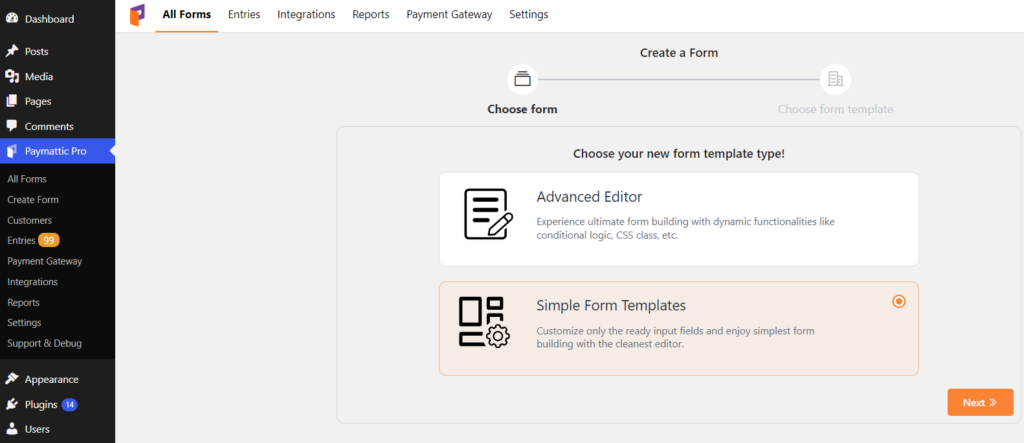 Here you can choose a Donation template (horizontal) or Donation templates (vertical).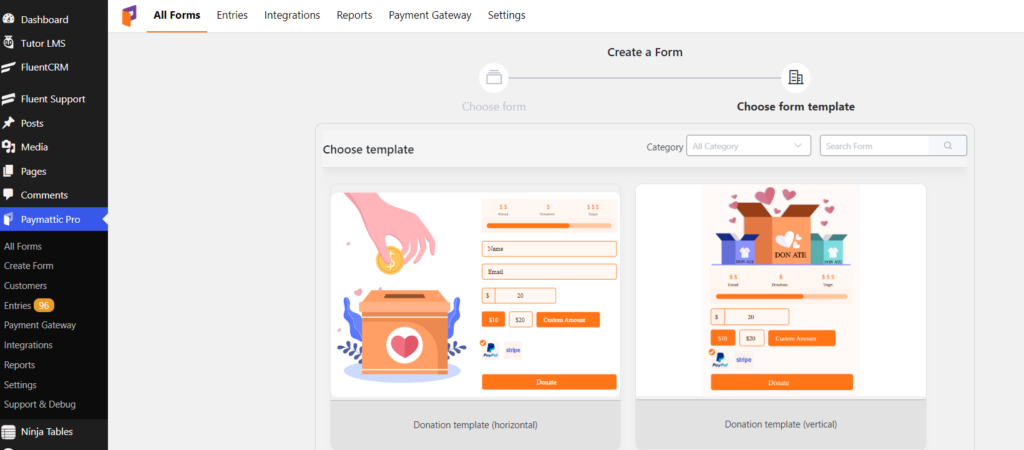 When you choose any of them, you will find the Donation progress item field there. Just click on the Allow recurring amount box, then the option of setting recurring donation appears. After setting the recurring amount on your form, click the Update fields button.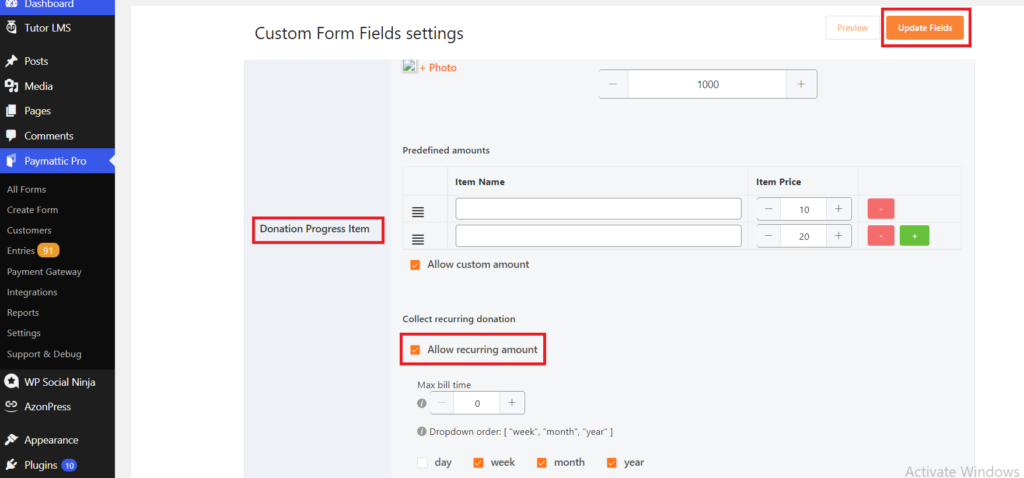 That's all! Your recurring donation for non-profits form is ready by following this simple way!
Let's wrap up!
As discussed above, a recurring donation can benefit your organization and your donor. Monthly donors are valuable assets of non-profits. It provides you with more opportunities to focus on donors.
With monthly giving programs, an organization gets constant supporters. Creating a monthly donation program is not an easy task. It can be tricky, but Paymattic makes it simple for you. Recurring donation is a premium feature of Paymattic. Lots of amazing features like recurring donations are also available in Paymattic Pro. So don't forget to try Paymattic to make your fundraising journey smooth.
For any further queries, you can contact us.
Ciao!