GiveWP vs Paymattic – 7 Key Differences You Should Know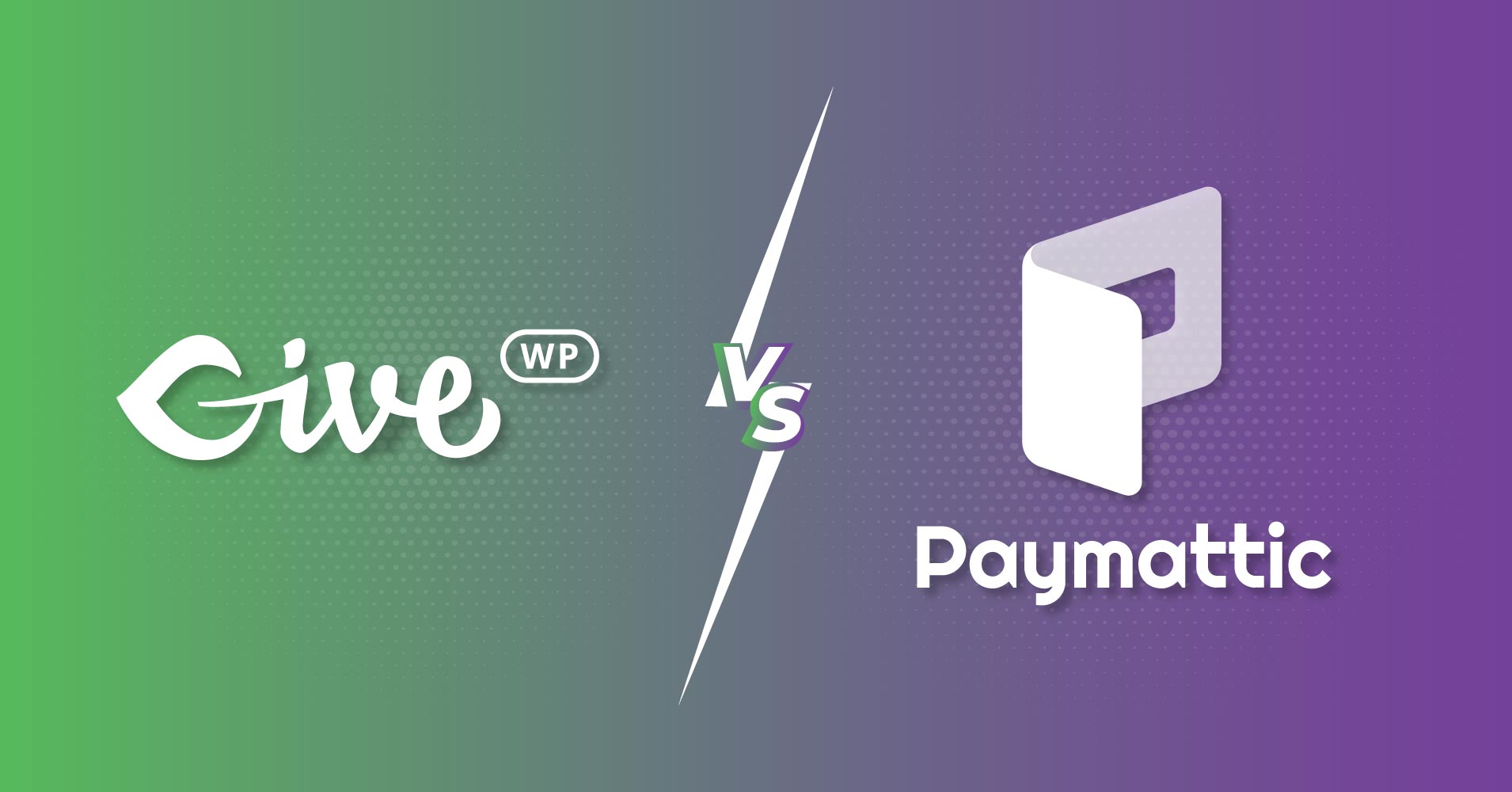 Are you in the puzzle to choose between Paymattic and GiveWP WordPress plugins for your fundraising website?
These are the two most popular WordPress donation plugins with lots of powerful features.
Both can help design full-fledged fundraising campaigns, collect payments online in a number of different ways, and manage your donations on the backend.
Today, in this comparison blog we will talk about GiveWP vs Paymattic to help you choose the right tool for your website.
Paymattic is the most excellent WordPress fundraising plugin for accepting online donations. Paymattic's versatile and user-friendly design makes it simple to create payment forms in only a few clicks.
This multi-purpose plugin can be used to receive payments for a product or service as well as to collect donations. In the form itself, the Donation Progress Item feature displays a dynamic progress bar. With the Tabular Product Items field, you may build a product table in the form.
The Subscription Payment Item field simplifies subscription payment collection. The coupon code functionality gave this fantastic donation plugin a competitive boost. And these are only a few of the amazing functionalities that Paymattic provides. Other fantastic features include –
70 pre-built form templates.
Fastest payment processing
10 payment gateways
Native integration with multiple platforms.
Recurring payments collection.
Donation progress item field.
135+ currencies support.
Custom CSS & JS.
File upload field
Customer profile.
World class support.
Ready to get started?
Experience WordPress payment and donation like never before. Try Paymattic now!
With over 100,000 downloads, GiveWP plugin is one of the most powerful and user-friendly WordPress fundraising plugins.
This WordPress donation plugin has features including payment history and a donor management system. It makes registering and tracking donations easier for donors. Statistics on your top donors and donation forms are also available.
There are also a number of features that can be customized to match your current WordPress theme. Using an email marketing integration, you can send automated messages to donors, such as thank-you emails. Another advantage of GiveWP is that it does not collect fees for online payments.
GiveWP vs Paymattic – 7 important gaps between them
Despite the fact that GiveWP and Paymattic provide some parallel features, some key differences make them distinct from one another. Let's dive into the facts in detail –
Custom form fields
The Paymattic WordPress donation plugin comes with 35+ different form field options with the pro version. You can use drag-and-drop to add these fields to your form. These fields will enable you to capture insightful customer data such as profile information, contact information, subscription payment, or coupon-related information. Some of the vital form fields are name, email, file upload, address, subscription payment item, and coupon fields.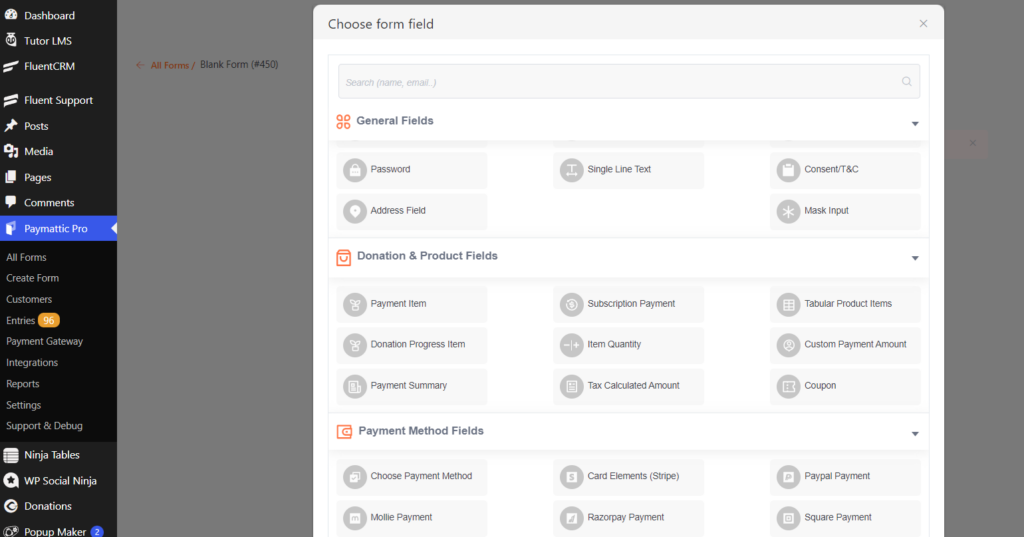 In the GiveWP donation plugin, there are no built-in form fields available. You have to purchase the Form Field Manager add-on to customize the form. It is not a budget-friendly solution in comparison with Paymattic.
Payment methods
The Paymattic WordPress plugin offers the Stripe payment gateway without any cost with the plugin. Other big names in the industry are also available with the paid version of the plugin. Here all currently available payment gateways with Paymattic are listed below:
Stripe (free)
Paypal
Payrexx
Paystack
Billplz
SSLCOMMERZ
Mollie
Razorpay
Xendit
Square
Offline for cheque payment and bank transfer.
Check out and learn how to add donation forms in WordPress
In the case of GiveWP, you can use Stripe and PayPal for free. For other payment gateways, you have to purchase add-ons for each type of payment gateway additionally which gradually sums up to a hefty amount. So, integrating payment methods in GiveWP is more costly than Paymattic.
Form templates
Pre-built form templates save a lot of your time. The Paymattic donation plugin is enriched with 70 pre-built form templates. In the Advance Editor you will find contact forms, payment forms, product purchase forms, restaurant order forms, hotel booking forms, taxi booking forms template and more. And In the Simple Form Templates you will find available donation form templates.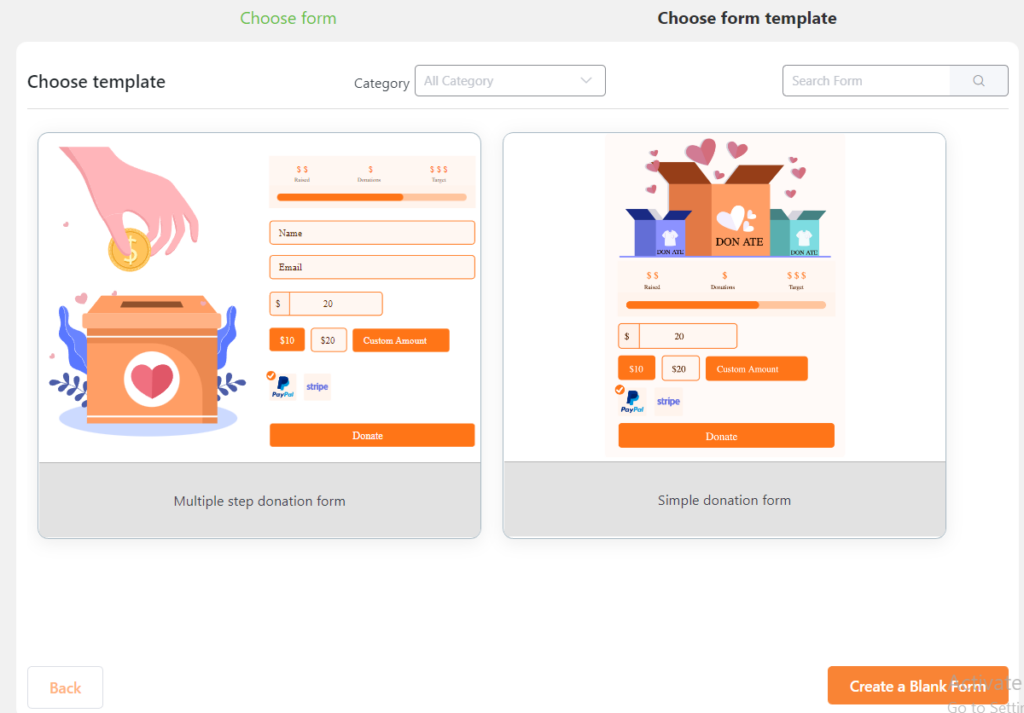 In contrast, the GiveWP plugin for WordPress offers only three types of form templates such as multi-step form, classic form, and legacy form.
Customer profile
Both Paymattic and GiveWP come with a comprehensive customer profile module. Here, you will get all the profile information of the customer or donor, their recent transactions and their submitted data.
The user interface of the customer profile module in Paymattic is more detailed compared to GiveWP. In Paymattic, you can view the donor activity, subscription status in the Customer Profile module and also filter them based on date & payment status.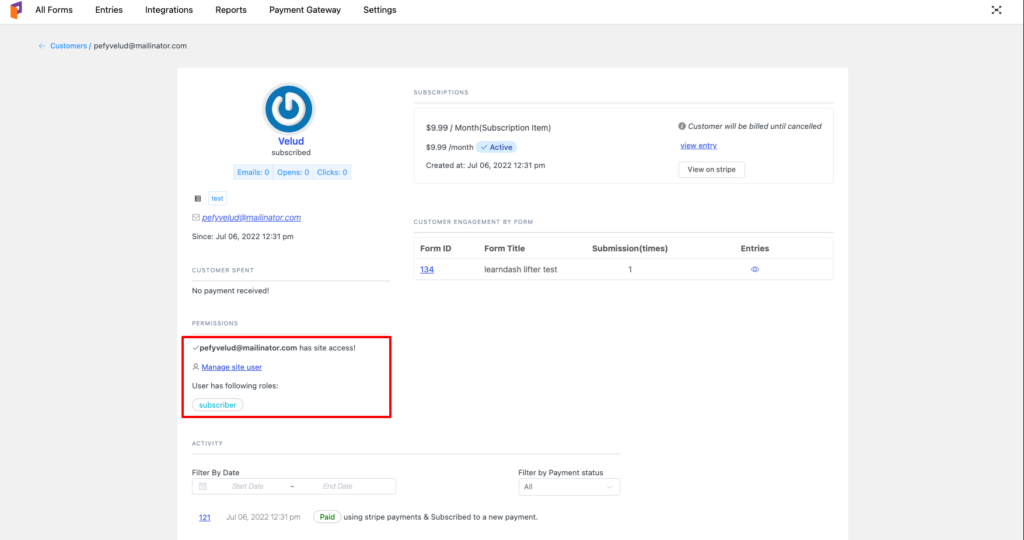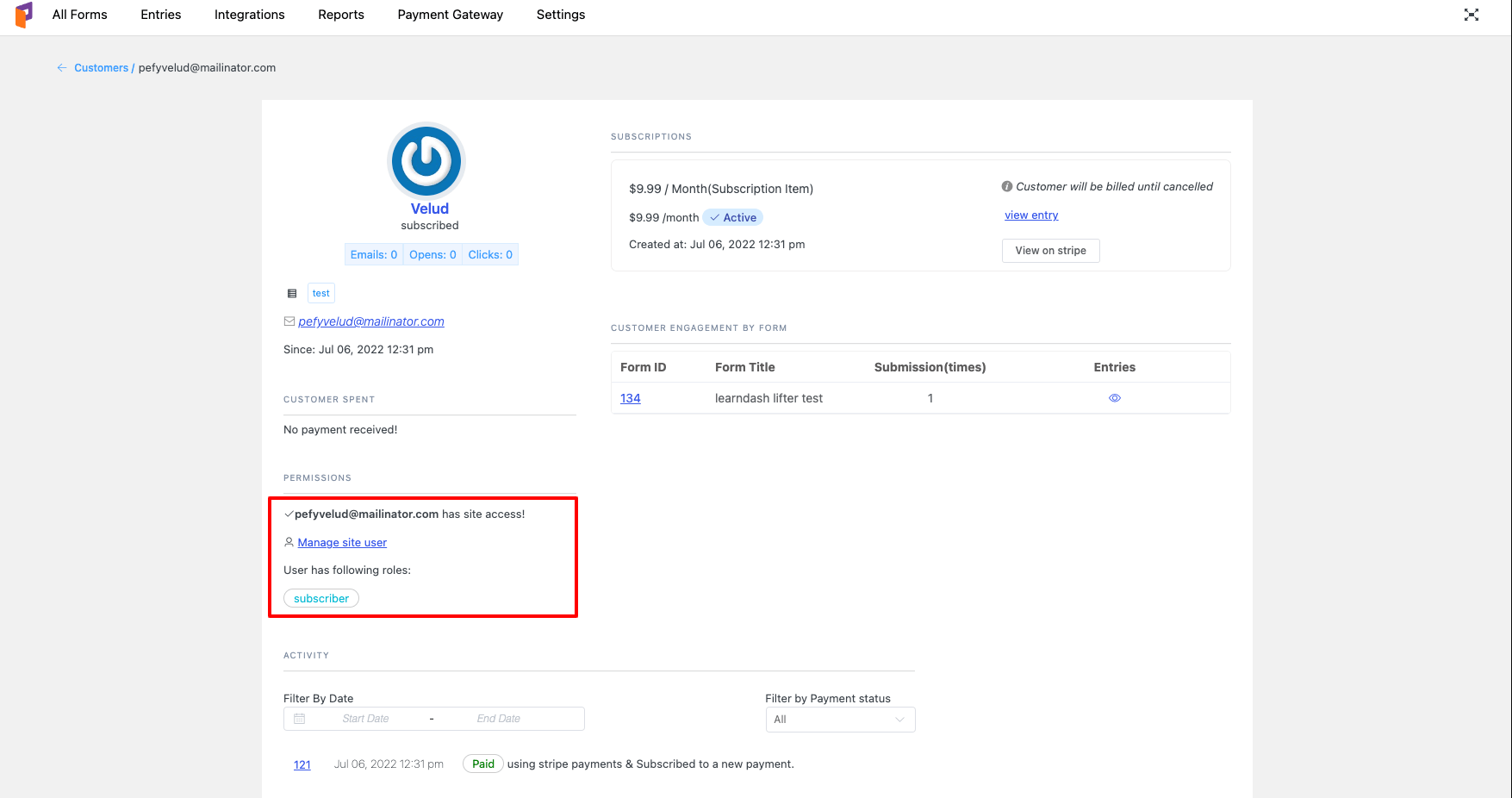 Advanced reports
Paymattic and GiveWP have top-notch reporting modules. You don't need to get any additional add-on to use this feature. In Paymattic, the report shows data in chart and tabular format. Besides, you can filter the data based on various parameters.
The GiveWP reporting feature is also very detailed and you can export data in CSV directly from the reporting module. Let's have a look at the Paymattic reporting module below.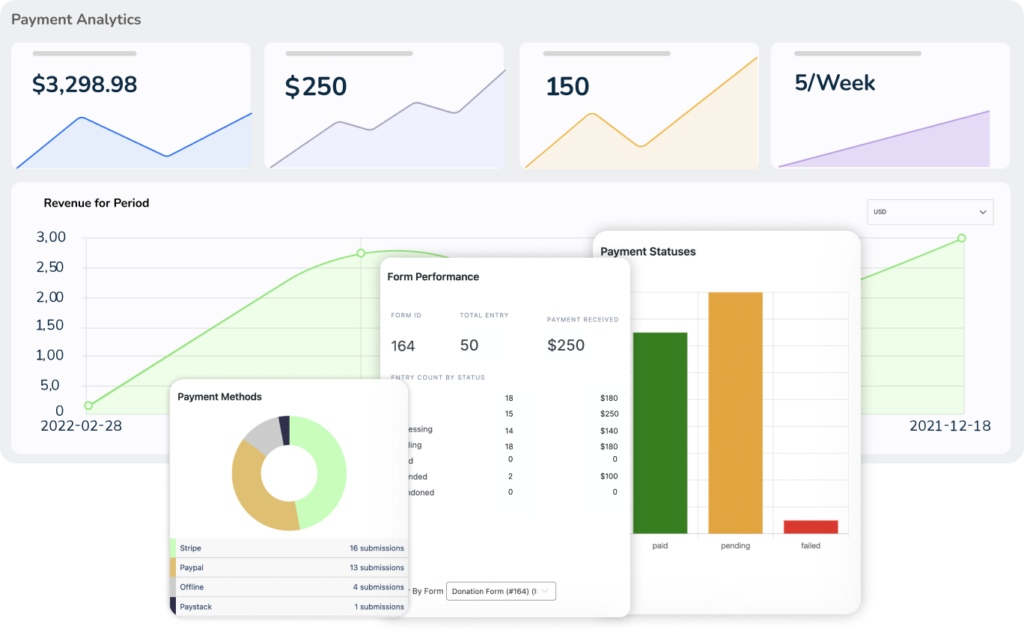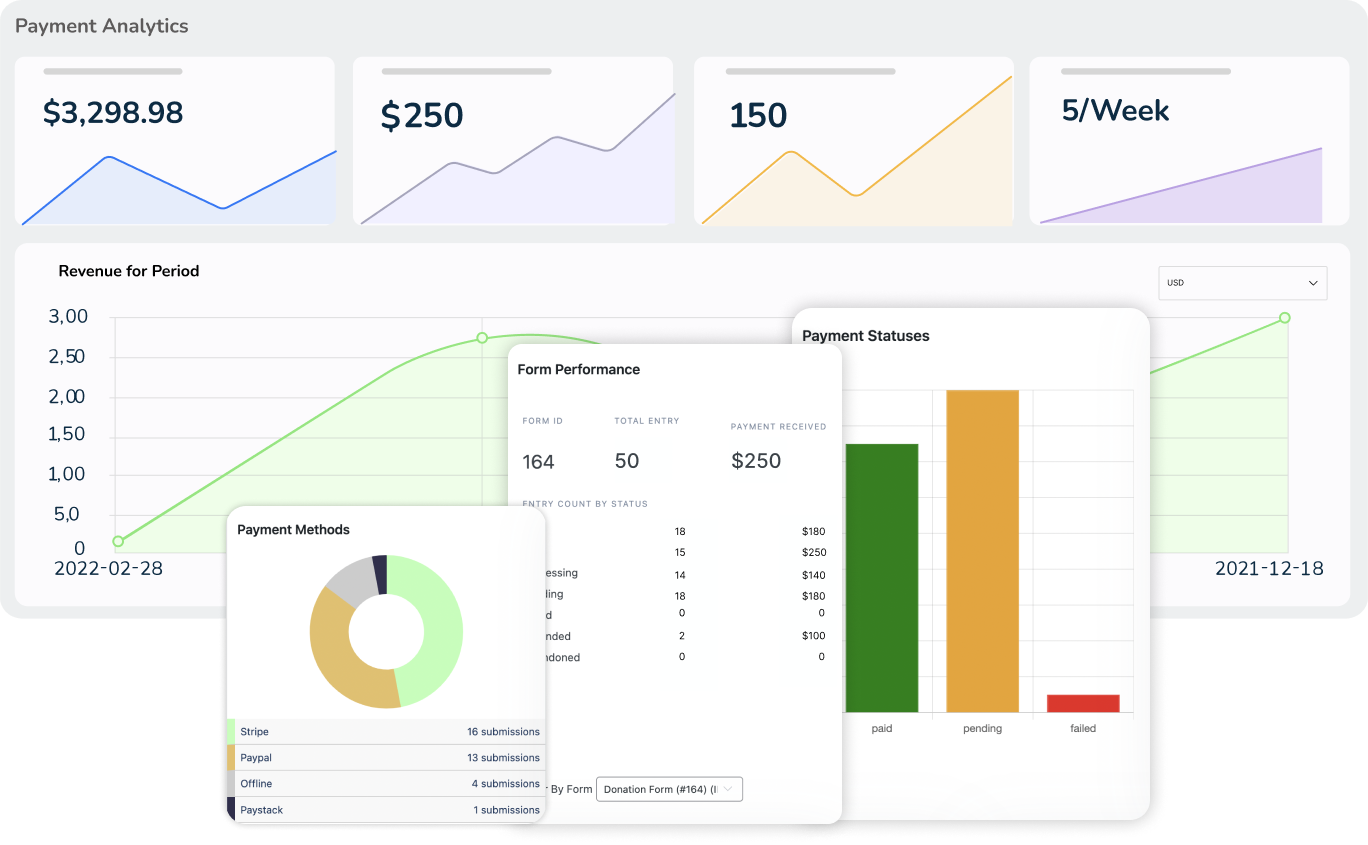 Integrations
The robust integration feature of Paymattic enhanced the value of the plugin by many folds. You can integrate the plugin with User Registration, FluentCRM, Fluent Support, Mailchimp, Google Sheets, ActiveCampaign, Twilio, Telegram, Slack, Tutor LMS, LearnDash, Lifter LMS, Webhook and Zapier. The good part is you can integrate all those applications in your form with the single site license.
The exception with GiveWP is you have to purchase a separate add-on for each type of integration. Each add-on will cost you $79 annually. Unlike Paymattic, it does not offer any LMS integration with the pro version.
| Integrations | Paymattic | GiveWP |
| --- | --- | --- |
| WP User Registration | | |
| FluentCRM | | |
| Mailchimp | | |
| ActiveCampaign | | |
| Twilio | | |
| Telegram | | |
| Slack | | |
| Zapier | | |
| LifterLMS | | |
| LearnDash | | |
| Tutor LMS | | |
| Fluent Support | | |
| Google Sheets | | |
| Webhook | | |
WP User Registration
You can enable the WP User Registration module with the Paymattic WordPress donation plugin. Once you integrate a form with the WP User Registration module, it will automatically register users for WordPress site when a new form is submitted.
Paymattic provides the module with its free version, whereas it is not available in the GiveWP WordPress plugin.
Subscribe to Our Newsletter
Join the crowd for more promotional offers, product updates, fundraising tips and tricks.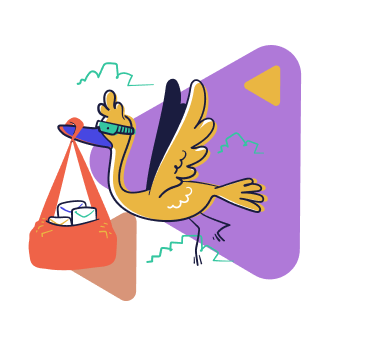 reCAPTCHA
Create a faster and more secure payment form with the Paymattic form builder plugin. You can prevent spamming and make the form submission more authentic by adding Google reCAPTCHA with the form. Currently, you can enable v2, and v3 with Paymattic.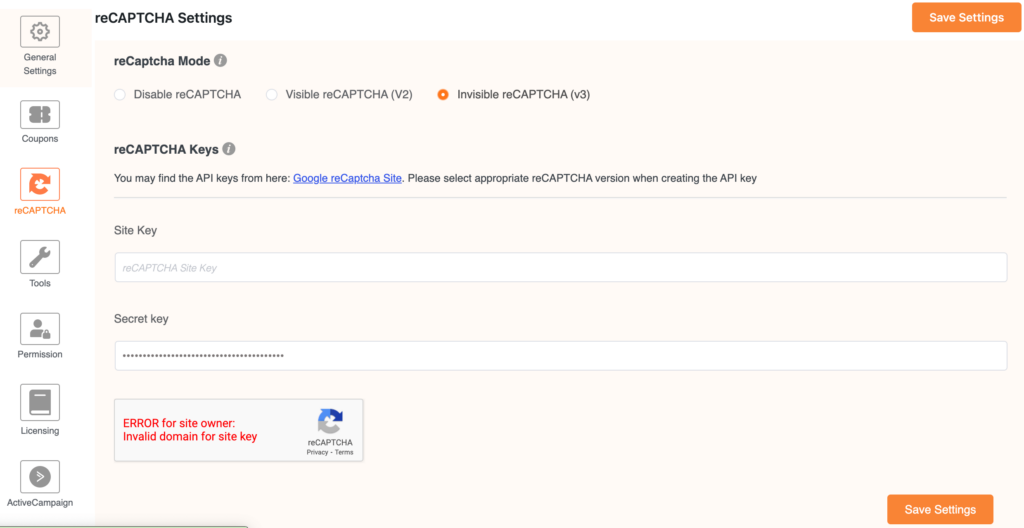 As the reCAPTCHA module is unavailable in GiveWP, there is a possibility of spamming with this plugin.
Pricing
The Paymattic WordPress fundraising plugin is the most affordable plugin you can ever have. Once you get the premium version of Paymattic starting from $4.99/month only, you are open to access all the premium features. The premium features include subscription payment item, tabular products Item, coupon fields, email marketing integration and multiple payment gateway integrations. You can also avail agency license for multiple site usage at $9.99/month. Have a look at the pricing table for more pricing options.
The basic plan of GiveWP starts from $149, which is much higher than Paymattic. Besides, you can not access all premium add-ons unless you opt for the pro license at $499 annually.
GiveWP vs. Paymattic: Comparison table
Product fields
| Features | Paymattic | GiveWP |
| --- | --- | --- |
| Payment Item | | |
| Subscription Payment Item | | |
| Tabular Product Items | | |
| Item Quantity | | |
| Custom Payment Amount | | |
| Tax Calculated Amount | | |
| Coupon | | |
Payment method fields
| Features | Paymattic | GiveWP |
| --- | --- | --- |
| Choose Payment Method Field | | |
| Card Elements (Stripe) | | |
| PayPal Payment Gateway | | |
| Mollie Payment Gateway | | |
| Razorpay Payment Gateway | | |
| Square Payment Gateway | | |
| Offline/Check Payment Gateway | | |
| Paystack Payment Gateway | | |
| Billplz Payment Gateway | | |
| Payrexx Payment Gateway | | |
| SSLCOMMERZ Payment Gateway | | |
General fields
| Features | Paymattic | GiveWP |
| --- | --- | --- |
| Name | | |
| Email | | |
| File Upload | | |
| Single Line Text | | |
| Textarea Field | | |
| Number Field | | |
| Dropdown Field | | |
| Radio Field | | |
| Checkbox Field | | |
| Date Field | | |
| Hidden Input | | |
| HTML Markup | | |
| Password | | |
| Consent/T&C | | |
| Address Field | | |
| Mask Input | | |
Final words
It's clear-cut that Paymattic offers some distinctive features that GiveWP does not. On top of that, Paymattic is more affordable than GiveWP for similar features. So, We encourage you to choose Paymattic over GiveWP for your donation site.
If you have any thoughts about GiveWP vs Paymattic comparison, let us know in the comment section below.