5 Best Donorbox Alternatives for Non-profits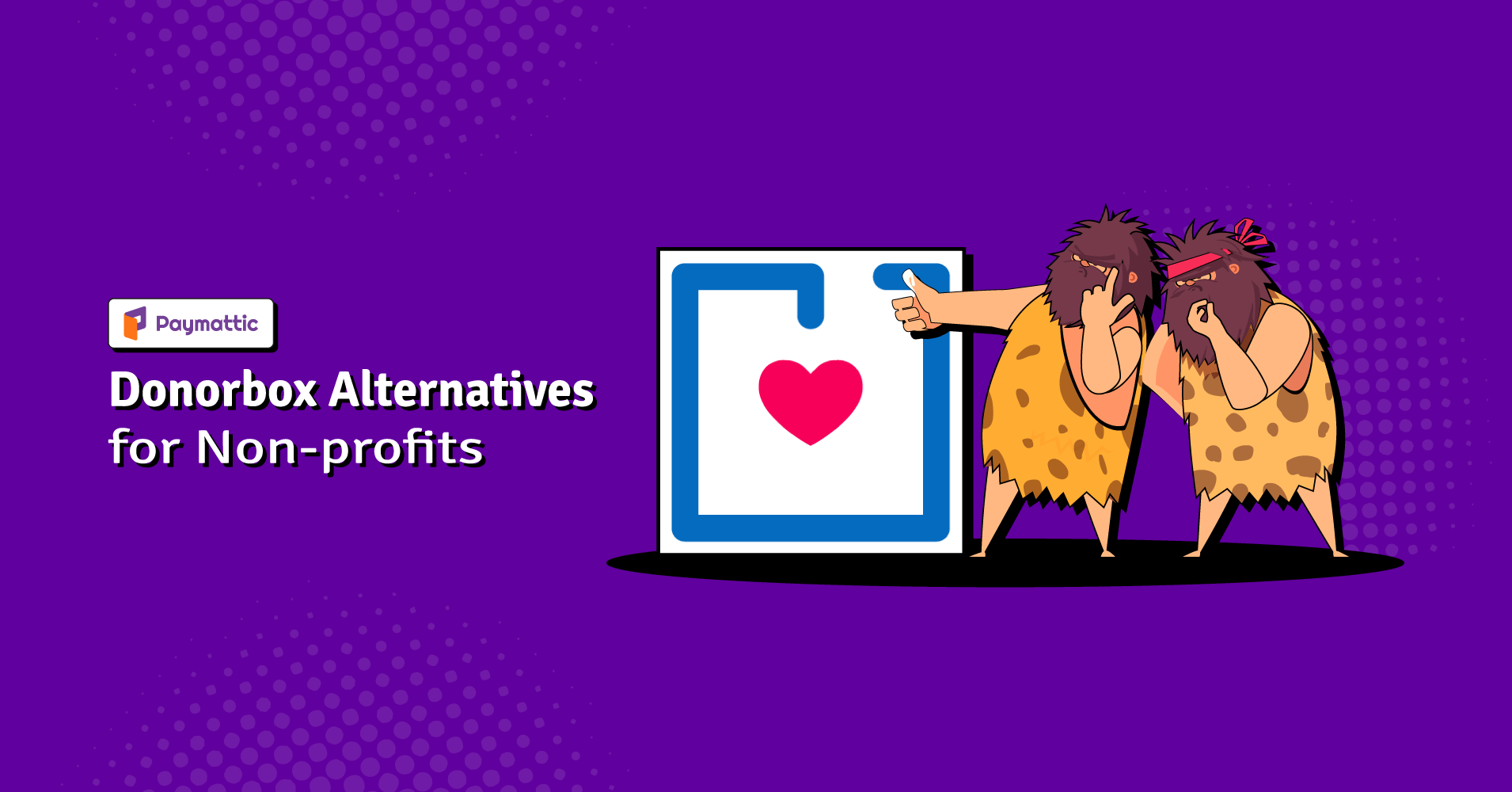 Collecting donations online has become much easier with the help of fundraising platforms. To start fundraising for your non-profit, you must look for an easy solution.
When you start searching for a tool for your non-profit, you may like to pick Donorbox on your tool list. As Donorbox is able to give good service. But did you know there is many more online payment services for non-profits available that can give you more?
In this blog, we will explore the 5 best Donorbox alternatives that can help you to reach your fundraising goal more easily.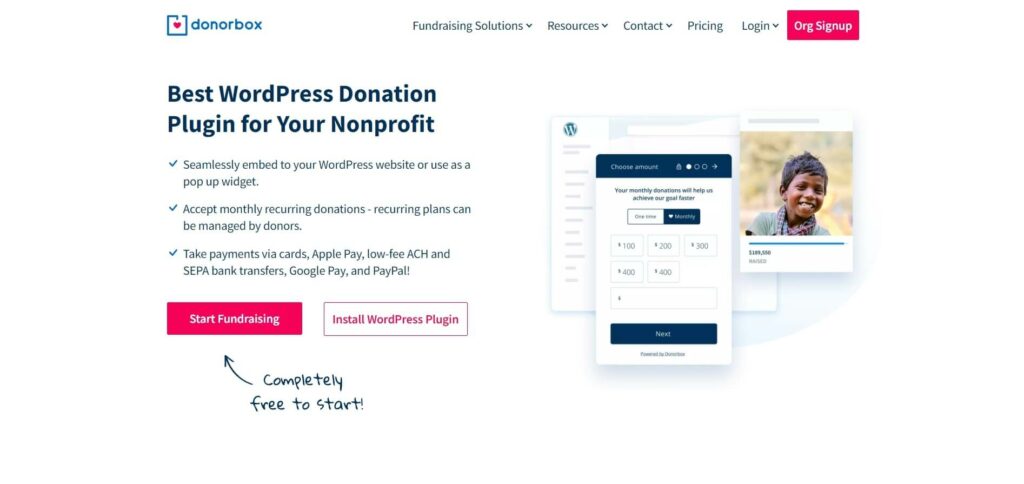 Donorbox is a US-based powerful and secured donation payment gateway for WordPress. It is a full-featured plugin; with this, anyone can raise funds easily. This plugin allows you to increase donor conversion rates and recurring donations.
Donorbox supports multiple payment methods like Stripe, PayPal, Apple Pay, Venmo, Google Pay and more. These payment gateways can accept donations globally.
Donorbox is used by over 50 thousand non-profits from 40 different countries for non-profits payment. Charities, non-profits, mosques, universities, animal rescues, political campaigns, and schools accept donations with Donorbox for various purposes.
Why do people need Donorbox alternatives?
When people search for best payment processor for non-profits, they have different requirements in mind. For example, one may be comfortable with any price range, while others may not. Donorbox is good for your non-profits, and anyone may recommend you to use it. But there are several reasons for which many people look for Donorbox alternatives. Some reasons why people look for the Donorbox alternatives are mentioned below:
Donorbox is a SaaS platform that hosts user data on its own server. So, there is a chance of breach in privacy.
Donorbox provides a limited number of form fields, which can only collect basic information.
Donorbox dashboard is not well-detailed.
Pre-built form templates can save you time and remove the hassle of creating a new one. But Donorbox does not provide any pre-built form templates.
You can not integrate any app with Donorbox free of cost. You can only integrate Zapier, MailChimp, Salesforce, etc. with its paid add-ons.
Users cannot export CSV data for an email campaign for fundraising.
Donorbox charges 1.5% for donation amounts, so it's not a wise decision to choose Donorbox to raise funds for a large amount.
Finding the best payment processor for non-profits is very crucial. In this circumstance, Paymattic is the best fundraising platform that can help your non-profits. Paymattic is a perfect online donations platforms for every kind of non-profit.
Top 5 Donorbox alternatives and competitors
There are lots of non-profit payment processors available in WordPress. But all of that may not fit to fulfill your need. Here we listed some top fundraising platforms for non-profits that can meet your preference.
Paymattic is a perfect fundraising tool to raise funds for your non-profits. You can easily create a donation form with Paymattic. 35+ input fileds are available to customize your webform. With a pre-built donation template, you can make a donation form with only a few clicks.
Paymattic comes with all key fundraising features such as:
Donation goal item
Recurring donation
Progress bar
Predefined donation amount
Custom amount
Auto cancelation when goal reached
Detail report analytics
Guest donation
Paymattic also comes with a wide range of integration. You can integrate FluentCRM, Fluent Support, ActiveCampaign, MailChimp, Zapier, WP User registration, Google Sheet, Webhook, Twilio, Slack, and Telegram with Paymattic.
Paymattic supports 135+ currencies and 11 payment gateways. These payment gateways help you to collect donations globally.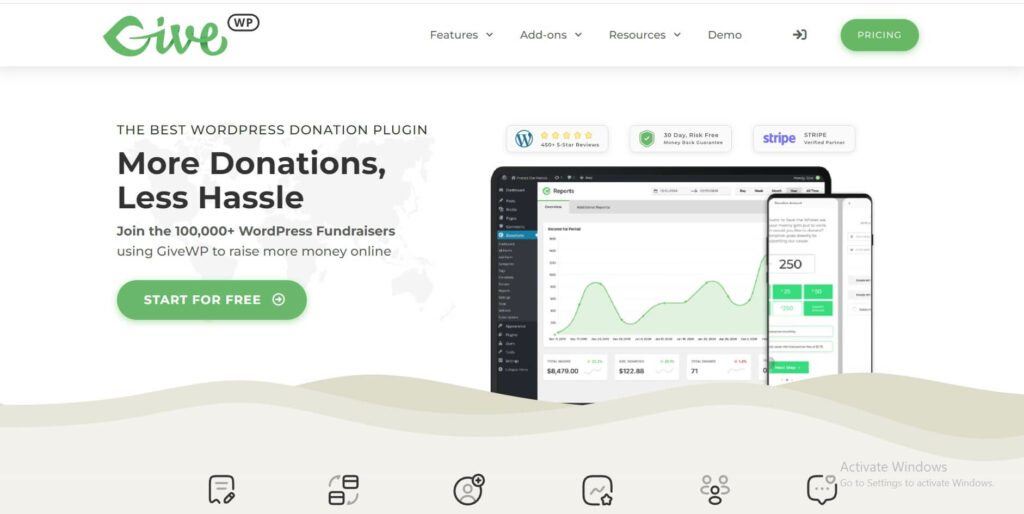 GiveWP is the high-rated and most downloaded donation plugin for WordPress. More than 100,000+ people use GiveWP worldwide. It gives you the most value and more tools at a flat-rate price.
GiveWP has pre-built donation templates, which can save you tons of time. You can receive gifts for charity and other purposes through these customizable donation forms. This plugin can allow you to view fundraising reports and donor data.
Free version of GiveWP supports PayPal for one-time payment only. Their add-ons and plans are quite expensive than other plugins.

SKT donation is an amazing WordPress donation plugin for those who want to build a donation website. It is created to help NGOs, charities, and non-profit organizations to raise funds.
Some key features of this plugin are no commission, easy setup, donor list, currency control, PayPal and cards, and recurring subscription.
But this plugin only accepts donations via PayPal and 2checkouts across the world. SKT donation plugin comes with a single-price plan, and the pro version is started from $69 annually.
Subscribe to Our Newsletter
Join the crowd for more promotional offers, product updates, fundraising tips and tricks.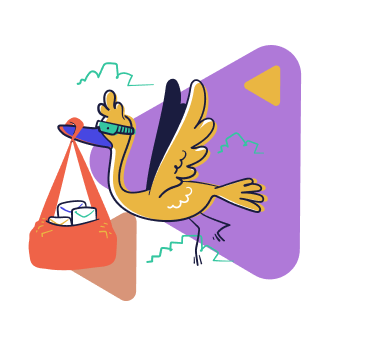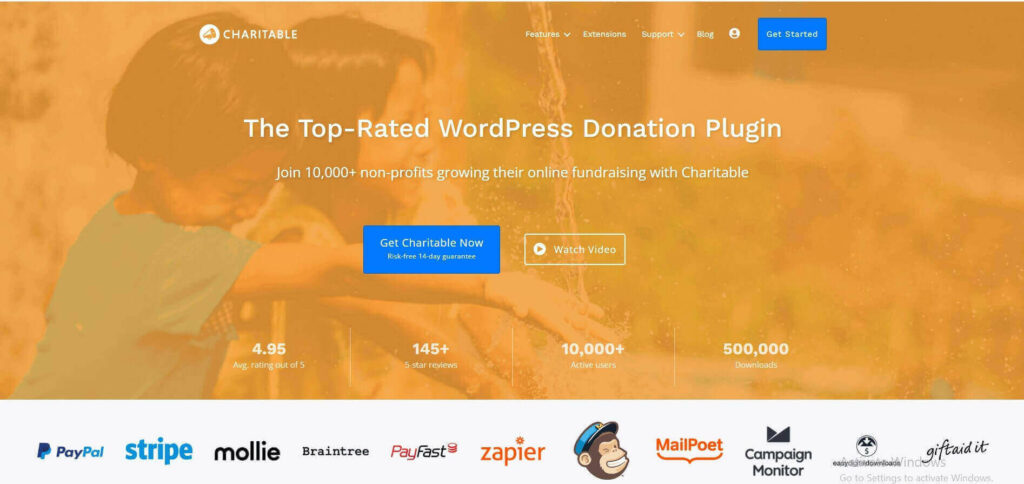 Charitable is one of the top-rated WordPress donation plugins for nonprofits who want powerful donation software without a high price tag. Charitable has 10,000+ active users and 145+ five-star reviews.
Charitable ensures that users can make donations safely and securely. It never stores any sensitive payment details on your website. You can add as many campaigns as you like with it. Charitable also makes your donation forms GDPR compatible with just a few clicks.
If you want Zapier integration, video support, peer-to-peer fundraising, payment from multiple platforms, and interactive maps, then you need to update to the premium version of Charitable. The premium version of charitable starts from $119 for a single site.

WP Crowdfunding is an open-source software. It is a Woocommerce-based plugin that helps to create a Crowdfunding site. WP Crowdfunding is one of the most loved crowdfunding plugins.
It's very easy to use and convenient to manage. This plugin has a native wallet system to collect local payments. It has the facility to split money through stripe connect.
Most of the basic feature comes in its free version. All advanced features, such as email notification, native wallet system, analytical reports, stripe connect, unlimited recharge, and so on, are available in the paid version.
Final words
Several reasons may be available for looking for Donorbox alternatives. From Donorbox pricing to flexibility. It is good but not fit for every type of organization.
Here we can ensure that Paymattic is an excellent fundraising plugin that is able to meet any type of organizational preference. You don't need to believe our words. Try Paymattic Pro and be the judge yourself!