WordPress vs SaaS – Which One is Better for a Donation Website?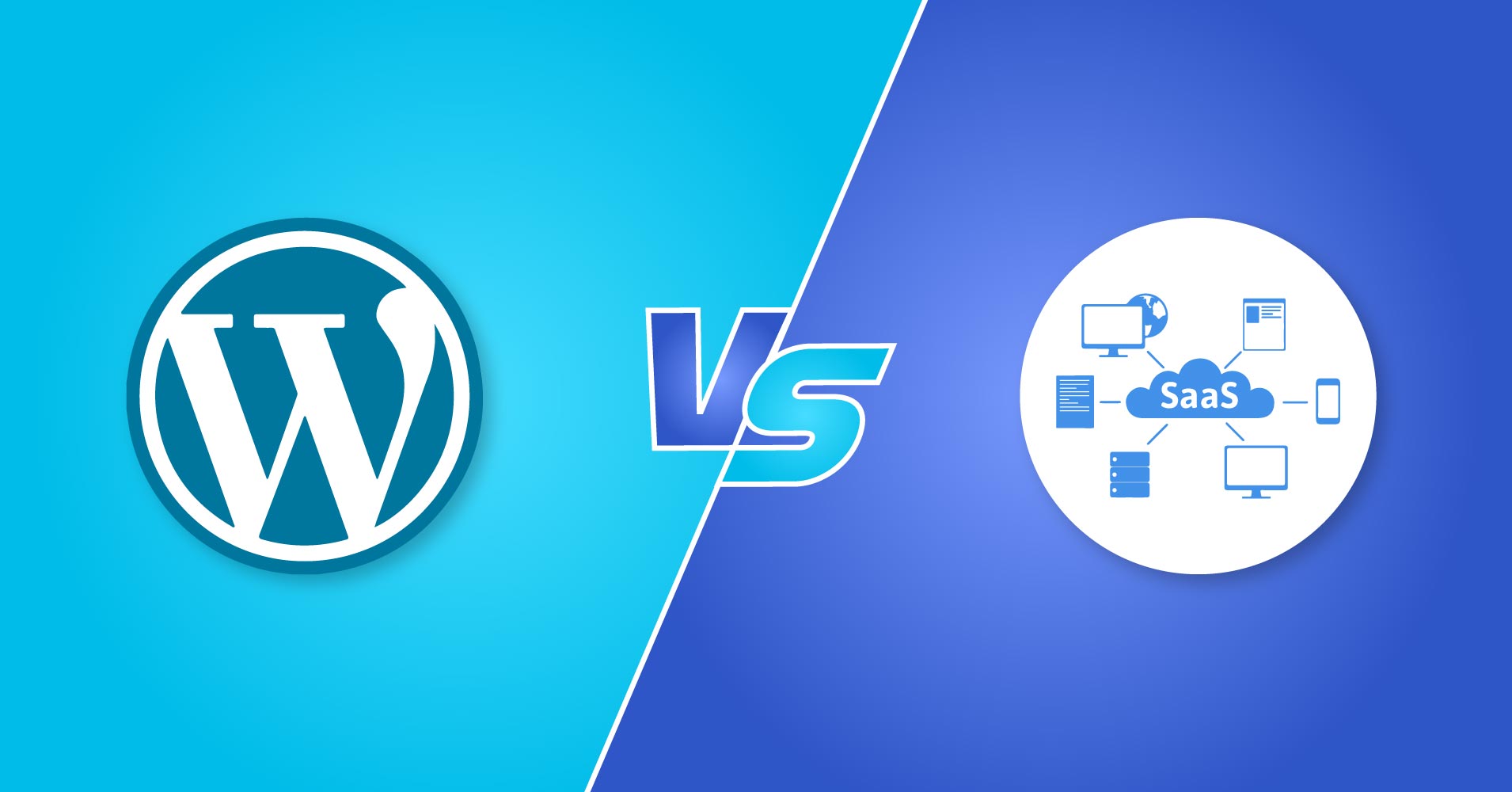 For years, online fundraising has been steadily increasing and boosting the demand for donation websites. As a result, there are plenty of online donation tools such as SaaS systems, website integrations, and other tools coming into the battlefield.
Every year, the number of internet users globally increases, as does the number of people who donate money over the internet. So, the internet is a great medium to collect online donations. But you need to know, how?9
You can use WordPress or SaaS platforms for your fundraising campaign. Let's dive deeper into WordPress vs SaaS to learn why you should choose WordPress donation websites over SaaS platforms.
What is WordPress CMS?
WordPress is a great content management system (CMS) to power your donation websites. Along with the fully customizable features and easy-to-use WordPress donation plugin you can build a donation website overnight!
WordPress makes it possible for anyone to create a website without any coding. Along with the extensive ecosystem of plugins and themes, WordPress allows you to develop any kind of website.
One of the most significant advantages of WordPress is that it is free and open-source software. While you have to pay for hosting only, you won't need to pay for using the WordPress software.
Apart from that, you may find a plethora of open-source plugins and themes to customize the appearance and functionality of your website.
SaaS platforms for donations
Another simple way to collect donations over the internet is using a SaaS platform. SaaS refers to "Software-as-a-service". A SaaS platform is a cloud-based system that provides a software solution to its user. Users generally subscribe to a SaaS platform rather than buying software in a traditional agreement.
There are many SaaS platforms to help website owners raise funds. Popular fundraising SaaS platforms are GoFundMe, Crowdrise, Donately, Kickstarter, Fundly, Funraise, Classy, etc. But still, there are some drawbacks to using these platforms in many ways.
WordPress vs SaaS: 6 reasons why WordPress is better than SaaS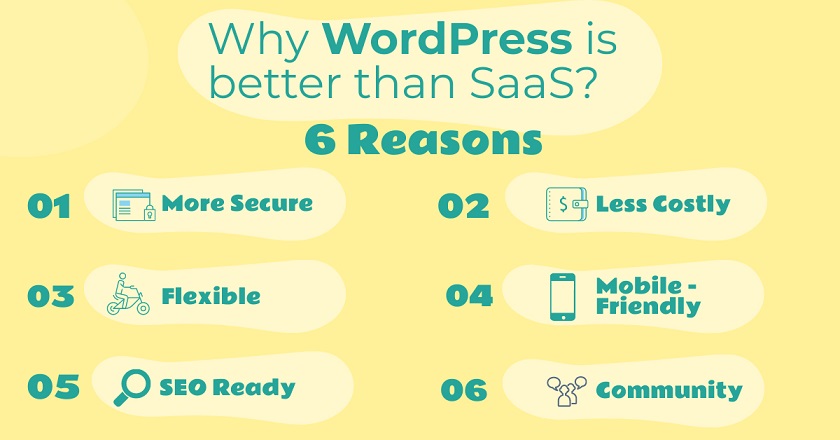 The best way to collect online donations is to build a WordPress donation website. Today we will cover 6 important facts about WordPress vs SaaS to let you know why WordPress is better than SaaS platforms.
Security
WordPress is a highly secure and safe platform to host your website. Most importantly, anything you put on your own website is yours. No one can access your donor information and you hold the copyright of your contents. This protects your users to get spam from third-party platforms. So, there is no better alternative than WordPress if you want a fully secured donation website.
In contrast, one of the most significant pitfalls of using SaaS platforms is losing control of your donor data. Even if you get access to the donor data collected by most platforms, the third-party SaaS platforms will retain control of both your data and the information of your users.
Less costly
WordPress is an open-source platform. You can download, install, use, and modify it to suit your needs. You can also use it to develop any type of website. To get it up and running you only require a domain name and web hosting. It will only cost you $50-$100 annually to host your WordPress website depending on the file storage. In addition, most of the plugins required to collect donations are free of cost in WordPress. Popular WordPress hosting sites are CloudFlare, Bluehost and Hostinger etc.
Most third-party SaaS platforms charge a fee to access them, which can be quite expensive for small non-profit organizations. In addition to payment processing costs, the most usual SaaS platform fee is 5% of the donation amount.
Flexible and simple
WordPress is very flexible and simple to use for beginners. It includes a simple dashboard with many menu options presented in the sidebar. You can quickly create posts and pages, change the look of your website, add navigation menus, and more.
You can convert your website into a online donation platform with some easy-to-use plugins. The Paymattic WordPress donation plugin lets you build donation forms on a WordPress website for free.
On the flip side, the majority of third-party fundraising SaaS platforms are extremely limited in terms of design. Though some are simpler to use than WordPress, many require you to adopt a predefined template and layout.
Ready to get started?
Experience WordPress payment and donation like never before. Try Paymattic now!
Mobile-responsive
Websites built with WordPress are mobile-responsive. This is a vital feature because the majority of internet donations are now done via mobile devices. Your fundraiser campaign can be hosted on your WordPress site, allowing people to donate using their phones. You can use the Paymattic WordPress plugin that works well with a responsive donation website.
SEO-friendly
No matter how good the design of your website is, it is not successful until you get visitors to your site. Thankfully, WordPress is designed with search engine optimization in mind. WordPress websites tend to rank higher in Google and other search engines. So, WordPress is the right platform for your donation website to reach enormous donors in organic search.
Popularity
WordPress is very popular in the user community. It is a great supportive community of bloggers, creatives, entrepreneurs, and organizations. You can engage with the vibrant community of WordPress to have ideas to optimize your donation website better.
In case of any help, there are thousands of online support groups ready to answer your query. There are also WordCamps held throughout the world where you can meet many members of the community in person. It is an excellent platform for learning new WordPress skills and discovering new technology.
Now that we have come to the understanding that WordPress is better than SaaS, at least in 6 key contexts, let us now introduce you to the Paymattic WordPress fundraising plugin that can help you turn your WordPress website into a full-fledged online donation website. It is a great WordPress donation plugin to manage your online fundraising campaign.
Also check out how to add donation forms in WordPress with 5 easy steps.
It comes with a sleek design and smooth functionality. In addition, you can integrate several payment gateways, including Stripe(free), PayPal, Billplz, Payrexx, Square, Xendit, Mollie, Razorpay, Paystack, and SSLCOMMERZ. 
You can also collect recurring donations with this plugin. The custom form fields will allow you to design the donation form as you wish.
Multiple app integrations is one of the enticing features of Paymattic. You can connect your form with platforms like WP User Registration, Mailchimp, ActiveCampaign, FluentCRM, Fluent Support, Twilio, Telegram, Google Sheets, LearnDash, LifterLMS, TutorLMS, Webhook, Slack, and Zapier.
The good part is that it is free to use with its basic features and functionalities. You have to upgrade to the pro version to use all the premium features. The personal license starts from $59 only and ranges up to $699 as you opt for other license types.
Final notes
We hope this post has helped you understand the major facts about WordPress vs SaaS. However, the best way to properly appreciate WordPress' capability is to use it. And if you have online fundraising in mind, then we suggest you try the Paymattic donation plugin to aid you as you venture into the WordPress industry.
Give it a shot and let us know what you think in the comment section.