A Guide to Receive Donations Using WordPress Plugin[2023]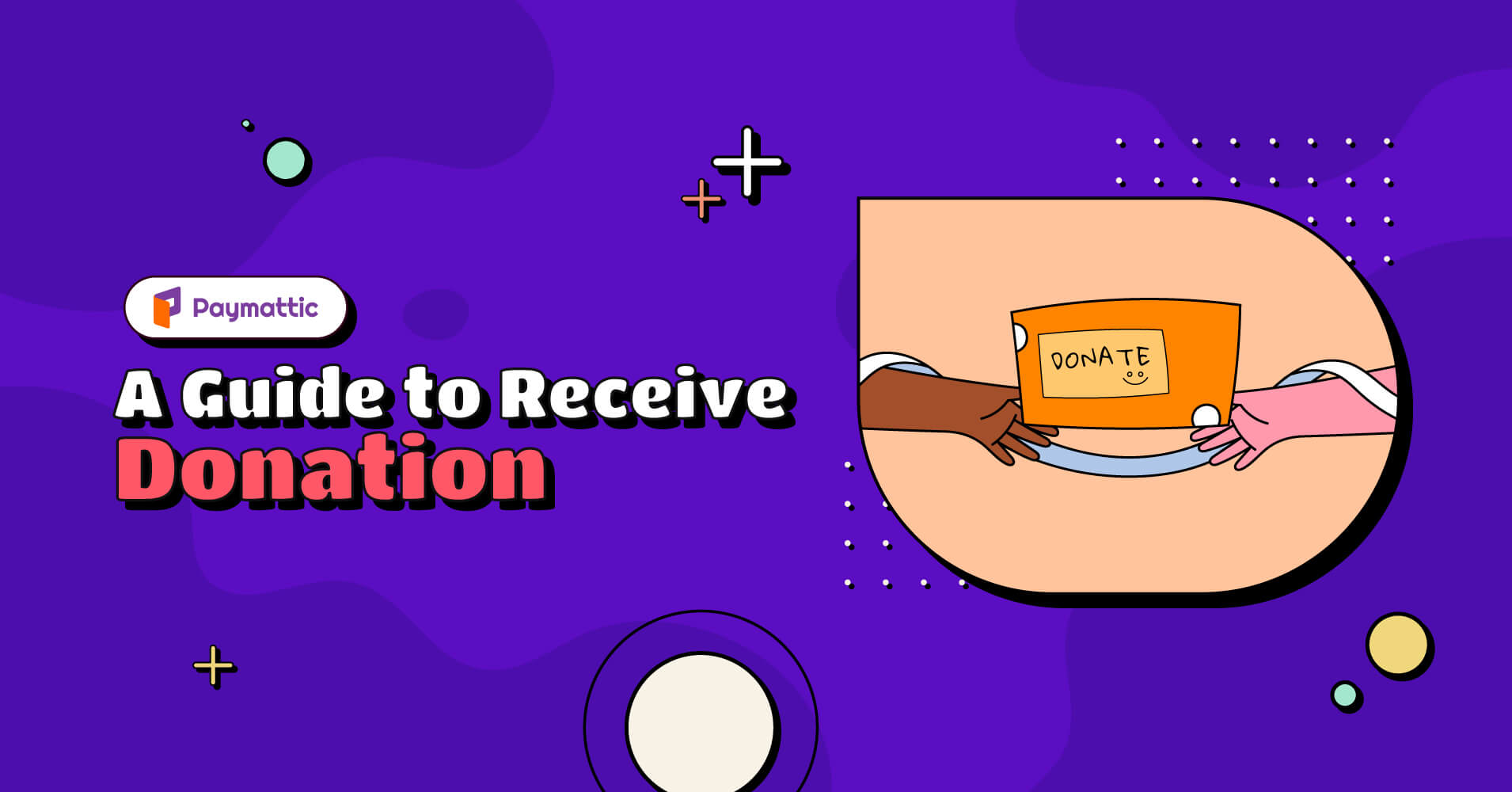 We appreciate things that make our lives easier, from delivery apps to online money transfers to smart home technology. Fundraising is no exception. Collecting donations is not today's practice. But receiving donations online is the need of current circumstances. There was a time when people used to receive a donation by cash or cheque. But day by day, the way of receiving donations has changed.
In this guide, we will explore how you can receive an online donation using the WordPress plugin to make your fundraising journey quick, easy, and exciting!
What are the benefits of receiving donations online?
Questioning the benefits of receiving donations online must sound funny! Because in the present time, online fundraising has become more popular. Countless reasons are available to collect donations online, but here we will describe some top reasons why you should start receiving donations online fundraising:
Quick and easy
Collecting donations online is very easy; you can quickly receive a donation anytime and anywhere. You just need an online payment processing platform by which you can collect donations.
Trust building
With the online fundraising process, supporters can learn about the whole process and how every penny is utilized. Such transparency encourages donors to donate online.
Organizational benefit
For the organization, online fundraising reduces costs over mail and in-person solicitation. Receiving donations online can reduce administrative costs and increase proficiency.
Donor benefit
By online donations, donors can contribute at any time that is convenient for them. They don't need to take the hassle of finding a checkbook or cash to support your organization. They can easily give to your cause from the comfort of their home or anywhere with mobile phones.
Recurring donations
Online donation makes it much easier for contributors to make regular donations. By receiving donations online, you can collect payments automatically at different intervals. It gives the donor an easy user interface to decide how much they like to give, how frequently, and by which payment method.
Increase donation
If you want to increase donations to your organization, offering an online option may be the best choice. It may be intimidating to ask people for money, so you can offer them to donate online rather than ask for money. If you already have supporters who trust your cause, you need to make donations easy for them by giving them the online giving option.
Subscribe to Our Newsletter
Join the crowd for more promotional offers, product updates, fundraising tips and tricks.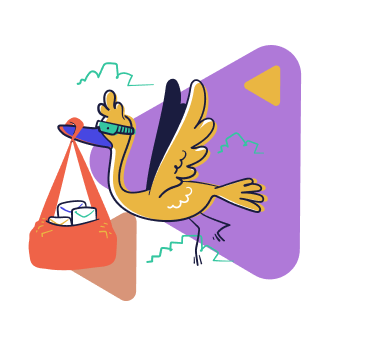 How to choose the best donation plugin for fundraising?
A perfect donation plugin with advanced features will take your fundraising journey to the next level. But before choosing a WordPress donation plugin for receiving donations, you must choose a plugin with the following key features:
Payment gateways integration
Recurring donation
Donation progress item with progress bar
Custom donation amount
Customizable image upload
Integrations with multiple platforms
Multi-currency support
Form import-export
Detailed reporting and analytics
Moreover, always try to pick a flexible one because when it's about online donations because fundraising plugin plays a vital role here. If your plugin annoys supporters, you cannot retain them.
As this article is about receiving donations using WordPress plugins, countless plugins are available in WordPress. But if you are searching for a better one with advanced features, you can try the WordPress donation plugin Paymattic.
You may find this blog helpful – GiveWP vs Paymattic.
Paymattic is the best WordPress donation plugin for collecting donations online. You can consider it as a user-friendly donation plugin. Its advanced features will make your fundraising journey easier. This multi-purpose plugin can able to collect payment for your product as well as collect donations.
Let's explore the reason by which you can consider Paymattic as your fundraising plugin.
Why use Paymattic for receiving donations?
You must have a question on your mind, out of a dozen WordPress plugins, why are we suggesting Paymattic? If you continue reading this article, you will get your answer and thank us later.
Tons of reasons are available to choose Paymattic as a fundraising plugin. WordPress fundraising plugins should have key features that encourage people to go for it, and Paymattic has it all!
We will share some key features of Paymattic. That helps you to decide why you can use Paymattic for receiving donations online:
Easy to build donation forms
35+ input fields
70+ pre-built form templates
10 payment getaway
Recurring donation
135+ currency support
Detailed report analytics
Integrations with multiple platforms
Customizable image upload
Custom donation amount
Donation progress item with progress bar
Direct bank transfer
Guest donations
Preferred billing intervals
Customer profile
Just imagine Paymattic as a new plugin that gives you this many facilities; what will it become when a new update comes!
Ready to get started?
Experience WordPress payment and donation like never before. Try Paymattic now!
Five easy steps to receive donations with Paymattic
Receiving donations with Paymattic is much easier. Just five steps, and you will be able to receive donations through Paymattic. Let's explore the step of receiving donations with Paymattic:
Install Paymattic
First, log in to your WordPress dashboard.
Then go to Plugins, and click on Add New button to search Paymattic.
Now click on Install Now and Activate button.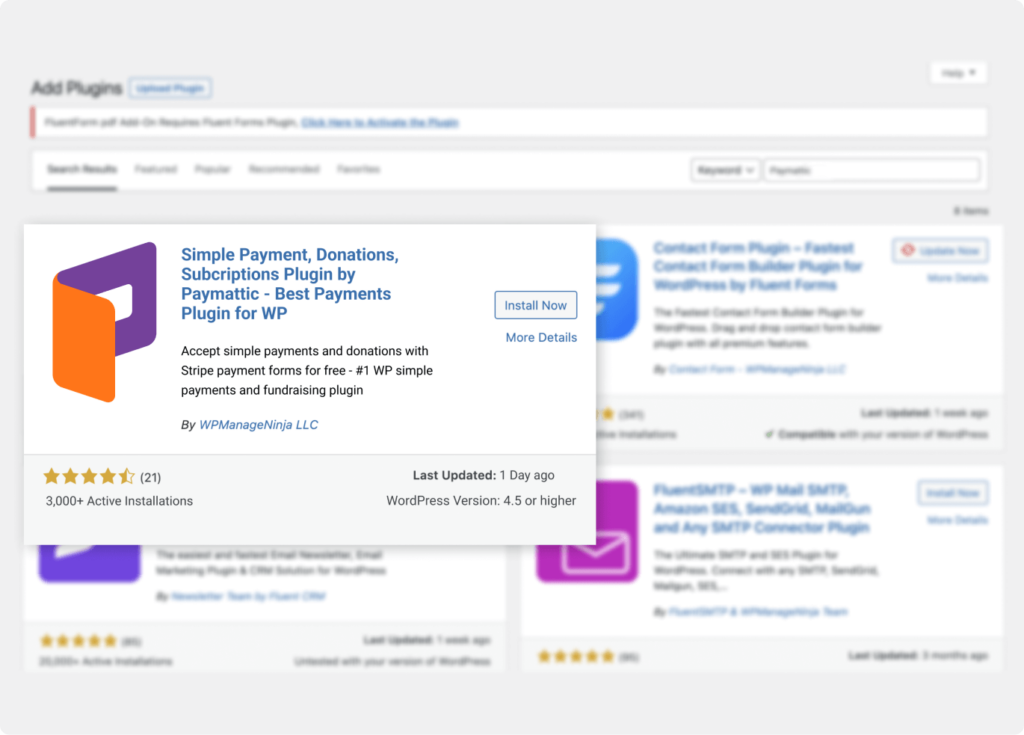 Configure payment gateways
You have to configure payment gateways to collect donations from your donor account. There are 10 payment gateways currently available with Paymattic. Such as, Stripe ( for free), PayPal, Mollie, Razorpay, Xendit, Square, Paystack, SSLCOMMERZ, Billplz, Payrexx, and Even Offline payment.
To configure payment gateways, go to Paymattic dashboard and click on the Payment Gateway tab from the top bar. Here you will get all the available payment gateways. Select your desired one and put the required API credentials for your merchant account.
Finally, click on the Save Settings button to save the configuration.
Create a donation form
You need to create a donation form to receive a donation.
For this, go to Paymattic > All Forms > Add New Form.
With Paymattic, you can easily create a donation form with donation template. For this, select Simple Form Templates.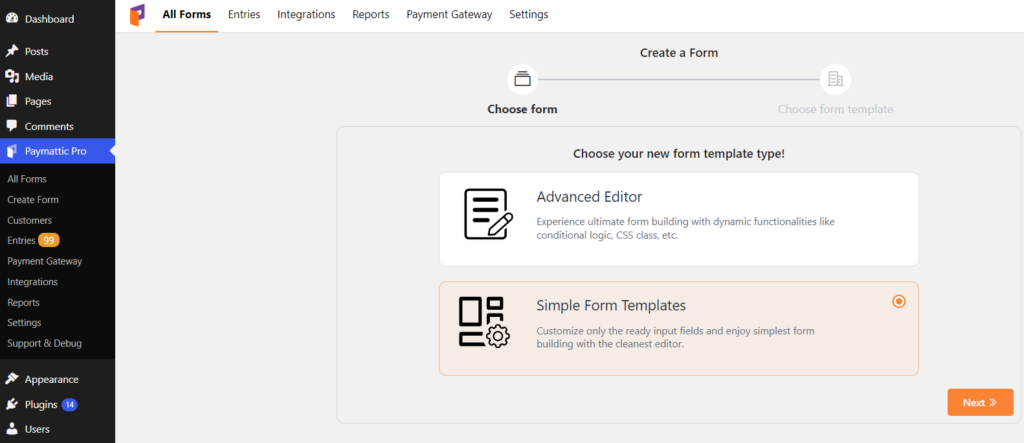 Two types of donation templates are available here. Select any template which meets your needs. With these templates, you can easily create a donation form.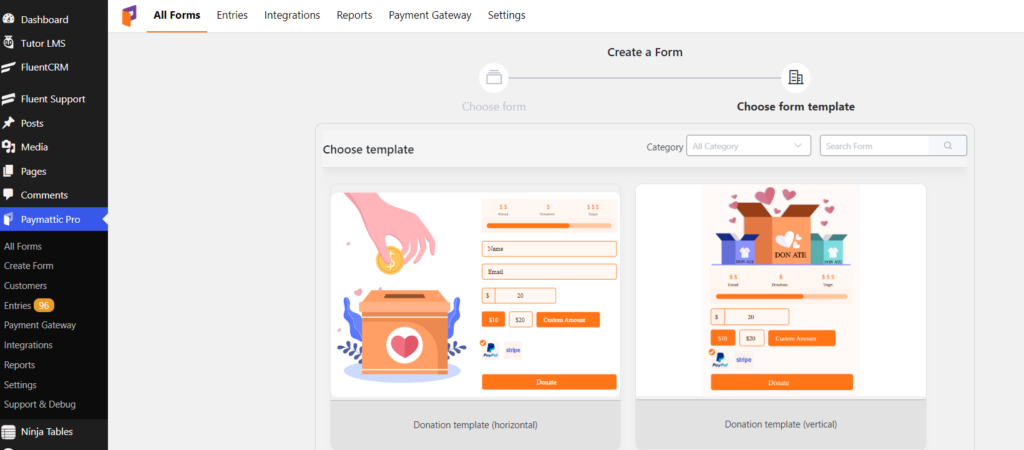 Detail report analysis
When you've started to receive a donation for your non-profit, you have to look after the total amount you received and how much is needed to reach your donation goal. All you will get in the Reports tab in Paymattic. You will also get the Status of payment forms, progress of donation forms or total revenue, best-performing form, revenue over a period, customers' growth, and more.
Moreover, this Reports tab will give you a birds-eye view of your donation form. To get Report, go to Paymattic > Reports.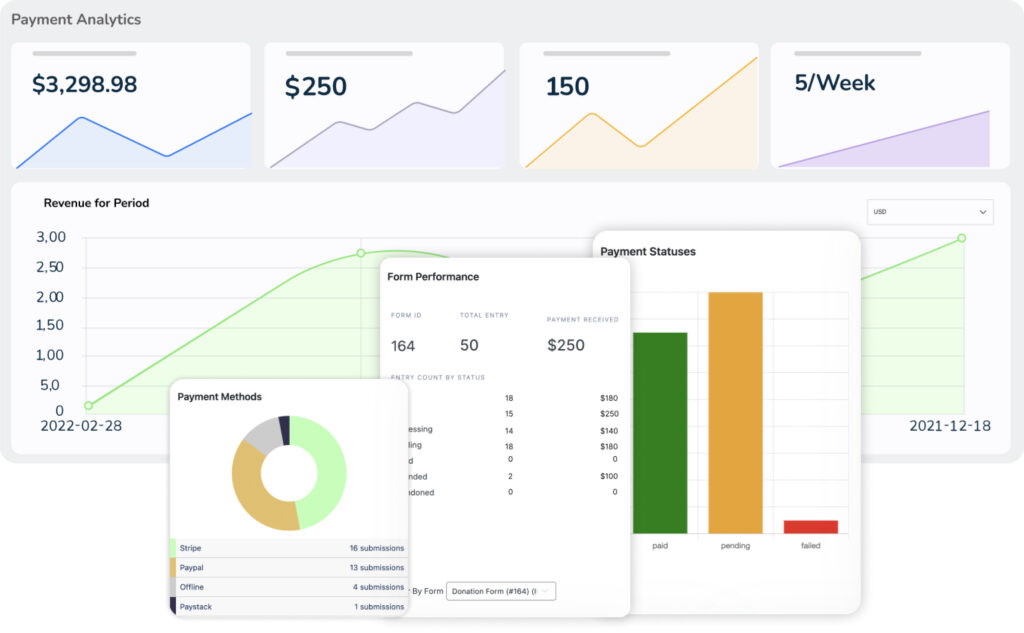 View Customer Profile
When you receive donations from donors, getting information about your donor will be better. In the Customers tab of Paymattic, you will get your donor histories. Such as the donor's name, email, how frequently they donate, how much they spent in different currencies, and lots more.
As we mentioned above, Paymattic is a multi-purpose plugin so you can collect donations or payment for your product. When you use it as a donation plugin, the Customers tab will show you the history of your donor. But when you use it as a payment plugin, you will get all information about your customer in the Customers tab.
To get a customer profile, go to Paymattic > Customers.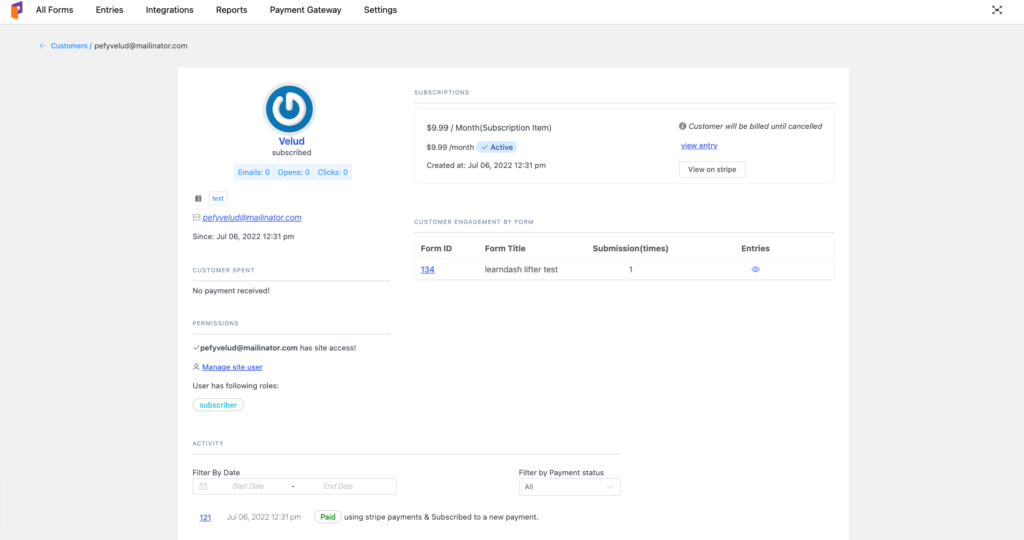 That's all! Isn't it very easy to receive donations via Paymattic?
Hit your fundraising goal with WordPress plugin
Contributors are more comfortable giving online, and this tendency is increasing daily. Anyone could be able to hit their goal if they had the right tool. If you are a beginner and want to start a non-profit, our guide about receiving donations with the WordPress plugin will help you to accept donations online.
Moreover, the online fundraising tool Paymattic is designed beginner-friendly way. Anyone can collect donations with Paymattic by creating a donation form with a few clicks. And this multi-purpose plugin will take your fundraising journey to the next level with its incredible features.
If you have faced problems after getting Paymattic to work, there is a refund policy in Paymattic. So what are you still looking for?
Try Paymattic Pro by yourself.
Best wishes to you.
Ciao!