Cloudflare Turnstile Security in WordPress: Best ReCAPTCHA Alternative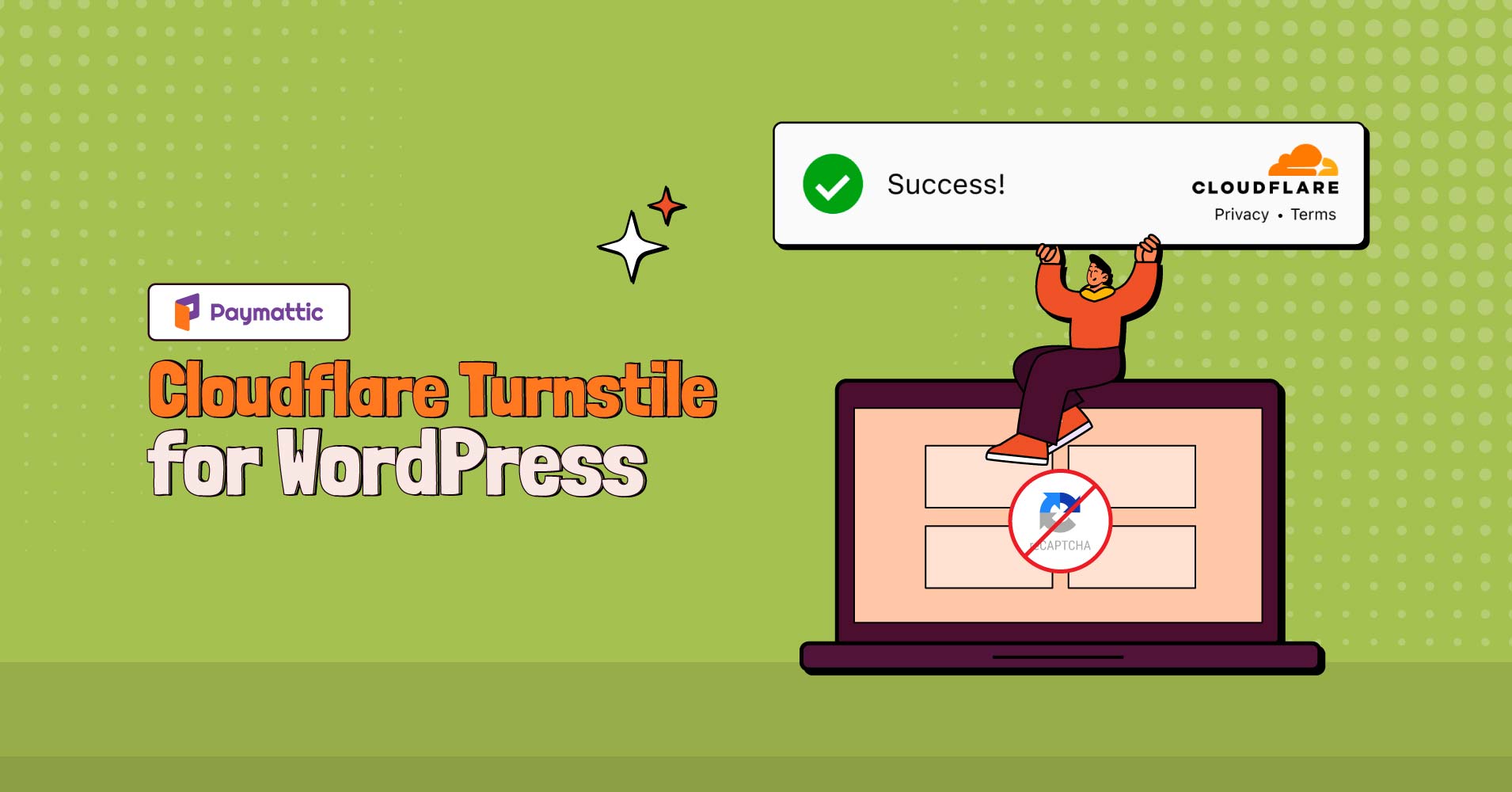 You are in a hurry and searching for something serious on the internet. Suddenly, the screen pops out those fire hydrant and cross-walk pictures out of nowhere. How annoying this is!
Though frustrating for users, you can not ignore ReCAPTCHA to protect your website from unwanted spam. So, you may be looking for the best ReCAPTCHA alternative that ensures a smooth user experience and website security packed together.
Luckily, here comes the Cloudflare Turnstile security tool that filters out all spambots without verifying any ReCAPTCHA.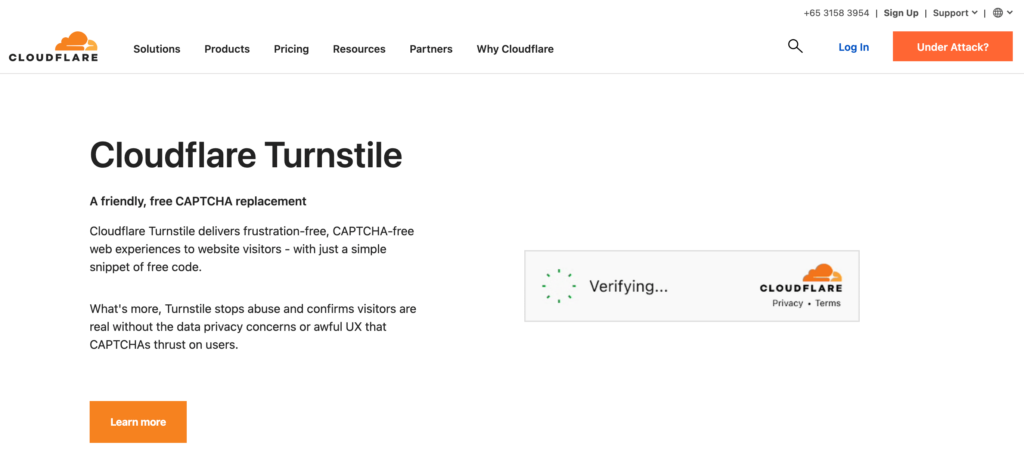 As a free ReCAPTCHA alternative, the Cloudflare Turnstile security tool provides a flawless experience to web visitors. It is a simple snippet of free code that you can integrate with your website.
It is a simple snippet of free code that you can integrate with your website. Turnstile prevents abuse and verifies that website visitors are real humans without thrusting any awful user experiences like ReCAPTCHA. 
Cloudflare announces Turnstile collects less data than any version of Google ReCAPTCHA, maintaining the same level of security. Turnstile security is the smart CAPTCHA replacement. It can be deployed on your website in minutes. 
Why use Cloudflare Turnstile security
If you compare Cloudflare Turnstile vs ReCAPTCHA, ReCAPTCHA is a clear winner in the case of preventing spam trusted by millions of websites.
But if you want to give your website visitors a flawless user experience preventing spam attacks, there is no better alternative than Turnstile. ReCAPTCHA not only creates frustrating UX but there is also a big issue with data privacy here. 
The invisible Google ReCAPTCHA V2 traces your mouse moving pattern to identify a bot or human. The mother company of ReCAPTCHA, Google, saves this data as browser cookies and uses those data to target ads.
So, as a ReCAPTCHA alternative, implementing Turnstile security in your website protects your user data and privacy.
Cloudflare Turnstile has an official partnership with Apple to use their private access token to identify users as humans who are using iOS. It doesn't require any additional steps or data. 
Additionally, they are collaborating with several third-party device manufacturers to use their own data to validate users. By doing so, Cloudflare hopes to be able to authenticate a user without gathering any data about them or only collecting the information necessary to provide them with a frictionless experience.
Besides, Turnstile is an open-source technology that can be easily adopted by developers and users. Thus, it became the safest and fastest Google ReCAPTCHA replacement for all types of websites.
Subscribe to Our Newsletter
Join the crowd for more promotional offers, product updates, fundraising tips and tricks.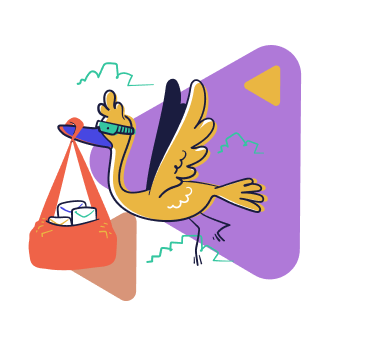 Integrate Cloudflare Turnstile security in WordPress website
Most spam attacks occur on your website through the contact form, order form, registration form, or comment section. So, it is vital to use a secured WordPress plugin that protects your forms. If you are a WordPress user, you must use a WordPress plugin to build secure forms for your website.
Plenty of plugins are available in the market to build forms, but they do not provide strong security. Paymattic is the best WordPress payment plugin that provides both payment facilities and a secure form builder in a single plugin.
The latest release of Paymattic 4.3.2 introduces a built-in Turnstile security module as a free alternative to Google ReCAPTCHA that you can integrate with your form. Let's see how you can integrate Cloudflare Turnstile with your form in WordPress.
Ready to get started?
Experience WordPress payment and donation like never before. Try Paymattic now!
Install the Paymattic WordPress plugin
First, install the Paymattic WordPress multifunctional plugin from the repository. Log in to your WordPress dashboard and navigate to Plugins → Add New. Search for the Paymattic plugin and install it. Click the Activate button after installation.

Create a form
Now, create a secured form with Paymattic that can block all spambots on your website. To create a secure online form, go to Paymattic → Create Form.
Then, press the Advanced Editor option and build a form per your requirements. You can select an existing form that you previously created from the All Form menu in Paymattic as well.


Setup Turnstile Site Key and Secret Key
Great! You have activated the Paymattic plugin and created a form with Paymattic. Now, it's time to jump into the Turnstile integration stage.
To integrate Turnstile security, go to Paymattic → Settings and select Turnstile from the left side navigation panel. It will take you to the Cloudflare Turnstile Settings page. Here you need to put your Turnstile Site Key and Secret Key.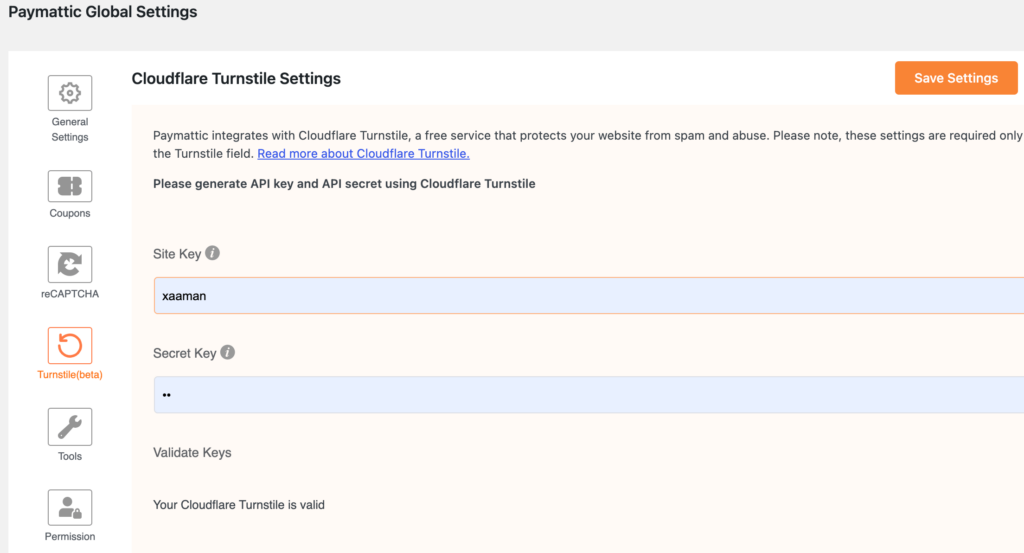 Sign in to your Cloudflare account to obtain your API key credentials. Click the Turnstile module from the left sidebar of your Cloudflare dashboard.
Then, press the Add site button.
Provide the site name, domain, and widget type.
Now, click the Create button.
Cloudflare will generate your Secret Key and Site Key here.
Copy your API keys and paste them in the required fields from Paymattic → Settings → Turnstile.
At last, click the Save Settings button, and you have successfully integrated Turnstile with Paymattic.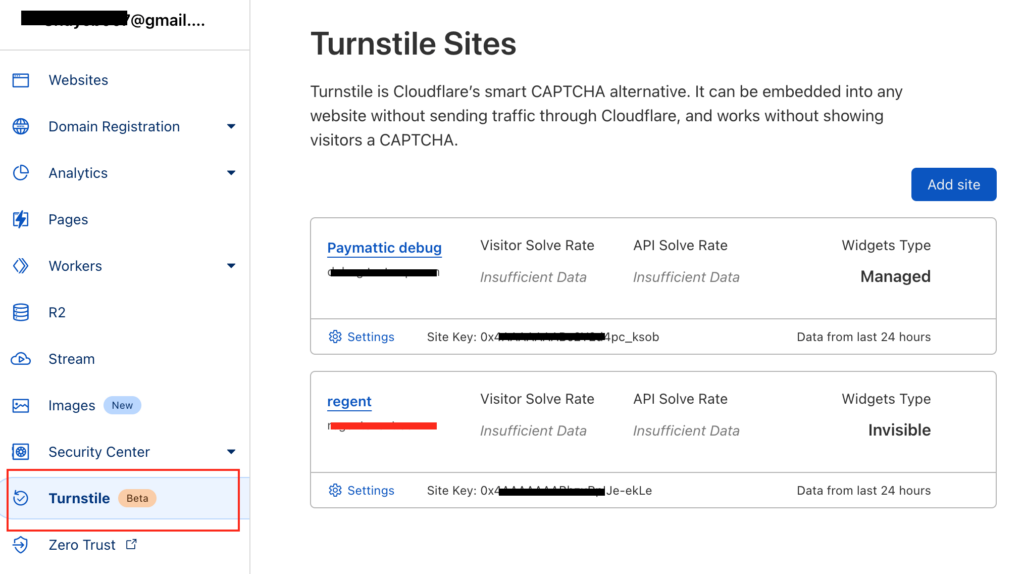 Enable Turnstile in a form
Once you have integrated the Turnstile security module with Paymattic, you can enable it for any form you want. To enable the module for a specific form –
Go to Paymattic → All forms from your WordPress admin panel.
Select a form and simply hover the mouse over the form name.
A Settings link will appear upon hovering on the form.
Click the Settings link and go to Turnstile Settings tab from the top navigation panel.
Check the Enable Turnstile for this form option and press the Save Turnstile Settings button.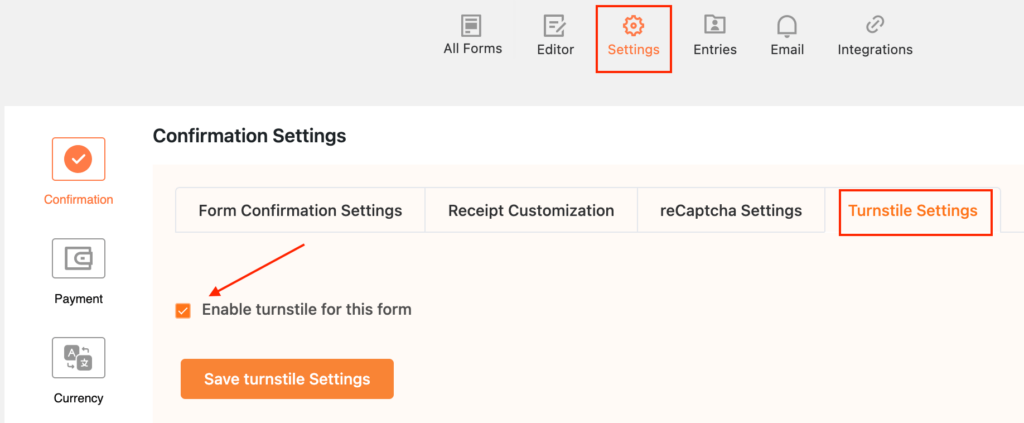 That's all, and you are done. Copy the shortcode of your form and place it on the webpage where you want to publish it.
This is the simple procedure to enable Turnstile Security in your WordPress form. This CAPTCHA-free security module works as a shield against all types of spam.
To conclude
The Cloudflare Turnstile Security tool is the best ReCAPTCHA alternative for any website. It can be embedded into your website without sending traffic through Cloudflare and works without showing visitors a CAPTCHA.
You get such a brilliant feature with the Paymattic WordPress payment plugin for free. Other than Turnstile, Paymattic doubles the strength of your WordPress form with Honeypot security. It also supports 10 payment gateways, including integrations with 14+ platforms like Zapier, Mailchimp, Slack, FluentCRM, and more.
Intuitive security, frictionless payment, secure online forms – everything packed together in Paymattic. So, enjoy fearless security with Paymattic and build fantastic WordPress forms in minutes.