How to Integrate PayPal with WordPress?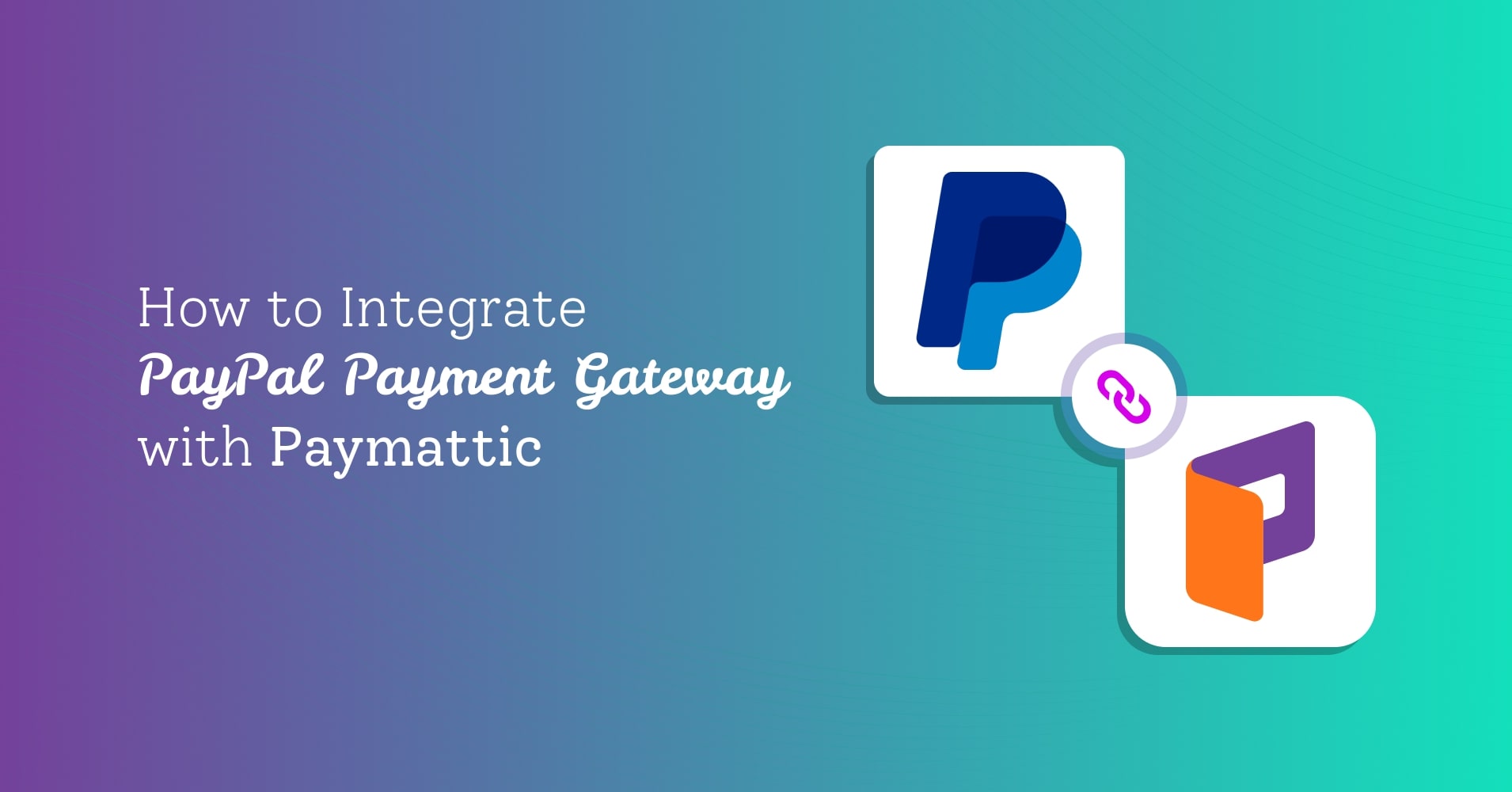 PayPal is a global online payment system that facilitates sending and receiving money instantly to account holders. You can make payment online on any website through PayPal if they accept PayPal payment gateway.
PayPal with WordPress
PayPal lets you link up your bank account, debit card or credit card information to your PayPal account. It is a fully safe and secure payment system as it uses end-to-end encryption technology. PayPal keeps your credit cards and bank information hidden from external users.
PayPal is very easy to use and setting up an account with PayPal is free. You only require an email address and some basic information to open a PayPal account.
Most online purchases and personal transactions are free in PayPal. However, it charges various fees based on payment types and where you are sending the payment. Have a look at PayPal's official website to learn more about transaction charges and fees.
PayPal has a large user base of 292 million active users by the end of 2021. That means you are losing a big segment of customers if your website does not accept PayPal payments. Study shows that customers are 54% more likely to purchase when they pay through PayPal.
Paymattic is a WordPress fundraising plugin that supports PayPal payment gateway with the pro version. You can create custom donation forms, event registration forms, payment forms and many more with this amazing plugin.
It comes with 35+ custom form field options that let you design your form as you want. All the forms can accept payments through 10 different payment gateways including PayPal, Stripe, Payrexx, Billplz, Paystack, Xendit, Square, Mollie, Razorpay and SSLCOMMERZ. 
Along with custom donation amount, item quantity, payment summary and coupon field, Paymattic offers you subscription payment features as well. You can collect recurring donations from your donors with this subscription payment item.
In terms of reporting, Paymattic gives a clear bird-eye-view of what is happening in your organization. You can access multiple reports instantly with a few clicks.
Ready to get started?
Experience WordPress payment and donation like never before. Try Paymattic now!
Integrate PayPal with WordPress
Integrating PayPal with WordPress is now codeless, painless and effortless. You have to activate the premium version to use PayPal payment gateway with Paymattic. Follow the simple steps below to set up PayPal for WordPress with Paymattic payment plugin-
First, go to Paymattic (Pro) > Payment Gateway from your WordPress dashboard.
Now, click on the PayPal tab from the left navigation bar.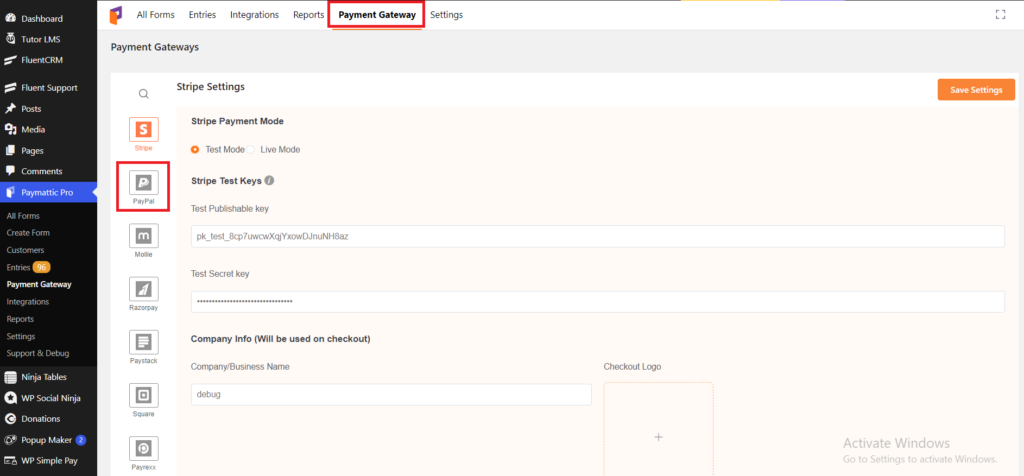 PayPal settings page will appear here. Next, you have to select either Live Mode or Test Mode.
Select the Live Mode if you want to start receiving your payment. But if you want to receive some demo payments as test you can enable the Test Mode.
Enter your PayPal account email.
Insert a logo of your organization that will be displayed during checkout.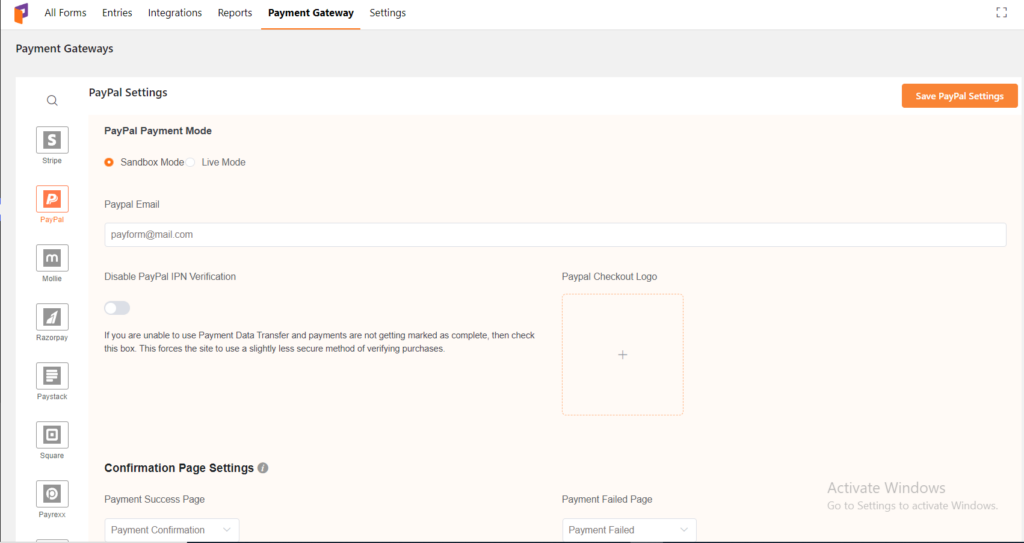 Check out this simple guide to Stripe payment gateway integration with WordPress
Configure confirmation page
In this section, set the payment confirmation page and payment failure page. These two pages will appear after the payment is successful or rejected.
At last, you can find your PayPal notification URL on the PayPal settings page. You have to set this URL in your PayPal account to collect subscription payments.
Finally, click on the Save PayPal Settings button.

These are the simple steps to configure PayPal with the Paymattic WordPress fundraising plugin. Let's create a form to see how PayPal works with the Paymattic plugin.
To create your form go to Paymattic (Pro) > Create Form.
Then click on the Advance Editor option.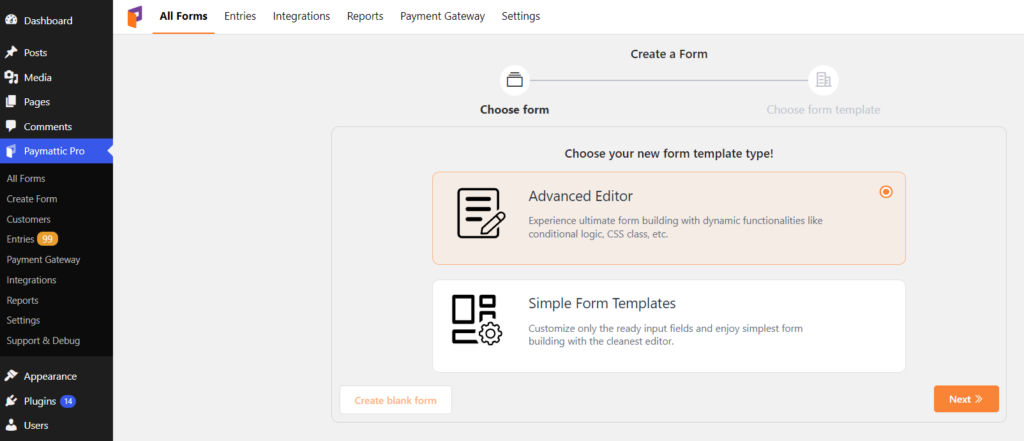 Now, you can use a template or click on the New Blank Form to build a new fresh form.
Add all your required form fields.
At last, add the PayPal payment gateway from the payment method fields.
Finally, click on the Update Fields button. Great! Now you can accept online payments with PayPal.
To conclude
PayPal and Paymattic consistently produce dramatic results for your donation website. The beginner-friendly user interface of Paymattic with the low-cost PayPal payment gateway can give a boost to your low-budget startup. Undoubtedly, it is the best payment plugin for WordPress website.
Try the Paymattic donation and payment plugin today and explore new opportunities in the world of giving.