Integrate Flutterwave Payment Gateway in WordPress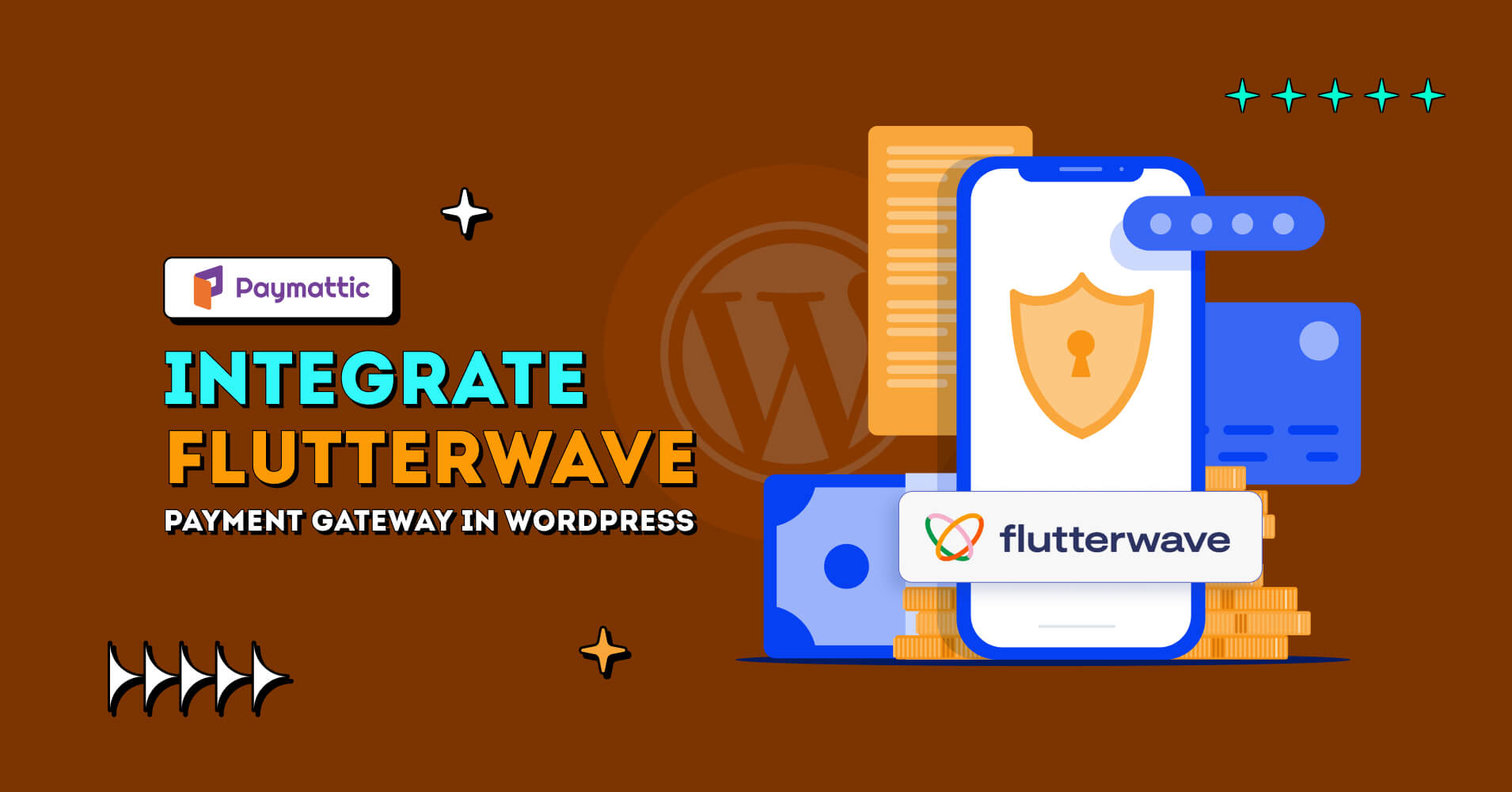 Hello good people! Have you been waiting for another exciting feature from Paymattic? If so, it's time to embrace something new from your beloved WordPress plugin Paymattic.
After the Xendit payment gateway, Paymattic adds another great payment gateway to its fleet, guess what? Yes, it's Flutterwave!
Today, we will tell you in-depth about the Flutterwave payment gateway and you will learn how to integrate Flutterwave in WordPress with Paymattic.
Table of Contents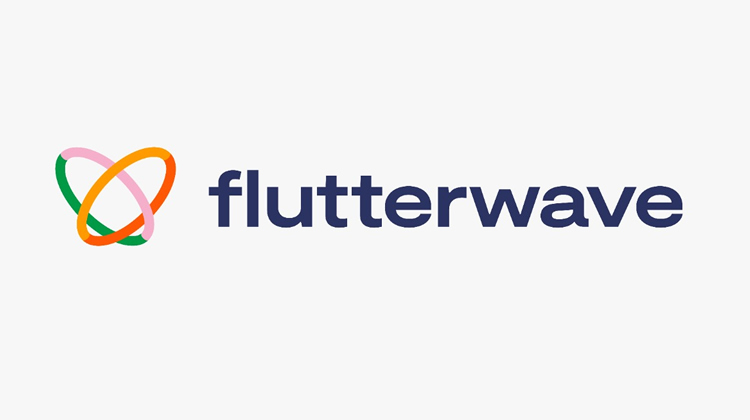 Flutterwave is a popular fintech company based in Nigeria providing payment services to Nigeria, Ghana, Kenya, South Africa, Uganda, Tanzania, the United Kingdom, USA, and Europe. It supports Master Card, Visa Card, Bank Account, USSD, QR codes, Mobile Money and Kenyan Mpesa.
With Flutterwave's payment gateway, businesses can accept payments from customers globally, making it easier to transact across borders. The platform also offers fraud prevention measures, security features, and real-time transaction monitoring to ensure secure and reliable payment processing.
Flutterwave has gained popularity in Africa and beyond, and it has been adopted by numerous businesses, including e-commerce platforms, marketplaces, and service providers. It has helped simplify the payment process and enable financial inclusion by providing convenient and efficient payment solutions.
Paymattic WordPress payment plugin
Paymattic is the best WordPress payment plugin for accepting online payments. It is very easy to accept donations and create payment forms with Paymattic in just a few clicks. Besides, it comes with various donation features so that you can run a full-fledged donation website with a single plugin.
Besides, Flutterwave Paymattic has some more exciting features. These are –
11 payment gateways
Advanced editor
Subscription and one-time payment
Donation templates
40 form fields
Customer profile
14 integrations
Donation progress bar
Highly secured
Import-export
Scheduling & restrictions
Currency switcher
Are you wondering what about taking donations through direct bank transfer or offline payment method? You can do it too with Paymattic. Users can submit a form without making any online payments if they choose the offline payment method.
Ready to get started?
Experience WordPress payment and donation like never before. Try Paymattic now!
Integrate Flutterwave payment gateway in WordPress
It's so easy to add Flutterwave in WordPress with Paymattic. It just takes a few clicks to enable Flutterwave payment gateway in your website using Paymattic. Without any further ado, let's jump into the process and see how you can configure Flutterwave –
First, go to Paymattic (Pro) → Payment Gateway from your WordPress dashboard.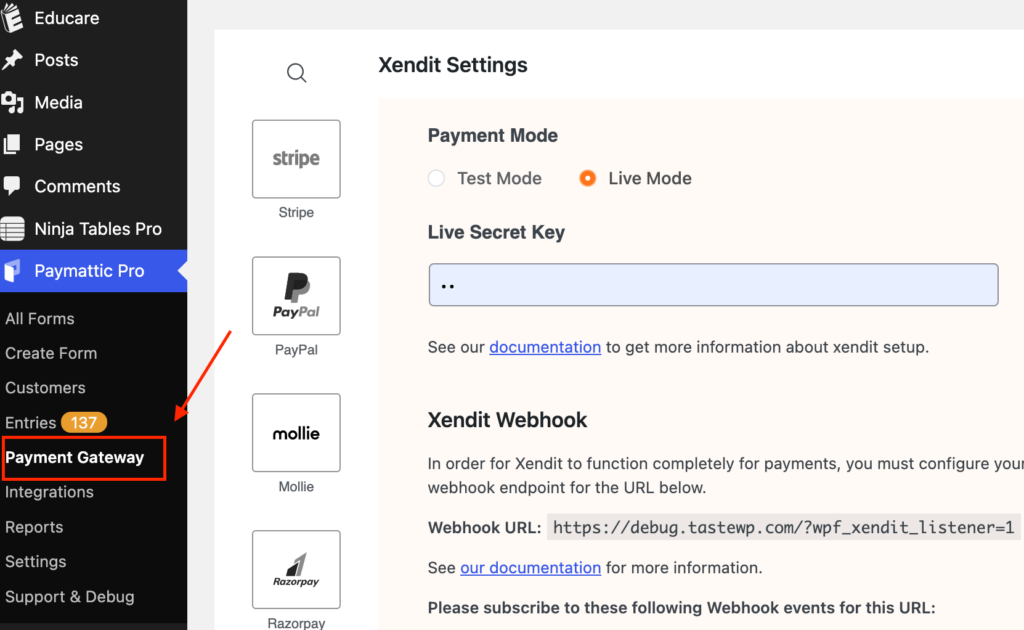 Next, click the Flutterwave icon from the left sidebar.
Now, press the Install & Activate button to activate the Flutterwave for Paymattic add-on.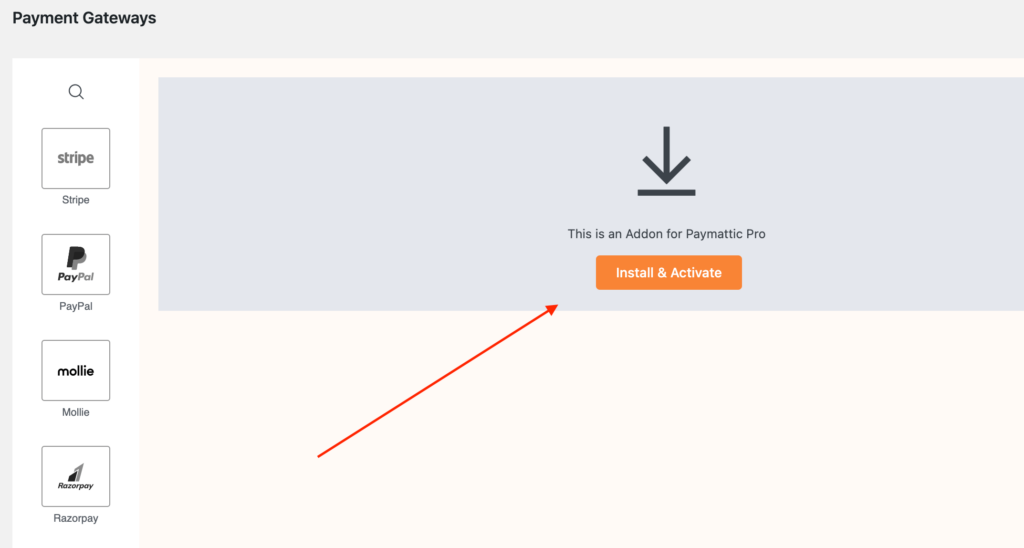 How to configure Flutterwave Live Mode / Test Mode
You will find two types of modes that can be selected by the radio buttons on the Flutterwave settings page. Select the Test mode only for test payments and select Live mode when you want to accept live payments. You can use any test card number issued by Flutterwave in the Test mode.

How to configure Flutterwave Public Key & Secret Key
You must set up Flutterwave public key and secret key to make the integration work properly. If you do not configure the API credentials Flutterwave won't authenticate the payment.
To do so, first, log in to your Flutterwave account to obtain your API keys.
Once you log in, go to Settings > API Keys from the account dashboard.
Then press the Generate Secret Key button to get new API Keys.
Copy your API credentials and paste them into Paymattic (Pro) > Payment Gateway > Flutterwave.
Next, click the Save Settings button to save the API keys.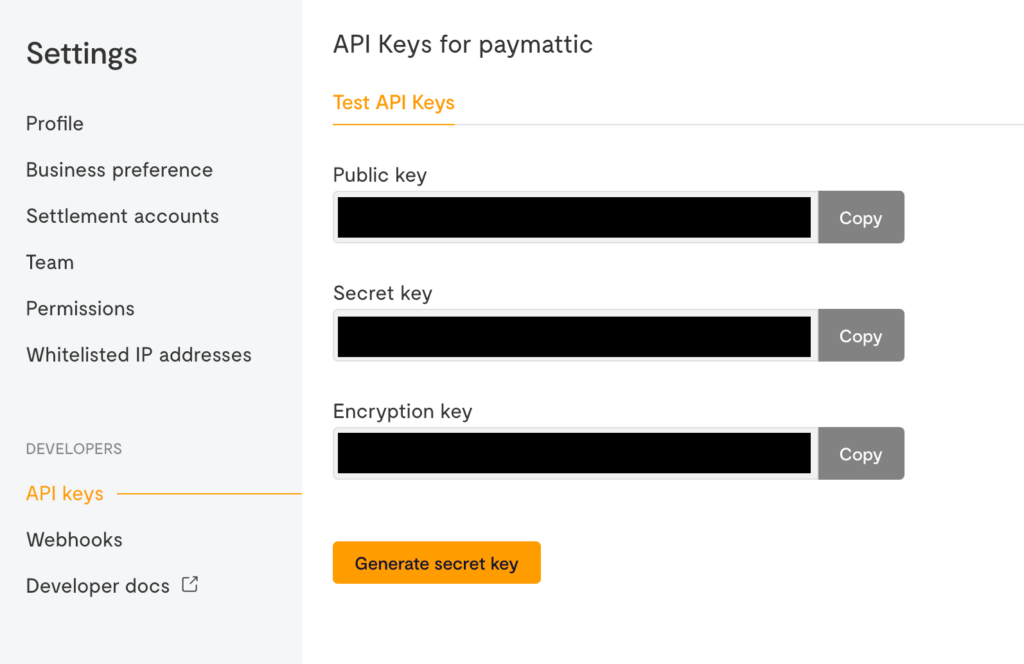 Subscribe to Our Newsletter
Join the crowd for more promotional offers, product updates, fundraising tips and tricks.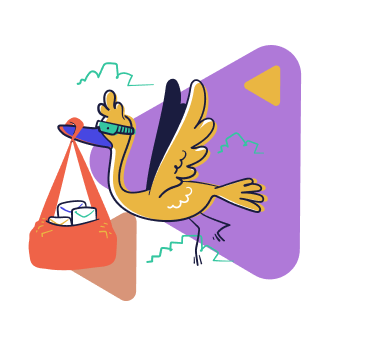 How to configure Flutterwave Webhook
Webhook configuration is a must for real-time payment status update in your website dashboard.
Copy the Flutterwave Webhook URL from Paymattic (Pro) > Payment Gateways > Flutterwave settings page in your WordPress dashboard.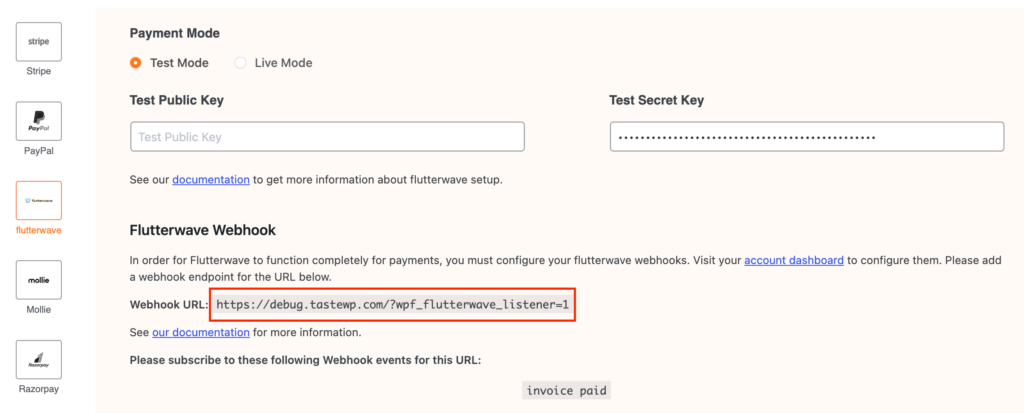 Log in to your Flutterwave dashboard and go to Settings > Webhooks.
Paste your Webhook URL here and wpf_flutterwave_listener as the secret hash.
Finally, click the Save button.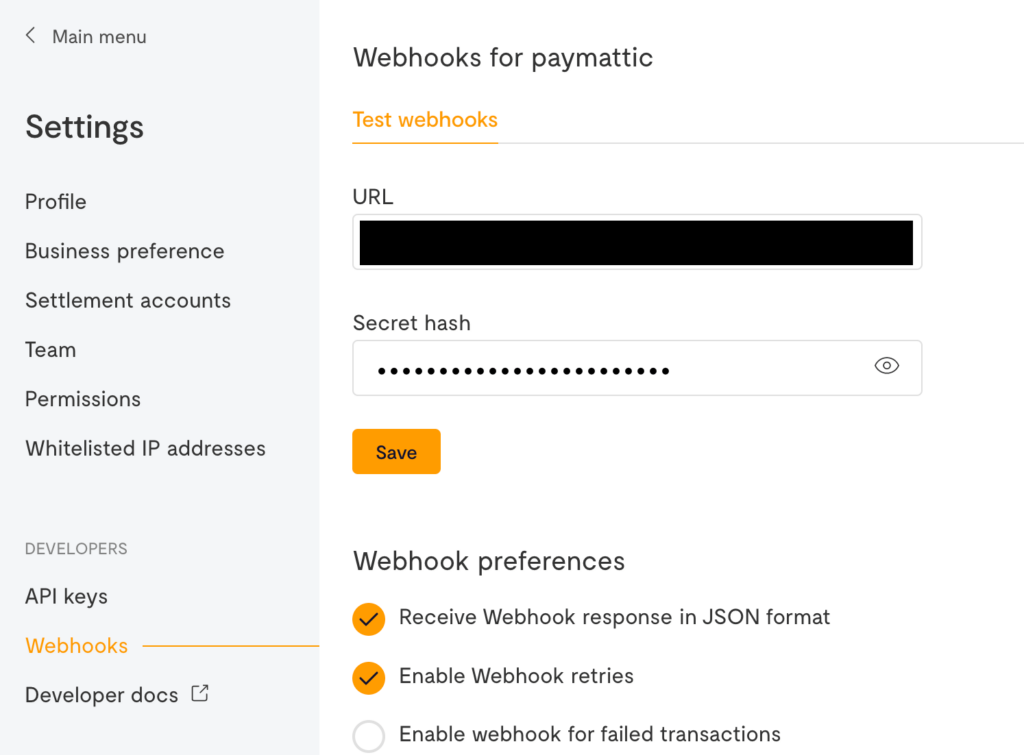 That's all you need to do to configure Flutterwave in your site. Once, you are done with this simple setup, you can create new form and add Flutterwave payment gateway in your form. Easy peasy, right?
Read this blog to learn how to enable Stripe payment gateway in WordPress [Free]
Last words
Hopefully, the Flutterwave payment gateway will be a game-changer for your business. No doubt, Flutterwave has gained popularity, especially in African region and it has gone beyond. Being a top-notch & user-friendly payment gateway, Flutterwave has bridged the gap between buyers and sellers, facilitating swift, reliable, and transparent transactions.
So, try Paymattic today & make the best of online payment with the simple Flutterwave integration.
Have a good day!