Paymattic 4.3.4 – Bug Fixes And Lots of Improvements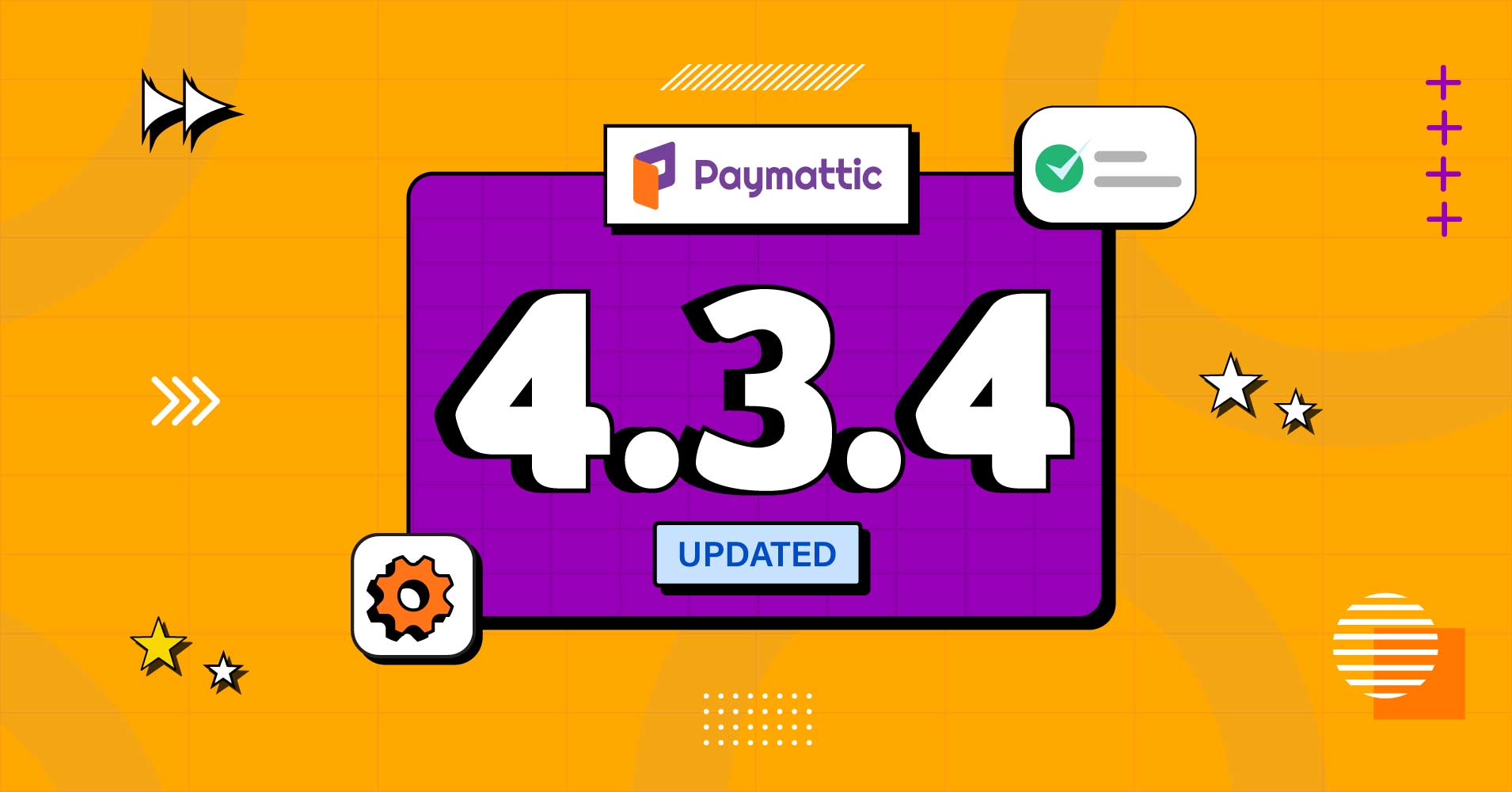 Hello, Paymattic fam! We are pleased to announce that our 4.3.4 release is here. It includes bug fixes that will significantly improve the functionalities of Paymattic.
Our team worked diligently all day to identify and fix bugs that affect the performance of our plugin. After getting your feedback, we understand these issues have been causing inconvenience and disturbance. That's why we took swift action to resolve them.
So without further ado, let's have a look at the fixes and improvements.
Bug fixes and improvements: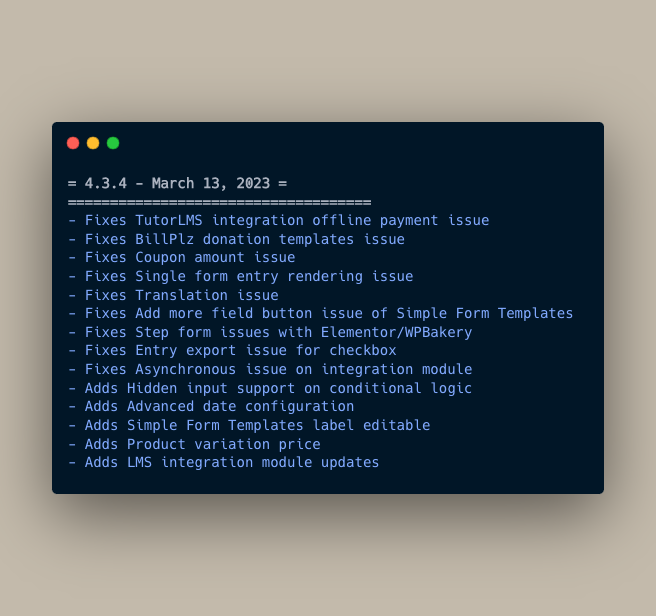 Fixes TutorLMS course enrollment when offline payment made issue – Paymattic allows auto course enrollment when payment is successfully made. But in the last version course from TutorLMS was not shown as enrolled, when any users made offline payments.
In this update, we fixed this issue. Now course from TutorLMS will auto-enroll when online or offline payment will be made.
Fixes Billplz is not rendering in donation templates issue – Paymattic offers 10 payment methods. In our donation templates, the Billplz payment method was not rendering. So we fixed it in our latest release.
Fixes Coupon amount not adding while exporting the form entries issue – Paymattic lets you show the discounted amount on your form when users apply any coupon code. But while exporting the form entries the discount amount was not shown there.
With this update, we fixed the issue. Now coupon amount will be visible while exporting form entries.
Fixes single form entry rendering issue – When any user made a single form entry, they were not rendering smoothly. There was a loading issue. So in this recent update, we fixed it and now it's performing well.
Fixes translation issues – Before some text of Paymattic was not translatable such as Step, Next, etc. So in this update, these issues are fixed, and now there is no translation issue like this.
Fixes Add more field button issue of Simple Form Templates – Paymattic offers prebuilt Simple form templates to make any donation form. But in this template, there was an issue. A button called Add more field was not working well. So in this update, this issue is fixed and this button is working smoothly as well.

Fixes Simple Form Templates label edit issue – Another issue was found in the simple form template, the label of this template was not editable before. We fixed this issue, now you can edit any label of this form template.
Fixes step form issues with Elementor/WPBakery – The step form was not working with Elementor/WPBakery. There was a rendering issue. Now, this issue is fixed and it's working well.
Fixes Entry export issue for checkbox – If there was any checkbox in the form, the entry of any forms were not exported. This issue is fixed. Now you can export any form entry for a checkbox.
Fixes Asynchronous issue on integration module – Users can now smoothly use form data in dynamic tags to trigger form integrations. For instance, FluentCRM uses dynamic tags to sort contacts. There was some data dependency issue. This has been fixed in this update, and now you should be able to implement form integrations more effortlessly.
Adds hidden input support on conditional logic – Paymattic allows conditional logic on forms. But there was no hidden input support while applying conditional logic. With this update, this improvement is done. Now hidden input supports are available on conditional logic.
Adds Advanced date configuration – Now users can add advanced date configuration. But they have to input the date as a javascript object like, {dateFormat: 'Y.m.d', disabled: [2022-10-22, 2022-11-22]}.
Adds product variation price – Previously, in the payment forms the product price could be set based on any one category, for example, the price of all t-shirts was the same. But in this recent update, any user can set a different price for a t-shirt based on its color or size.
Adds LMS integration module updates – Formerly, there was no user registration field in the integration module. With this integration module updates user registration field is added. To connect any LMS, users can now set their own email address, username, and password.
What's next?
That's all about Paymattic 4.3.4 updates! We appreciate your patience and hope that these improvements will enhance your experience with Paymattic.
As we remain committed to providing a reliable donation platform, help us by suggesting some helpful business or non-profit features that you are looking for! We welcome your continued feedback as we are trying to refine and improve our product every day.
Thank you for choosing Paymattic as your WordPress donation plugin. If you really like it make sure to leave a review.
If you have not tried Paymattic yet, go ahead and try it. You will definitely love it.