Tutor LMS for WordPress – A Powerful Weapon for eLearning Website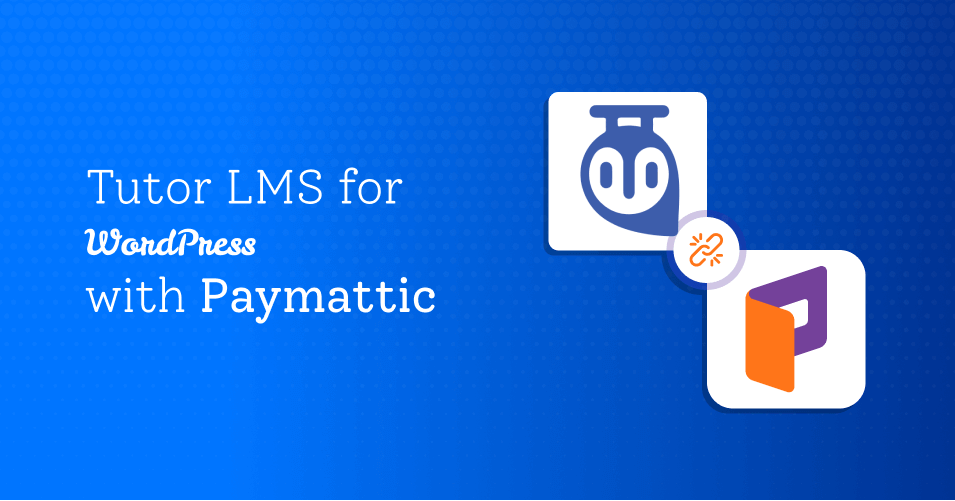 E-Learning is going to be the next big thing in the digital world. Especially after COVID-19, the eLearning industry is growing steadily fast. A growing number of people are getting involved in Edu-tech for learning or teaching.
If you are an instructor looking to sell online courses, you might be struggling to find the right LMS platform for your website. Luckily, here we present Tutor LMS for WordPress, which helps you make your eLearning website stand out.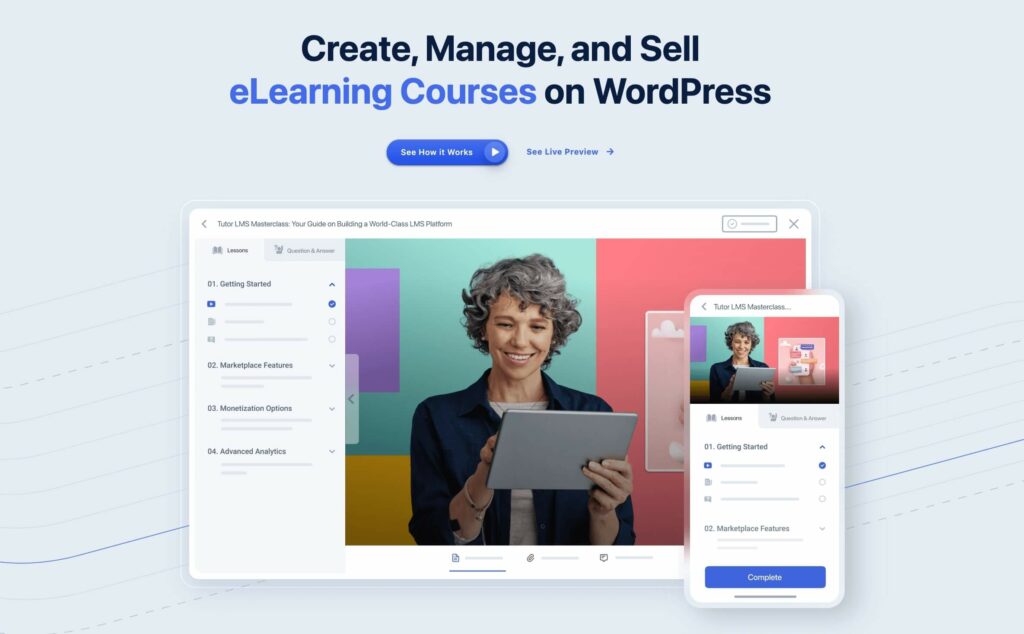 Tutor LMS is a UI-based WordPress LMS plugin that includes a frontend course builder, quiz creator with 10 unique question types, reporting/analytics, and more.
There are numerous commission allocation and withdrawal options available with Tutor LMS. This ensures a smooth transaction flow for instructors and administrators.
There's more! Tutor LMS also offers some advanced features such as course prerequisites, course preview, certificates, multi-instructors and multimedia attachments. The custom mail templates feature allows site admins to communicate with both instructors and students. On top of that, users can monitor all course-related data using the dedicated dashboard. Other features of Tutor LMS include-
Drag and drop course builder
Advanced quizzes
Insightful reports
Beginner-friendly
Affordable pricing
Unlimited courses
Simple administration
No coding required
Why should you use Tutor LMS for WordPress?
So, you know well that online learning is becoming the new norm. As the internet and technology are becoming more accessible, students and teachers are shifting towards online education.
If you want to convert your traditional classroom to a globally accessible eLearning platform, Tutor LMS is the right plugin that can make your job easier. We are outlining some basic reasons that you should use Tutor LMS below. These are –
Sell online courses through eLearning websites
Tutor LMS makes it simple to create and sell online courses through websites. It has powerful features such as quizzes, questions, and dashboards that allow you to create excellent e-Learning platforms. The Language School theme is fully compatible with the Tutor LMS plugin. This allows you to create any type of educational platform in the shortest period of time.
The Tutor LMS WordPress education plugin comes with both free and paid versions. Obviously, the premium version offers advanced features, but the free version provides many key functionalities that help you build a full-fledged website for individual instructors, training centers, and even large educational institutions.
Subscribe to Our Newsletter
Join the crowd for more promotional offers, product updates, fundraising tips and tricks.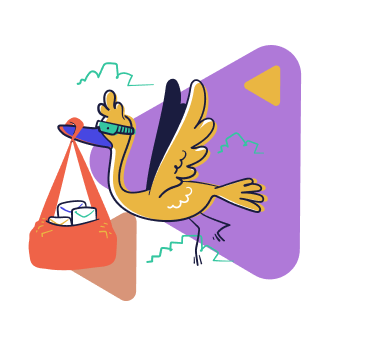 Provide training to team members
Large multinational companies operate their business in diverse locations around the world. It is costly to provide training to all team members in different groups. Tutor LMS makes it convenient for companies to share private content online with all team members.
Tutor LMS for customer training
If you are selling a product that requires extensive knowledge to use your product, then Tutor LMS is a wizard for you. Especially for the firms that sell enterprise software or cloud-based service. Customer training enhances the customer experience by providing users of your product or service with information that supports and educates them. Using Tutor LMS for customer training can help customers stay up to date on features and effectively use your product and services.
Tutor LMS for educational institutions
Automate the process of delivering lessons, course materials and tracking student progress with Tutor LMS. Tutor LMS plugin creates a modern knowledge delivery platform in which traditional lessons and eLearning can combine to improve the student experience.
Learn about another LMS plugin in the blog LifterLMS for WordPress
Paymattic WordPress simple payments plugin
Paymattic is one of the most advanced WordPress payment plugins for providing seamless transactions. Paymattic has been on the buzz around the world due to its diverse payment gateways and numerous smart payment features.
As you will enroll students from any corner of the world, a single payment gateway is not enough. Paymattic comes with 10 payment gateways so that you can hit the market across the border. The currently available payment gateways with Paymattic are –
Stripe (free)
PayPal
Square
Mollie
Billplz
Razorpay
Xendit
Paystack
Payrexx
SSLCOMMERZ
The conditional logic option can take your payment form to another level. Enabling conditional logic with your form prevents your visitors from getting lost in irrelevant questions.
Some enticing payment features of Paymattic are –
Subscription payments
Multiple platform integration
10 payment gateways
135+ currency support
Detailed reports and analytics
Customer profiles
Coupons
Drag and drop form builder
Form scheduling & restrictions
eLearning support
Brace up Tutor LMS with the Paymattic WordPress plugin

You can integrate Tutor LMS with the pro version of the Paymattic WordPress plugin. The LMS integration is the key feature that distinguishes Paymattic from the competition. This makes it simple for eLearning professionals to onboard students and distributes course materials.
Furthermore, you can enroll students automatically after their payment is processed or instantly remove them after you refund them. Paymattic is thus a truly unique payment option for Tutor LMS.
To make you understand how your business is performing, Paymattic introduces the reporting and analytics feature. It gives you a bird-eye-view of how well your business is performing. You can get total revenue, weekly revenue report, customer data, revenue graph, payment status summary, top customers report and many more!
What about trying some deals and discounts with your eLearning business? It's a must if you want to beat the competition.
But how? No worries. Paymattic is here to help! The coupon feature lets you offer discounts or coupon codes with the payment form itself.
Sounds interesting, right? Can't wait to try Paymattic pro? Give it a shot and start flying with your eLearning website.
Ready to get started?
Experience WordPress payment and donation like never before. Try Paymattic now!
How to integrate Tutor LMS for WordPress with Paymattic
It's easy as pie to integrate Tutor LMS for WordPress with Paymattic. You can do it yourself without any coding within minutes. Let's see how!
First, log in to your WordPress dashboard and go to the plugin sections.


Click on the Add New button and install (and then activate) Tutor LMS from the WordPress repository.
After installing Tutor LMS go to the Paymattic (Pro) > Integrations module and enable the Tutor LMS.


It's time to create a new form or select a form that you want to pair with Tutor LMS.


Simply select a form from the All Forms section.
Click on the Settings link right below the form name.
Now, click on the Form Integrations tab from the top bar.
Press the Add New Integration button and select Tutor LMS Integration.


Configure Tutor LMS with the form based on your need.
At last, click on the Create Tutor LMS Feed button.

Bingo! You have done it. Now you have connected Tutor LMS with Paymattic.
Closing notes
Overall, given its extensive features and ease of use, Tutor LMS for WordPress is an excellent LMS plugin. Although it is still a new plugin, it will gradually rise to become one of the most popular LMS plugins. Aside from that, its flexible pricing and freemium version are compelling enough for tutors and entrepreneurs to give it a shot.
Tutor LMS with Paymattic creates a powerful synergy for your eLearning site. Try Paymattic Pro yourself and discover new opportunities to kick off in the world of digital education.