7 Best WP Simple Pay Alternatives for eCommerce Website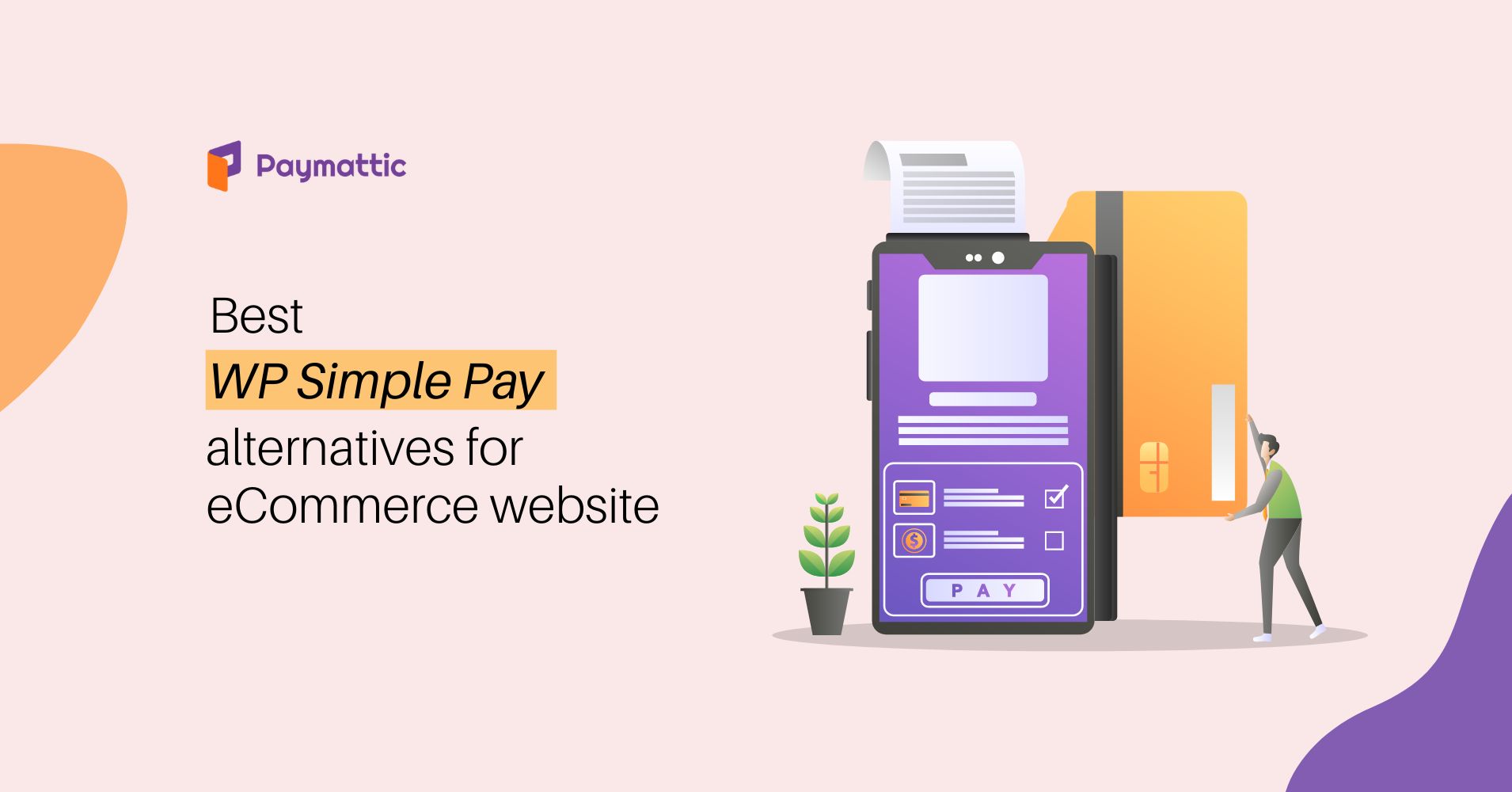 Can you think of an eCommerce website without a payment gateway? No and never. One of the most simple ways to connect payment gateway is using a payment plugin.
WP Simple Pay is a very straightforward payment plugin for your WordPress website. Though it is very easy to use and comes with a faster setup process, it is limited to some basic features. You might be looking for WP Simple Pay alternatives to explore some advanced features.
WP Simple Pay is a WordPress payment plugin for accepting online payments, especially using the Stripe payment gateway. You can build payment forms, allow custom amounts to pay and set up currency in this WordPress payment plugin.
It has very smooth functionality with a limited number of payment features. It accepts only the Stripe payment method, where plenty of WordPress payment plugins are already available in the market with multiple payment methods.
Why people look for WP Simple Pay alternatives
WP Simple Pay is perfect for basic payment functionality but it has some limitations when you want some advanced features on your website. As it is a single payment gateway plugin, you can not collect payments with other payment gateways.
Besides, you cannot integrate this plugin with other platforms. So, automation with multiple platforms is a challenge with WP Simple Pay.
The user interface of this plugin is not up to the mark. If you are looking for a WordPress payment plugin that gives you a comfortable user experience, you can try Paymattic instead.
7 best WP Simple Pay alternatives
To scale up your business in this competitive market, you need a perfect plugin that boosts your operational excellence.
Today, in this blog, we will discuss 7 WP Simple Pay alternatives that will blow your mind.
Let's begin!
Paymattic is the best WordPress payment plugin to receive online payments with ease. It has a sleek design with a beginner-friendly interface to set up payment forms in a few clicks.
Unlike WP Simple Pay, it supports 10 payment gateways, including Stripe with the free version and PayPal, Payrexx, Square, Billplz, Mollie, Xendit, Razorpay, Paystack, and SSLCOMMERZ with the pro version.
This multipurpose WordPress payment plugin is very handy to manage. Simply install the plugin and create a payment form. Publish the payment form on any page of your website and start receiving online payments instantly.
Along with the payment gateway, you can integrate with multiple platforms like FluentCRM, Mailchimp, Zapier, Tutor LMS, LearnDash, LifterLMS, Slack, Telegram and many more!
Other notable features of the Paymattic WordPress payment plugin include –
Subscription payments
35+ custom form fields
10 payment gateways integration
70 pre-built form templates
Custom payment amount
Customizable image upload
Integrations with multiple platforms
Individual customer profile
135+ currencies support
Form import-export
LMS integration
Detailed reporting and analytics
This premium WordPress payment plugin offers both annual and lifetime licenses starting from $59 to $699. You can go for a single site license, agency license or unlimited license based on your need. I recommend you use this all-in-one plugin to transform your website into a flawless eCommerce platform.

One of the lucrative yet free plugins available in the market is Stripe Payment Plugin for WooCommerce. It will serve all of your online business needs without any doubt.
Like, WP Simple Pay, it is a single payment gateway plugin. It comes with a built-in Stripe payment gateway that can accept all types of credit cards, debit cards, Ali Pay, Apple Pay and many more.
This plugin has an automatic shortcode generator to make every transaction effortless. This free payment plugin provides a distinct and user-friendly Stripe overview page for your WooCommerce store. It gives you a consolidated view of your Stripe payments, allowing you to do one-click capture and issue refunds.
As it is a very straightforward plugin, it has some limitations. You can not make any payment form with this plugin.
With the WooCommerce subscription, you can avail the single-site license for $59. Multiple site licenses are also available for $89 and $189.

Accept Stripe Payments is a lightweight plugin for WordPress sites. It does exactly what you understand by its name. It is specially built for those who want to receive credit card payments through their WordPress website.
It is very simple to use as it doesn't have any advanced functionality. All you can do with this WordPress payment plugin is to add products with a 'Buy Now' button on your website using shortcode.
This plugin supports 40+ currencies and comes with a 'Remember me' option while checking out. It has also 'Do not save card data' option so that no card information will be saved by Stripe when a customer pays online.
This plugin is free to use. So, it does not offer any licensing plan. However, you have to purchase each add-on for $39.95 for the advance feature.
Subscribe to Our Newsletter
Join the crowd for more promotional offers, product updates, fundraising tips and tricks.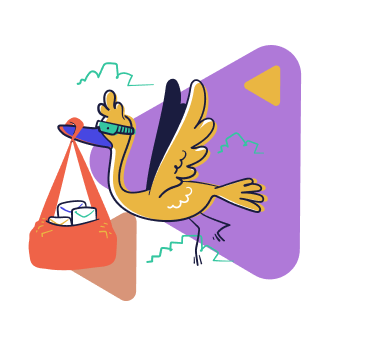 PayPal Plus for WooCommerce is a payment plugin for WordPress that integrates PayPal Plus payment methods into the WooCommerce website. It accepts PayPal, Direct debit, Credit card and Pay upon invoice. Besides, the new express checkout gateway allows faster payment via the Express Checkout button.
The checkout page includes an iFrame provided by PayPal, which includes all the payment methods available through PayPal Plus. Depending on your preference, you can direct customers to either the PayPal form or a form where they can enter their information to pay with a credit card, debit card, or invoice.
This plugin is helpless without the WooCommerce plugin. You need to pre-install the WooCommerce plugin to use this PayPal payment plugin.
This is a free WordPress plugin. So, if you are looking for a payment plugin without any budget, you can go for PayPal Plus for WooCommerce.

Fondy is a one-stop payment solution for eCommerce websites. It helps you to move money across the border without facing any friction.
It accepts most of the big payment methods, bank transactions, eWallet, Apple Pay, and Android Pay. On top of that, Fondy allows you to accept credit cards on your website in Europe directly.
Fondy's Mobile Version is another noteworthy feature. It's a smart useful feature for keeping track of your business. Wherever you move, with the Fondy mobile app, you can receive instant notifications and monitor your business activities.
The Fondy WordPress plugin is free to use. However, it charges a transaction fee based on each transaction. So, Fondy is not a good choice if you have a large customer base that makes countless daily transactions.
Read this blog and learn how to set up Stripe payment gateway on eCommerce website for free

WordPress Stripe Checkout is a plugin for WordPress websites to accept payments with Stripe. It will include the Stripe payment processor by default on your website. It has an SCA-ready (Strong Customer Authentication) checkout method.
You can select from 14 different currencies with the mobile version. Furthermore, this plugin will allow you to display your company logo on your payment page.
This tool has no monthly or setup fees, and there are no hidden costs. However, for each transaction, you will be charged 2.9% + 30 cents for international cards and 1.75% + 30 cents for domestic cards.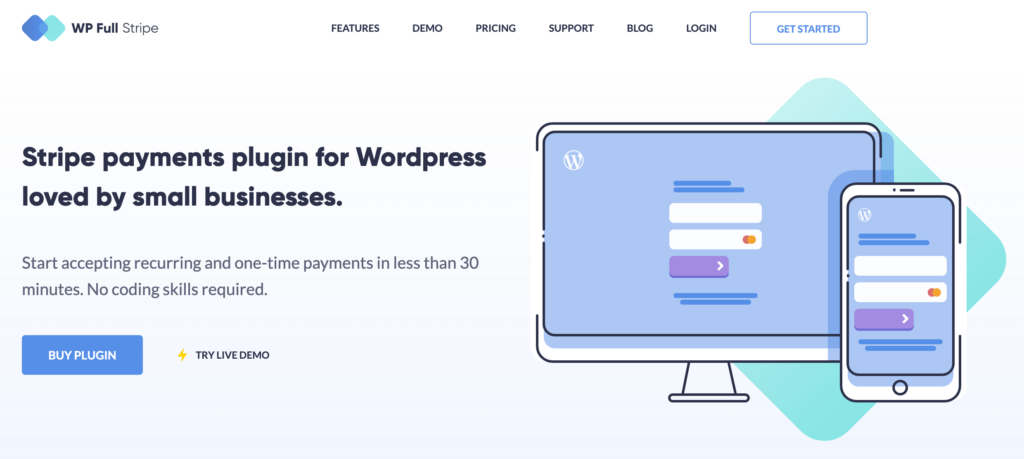 WP Full Stripe is a WordPress Stripe payment plugin for beginners.
It doesn't require any coding to set up, it's simple to use and a large number of startups rely on it.
The majority of payment management tasks can be completed within the WordPress dashboard, so even if you've never used a similar plugin before, it won't be confusing.
The regular license will cost $49 and you can go for the extended version for $249.
Wrapping up
We compiled a list that includes both standalone Stripe payment plugins and plugins that support multiple payment gateways. All of them are better WP Simple Pay alternatives for your WordPress site.
If you cannot decide a single plugin on your own, we recommend you to use the Paymattic WordPress payment plugin. Currently, this is the most suitable plugin to receive payments available in the market.
Try the Paymattic plugin today and let us know in the comments how it helped your business grow!