Offline Payment Unveiled | Everything You Need To Know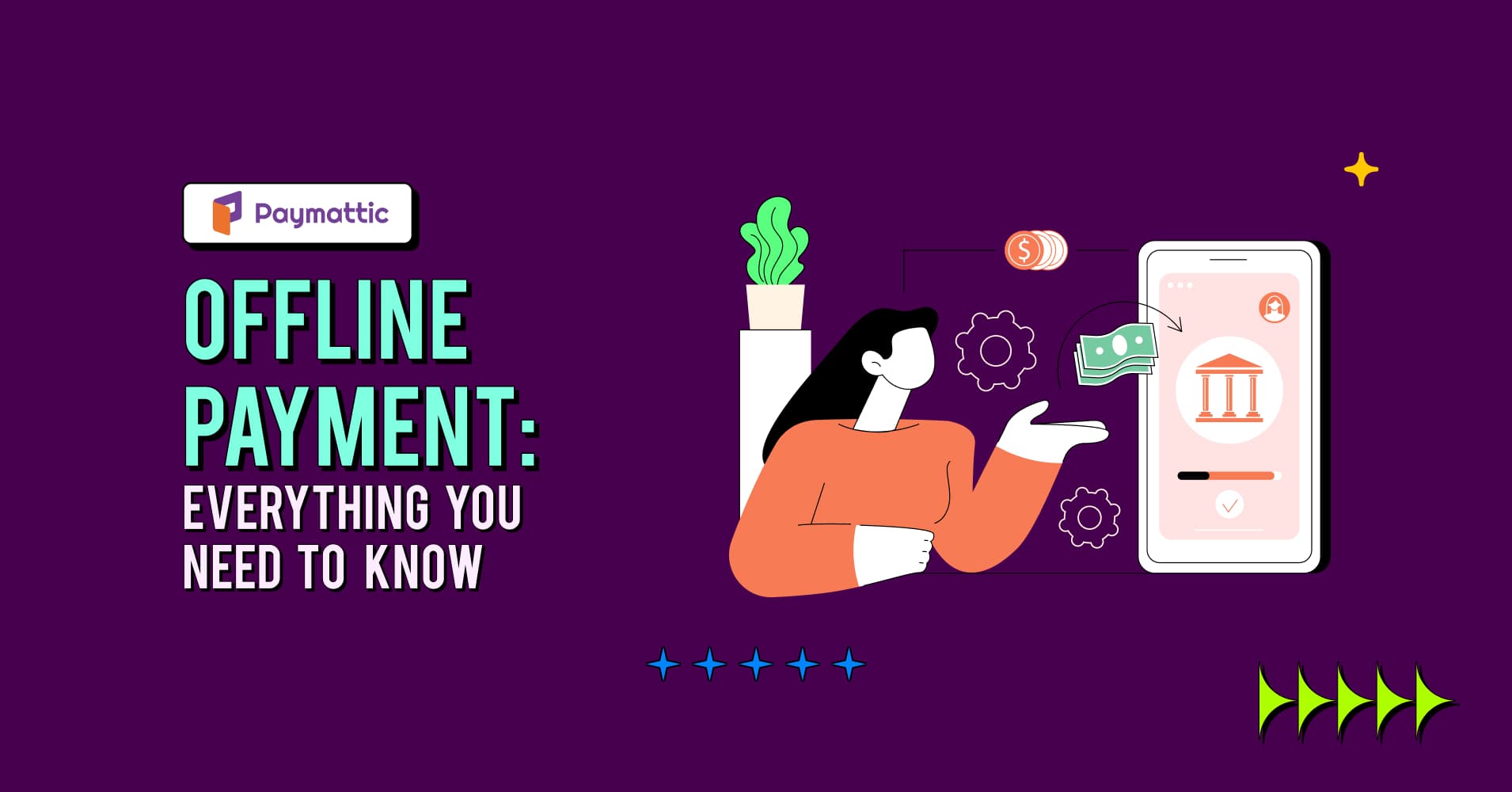 Tell me if it didn't happen to you.
You got suspicious while entering your card and security number into a payment checkout page. At least once in your life.
If it's happened, you are not the only one. Many people feel insecure about entering their card details online. That's why they prefer offline payments.
And today, I have something that'll make you feel like an encyclopedia on offline payments.
By the end of the article, you'll know what offline payment processing is. What are offline payment methods, how they work, and internal risk factors.
Also, you'll learn how to add offline payment on your website.
So why wait? Let's dive right into it.
What is offline payment?
Offline payment means a payment made without the instantaneous use of the Internet.
Offline payment methods include cash payments, check payments, and bank transfers. It also includes postal orders, money order payments, wire transfer payments, or any other offline means.
To be precise, offline payment processing is a payment done manually. And then synchronized later. That includes checking your bank account and updating the payment status.
So, how is it convenient?
If you are a service provider – offline payments let your customers exit the checkout page without paying. And then make the payment and let you know about it. Paying offline makes your customers feel secure about the transaction.
Because say what? – You don't want to disclose card information easily.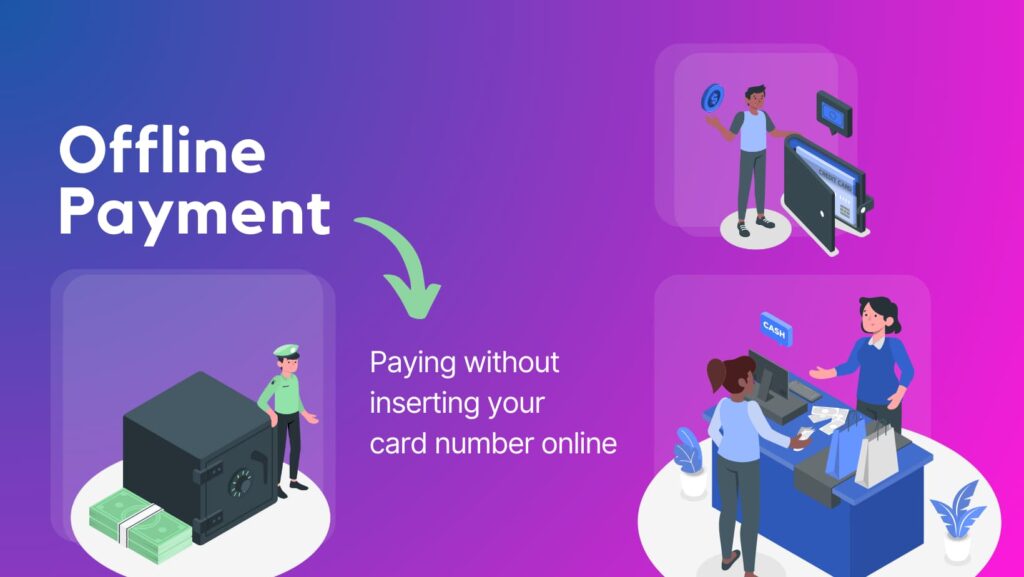 What is online vs offline payment processing?
Now you know, what does offline payment mean. And have a brief idea of how it might help. I'll show you the advantages and disadvantages later on.
Meanwhile, questions may arise in your mind – and you might wonder what the differences are between online and offline payments.
Key differences between offline and online payments are –
Transaction speed
Physical money
Payment methods
Transaction fee
Flexibility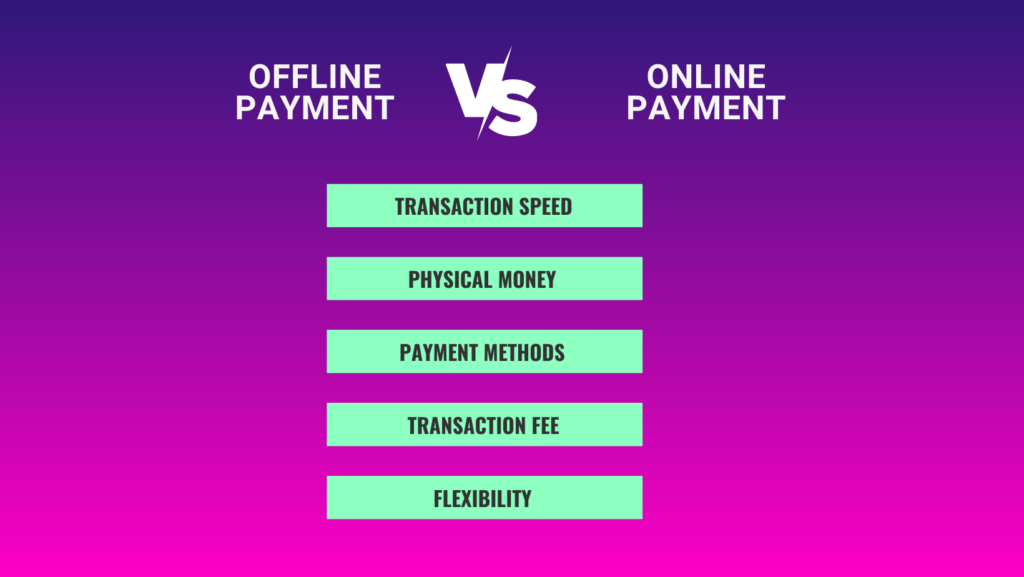 Transaction speed:
The fund transaction speed may vary for offline and online payments.
Some forms of offline transactions are faster than others. For example, paying through a card-swiping machine is faster. On the other hand, bank transfers are a bit slower. But most forms of online transfers happen in just a blink.
Physical money:
Paying offline means hand-to-hand payments. It might include the transaction of physical money. Alternatively, online payments don't include physical money. Just numbers on the account sheets.
Payment methods:
As offline payment is a manual payment, it differs from the payment methods of online pay. Offline payment methods include cash, check, bank transfer, and likewise mediums. Conversely, online payment methods are Internet pay, cryptocurrencies, card transactions, etc.
Transaction fee:
The fee varies for offline and online payments. The online transaction includes payment gateway fees. It also entails service charges, merchant fees, and virtual terminal fees. Counter to that, offline payments assign fees like cash handling fees, check processing fees, overseas fees, etc.
Flexibility:
Online payment is flexible. You can pay from anywhere in the world. On the flip side, offline payment needs specific terminals. It can be a bank, booth, or check vendor.
Subscribe to Our Newsletter
Join the crowd for more promotional offers, product updates, fundraising tips and tricks.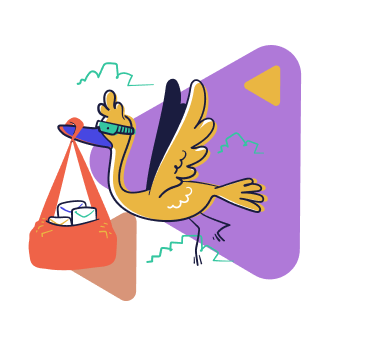 Offline payment methods
At this point in the article, you may wonder what the payment options are. How can you pay offline? – And what's the best way to go?
Bluntly, there's no best or worst way. Only you choose how you want to pay.
Some offline payment gateways are:
Cash payment.
Check payment.
Bank transfer
Money order
In-store pay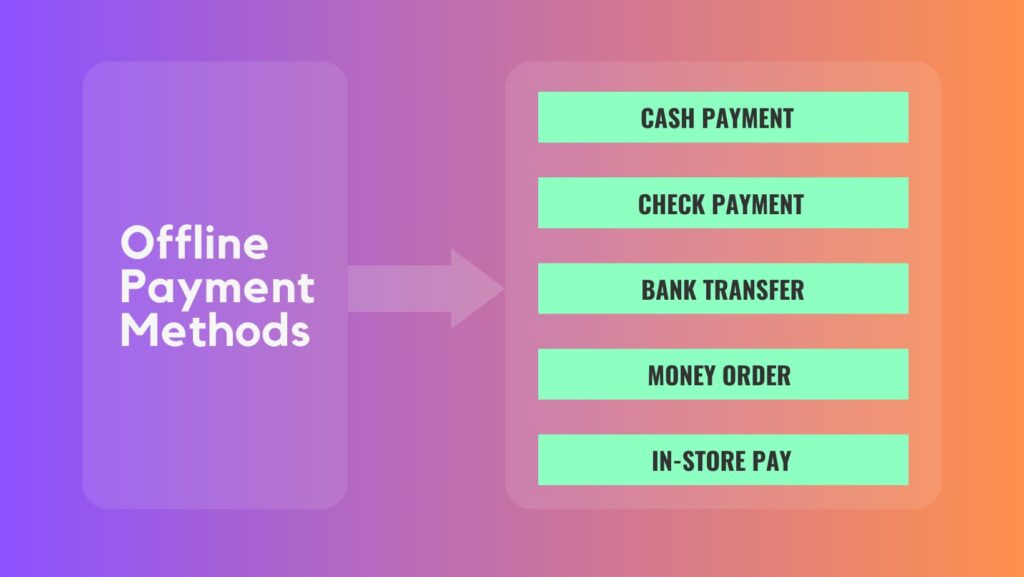 Cash payment
For a long time, cash has been the traditional payment method.
Payment by cash means setting up an offline transaction by using physical money. It includes bank notes or coins. Though online payments are on the rise, cash is still the most commonly used payment method worldwide.
Check payment
Check payment means using paper documents for offline transactions.
Someone writes you a check and signs it. Then you take the check to the suggested bank. And the bank gives you money. Check payment is a convenient way to transfer money without the physical transaction of money.
Bank deposit
This is also called the direct payment method.
A bank deposit means transferring funds into your bank account from someone else's as a form of payment. To make a payment, your payer initiates a fund transfer process. From their bank account, money gets transferred to yours.
These types of payments are mainly used for salary payments, online purchases, etc.
Money order
The money order is a cornerstone of offline commerce.
This is a prepaid payment system that is non-transferable. You buy a specific amount of money order from a bank, post office, or store. Then you send the money order through the mail. After that, the receiver can cash the money order at a bank or any financial institution.
In-store pay
In-store payment means your physical presence when making a payment.
You may pay by credit or debit card. When you make the payment, you are in the store. Or you are in the physical retail shop where you go to buy and make a payment.
Ready to get started?
Experience WordPress payment and donation like never before. Try Paymattic now!
How offline payment works
Offline payment means payment is made "by not inserting the card number online."
In terms of bank transfers, the bank handles your money. They have their own ways to send and receive money. Banks might use other forms of technology to exchange money between their different sections.
To make you curious, I can say, offline payments work just like online payments. But sometimes, you don't have to keep a book and sync the information while paying online.
If you pay by card machine, it is an offline payment you just made. You can make offline merchant payments with your debit card. For example – buying a flower vase from a store. With your credit card swiped in the machine. These are all offline payments.
I've shown you the offline payment methods in the above section. Offline payments function via the methods of fund transfer.
Advantages of offline payment processing
Online payment is miles ahead in the online vs. offline payment war.
But there are some striking advantages to offline payment. That's why it's still one of the most prevalent payment mediums.
Here are some advantages of offline payment processing:
Offline payment is ubiquitous
Still accessible when there's no internet access
More secure than online payments
Currency difference is not a problem
Doesn't take your credit/debit card information
Flexible and there are numerous transaction mediums
When it comes to fraud, online methods are safer
Disadvantages of offline payment processing
Despite the advantages, there are some drawbacks to offline payments:
The processing is slower in some cases
May not be accepted to all the merchant points
Cash handling is inconvenient
Sometimes paperwork is clumsy and erroneous
How to add offline payment on website
Say, you are a seller and want to sell services online. How would you do that? You'll add a payment procedure to your website. Buyers will pay online and receive your product.
But not everyone is comfortable paying online.
"We want our money safer than our selfie"
– PayPal
You may lose leads and potential buyers right at the checkout page. How can you avoid that? By adding an offline payment procedure on the checkout page.
In this section, I'll show you how to add offline payments to your website. We'll use a simple WordPress plugin, called Paymattic to add offline payment procedures.
Let's jump right into it.
Open the Paymattic plugin from your WordPress dashboard.
Go to "Add New Form" from the top right corner.
Select "Advanced Editor" and click on Select From Demo.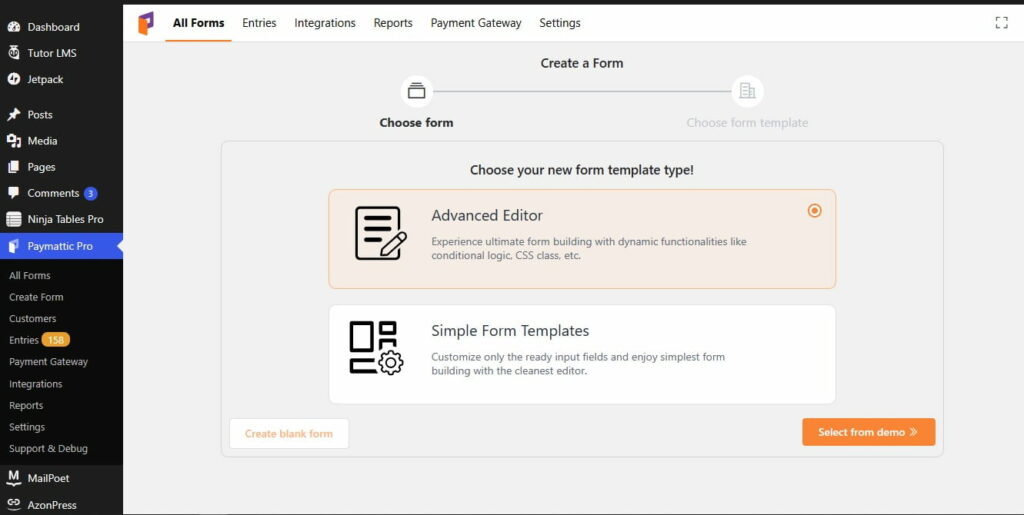 Choose the "Blank Form" from the templates. You've created a blank form.
Click on the plus (+) icon and add the necessary input fields.
Example: name, email, phone numbers, and items.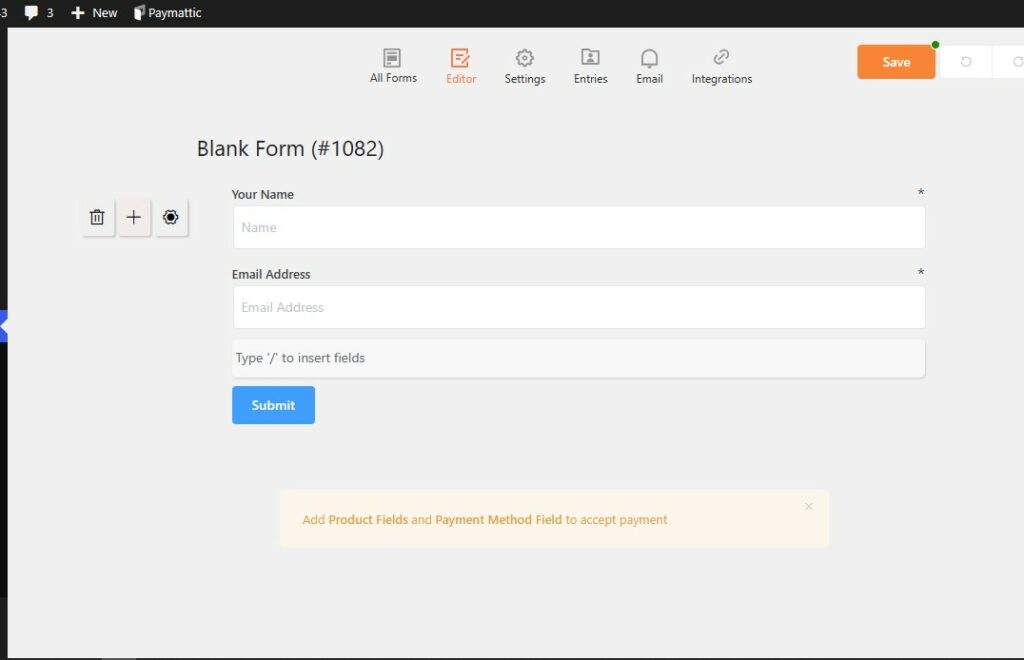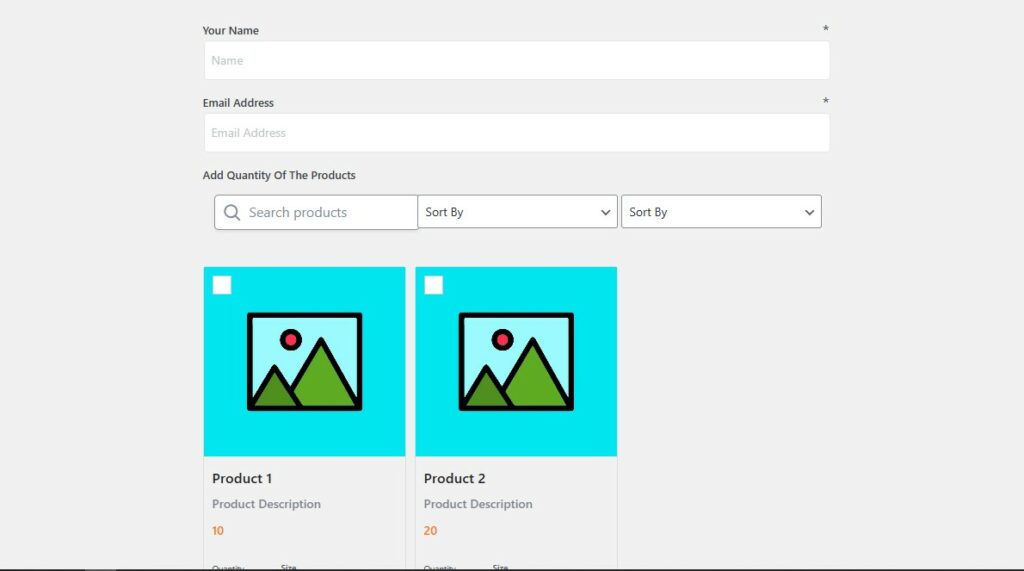 Again, click on the plus icon. Choose "Offline/Check Payment" from the Payment Method Fields.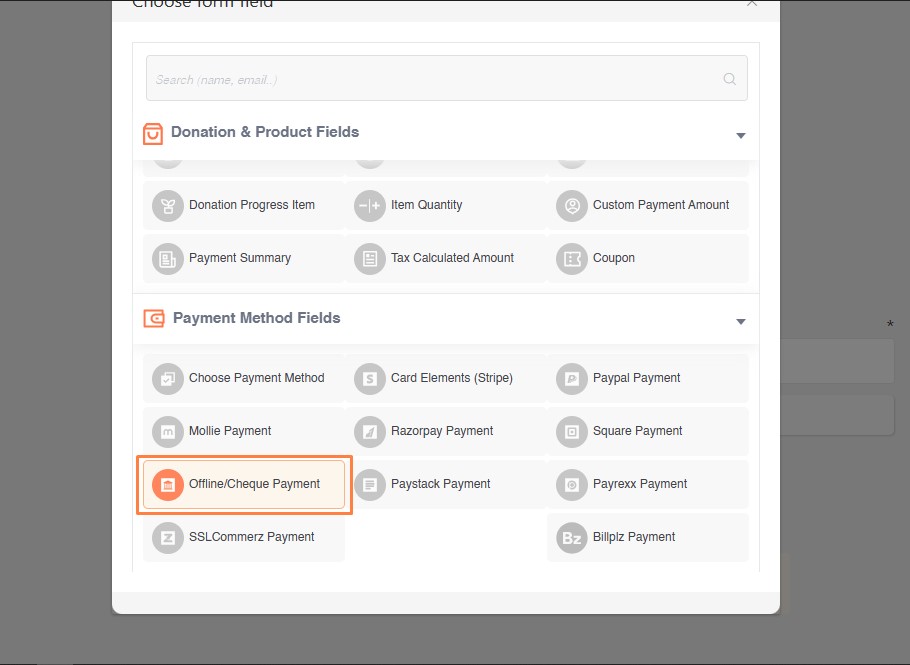 From the Gear menu, add the offline transfer details.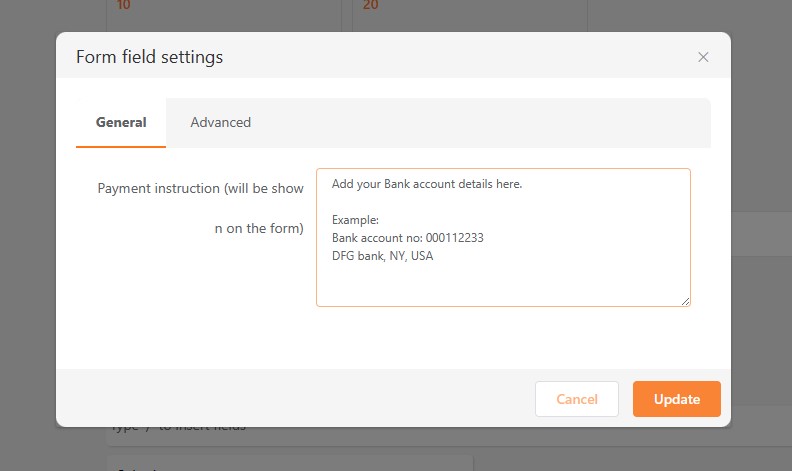 Press "Save" and your payment form is done.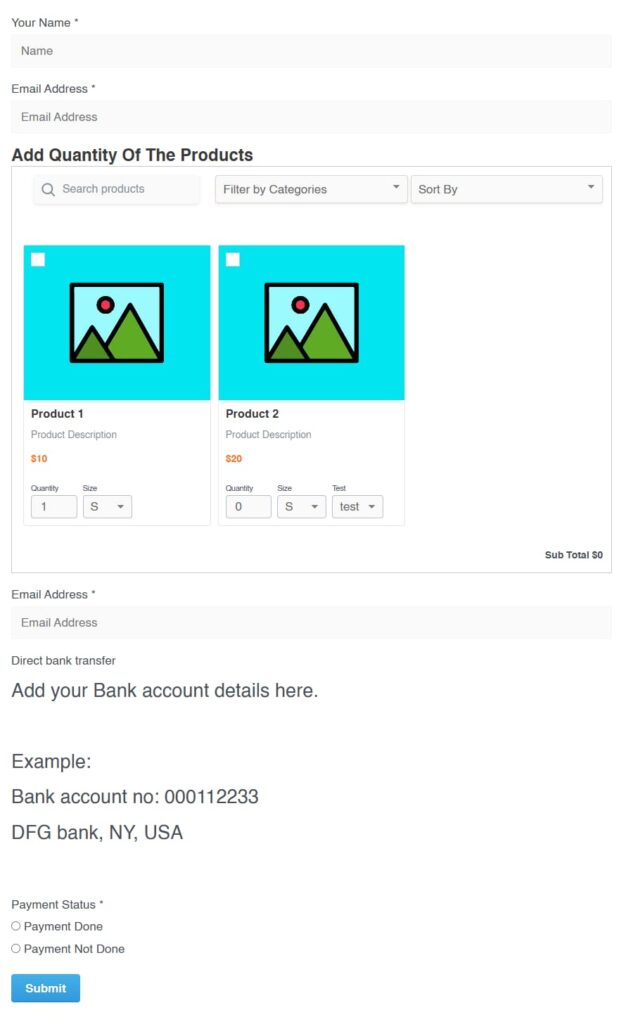 This is how you can add an offline payment to your WordPress website.
Also, learn how to create an online payment form on your website.
The wrap up
Feeling confident about offline payment processing?
Remember that, offline payment methods are how you pay offline. Though it's secure and trustworthy, it's getting replaced by online payments quickly. If you are a service provider, you should maintain a stable offline pay procedure for your customers.
Thank you!