5 Go-To WordPress Recurring Payment Plugins (Easy To Use)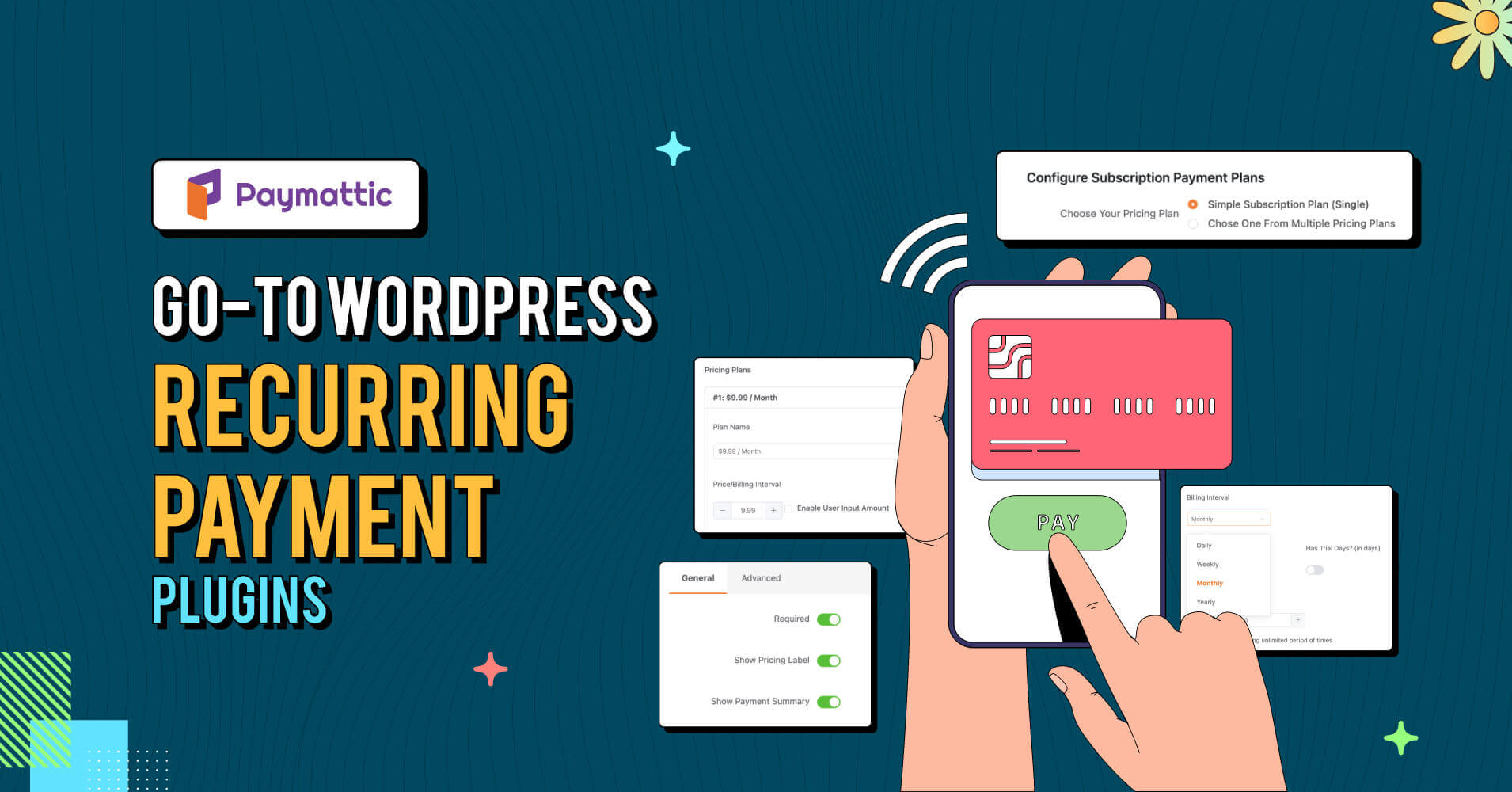 Are you trying to set up subscription payments on your WordPress website?
Or trying to set up a billing system on your webpage? Or want to receive monthly and weekly payments through your website?
All of these are various examples of recurring payments. And you need billing plugins that support recurring payments.
In this blog, I'll unveil the 5 best WordPress recurring payment plugins. I'll also tell you about the feature details, and benefits of using each of them.
Why choose these plugins? Because they are simple to set up. And easy to use.
So, let's dive in.
What is the "Recurring Payment"?

Recurring payment is a payment model where the customer lets the service provider charge a certain amount of money from their account at regular intervals.
You must have heard the term "Subscription". A recurring payment is also called a "Subscription Payment".
It's an automated way to send or receive payments. Recurring payments free the customer and merchant from the hassle to remember and make payments manually every single time.
Moreover, recurring payments make sure of a predictable cash flow for your business.
Subscription payments smoothen the user experience. It lets you and your user enjoy an uninterrupted service as it reduces the risk of missing payment deadlines.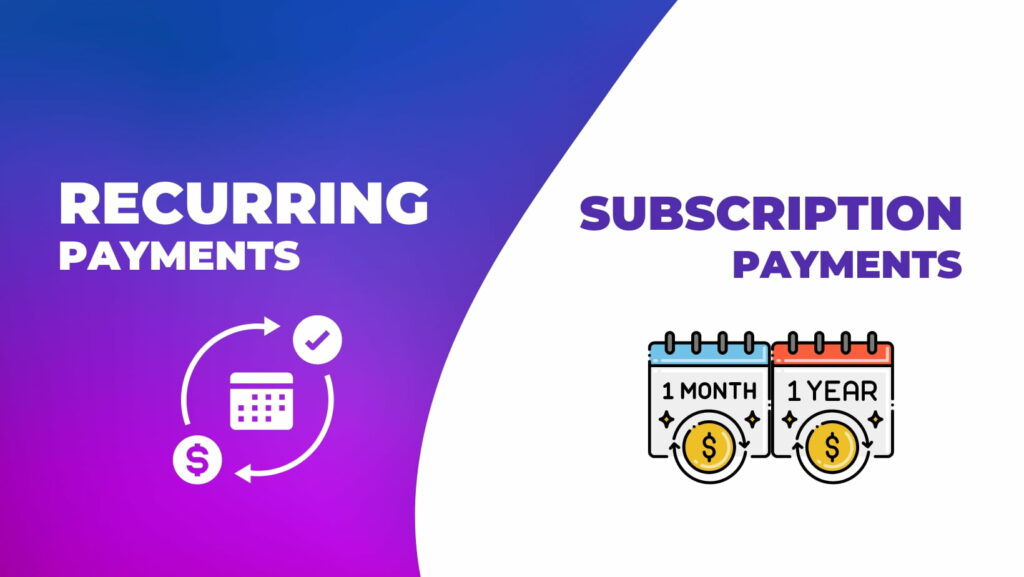 Why do you need recurring payments?
"If you think nobody cares if you're alive, try missing a couple of car payments."

– Earl Wilson
Say, you are a service provider. And you have customers who pay you on a monthly basis.
You definitely need a recurring payment procedure because this is convenient. And subscription payments will free you from all those troubles by making the payment procedure automatic.
You should use recurring payments if you are –
An entrepreneur, who sells services in a time-specific manner
A gym owner, who has to manage gym membership payments
An internet service provider, who has clients paying on a certain time period
A streaming services provider, like Netflix or HBO
A cloud storage provider, serving cloud solutions to users
A digital media platform owner, like Spotify, and Apple Music
A SaaS provider, like Adobe Creative Cloud, or Microsoft Office
Selling news magazine subscriptions to users
Selling mobile app subscriptions to premium users
Or any individual who provides repetitive services or products
In WordPress websites, setting up recurring payments need plugins.
There are numerous plugins that let you add recurring billing systems to your website. But not all of them are useful and worth it.
Later in the blog, I am going to show you how to set up subscription payments on WordPress.
Subscribe to Our Newsletter
Join the crowd for more promotional offers, product updates, fundraising tips and tricks.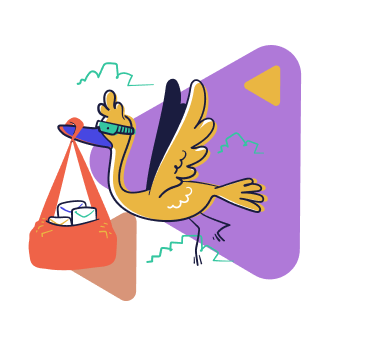 Criteria for choosing a WordPress subscription payment plugin
As you are a service provider, you already know what you want from the plugin. It can be the price, feature, availability, or after-sale support. Also, the included WordPress payment gateways can be a deal breaker for you. Calculate what features you get and what you don't while choosing one.
Not sure how to choose the fitting subscription payment plugin?
Here are some basics of how to choose a WordPress subscription plugin:
Payment gateways
Updates and maintenance
Integration with various modules
Pricing
Customer support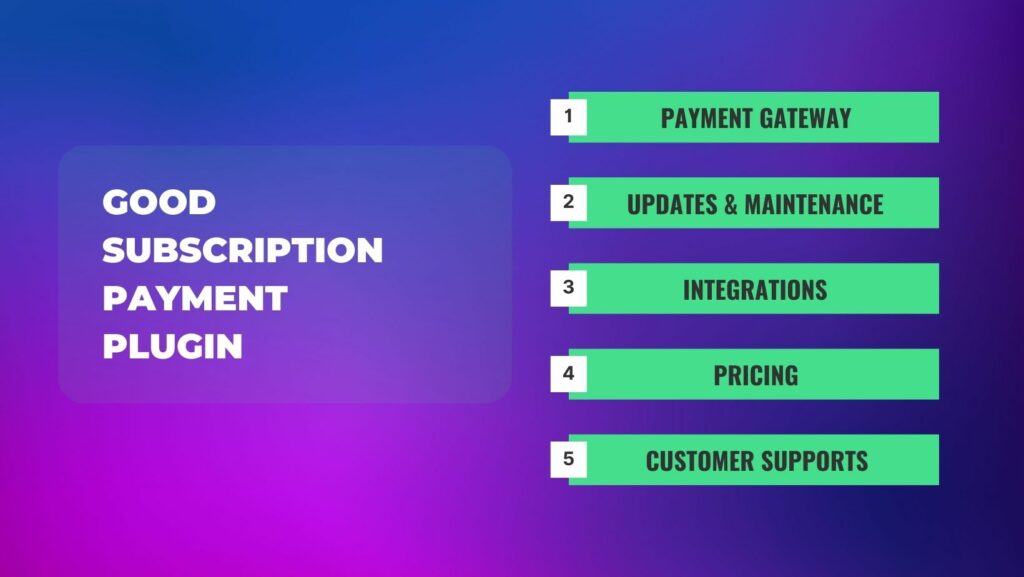 Payment gateways:
You need multiple payment gateways to establish a stellar online recurring billing service. Choose a plugin that supports all the trending payment gateways like Stripe, PayPal, Square, Mollie, and BillPlz. So that your user can make payments with their preferred methods.
Updates and maintenance:
You must choose a plugin that gets regular updates. Because updates solve existing problems. They fix bugs. And a company that provides regular updates, you can trust them with better service.
Integration with various modules:
Let's say, you want to use the data that the recurring payments plugin receives. And you want to process the data with iconic services like Telegram, Zapier, or Slack. For that, you need integration support. Choose a plugin that has various integrations. Because it makes data handling easier.
Pricing:
What is the most important consideration, when you buy something? Definitely, the value for money. Choose a plugin that provides good features for a good price. It's compelling to go for the cheapest ones. But the services you get in return are the value itself.
Later in the article, I am going to recommend one plugin that provides the best value for money.
Customer support:
You don't want to buy a plugin with bad post-sales service. You might face a problem. A quick response from the support can make your life easier. Customer support is the most important factor in software services. If the after-sell service is not good, then the company doesn't care about its users.
Choose a plugin that provides exceptional customer supports.
How do you know that? From the reviews.
5 best WordPress recurring payment plugins
The payment plugin market is saturated. And most of them are sales pitches without providing actual solutions.
No worries. I've done the research for you. Here are my 5 best takes on the WordPress subscription payment plugins. I've listed the features and benefits of each of them.
Go ahead. Pick the one that resonates with your needs.
Paymattic is from the developers of widely embraced Fluent CRM and Fluent Forms.
It's a dedicated payment and donation plugin that doesn't slow down your site. Not only it is a plug-and-play plugin, but also the simplest one to set up. Additionally, it supports numerous payment gateways. And the subscription payment feature is one of the industry's best.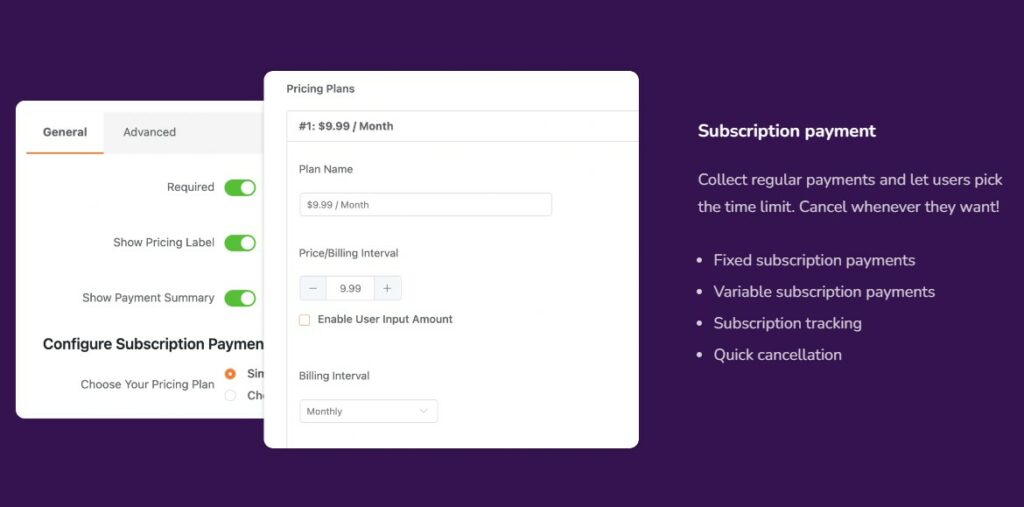 Features:
Supports 10 payment gateways.
14+ integrations including Zapier, Telegram, and Google Sheets
Gutenberg-style easy drag-and-drop payment form editor
Advanced user dashboard with detailed payment reports
Ready-to-use templates and coupons
Tax calculation and endless customization
Benefits:
User-friendly interface
No coding is needed, Just drag and Drop
Specially made for Subscription Payments
It includes all the popular payment gateways
The easiest plugin to add multi-step payment forms
Customer service is quick to respond
Separate dashboard for subscribed members
Pricing:
Starts from $60 per year.
And from $299 for a lifetime.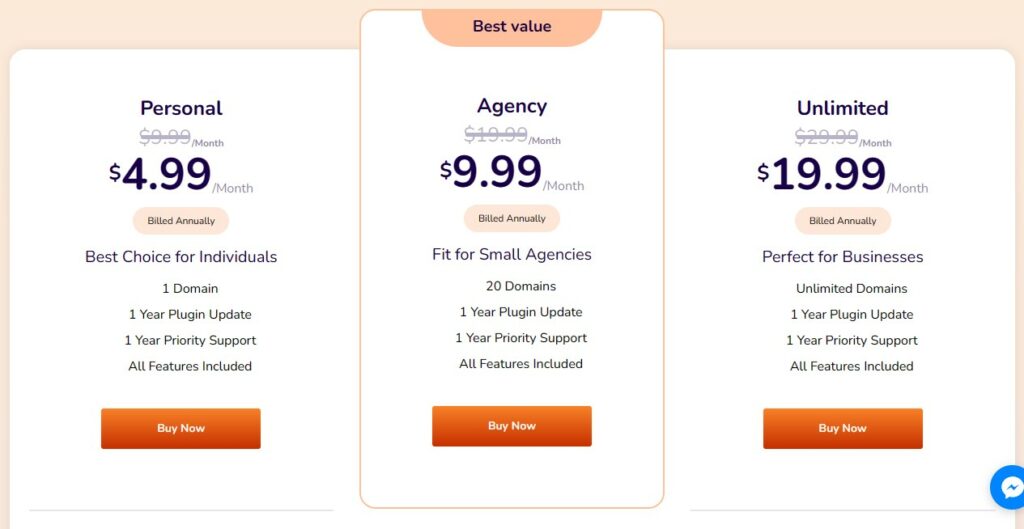 P.S. The Paymattic team is very responsive to user queries. Contact them on Facebook or Twitter for your queries and suggestions. Let them know what you want in the plugin. You might find your suggested feature in the next update.
Ready to get started?
Experience WordPress payment and donation like never before. Try Paymattic now!
WP Simple Pay is a dedicated Stripe recurring payments WordPress plugin.
It lets you quickly and conveniently accept payments on your website. Since it is a standalone plugin, WooCommerce or other shopping carts aren't required. Numerous features and advantages are available with WP Simple Pay.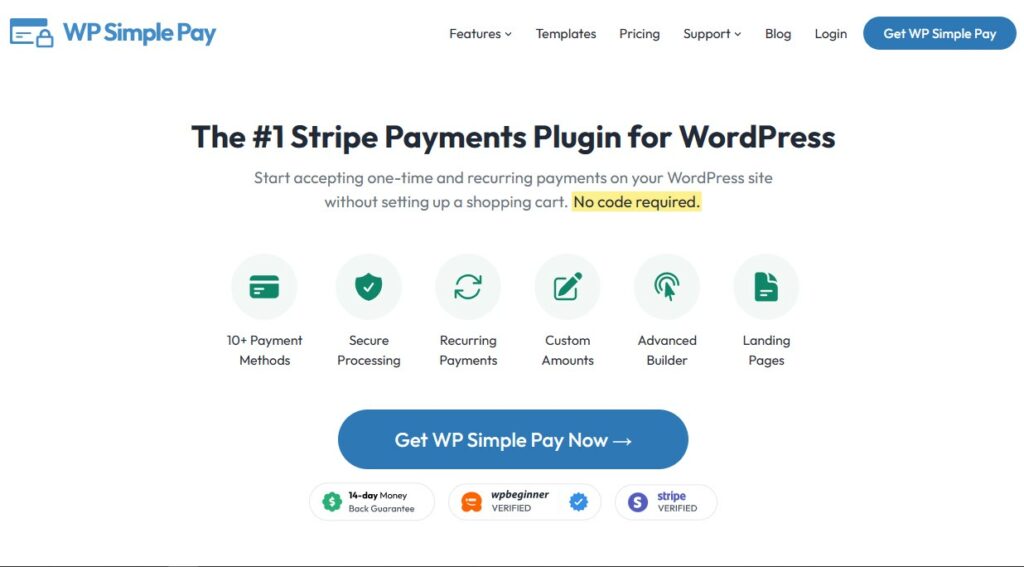 Features:
Interest-free installments feature
10+ payment methods
Advanced form builder
Custom discount codes
Automatic Tax calculation
Benefits:
Easy to set up
Dedicated stripe payment plugin
Flexible payment methods
No coding is required to set up a payment form
The payment process is secured
Pricing:
Starts from $100 per year.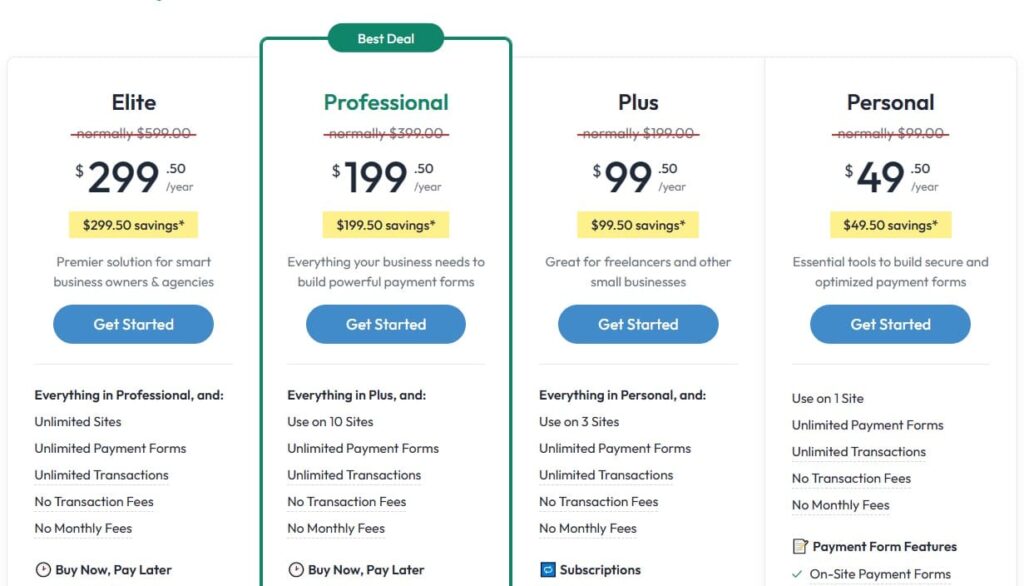 If you need a WordPress monthly payment plugin only for PayPal, WP PayPal is a good option to go for.
You can quickly set up Paypal recurring payments for your WordPress website. This plugin uses shortcodes. Shortcodes are used to create dynamic buttons for checkout pages on your WordPress website. The plugin allows you to create buttons for what you wish to sell or receive payments for.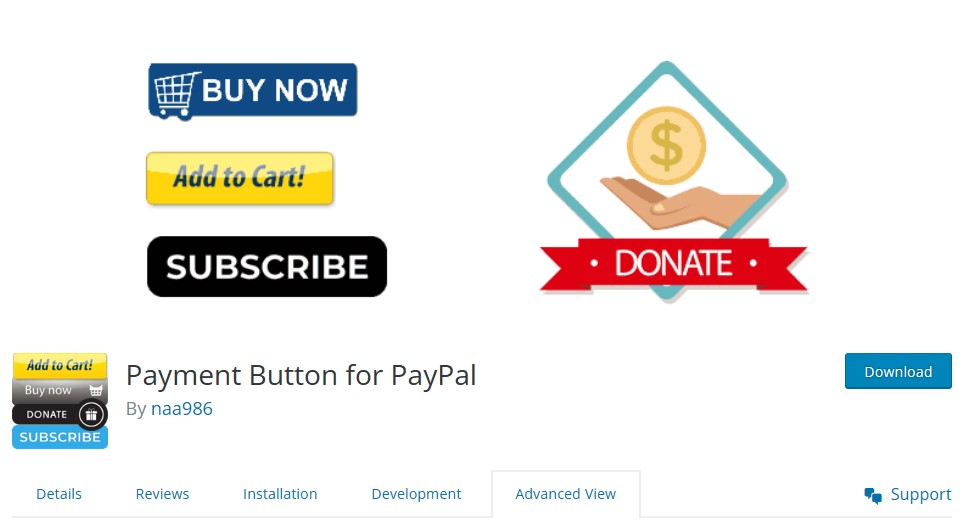 Features:
Dedicated recurring PayPal payment plugin
Dynamic buttons using shortcodes
Set up an online e-commerce store
Supports multiple PayPal accounts
Secure payment
Benefits:
Easy to use and set up
Secure payment page from PayPal
You can set up an e-commerce store with PayPal
You can create dynamic buttons using pre-built shortcodes
Compatible with almost every WordPress theme
Pricing:
(Same as PayPal)
PayPal takes 2.9% of the payment done + 30 cents per transaction before putting the money in your account.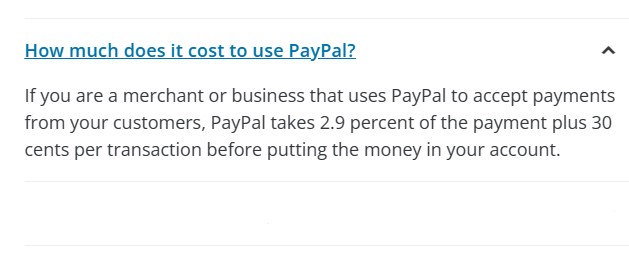 Easy Digital Downloads is a digital E-commerce plugin for WordPress.
It is a simple plugin with a lot of functionality and customization. Also, it lets you sell digital goods on your website. If you are looking to sell digital products online with subscriptions, Easy Digital Downloads is a crispy option.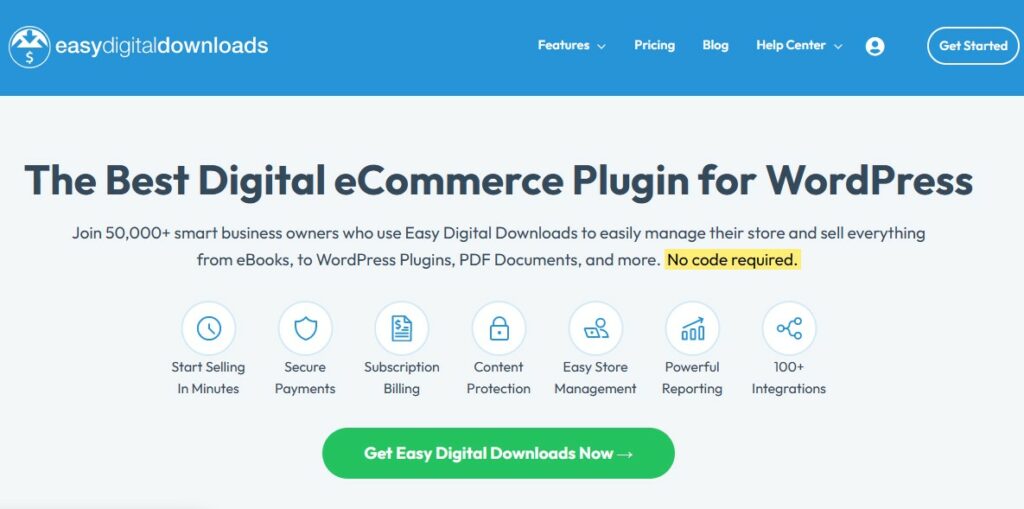 Features:
Unlimited file downloads
Over 100 integrations
Flexible payment methods
Customizable checkout options
Detailed payment reports
Benefits:
Covers all the popular payment gateways
Good for recurring shopping payments like streaming services
You can use discount codes on your payment forms
Trustworthy updates and maintenance
Pricing:
Starts from $100 per year.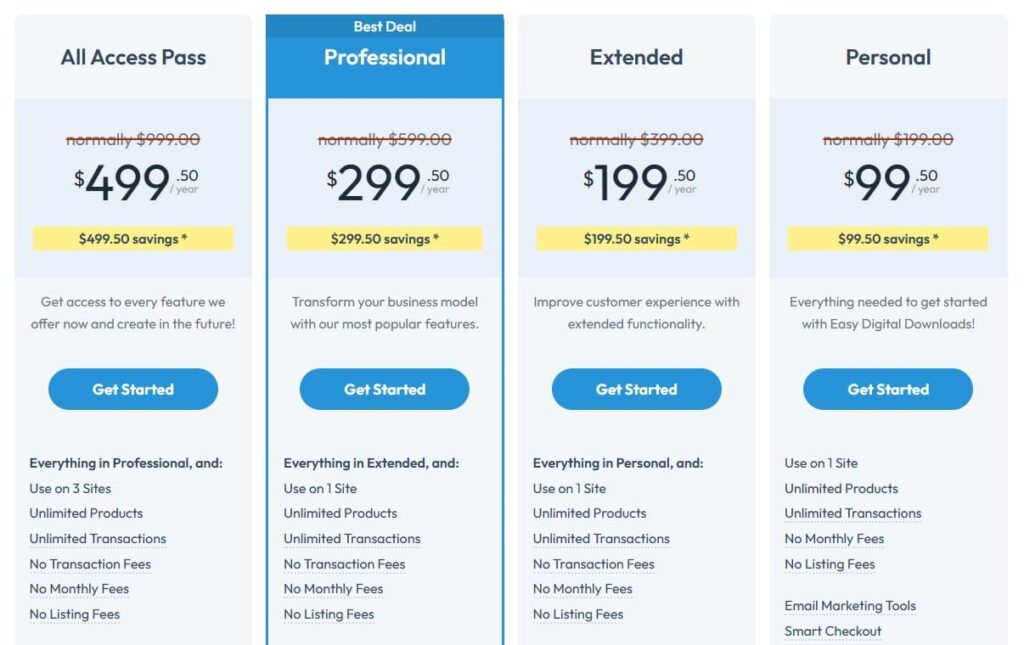 WooCommerce is a dedicated e-commerce payment plugin that has subscription payment methods.
Despite being an e-commerce plugin, WooCommerce recurring payments are one of the best ones out there. And there are many add-ons that you can use with it. So that the functionality of your business increases drastically. The only downside is, you have to install the whole WooCommerce plugin in order to use the function. That's why the website gets heavier.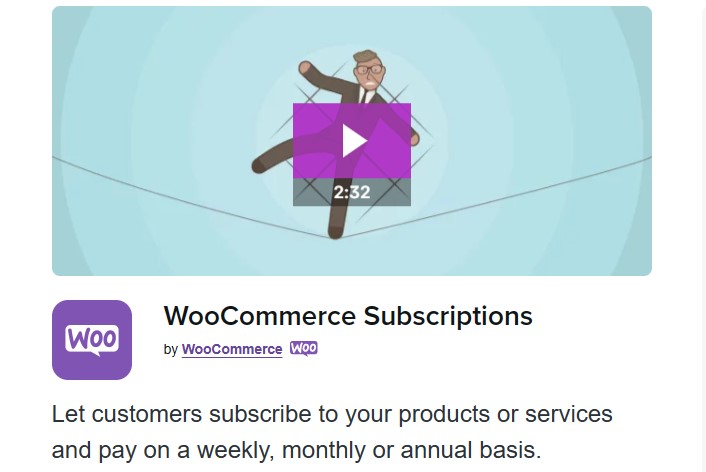 Features:
Multiple billing schedules
Over 25 payment gateways
Automatic rebilling on failed payments
Subscribers can change and manage their plans
Multiple add-ons for various functionality
Benefits:
You can manage the subscriptions from the menus
Customers can manage their own subscriptions
Allows subscribers to upgrade or downgrade their plans
Customers can purchase multiple subscriptions on their own
You can add myriad coupons for discounts
Pricing:
Starts from $239 per year.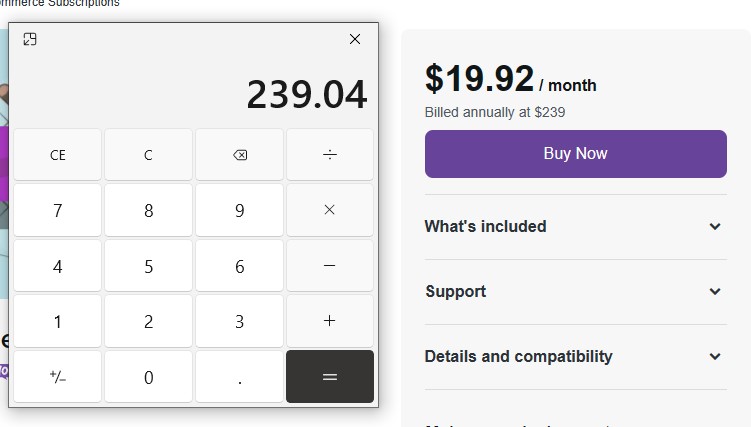 How to set up subscription payment on WordPress
You know a lot about subscription payment plugins by this time. But how would you add a subscription system to your website? Now, I am going to show you how you can set up a subscription payment on WordPress.
We are going to use the Paymattic Pro plugin from the WordPress plugin store.
Without further ado, let's explore.
Install the Paymattic Pro plugin for recurring payment options
Go to the Paymattic Plugin Menu > Add New Form
Select Advanced Editor and then "Select From Demo"
Choose "Subscription" from the Category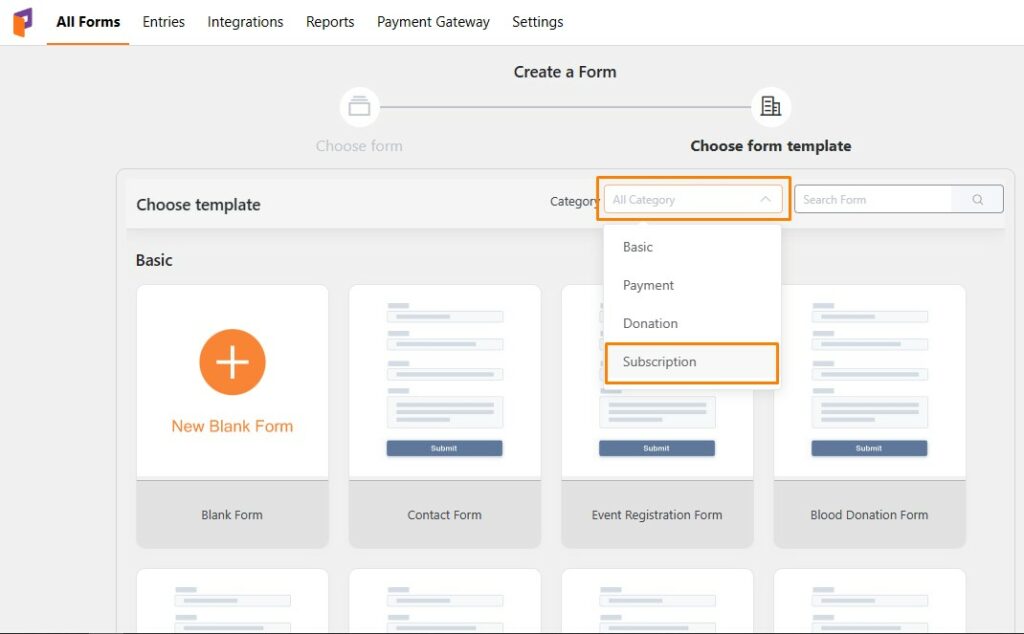 Or you can create a Blank Form from the demo page. Click on the Plus (+) icon
From the Donation and Product Fields, choose the "Subscription Payment" option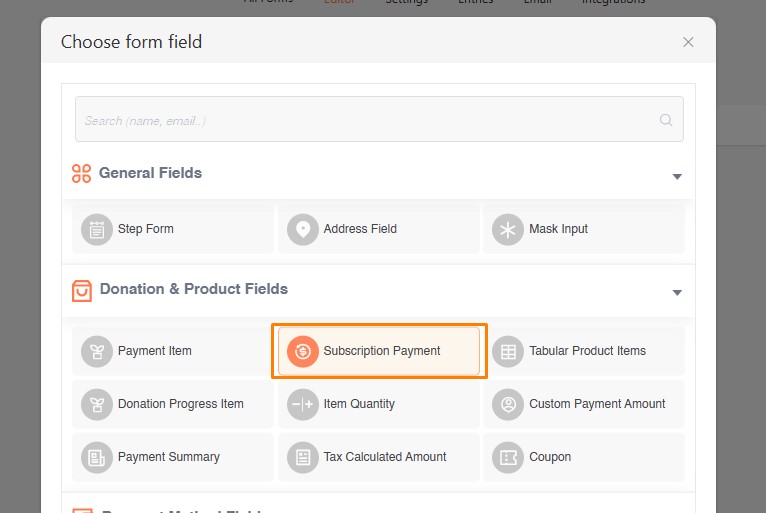 Choose a payment option from the Payment Method Fields
(Right now, Paymattic supports subscription payment in Stripe and PayPal. And Square subscription payment is coming.)
Click "Save" from the top right corner to save your subscription form
Also Learn how to design your payment form in WordPress.
Your subscription form is ready. This is how you can set up a subscription payment system on your WordPress website.
The final words
So, which recurring payment option do you prefer? Is it the PayPal-dedicated one? Or the Stripe one?
Take a moment to choose the best WordPress recurring payment plugin that goes with your business. If you are confused, I suggest you go for the Paymattic Pro. It provides better value for money. Also, it includes all the essential options.
Adios!