10 Best Donation Plugins for WordPress in 2023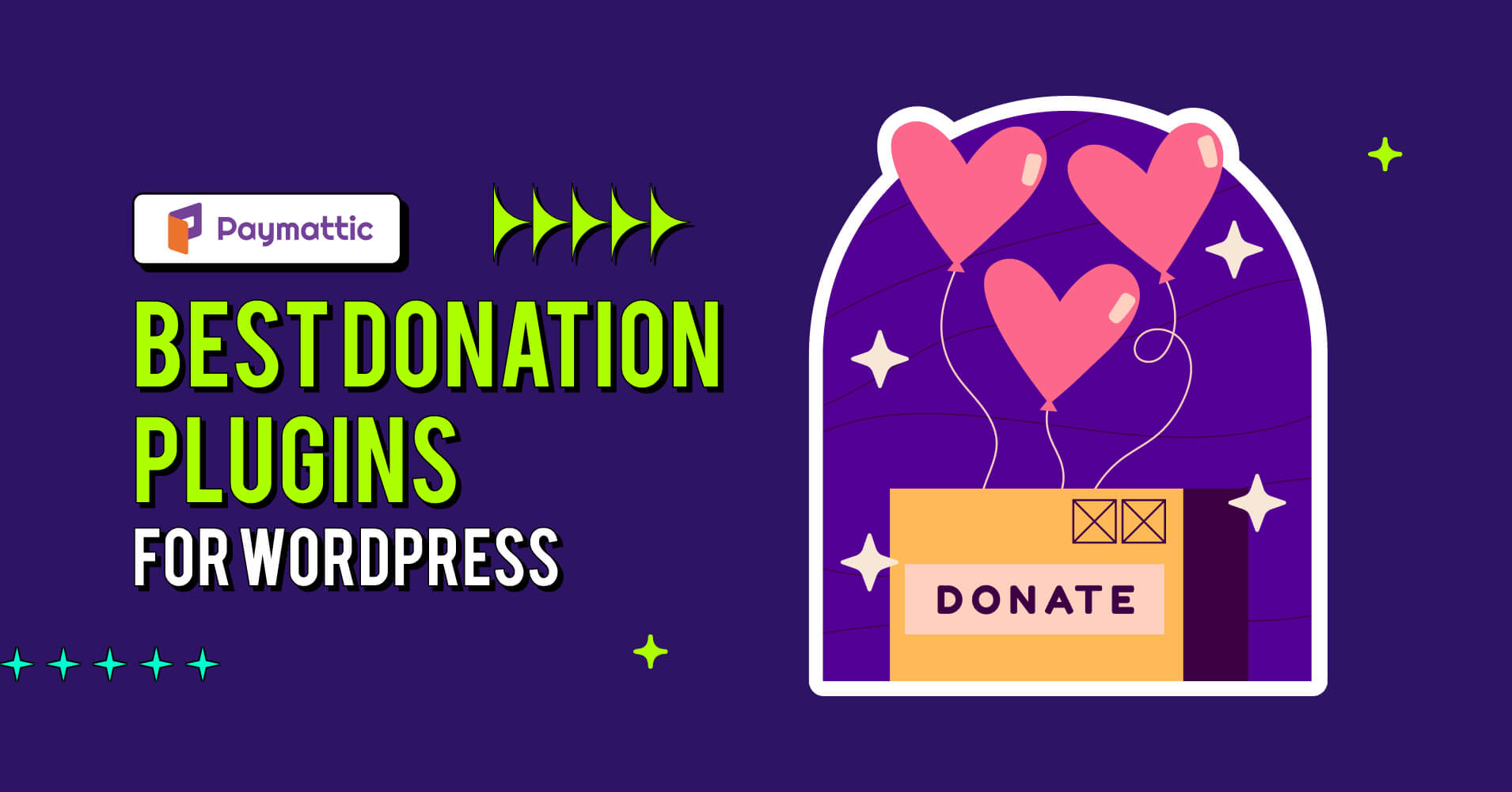 Running a nonprofit and looking for a WordPress donation plugin to simplify your fundraising efforts?
Well, you're in the right place where you'll get your answer with proof.
A donation plugin for WordPress can be a game-changer for you, whether you're raising funds for a charitable cause, organizing a crowdfunding campaign, or seeking support for your nonprofit organization.
There are some selected plugins that offer better localization, better currency support, multiple payment gateways, full customization, etc.
So, in this article, we'll explore the 10 best donation plugins for WordPress available in the market that enhance the power of fundraising for any nonprofit, charity, or any other similar organization.
What is a WordPress donation plugin?
Remember collecting donations by going door to door with a box in hand and convincing people to donate? This analog process had many complications, such as personal supervision, transportation cost, arranging volunteers, and so on.
A WordPress donation plugin makes this process easier by giving you access to more people. Using a WordPress fundraising plugin, you can take donations online from your donors anywhere in the world.
No need to go for any third-party site, a donation plugin allows you to accept donations straight to your WordPress website.
10 Best donation plugins for WordPress
A donation plugin for WordPress makes fundraising as easy as clicking a button and watching the support pour in. It allows you to reach more potential donors around the world and accept donations in their local currencies.
There are many WordPress donation plugins available that provide you with some interesting features and make your fundraising more exciting.
So, let's give you a tour of a list of the 10 best donation plugins for WordPress. By exploring their functionalities and key features, we'll help you to decide which one to go for.
Paymattic
GiveWP
WP Charitable
Seamless Donations
WP Crowdfunding
Donations via PayPal
WP Simple Pay
YITH donations for WooCommerce
Smart Donations
Donation Thermometer
Paymattic – The ultimate donation plugin for WordPress
Paymattic is the best fundraising WordPress plugin for online donations. Its versatile and user-friendly interface makes creating donation forms simple in just a few clicks.
It offers you a variety of payment gateways, including Stripe (free), PayPal, Square, Razorpay, Billplz, Mollie, Payrexx, Paystack, and SSLCOMMERZ. You can also receive offline payments through banks.
Therefore, you're allowed to accept donations in many different currencies using these payment methods.
Apart from the all-around payment gateways, Paymattic comes with a number of in-built donation templates for you.
Whether you're a seasoned pro or a beginner, using its drag-and-drop form-building feature, you can effortlessly create any type of fundraising form.
It offers multiple types of security options for data protection, including Google ReCAPTCHA, Honeypot security, and Cloudfare Turnstile.
Whenever a donor makes a donation, a donor profile is automatically created. This'll help you in donor management. Collecting recurring donations is also available through the subscription payment feature.
For multipurpose use, this plugin integrates with some of the top platforms such as MailChimp, LearnDash, Telegram, FluentCRM, etc.
So, let's have a look at some of the key features of the Paymattic WordPress fundraising Plugin.
Key features
10 payment gateways integration
135+ currency support
Subscription payments
Individual donor profile
Donation with a progress bar to track fundraising goal
Multiple data security
Detailed reporting and analytics
Pros
Product support even in the free version
14 days money-back guarantee
Sending thank you letters after each donation using email and SMS.
Different pricing plans for an individual to business
Affordable for any nonprofits
Cons
Only Stripe payment in the free version
Donation templates are only available in the pro version
Pricing
Paymattic offers both annual and lifetime licenses for individuals, small agencies and businesses, ranging from $59 to $699.
Whether you purchase a pro version for personal use, agency, or business purpose, you'll get all the features in every plan.
These features mentioned above make it one of the best WordPress plugins for donation to a fundraiser.
Ready to get started?
Experience WordPress payment and donation like never before. Try Paymattic now!
GiveWP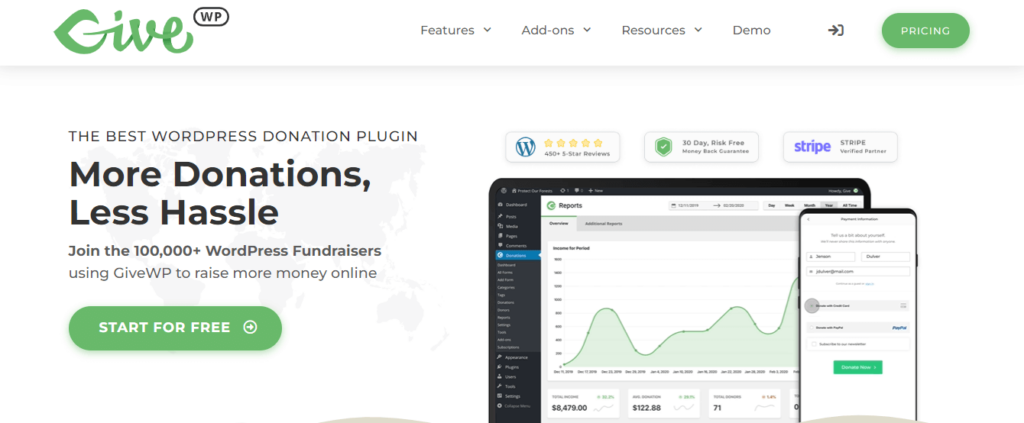 GiveWP is another strong contender to become the best donation plugin for WordPress. Over 100,000+ installation makes it a popular WordPress fundraising plugin.
There are multiple payment methods available in GiveWP including, Stripe, Square, PayPal, and Braintree, etc. to take one-time and recurring donations.
It offers a vital donor management feature to keep track of the contributors. You can also create a donation form according to your requirements from a powerful set of custom fields.
Recurring donations and integration with 3rd party sites are also available. Besides this, you can create peer-to-peer fundraising campaigns with GiveWP.
Key features
15+ Payment gateways
Powerful donor management
Flexible recurring donations
Peer-to-peer fundraising campaign
Multiple 3rd party integration
Reporting and analytics
Export-Import data
Pros
Donation forms are available in the free version
Donor management program
Integrate with most of the email marketing services
Cons
Recurring donations, Peer-to-Peer campaigns are required a Plus and Pro subscription
Expensive for small businesses or nonprofits
Limited feature on the free version
Pricing
Their basic plan started from $149 to $499.
WP Charitable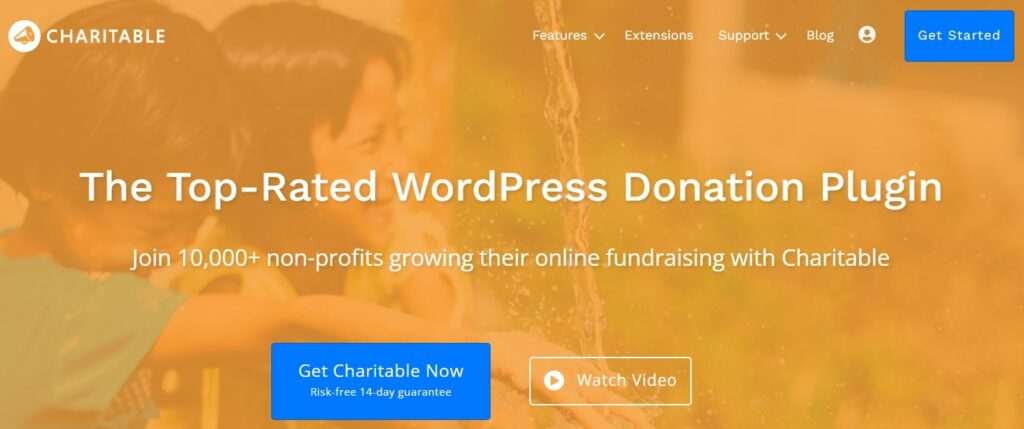 WP Charitable is an easy-to-use WordPress donation plugin with more than 500,000 downloads. You can create unlimited fundraising campaigns and customize them with WP Charitable donation plugin.
Using this plugin, you can receive donations through Stripe, Authorize.net, Braintree, etc. Important features like Peer-to-Peer campaigns, crowdfunding, and recurring payments are only available in the premium version.
Its free version also contains a good number of features to create effective fundraising campaigns which makes it a go-to WordPress fundraising plugin.
Key features
GDPR-compliant donation forms
Unlimited campaigns
No transaction fees
Compatible with any well-built WordPress theme
5+ payment gateways
Recurring payments
Peer-to-Peer campaign and crowdfunding
Pros
PayPal in the free version
Anonymous donation option for people who wants to donate anonymously
14 days refund available
Cons
Less integration
To get a taste of all the important features, need to purchase a pro plan for $299
Need a developer to take advantage of Charitable's code snippet library
Pricing
Starting from $99 to $449 for unlocking premium features like recurring donations, crowdfunding, and peer-to-peer campaigns.
Subscribe to Our Newsletter
Join the crowd for more promotional offers, product updates, fundraising tips and tricks.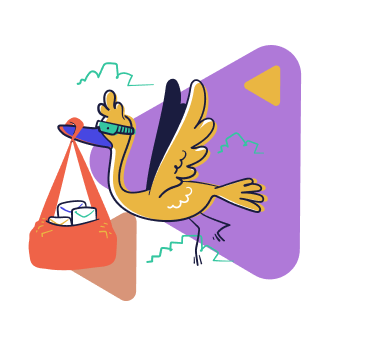 Seamless Donations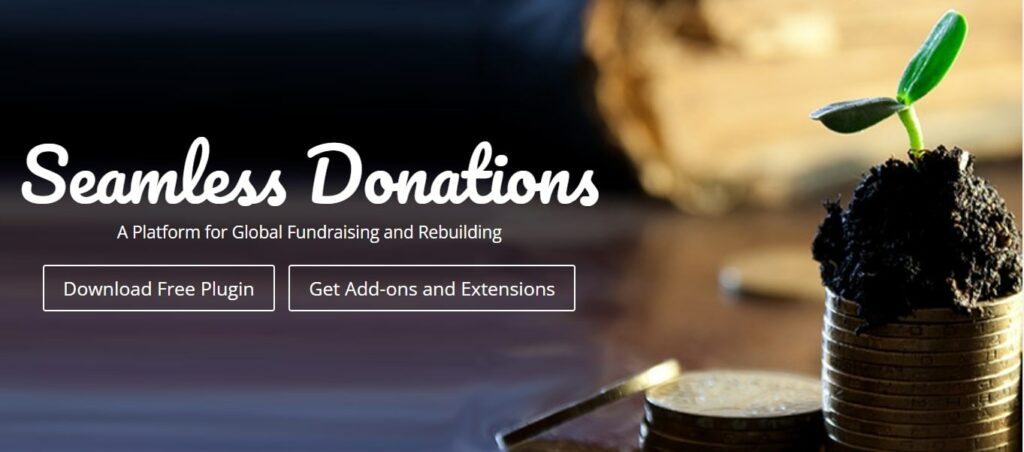 Seamless Donations is one of the easy-to-set-up donation plugins for WordPress. You can accept donations with PayPal and Stripe straight to your website without any additional fees being charged.
It has a special feature of "Tribute", which allows a donor to do charity "in honor of" or "in memory of" someone.
This WordPress fundraising plugin has multiple currency and language support. It's a free donation plugin for fundraising that comes with many needed features to make a basic donation platform.
Therefore, if you need any advanced features and responsive donation forms, you can buy the paid add-ons and extensions for $19.95 each per year.
Key features
No commission or percentage is charged from a transaction
Accept donations via PayPal and Stripe
Unique 'Tribute" feature
Recurring donation
"Gift Aid" feature for the UK users
20+ currency supports
7 language support
Pros
Selectively choose add-ons if you need
Recurring donation is built into the plugin
Cons
Limited payment gateway
Need to buy an extension for each feature
Pricing
The plugin is free with basic features. For additional extensions, it charges $19.95 each/year.
WP Crowdfunding
If you want to build a website similar to Kickstarter or GoFundMe, the WP Crowdfunding fundraising WordPress plugin is the go-to plugin for you. Using it, you can turn even an eCommerce site into a full-fledged crowdfunding platform.
It's a WooCommerce-based plugin, user-friendly and convenient to manage. It integrates with PayPal, Stripe, Authorize.net, and Woocommerce to accept donations in multiple currencies.
Its Native Wallet System feature enables you to accept and track contributions made to each campaign and allocate funds accordingly to the respective stakeholders.
Its free version offer most of the basic features. At the same time, advanced features like Stripe Connect, Native Wallet System, Email notification, and Analytical reports are only available in the paid version.
Key features
Native Wallet System
Dedicated user registration
Minimum and Maximize price option
Defining recommended price
Woocommerce, PayPal, Stripe, and Authorize.net integration
Front-end project submission form
Feature image or video setting
Pros
Can be used for multiple charities at a time for big accounts
Can make your website a hub for donations
The paid version includes an exclusively dedicated theme
Cons
The plugin may have some limitations in terms of customization options
Restrictions on how much you can raise from individual non-accredited investors
Might be expensive for small nonprofits and agencies
Pricing
The pro plan offers both annual and lifetime subscriptions starting from $149 to $999
Donations via PayPal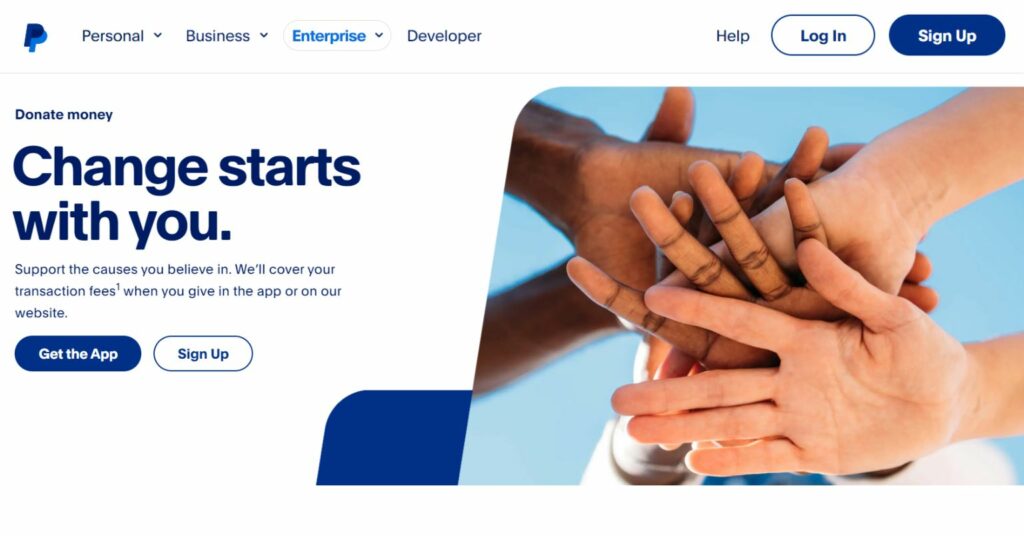 Amongst numerous available donation plugins for WordPress, PayPal donation is the fastest and easiest way to start collecting donations to your website.
If you want to simply receive donations via PayPal and don't need the extra features offered by the other WordPress fundraising plugin, then it's a good choice for you.
Using a shortcode or widget, you can place a PayPal donation button anywhere on your website. Whenever a donor is going to make a donation, the button redirects him straight to PayPal.
The goal is to make the WordPress donation process easier with PayPal, so no form or customization is available.
This is a multilingual and multicurrency plugin that allows you to accept funds from all around the world, from one-time to recurring donations.
Key features
Add a donation button anywhere you want
7 different button styles
15 built-in translation
18 languages available
25 currency support
Recurring donations
Pros
Super simple to use
No hassle of submitting any form
Cons
No online payment gateway other than PayPal
No form is included, so you can't capture any user data
Limited feature
Pricing
The Pro version cost $59.95/year
The secrets revealed – 8 Important Facts about PayPal vs Paymattic
WP Simple Pay

WP Simple Pay is another popular fundraising plugin in WordPress that lets you accept one-time or recurring donations on your website.
You can easily create any donation form with their drag-and-drop feature within just a few clicks. You can also customize the form according to your needs and start collecting donations with various payment gateways such as Stripe, Google Pay, Apple Pay, and also bank payments.
Stripe payment is PCI compliant, so there is nothing to worry about regarding data protection. With the wide range of payment methods, you can accept donations from over 45 countries.
Key features
Accepting payment directly to the website
Multiple payment methods
PCI-Compliant payment processing
Recurring donation
Pre-made form templates
135+ currency support
Pros
They offer a free trial before the first subscription payment is collected
Advanced fraud protection
14 days money back guarantee
Cons
WP Simple Pay is designed specifically for use with the Stripe payment gateway
Limited payment gateways
Its reporting and analytics capabilities are relatively basic
Pricing
Offering different features, their pro plan starts at $49 to $299 per year.
YITH donations for WooCommerce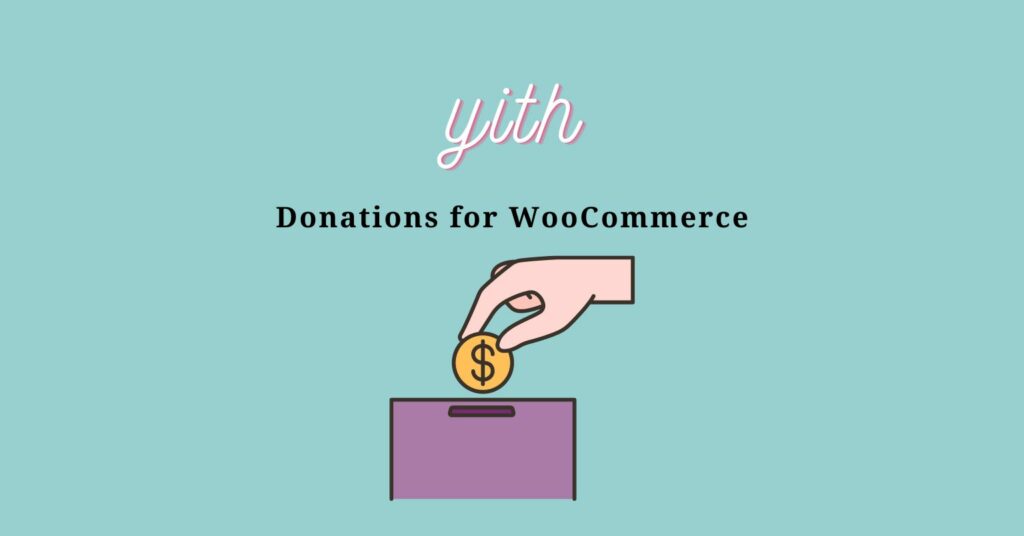 YITH donation for WooCommerce is a plugin designed to add a donation system to your WooCommerce based-store.
It allows you to accept donations from customers on your website for various purposes like supporting charities, fundraising for specific causes, or collecting funds for personal projects.
YITH Donations plugin for WordPress enables you to create donation products and add them to your WooCommerce store as regular products.
This allows customers to opt for making a donation by adding the donation product to their shopping cart and proceeding through the regular checkout process.
Receive donations with several payment gateways like PayPal, Stripe, and offline payment. This fundraising plugin also allows you to set up minimum and maximum donation amounts.
Key features
Add donation form in a single product
Minimum and maximum donation
Donation form on the cart page
Different form button style
Accept Stripe, PayPal, and offline payments
Pros
Donation receipts
Seamlessly integrates with other WooCommerce products
Cons
Lack of extensive features like recurring donations, donor management
Pricing
Its pro plan costs $79.99 per year.
Smart Donations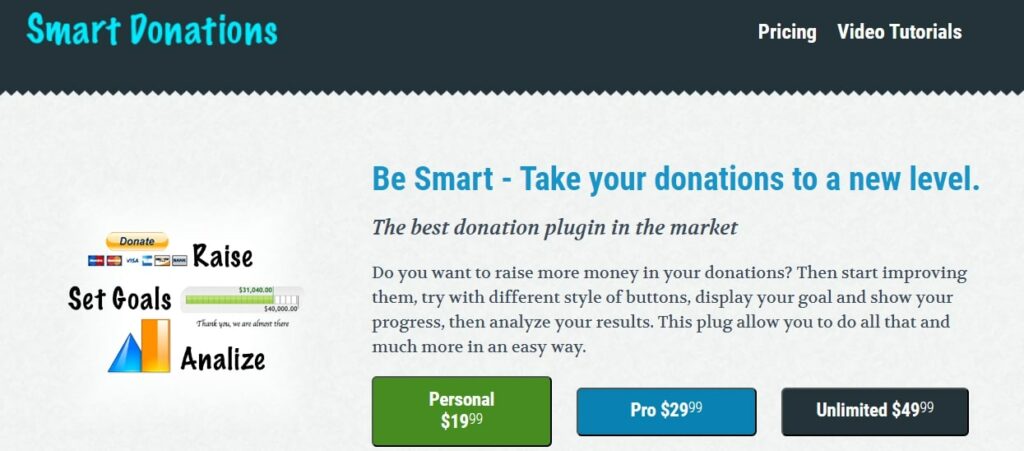 Smart Donations is a cheap donation plugin for WordPress suitable for very small nonprofits. This plugin offers four donation buttons including an analytics dashboard, goal meters, recurring payments, and a donation wall, or leaderboard.
These donate buttons can be placed anywhere on your website. It has a donation wall or leaderboard to showcase the top donator. A goal meter is available to display the progress and encourage donors to contribute.
You can analyze the result by exploring different styles, and different ways of showing the goal. You can only accept donations using PayPal.
Key features
Four types of donation button
Recurring payments
Goal meter to show progress
Leaderboard
Analytical dashboard
Pros
Very much affordable compared to others
One-time payment
Donation wall to display top contributor
Cons
Limited features and customization
Only PayPal is available
Pricing
The premium membership starts at $19.99 to $49.99.
Donation Thermometer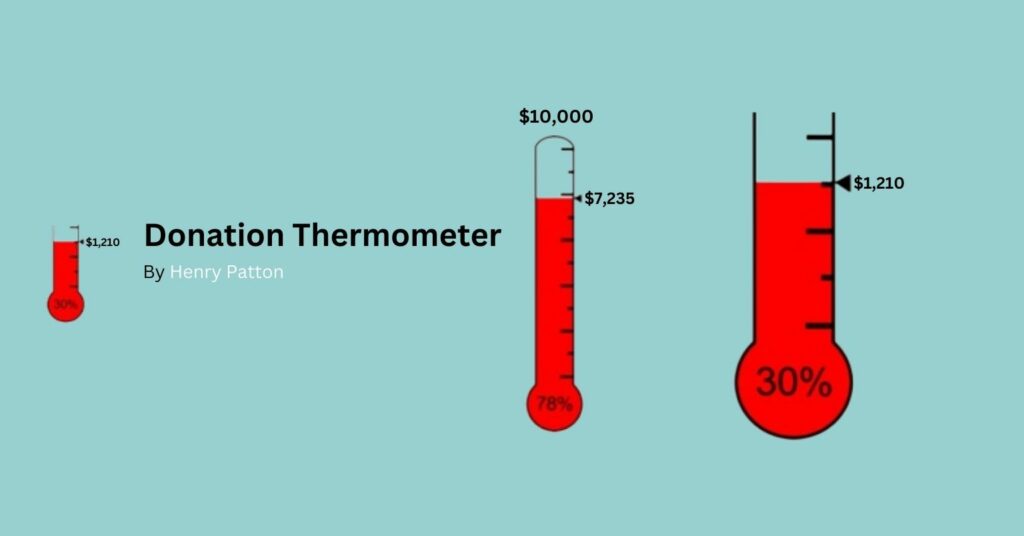 Donation Thermometer is a visual representation that tracks the progress of a fundraising campaign. It works by embedding a thermometer-style parameter to showcase the collected funds and the targeted funds.
It's not a donation plugin that collects funds; it's a free WordPress plugin for fundraising that can be used alongside the other plugins of the article.
All you need to do is just connect it to your active donation plugin. As long as you're collecting the fund, the thermometer will automatically update.
It adds a new dimension to the campaign that motivates the donor to contribute.
The thermometer is fully customizable for size, currency, text, color, and more to fit your site theme. Using the shortcode, you can place the thermometer anywhere you want.
Key features
Thermometer display
Fully customizable parameter
Easy to connect with other donation plugins
Auto update progress
Further, customize the appearance with CSS
Pros
Display the thermometer anywhere on the page
Reduce the bounce rate for a contribution
Cons
Don't collect funds
Limited functionality
Pricing
It's a completely free donation plugin for WordPress.
Which one is the best WordPress fundraising plugin?
Well, we've covered the best available donation plugins for WordPress in case of functionality and pricing. Now it's the deciding time.
However, choosing the best one for you actually depends on your needs.
Go for the plugin that offers complete features for any fundraising campaign, including multiple payment gateways, integration with important platforms, donor management, recurring payments, in-built donation templates, and most importantly, affordable for any nonprofit.
If we had to recommend one based on the mentioned theme, Paymattic is the one that provides value-for-money things. There may be some obvious bias, and we can't deny it. So why not give it a try and see for yourself?
One thing to remember, you won't get all the features in one plugin. But don't lose your cool, because you won't need every feature anyway.
Wrapping up
If you're running a nonprofit, it's really important to understand the value provided by the best donation plugins in WordPress.
Not only as a fundraiser but also your contributors need a seamless experience while making their contribution.
These plugins simplify the process of collecting donations by providing secure payment gateways, customizable donation forms, and features that enhance donor management and engagement.
So, choose the right one to simplify your fundraising efforts, expand your reach, and effectively track the funds to support your cause.