What Is Email Notification? Types, Templates, And Practices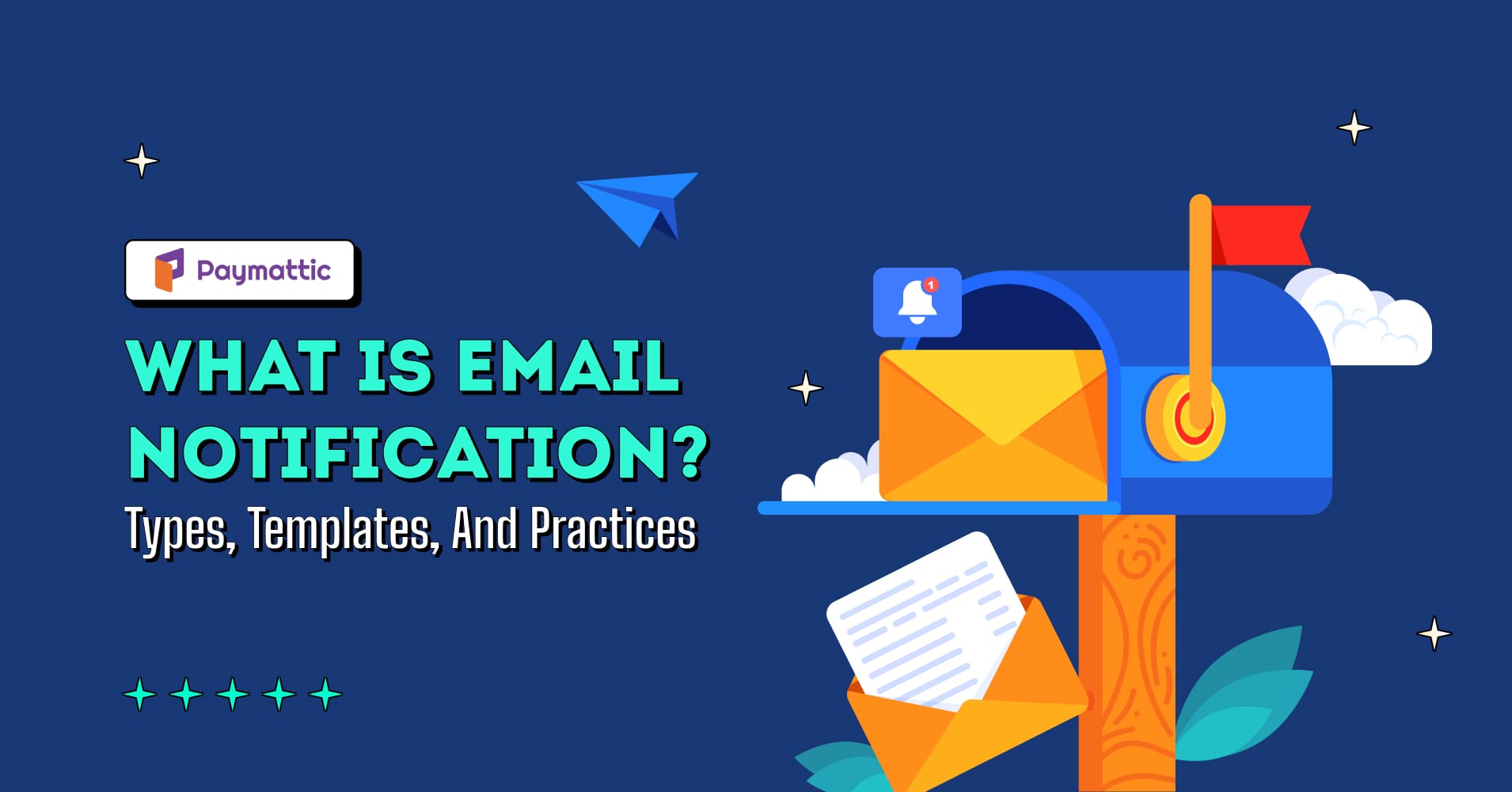 Do you like it when your seller sends you regular product updates? Or, do you appreciate a confirmation email when you buy something?
I guess you do, because this is helpful.
Your customers appreciate regular updates too. And love staying in touch.
Email notification is one of the most used conversion mediums as well as the most effective one. Notification emails can improve your customer relationships. Also, it lets you communicate directly with your users on the go.
In this blog, I'm going to tell you all you need to know about email notifications.
I'll show you various types of notification emails. Also, show you real-time email notification design templates with explanations. And best practices.
So, why wait? – Let's dive right in.
What is an email notification?
An email notification, or notification email, is an email sent to a user's email address to inform them about specific events or updates. Updates can include a purchase, product availability, login attempts, service outages, etc.
Email notification is an effective way of communication to keep users informed and engaged with the platform they are using.
For example: When your website is under maintenance, you want your customers to know. Also, when you launch a new product update, you send an email notification to your users. So that they can keep up. Or you send them an email about where their purchased products are right now.
Notification emails have a huge impact on your business. Let's read why you should send notification emails in the next section.
Push notification vs email
You might wonder what the differences are between push notification and email notification. Both of them are instantaneous and fast-paced notifications. But there are some basic differences.
Email notifications generally carry a message or content, and ask for occasional clicks and actions. On the other hand, push notifications ask for a specific action from the customers.
Why should you send email notifications?
Do you know?
"74% of users who follow a product on Twitter, do so to get product updates on time." (source)
Nowadays, your customers want more personalized interactions. They judge brand value based on how brands communicate. Also, when you send email notifications on a regular basis, users see your name and subject line after each email login. You get to set an urgency and convert users to a particular page or process.
Every big fish in the industry tends to send out notification emails.
Here are some reasons why you should send email notifications to your customers:
Email notification helps you achieve higher email open rates
Notification emails can provide you with higher customer retention
Emails tend to inform your customers of product updates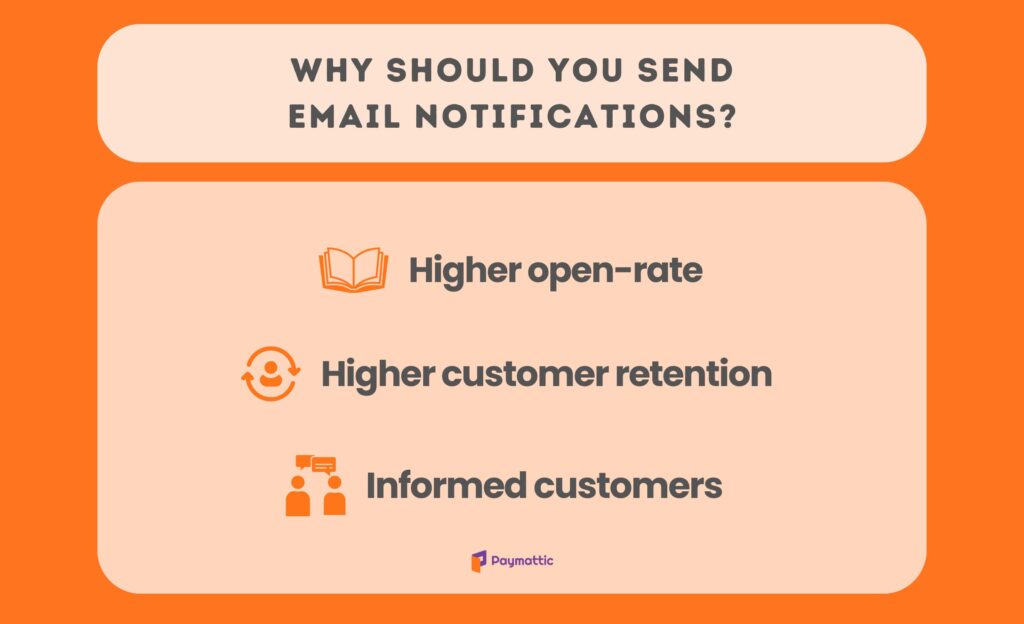 Your users love being the first ones to learn about new updates and product launches. When you notify customers about your updated products, you make them notice you. And they feel like they are getting value from you as well as feeling important. Which leads to repeat sales and builds customer loyalty.
Also, retaining a customer leads to similar sales from their circles, which is "THE BIG DEAL" in any industry. Your customer does the marketing for you. Isn't it awesome?
11 types of notification emails
Notification emails are crucial for your business. You might search for email notification templates and inspiration online. But you have to be aware of the type of email notifications you should send to your users.
These are the 11 types of email notifications you should send out to your users:
Welcome email notification
Product update emails
Order confirmation email
Order tracking email
Activation email
User report email notification
Refund confirmation email
Unsubscribe email notification
Password reset emails
Two-factor authentication email notification
Policy change email
You might change your company's policies from time to time. And when the changed policies might affect the user experience, you should let them know.
Your policy change emails can contain:
Logo redesign updates
Price change updates
Certain features are going away
Relocation of website URL
Subscribe to Our Newsletter
Join the crowd for more promotional offers, product updates, fundraising tips and tricks.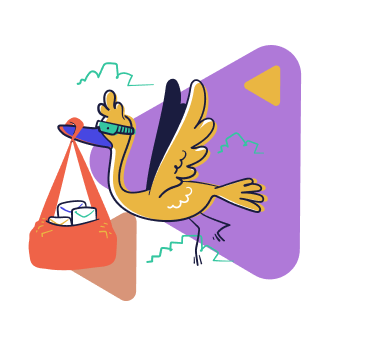 Email notification best practices
Have you ever wondered why you open a product email? If you think about it, noticeable things will pop up in your eyes. And you'll see that the very first thing that catches your attention – is the email subject line. It happens to your users too.
And what happens after you open the email? – This is when the magic begins.
In every email you send to your users, you desire maximum email opening, maximum engagement, and maximum conversion. But there are some key factors you should keep in mind. Factors that'll help you optimize the email. And get you exactly what you want from the email notification.
These are some best practices for email notifications that'll get you what you want: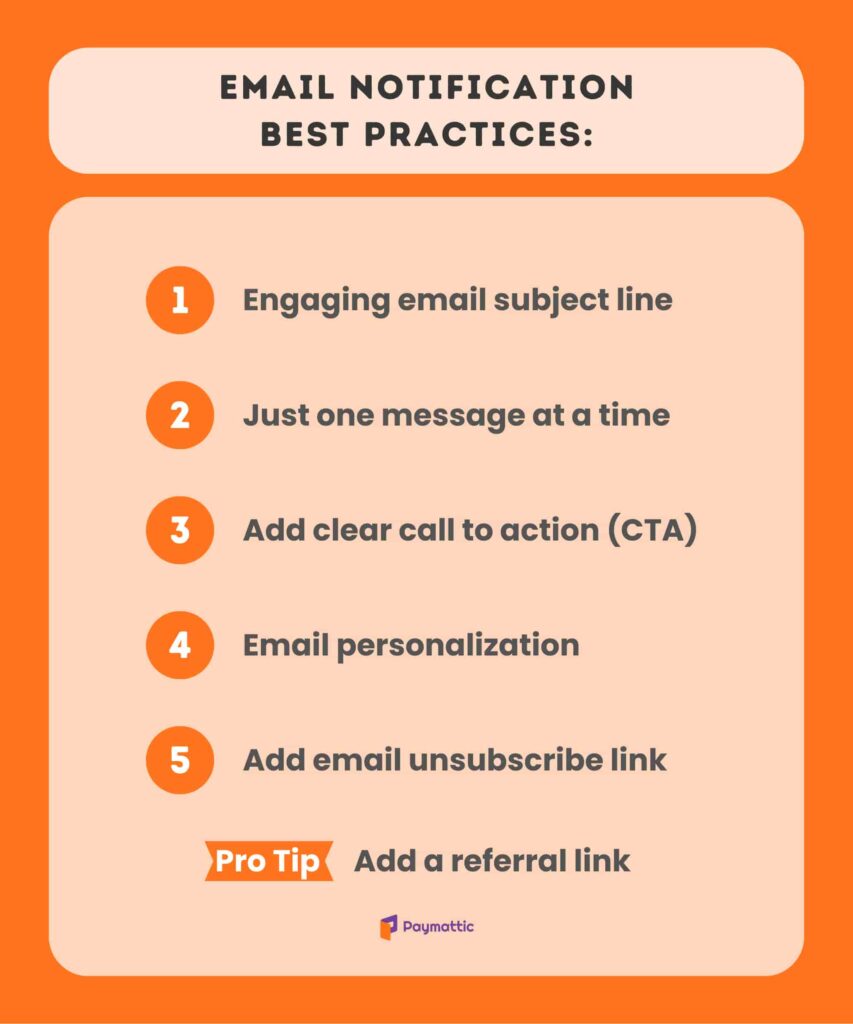 1. Engaging email subject line
Your email subject line is the very first thing that your users notice. Make sure you put enough time into writing your email subject. Test it. Write an attention-grabbing subject line that'll convey the message and make your users click on the email.
2. Just one message
Freddie Mercury from the band Queen sang,
"Too much love will kill you, if you can't make up your mind"
This analogy is pertinent to your notification email. You should convey just one message at a time in an email. Talk about one feature. Tell them only about the updated ones. You don't want your readers to get confused and not get what you want to tell them.
3. Add clear call to action (CTA)
A good notification should contain a clear call to action. You don't want your readers to get distracted by too many links and buttons. Tangled between where to click and what you want. Use clear CTAs like "Join the group", "Try this feature", or "Get the discount now".
4. Email personalization
Personalized emails are one of the best tricks to get more email open rates and conversions. Not every topic can get everyone's attention. Same for the subject lines. Generate personalized email subject lines. And write the email keeping a specific person in mind.
5. Add email unsubscribe link
According to CAN-SPAM and GDPR regulations, every promotional email should include an unsubscribe option. So that users can opt out of getting any future emails and newsletters from them. These regulations are strict for promotional emails. But you should optimize your service email notifications according to the rule.
Also, your users feel good knowing that they can unsubscribe from your emails at any time. You want your users to trust you and feel safe.
Pro tip – Add a referral link
You should include a referral scheme in your notification emails.
When you reward your existing customers for referring your services to their circle, you can get a boost in your user base. And users become happier as you give them something technically "free".
Ready to get started?
Experience WordPress payment and donation like never before. Try Paymattic now!
Email notification examples
Writing an email notification is not that complex. You can send text-based notifier emails. Also, make the email visually pleasing with responsive designs, which enhance the user experience and click-through rate (CTR).
But an ideal email notification should communicate the message in plain and simple words.
Let's look at these 6 email notification design templates for inspiration.
1. Adobe Express – Welcome email notification
This email notification is a welcome email from Adobe Express. They send this email after the very first sign-up. The Adobe Express welcome email beautifully describes what they offer and how to use them.
Email subject line:
"Welcome to Adobe Express"
Key takeaways:
Encouraging users to use their products both on mobile and web
Redirecting users to follow them on Social media
2. Canva – Feature reminder email notification
This is an email notification from a very popular, free-to-use online graphic design tool, Canva. They sent this email notification to current users. And talked about key components of an existing feature.
Email subject line:
"Create professional and engaging Videos for any platform"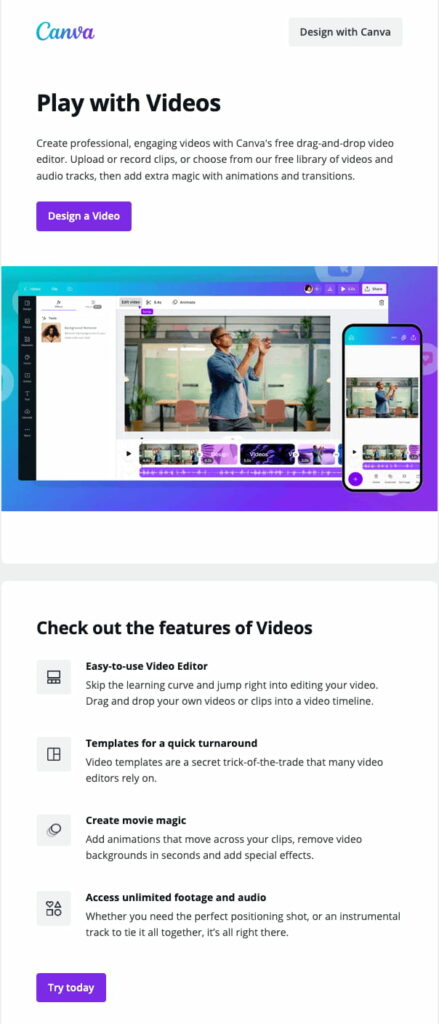 Key takeaways:
Explaining a single feature and showing it in parts
Simple CTA "Design a Video" and "Try today"
3. Evernote – Product education notification email
Evernote is one of the most popular digital note and task management tools. This notification email teaches users how effectively they can use their product.
Email subject line:
"Get more done with shortcuts"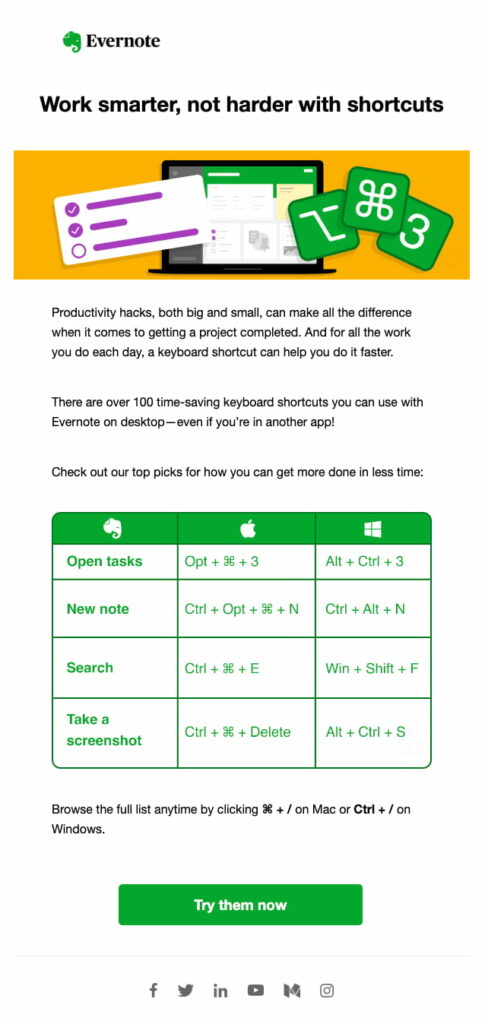 Key takeaways:
The attention-grabbing heading at the beginning
Teaching users to use the product efficiently
4. Grammarly – New features email notification
One of the top writing assistant tools, Grammarly, sent out this email to let users know about their new feature update. They integrated artificial intelligence into their software. And told users how it benefits them through the email notification.
Email subject line:
"You're one step away from getting your AI writing results"

Key takeaways:
Telling users about various use-cases of the new feature
A definitive CTA under every use-case
5. Pinterest – Policy update notification
Pinterest is an industry-leading online visual dictionary. This email notification highlights the changes in their privacy policy. Also, they included necessary links for the user to visit and grasp what's changing.
Email subject line:
"We're updating some of our policies"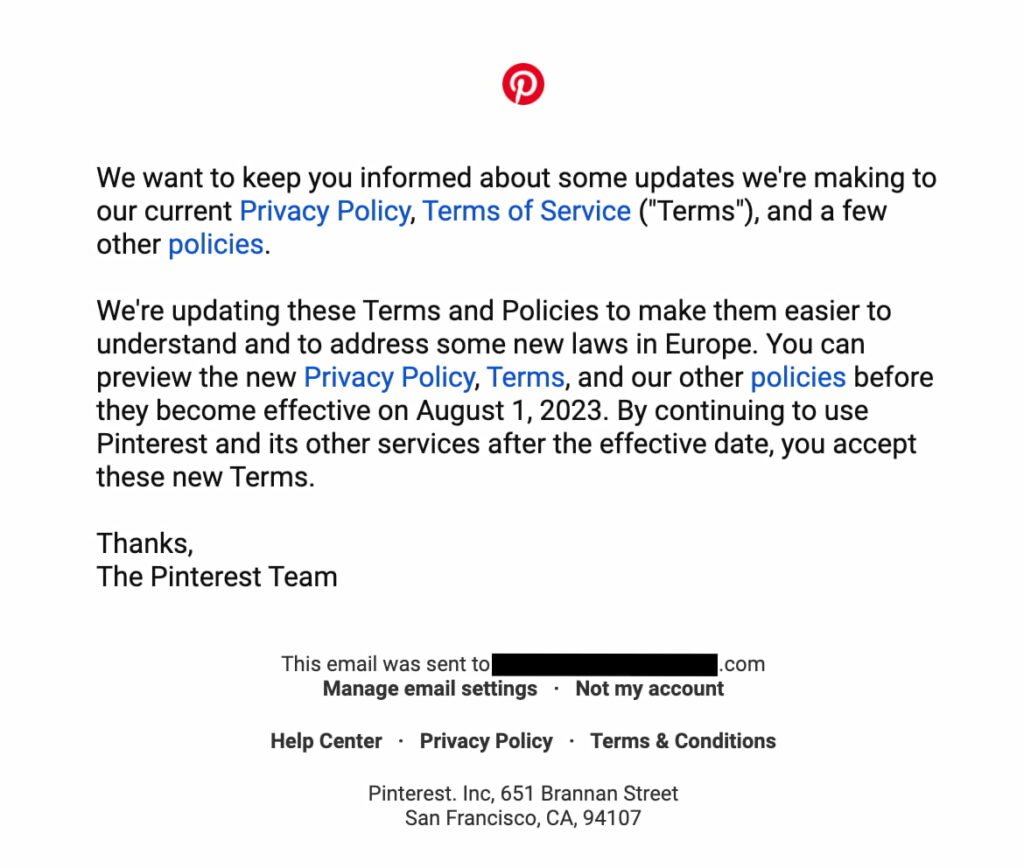 Key takeaways:
"We want to keep you informed" – showing they care about the users
Telling the main reason why they are changing policies
6. Notion – New release email notification
This email notification was sent by Notion. Notion is an online note-taking and project management software. In the new release, they changed some of the previous features. And they sent this email to the users to let them know what's new in this version.
Email subject line:
"Notion 2.32"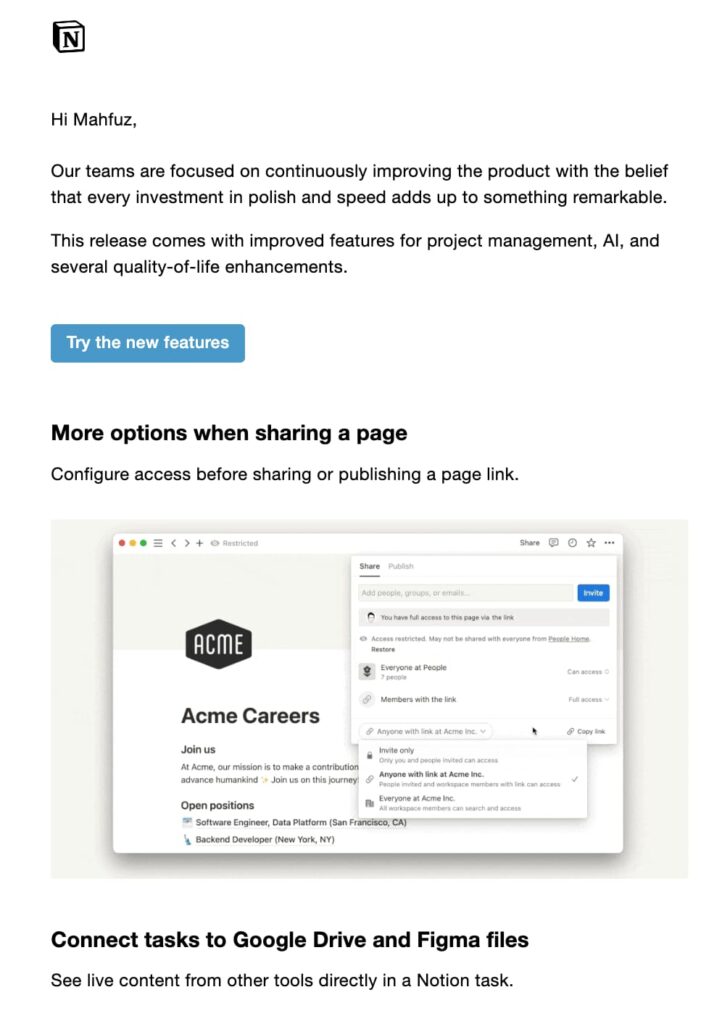 Key takeaways:
Simple subject line
Demonstrating what's changing
The wrap-up
Now you know what an email notification is. And I've shown you various types of notification emails with examples.
Notification emails are a great way to communicate with your current users as well as your potential customers. It can bring you tons of revenue for your business.
Now you just need to get started with sending emails. Remember email notification best practices and send your very first engaging email. And watch the magic.
You should also learn about SMS notifications to take your game further.
Thank you.