How to Create a Fundraising Website with WordPress Kadence Theme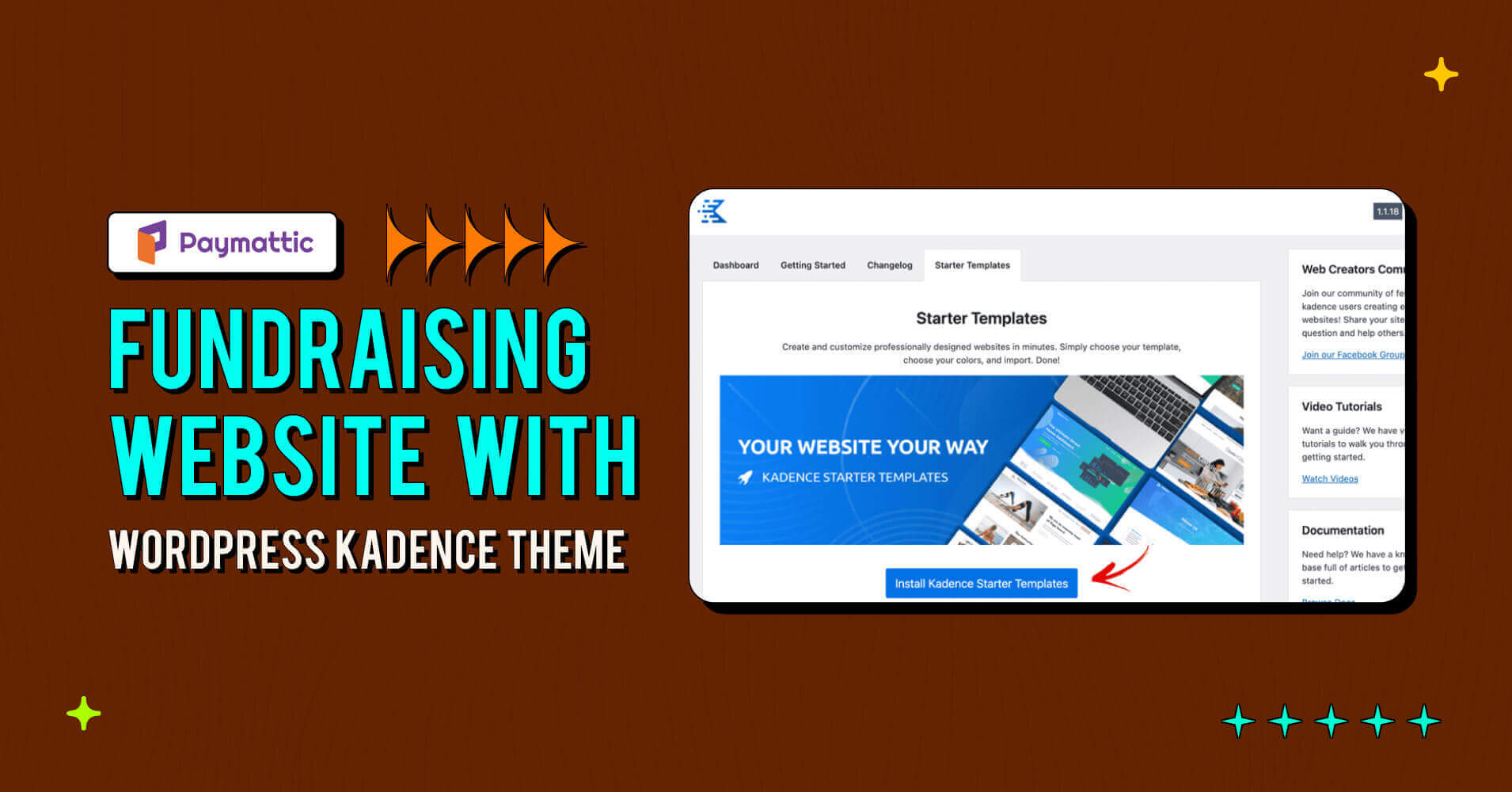 Gone are the days of endless struggles!
Whenever you want to create a fundraising website with WordPress, you must look out for the easiest solution around you. Surely, you won't want to take the hassle of making a website and then customizing it to turn into a non-profit website.
To avoid the trouble, you can build a fundraising website with a WordPress Kadace theme in just a few clicks.
Creating a good-looking non-profit website isn't easy, but with the Kadence, it's now easier than ever.
You can create any type of fundraising website with the theme and customize it with the support of their page builder and customization options.
Just download KadenceWP or install it directly from WordPress and add a donation plugin full of features and you're ready to fundraise.
Let's dig into the entire process of how to create a fundraising website with WordPress Kadence theme.
Why use Kadence to build a fundraising website?
Before going to the why, it's important to know what Kadence is. Kadence is a full-featured yet lightweight WordPress theme that effortlessly builds a fast-loading and easily accessible website to the utmost convenience.
As this well-built theme makes your website faster, it'll impress the search engine and improve your visitors and donors' experience.
Kadence Starter Templates provide you with pre-made website designs that are built out in Elementor or Gutenberg. However, there are some other reasons you should utilize Kadence to create a fundraising website with WordPress.
Comes with drag and drop Header/Footer builder
Its globally linked color palette allows you to change the entire websites color scheme or font within a few clicks
Simply import templates and start customizing
Design your non-profit website with Starter Templates
Designing is a crucial part of building any type of new website. If you're not experienced with web designing then you must face trouble to make a good-looking design.
Here comes the starter templates of WordPress Kadence themes to play a vital part.
With starter templates, you can simply import an existing design and start to customize it. You will have a good number of free designs available in the starter templates.
Either import the full site build or individual pages such as the homepage, about page, blog, contact us page, and more, both options are available. This can save a lot of time for you.
The designs are well-optimized with the Kadence blocks, tested for page speed, include royalty-free images, and are responsive to any device.
You can peruse all of the available starter templates on their website. Categorize your selection and click through to view more details of the template.
These Kadence templates offer a variety of professionally designed layouts and styles that cover different niches and industries.
You also even allow viewing the full starter site design in the browser to check what the site looks like and which pages are included in it.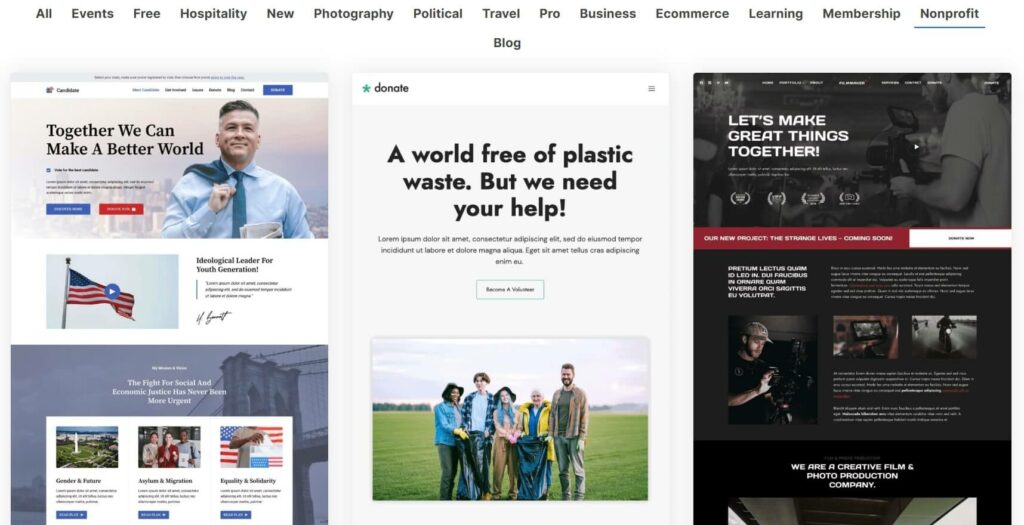 In this template, you can quickly customize the color scheme and fonts of a particular page or the entire site. But it may not be for everyone.
If you want to make the site unique by making significant changes to the template, then instead of saving time you may end up spending more time customizing an existing site. While you could have built the site by yourself in less time.
Because changing the background, spacing, adding or removing any section can take a lot of time.
Now you've got a great foundation of an amazing WordPress site for fundraising. So it's time to customize the site content and images to create an impact on humanity.
Ready to get started?
Experience WordPress payment and donation like never before. Try Paymattic now!
How to create a fundraising website with the Kadence WordPress theme
It's very simple to create a fundraising website with WordPress using KadenceWP.
Follow the steps below to start designing your fundraiser website with starter templates.
Install and activate the WordPress Kadence theme
Head to Appearance > Themes > click on "Add New"
Search by Kadence to install the theme
Again go to Appearance > Themes to activate the theme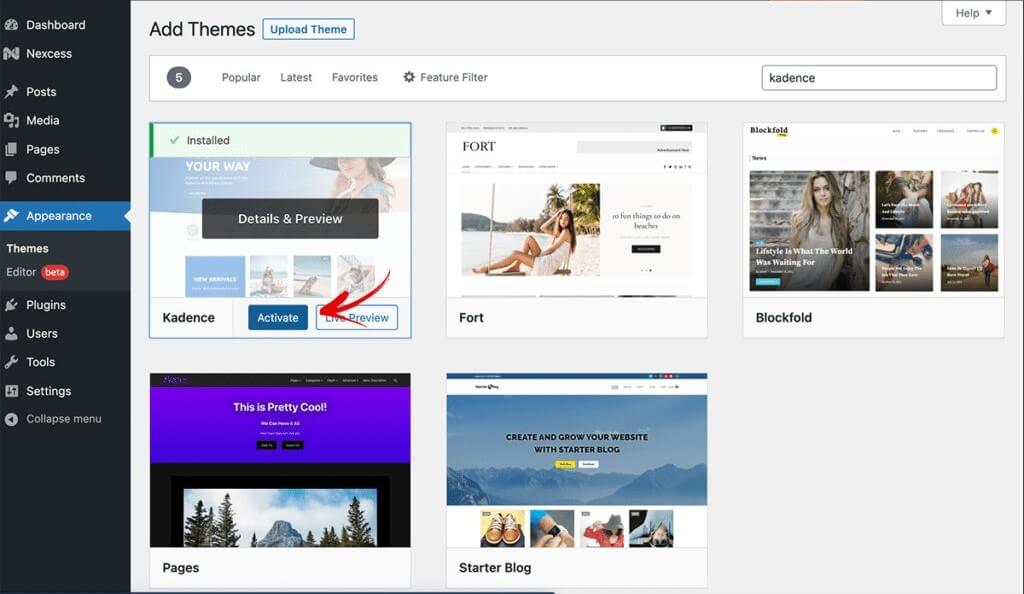 Install Starter Templates
Head to Appearance > Kadence from the left sidebar
Click on the "Starter Templates" at the top of the page
You'll see a button "Install Kadence Starter Templates". Click to install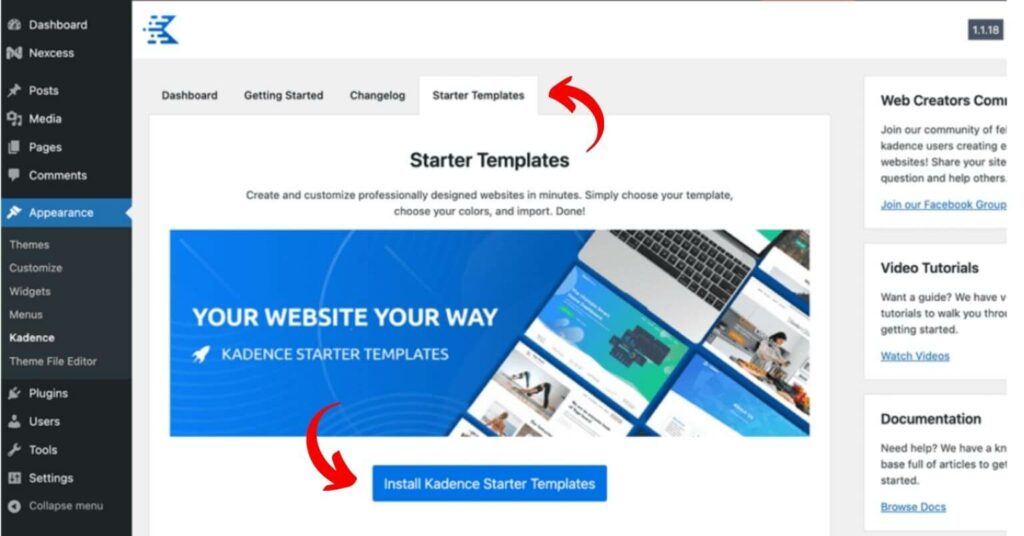 Select your desired template
After installing the starter template the "Install Kadence Starter Templates" button will turn into "Browse Kadence Starter Templates". From there you can browse the templates and select the one you'd like to use.
Here you'll find a lot of free and pro templates for nonprofits available to use.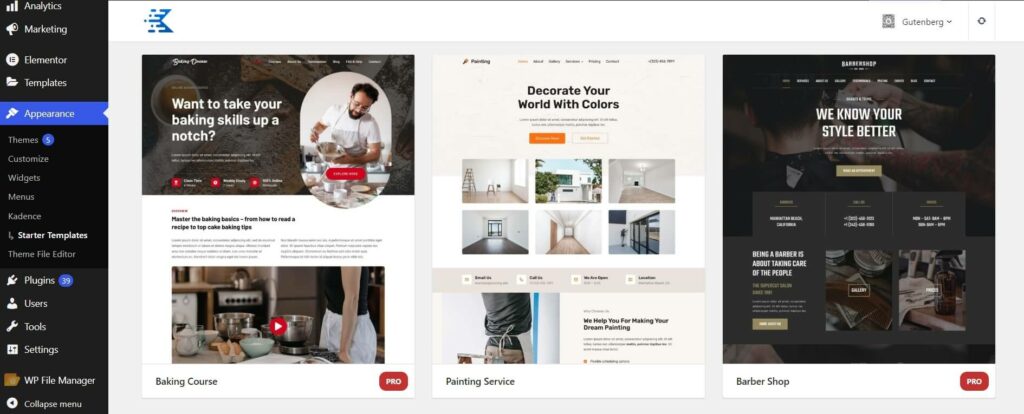 As we've told you, you're able to preview the templates from the browser, so selecting the right one is like a cup of tea.
Choose the color scheme
After selecting your desired Kadence template, choose the right color scheme you'd like to use in the starter template aligning with your brand. It doesn't have to be done instantly, you can also customize it later.
Along with this, you can also choose the color of the font and the size you'd like to use on the site.
Import the site
With all the customization done, it's time to import the changes. You can make the changes for the full site or any specific pages.
As you're starting from the beginning, so click on "Full Site" under import options to import all of the plugins, content, and images imported into your WordPress site.
Wait for a minute or two to get the action done correctly.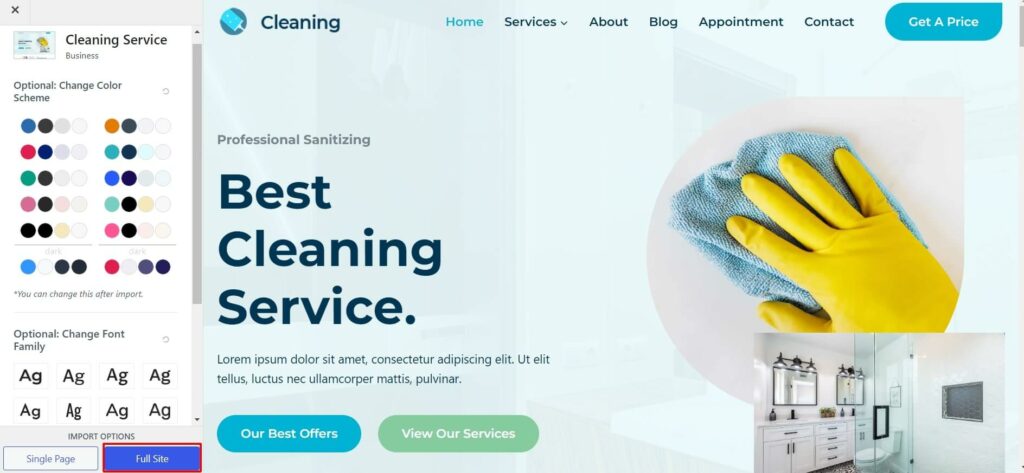 When the import is complete, you'll see a message on the right side of the screen. Click the "Finished! View your site" button to check out the fully imported site.
Subscribe to Our Newsletter
Join the crowd for more promotional offers, product updates, fundraising tips and tricks.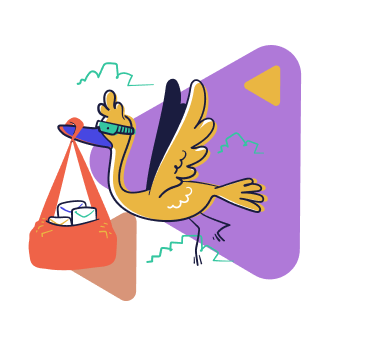 Storing design in Kadence cloud
Kadence Cloud simplifies the process of sharing layouts between multiple websites you maintain.
In the past, if you wanted to replicate a section from one website to another, you had to either manually recreate it or use a cumbersome export and import method. With Kadence Cloud, this task becomes much easier.
It provides you with access to all your designs stored in your personal online library. This allows you to effortlessly reuse the layouts across different websites.
So, you can now recreate a section from an awesome nonprofit website you built on a new site without the hassle of starting from scratch or dealing with complex import/export procedures.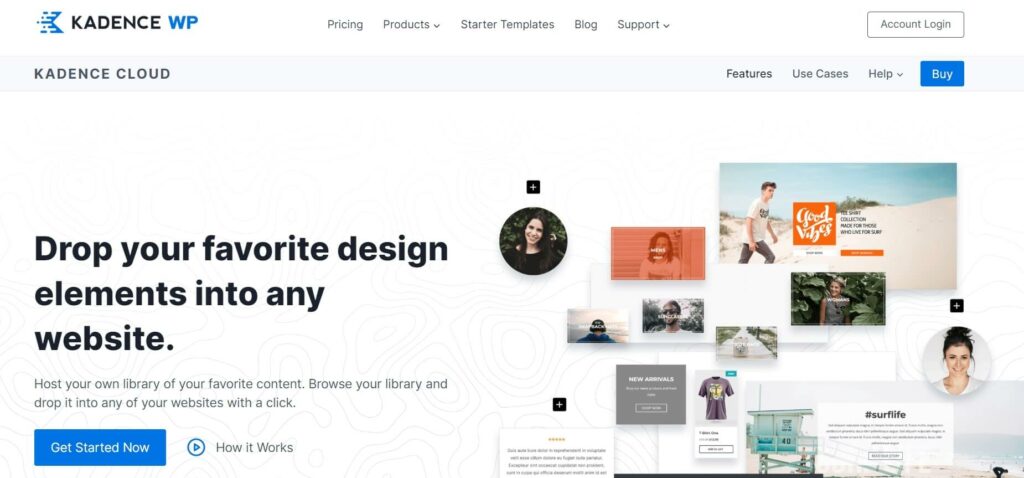 Wireframing with WordPress Kadence theme
Kadence recently introduced its new "Wireframe" Design Library, which offers a collection of placeholder layouts serving as foundational elements for your website. These wireframes can be used as the starting point for building various sections of your site.
Inside the Kadence Design Library, you'll discover a wide range of layouts tailored for different purposes, including promotional content, headers, footers, testimonials, and more.
These ready-to-use designs enable you to accelerate the website development process and create visually appealing and functional pages with ease.
Install a WordPress donation plugin for the final touch
After building your fundraising website with Kadence you're not completely ready to go. Now you need to create good-looking donation forms with multiple payment gateways included and display them on your website to grab the attention of the donors.
To do this, you must install a WordPress donation plugin. And what better than Paymattic in this business?
Paymattic is a multi-purpose donation plugin used by thousands of business owners and non-profits to accept donations worldwide.
Along with many ready-to-use donation templates, it offers 10 payment gateways to receive donations from all over the world.
However, you can also create your own donation form using its Gutenberg-esque form editor. There are some key features of this plugin listed below that will add value to your fundraising website.
Recurring donation
Donation progress item with progress bar
Custom donation amount
Customizable image upload
Integrations with multiple platforms
135+ currencies support
Detailed reporting and analytics
So give a try to Paymattic donation plugin to your newly built fundraising website with the WordPress Kadence theme.
Wrapping up
As the world is changing, people are more likely to find the easiest solution to solve their problems.
Now it's time to say goodbye to the unnecessary complications of creating a fundraising website from scratch and welcome KadenceWP.
With the Kadence WordPress theme, building your next fundraising website becomes an exciting adventure. So, don't waste any more precious time and start making a real impact with ease.