How to Collect Offline Donations in WordPress Website?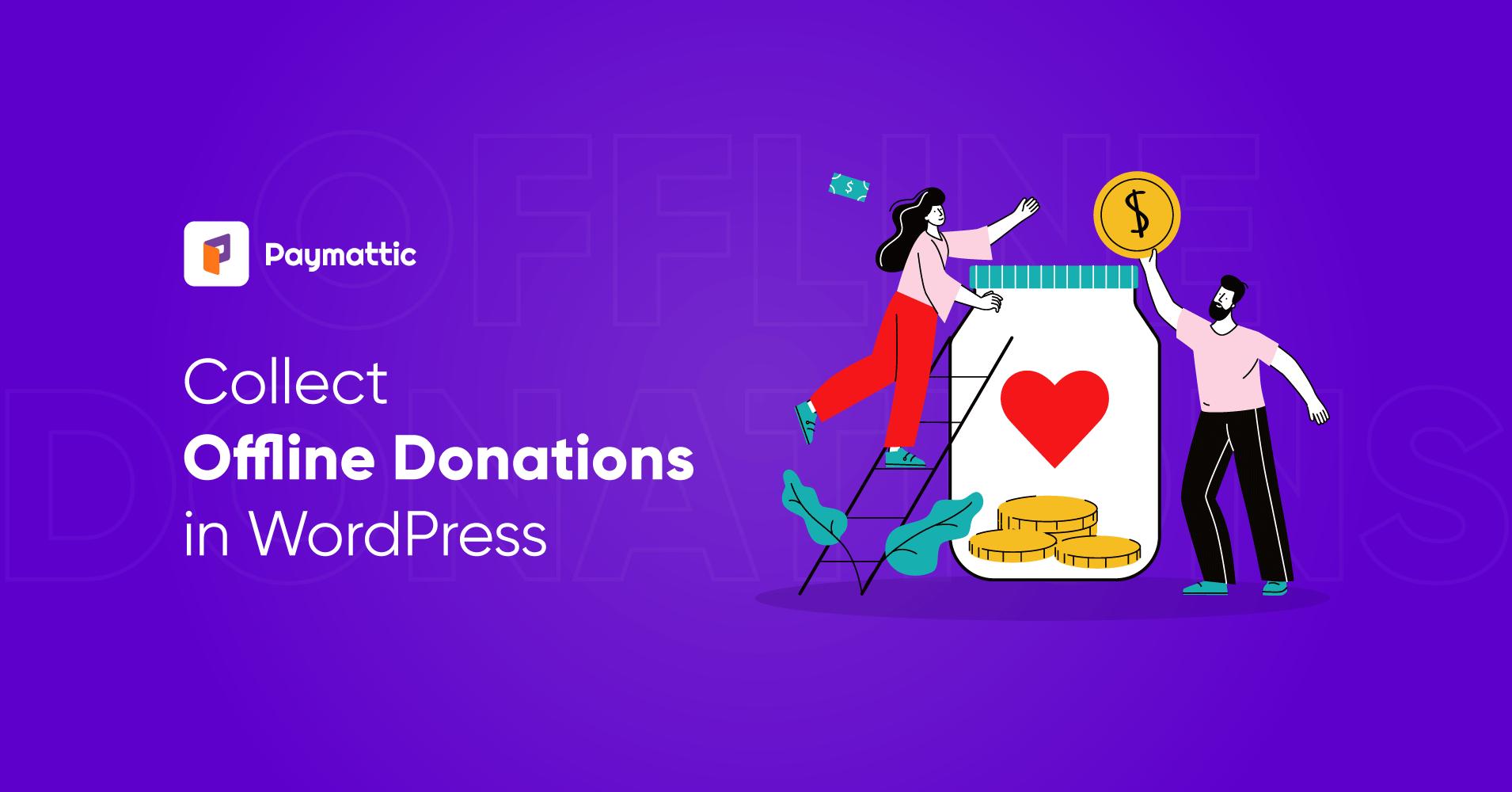 People who want to donate, not everyone among them is comfortable with the online donation process. Most people like to donate offline by direct bank transfer, cash, or cheque. If you want to start a fundraising campaign, you should provide the option to collect donations offline and online because you must think about donors' preferences.
To successfully collect offline donations in WordPress, you can read our whole blog. It will be helpful for you.
Before describing the offline donation process, we would like to share with you what offline donation means.
What is offline donation?
A donation given directly to any non-profit organization or charity rather than online is considered an offline donation. In offline donation, people make donations by direct bank transfer, cash, or cheque. If anyone wants to donate but doesn't feel comfortable making payments online, an offline donation can help them.
Offline donations doesn't mean you can not collect it online. In WordPress, with the help of a donation plugin, you can collect offline donations online. The process of collecting offline donations online will be described below.
Why should you collect offline donations?
The process of collecting offline donations is not today's practice. If we looks at previous days, people donated by cash or direct bank transfer. You should collect donations offline because of the following issues:
Not everyone is well known with the online donation process. So, if you have a nonprofit organization, you must set online and offline donation options by considering donors' preferences. Otherwise, you cannot retain your donors.
If people land on your fundraising campaign, want to donate offline, and cannot find an offline donation option, it may discourage them from donating.
But if anyone finds both options available online and offline, he may think about making donations by his preferred method. So to retain your donor, it's necessary to give them a chance to donate by their choice.
Also checkout this blog – GiveWP vs Paymattic and learn which one is better.
How to collect offline donations through WordPress fundraising plugin?
By hearing the word offline donation, everyone may think there is no online function. It may be a manual donation, and anyone who wants to donate offline needs to go where they want to donate. But in the present circumstances, an offline donation can be collected online via the WordPress donation plugin.
The WordPress donation plugin Paymattic has an amazing feature, offline payment, for people who want to avoid the hassle of online payment. This feature lets your supporter pay through direct bank transfer or cheque via the offline payment feature.
Another benefit of offline payment is that it is very user-friendly for those donors who do not want to provide card information online. Donors can create orders on your website and exit the checkout page without providing any personal data.
Paymattic also provides 10 payment gateway along with offline payment, such as Stripe, PayPal, Mollie, Payrexx, Paystack, Xendit, Square, Billplz, Razorpay, and SSLCOMMERZ.
The most interesting thing is that Paymattic supports 135+ currencies, by which you can collect payment globally.
Ready to get started?
Experience WordPress payment and donation like never before. Try Paymattic now!
How to collect offline donations with the Paymattic WordPress plugin?
Paymattic is a beginner-friendly fundraising plugin for WordPress users. You can collect donations online and offline with Paymattic. First you need to create a donation form. You can also go with ready donation template. Follow the process described below to set offline payment method with Paymattic.
Set offline payment method with donation templates:
For this, select Simple Form Templates.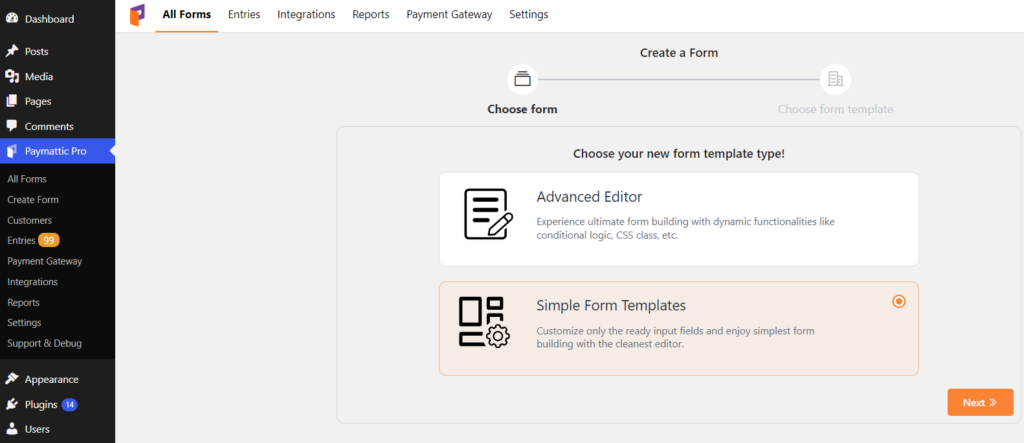 You can choose any template which fulfill your preference.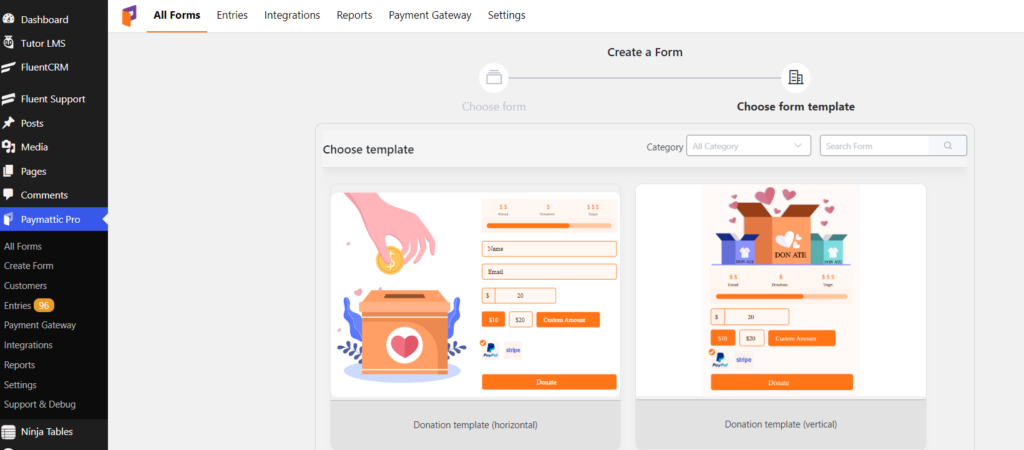 You will find payment method fields here; choose the Offline/cheque payment method from this field. At last, click on the Update fields button.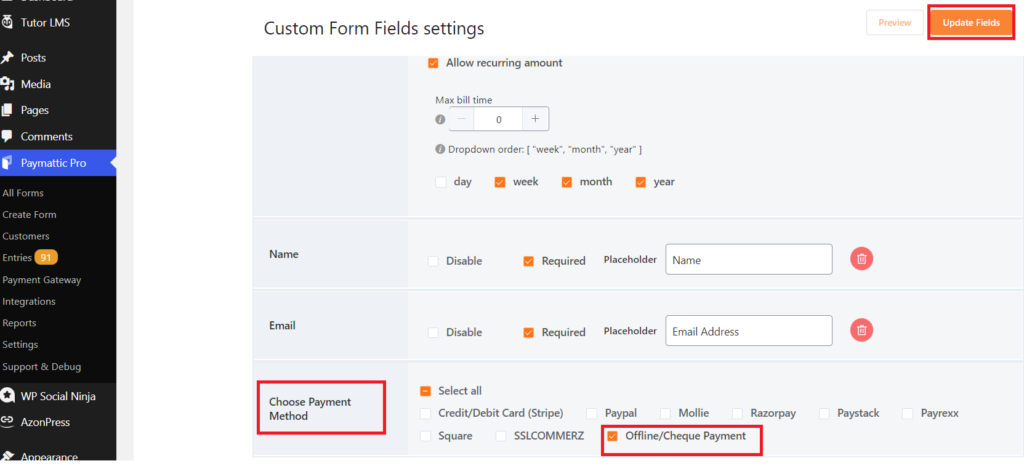 That's all! Your form is ready!
Publish form
To publish, you need to copy your form shortcode. Go to the Paymattic dashboard to find the shortcode and click on the All form option. You will get the shortcode of your form at the right bar then copy and paste it on your page.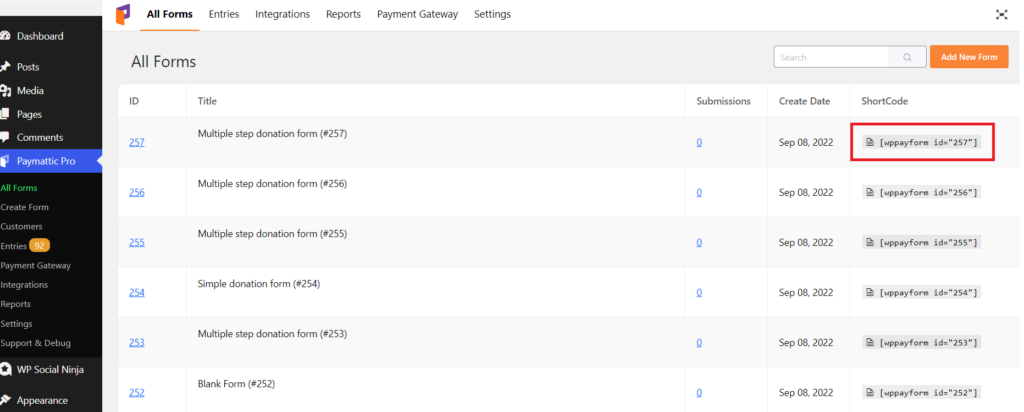 Preview form
To preview your form go to the All Forms; here you will find the list of the form. Select your form and click on the preview option.

That's all! Your form is ready here, preview it before publish.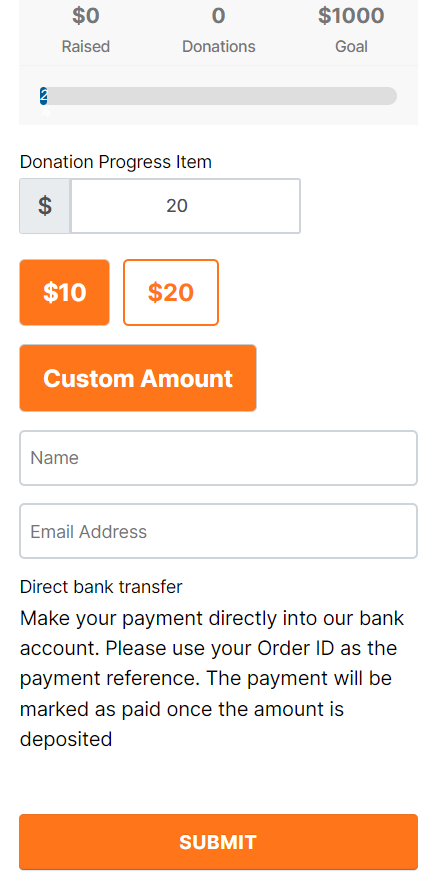 Final notes
Collecting offline donations with Paymattic is as easy as pie. So collect offline donations with Paymattic to make your fundraising journey pleasurable. To get this interesting feature, don't forget to try Paymattic Pro. Lots of interesting features like offline donations are also available in Paymattic Pro.
Thanks for checking out our blog about collecting offline donations in WordPress. You can contact us or comment below if you have any queries regarding this topic. We are always here to hear from you.