Create a Volunteer Application Form in WordPress for Non-profit [Free]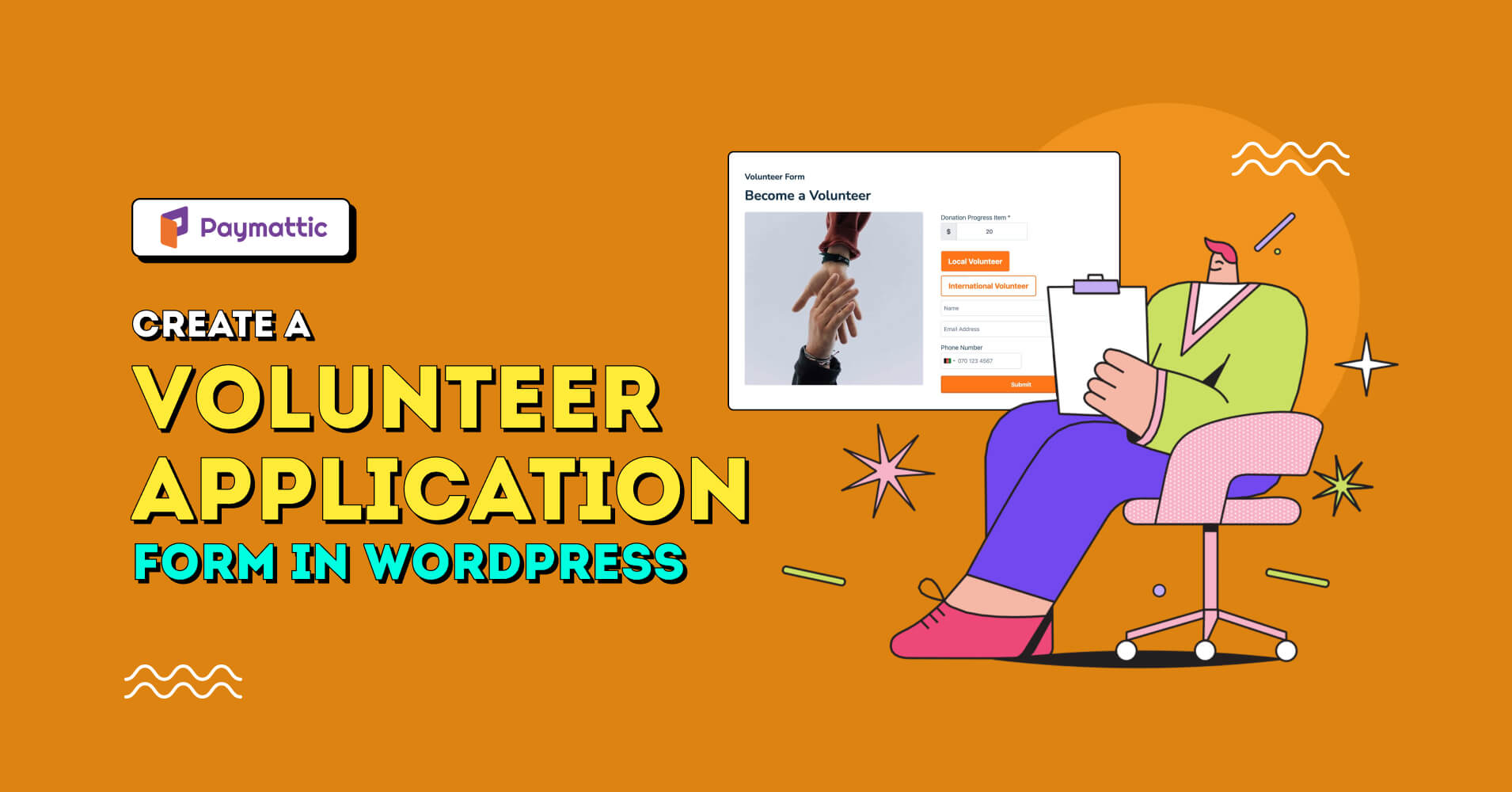 Are you searching for a solution to connect with more volunteers online? You can do so by creating a volunteer application form for your non-profit website. In WordPress, it's totally free and super-easy to build a volunteer application form.
This form not only works as a volunteer signup form but you can also collect necessary information from the volunteers in an organized way.
In this blog, you will learn how to create a volunteer application form in WordPress without having any technical knowledge or coding.
Some simple clicks, drag & drop. That's all you need to do to launch your first online volunteer form.
Table of Contents
What is a volunteer application form?
A volunteer application form is an online form that individuals interested in volunteering for a particular organization or cause fill out to express their interest and provide information about themselves. These forms are mostly used by non-profit organizations, charities, community groups, and other entities that rely on volunteers to support their activities and initiatives.
The volunteer application form helps the organization assess an applicant's suitability for the volunteer position and determine how their skills and interests align with the organization's needs. It also serves as a record of the volunteer's agreement to abide by the organization's policies and procedures.
What should be included in a volunteer application form?
In general, a volunteer application form includes basic information about a volunteer. But if you want to design an efficient volunteer form template, you can include the following elements in the form.
Personal information – Collect the personal details of a volunteer such as name, address, age, blood group, education, email, phone number, etc.
Skills & interests – Ask about the skills of a volunteer & his interest on a particular task.
Availability – Collect information about what time can the volunteer contribute so you can better plan your campaign.
Experience – Try to learn about his previous experience of volunteering in a similar organization.
Terms & conditions – It's a good practice to include the terms & conditions of your non-profit in the volunteer form.
Create a volunteer application form in WordPress for non-profit
To get started, you need the Paymattic plugin to build your volunteer application form. Follow the step-by-step guide below & let's learn how to build a volunteer application form in WordPress.
Install & activate Paymattic
First of all, install & activate the free version of the Paymattic WordPress plugin. To install the plugin –
Go to your WordPress admin dashboard and click on Plugins → Add New. Search for Paymattic plugin and install it, then activate the plugin.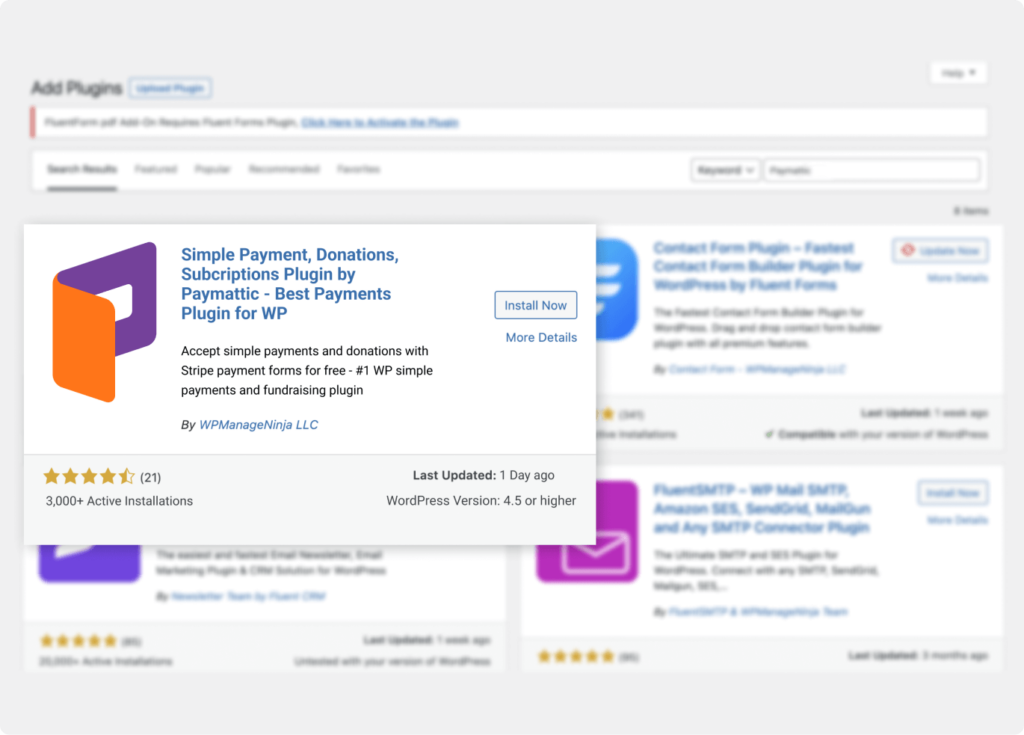 The Paymattic free version is enough to create a volunteer form. However, if you want to use a volunteer form template & build a form quickly we recommend you to upgrade to the pro version. You can get so many ready-to-use templates & advanced form fields in the premium version.
Besides, the pro version of Paymattic offers you a bundle of 11 payment gateways that allow you to receive donations in 135+ currencies globally.
Ready to get started?
Experience WordPress payment and donation like never before. Try Paymattic now!
Create a volunteer application form
Once you have activated the Paymattic plugin, you can create your volunteer form. To create your form –
Go to Paymattic → Create From in your WordPress dashboard.
Then click on the Advanced Editor → Create blank form.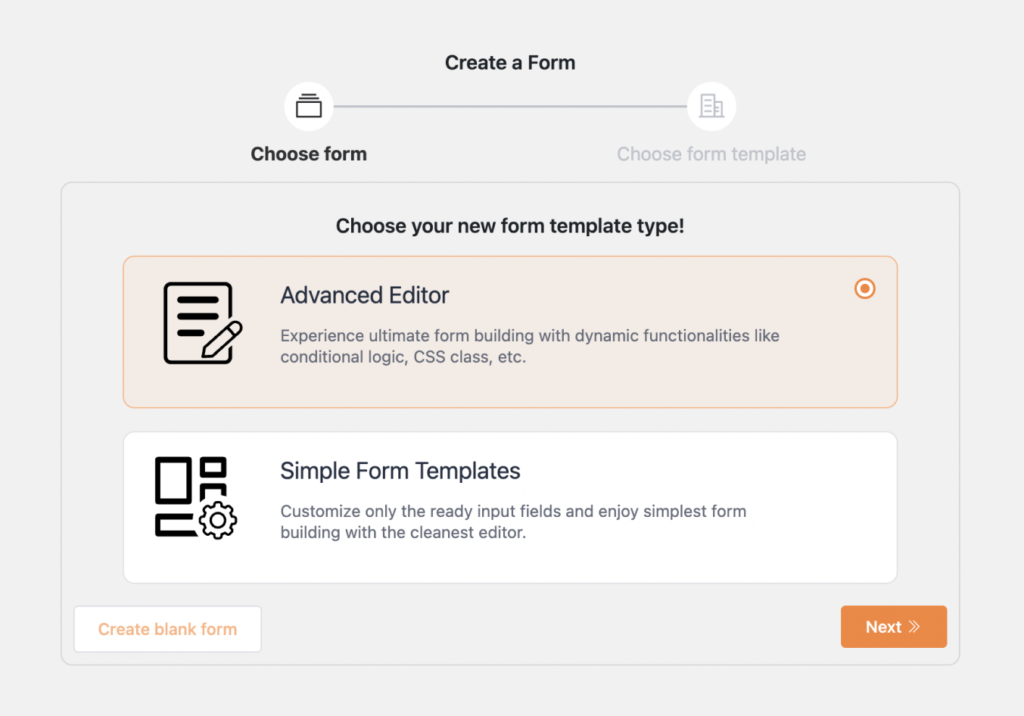 Click on the form title in the Advanced Editor & set the name Volunteer Application Form.
Now, press the '+' icon and add Name, Email, Phone & Address fields.
Click on the gear icon & configure the fields.
Finally, click the Save button to save all the fields.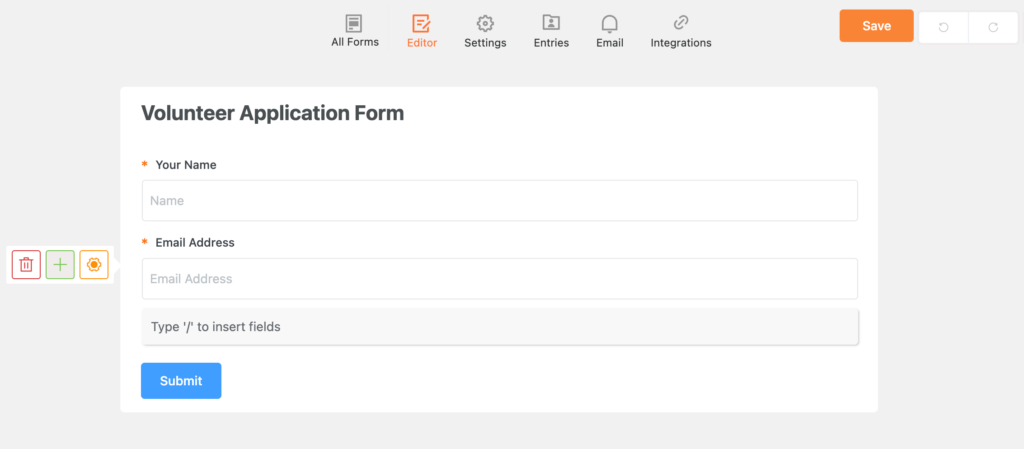 But if you want a little more out of your volunteer sign-up form, then you can add a dropdown or radio field to collect skills & job-related information. There is also a Consent/T&C field to add terms & conditions.
Subscribe to Our Newsletter
Join the crowd for more promotional offers, product updates, fundraising tips and tricks.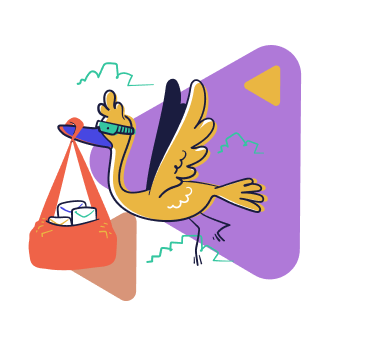 Set up form confirmation & email notification
After you successfully build the form, you can configure form confirmation and email notification. To do so –
Click the Settings button from the top bar in the Advanced Editor.
The Confirmation Settings page will open up.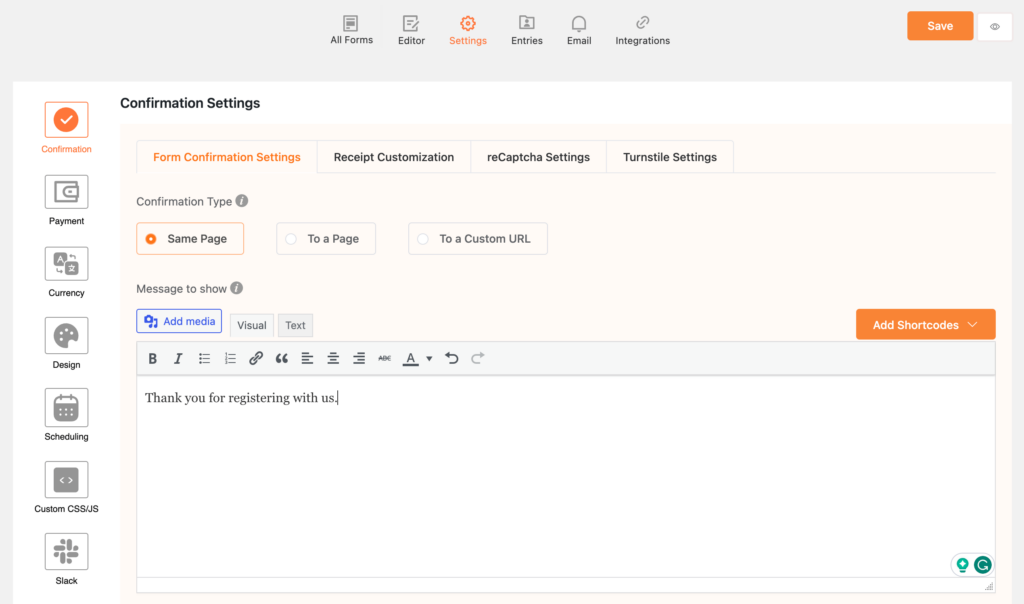 You can set the confirmation message, redirection and security (reCAPTCHA & Turnstile) configuration from this module.
If you upgrade to the pro version, you can send email notification to the volunteers once they submit the application form.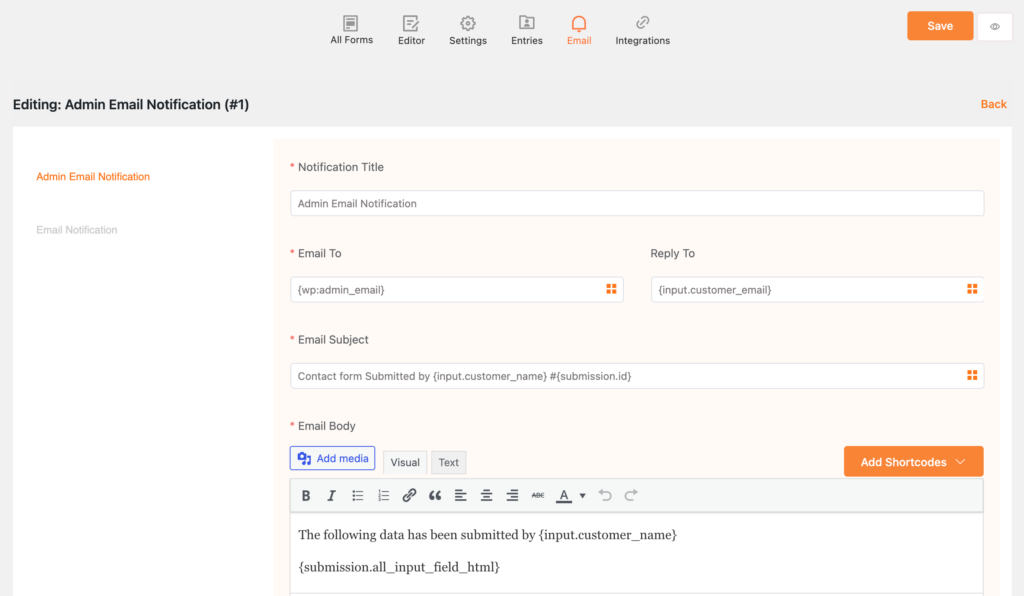 Some bonus tips:

Paymattic has integration with FluentCRM in the free version. You can integrate your form with FluentCRM and get a contact list automatically when the volunteers fill up the form. It helps you to stay connected with your volunteer group.
Paymattic for volunteer form template
The pro version of Paymattic offers 70+ ready-to-use form templates. Besides, you can download a demo volunteer form template and import it to your site. Thus, you save your valuable time from creating it from the scratch. Here is a sample demo volunteer form template built with Paymattic WordPress plugin.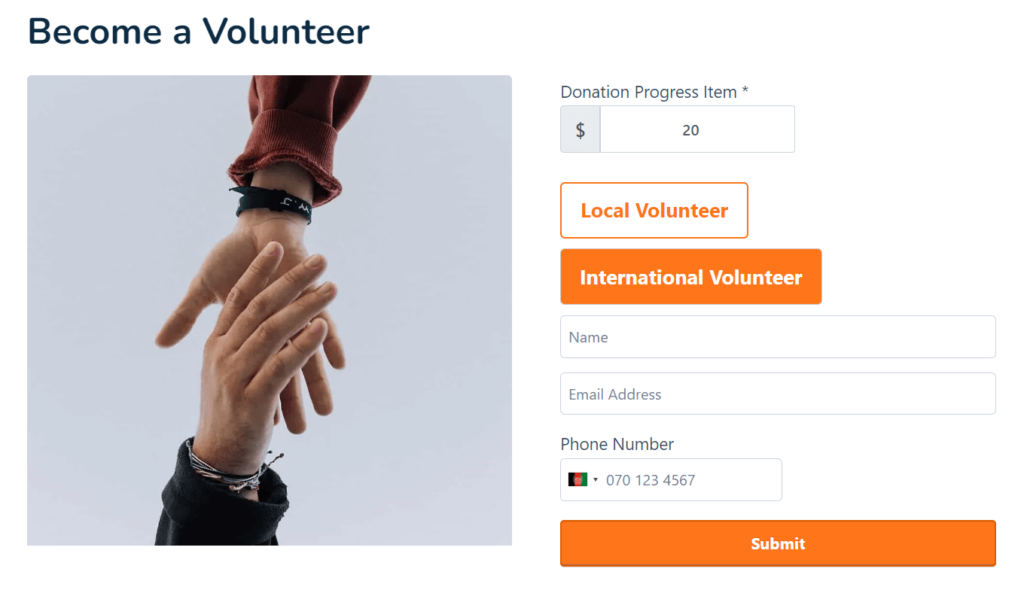 Publish the form
This is the simple process of creating the volunteer application form. Simply, go to Paymattic → All Forms and copy the shortcode of the form. Then paste the shortcode on your desired page and publish the form.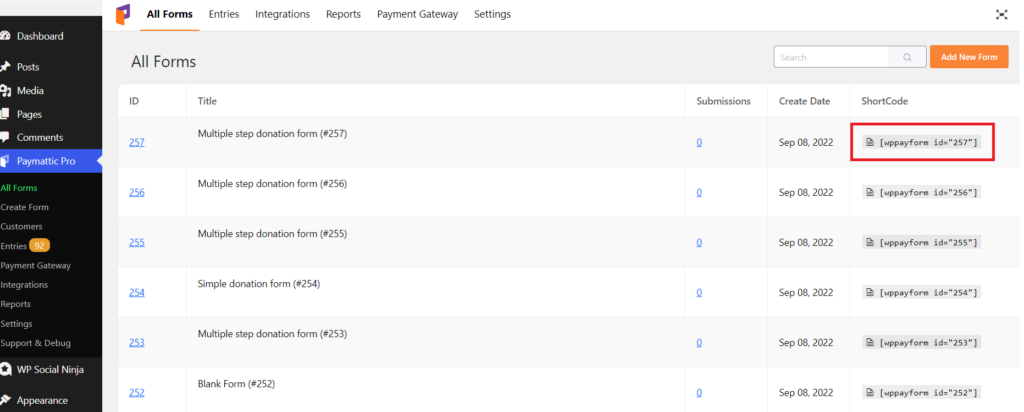 To wrap up
The volunteer application form serves as a crucial bridge between individuals eager to make a positive impact and organizations striving to fulfill their missions. If you are a WordPress user, you can publish a volunteer application form in minutes with Paymattic.
Try the Paymattic WordPress plugin today and share us which volunteer form you have built with Paymattic for you non-profit.