How to Sort and Search Forms with Paymattic?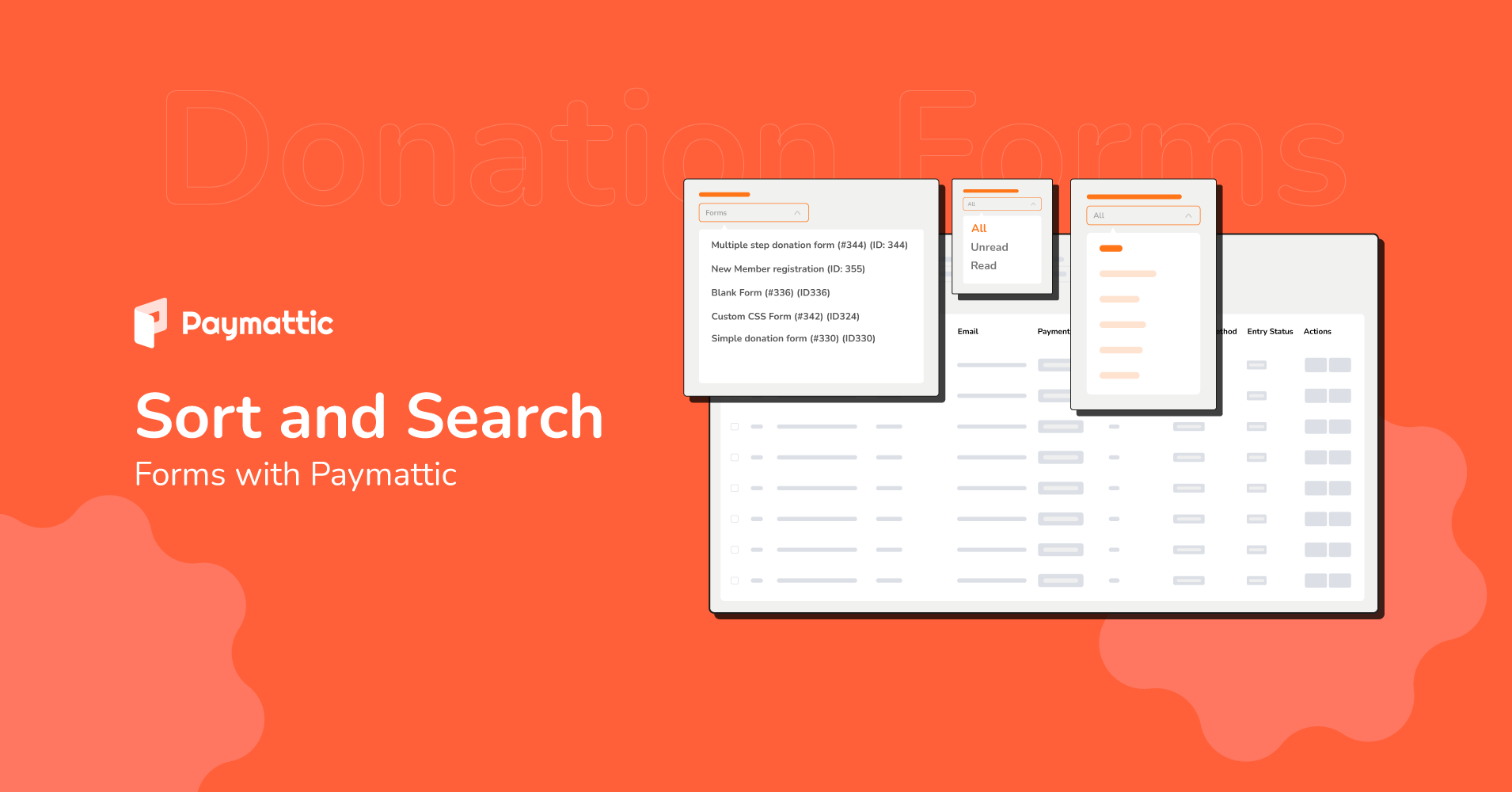 Are you looking for an easy-peasy way to sort and search forms?
Sorting helps you organize your webforms and reduce all the unwanted hassle. On the other hand, searching forms helps you find your desired form quickly.
Sort and search is a free feature of the WordPress payments and donations plugin Paymattic. So you can try these features whenever you install this plugin.
This blog will discuss how to sort and search donation and payment forms with Paymattic.
What is the sort and search feature in webforms?
All information about form entry is sorted categorically in the Entries section. Sorted forms mean keeping every detail of the form entry. A to Z information about form entries is sorted in Paymattic.
Searching for form means finding out the desired form amidst all the rest. You can search forms in Paymattic by the its name, payment status, entry status, or customer's name. If you searched with any of the given ways, you could find your webform.
Ready to get started?
Experience WordPress payment and donation like never before. Try Paymattic now!
How sort and search form features help you?
If your WordPress plugin has the feature of sorting and searching forms. Then this feature will save you tons of time!
Because if your form entries are sorted, it will be easy to find all information about your form in one place. You don't need to take the hassle of looking for different information about your form in different places. That's why just thinking about customer hassle Paymattic adds the feature of sorting forms so that customers can get all information about their forms in one place.
Searching form is another helpful feature for a website owner. Because when any owner wants to search for a specific form, they don't need to be cluttered by information about other forms. With this feature, they can search for the specific one that they need. They can also search forms by its payment status, entry status, donor name, email, etc. Without this feature, they must check all the form entries to find their desired one. It is quite a lengthy process. So if your plugin has the feature of searching, it can help you get relief from this lengthy process.
Let's explore the sorting and searching form feature with Paymattic.
Also checkout this blog Paymattic the future of WordPress donations
Sort and search form with Paymattic
All your form information can be sorted in the Entries section. You can also search for forms at the top bar of the Entries.
By the following step, you can sort and search with Paymattic .
First, go to the Paymattic dashboard, and click on Entries.
In Entries, you can search any of your forms from the search bar placed at the top of this entries page. You can search forms by the name of the form, by payment status, by entry status, or you can search by customers name.
In Entries, below the search bar, all form entries are sorted into different categories. Here all form entries are sorted in sequence. Each entry is sorted into the following categories:
ID – All the ID numbers of the form are sorted here.
Form – Name of the form are listed here.
Name – Here all the names of the customer will appear.
Email – The email address of the customer who purchases are listed here.
Payment Status – It shows the payment status of the form, whether it was paid or pending.
Payment Total – Total revenue earned from this form is mentioned here.
Payment Method – This option represents which payment method was used, such as Stripe, PayPal, Mollie, and others.
Entry Status – If any entry is made for the first time, this option will show New, or if any entry was already checked, it will show Read.
Submitted At – The date and time of the submission when the submission was made are shown here.
Actions – If you click on the blue mark button, it will show you details about Form Entry Data. You can print this entry or export it in JSON, ODS, CSV, or Excel format from this option, or you can send an email notification manually.
You can delete any form entry by clicking on the red mark button.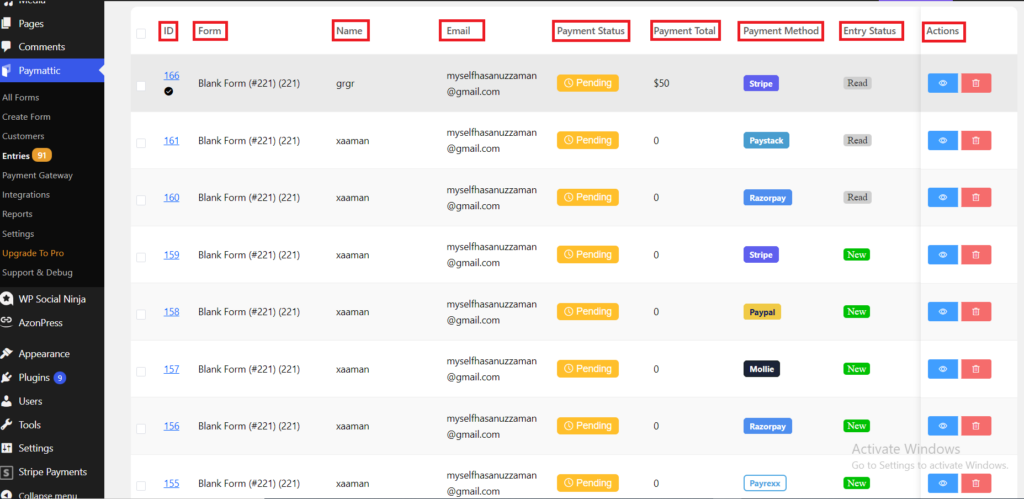 Following this easy-peasy way, you can sort and search webforms with Paymattic.
Final word
Paymattic is a user-friendly WordPress donation and payment plugin. You can build many types of payment and donation forms here. Sort and search form is a free feature of Paymattic. Lots of features are also available. To get more interesting features, don't forget to try Paymattic Pro.
You can comment below if you find this blog helpful or have any questions regarding this issue.