Instant Course Enrollment on Payment Success – Here's How!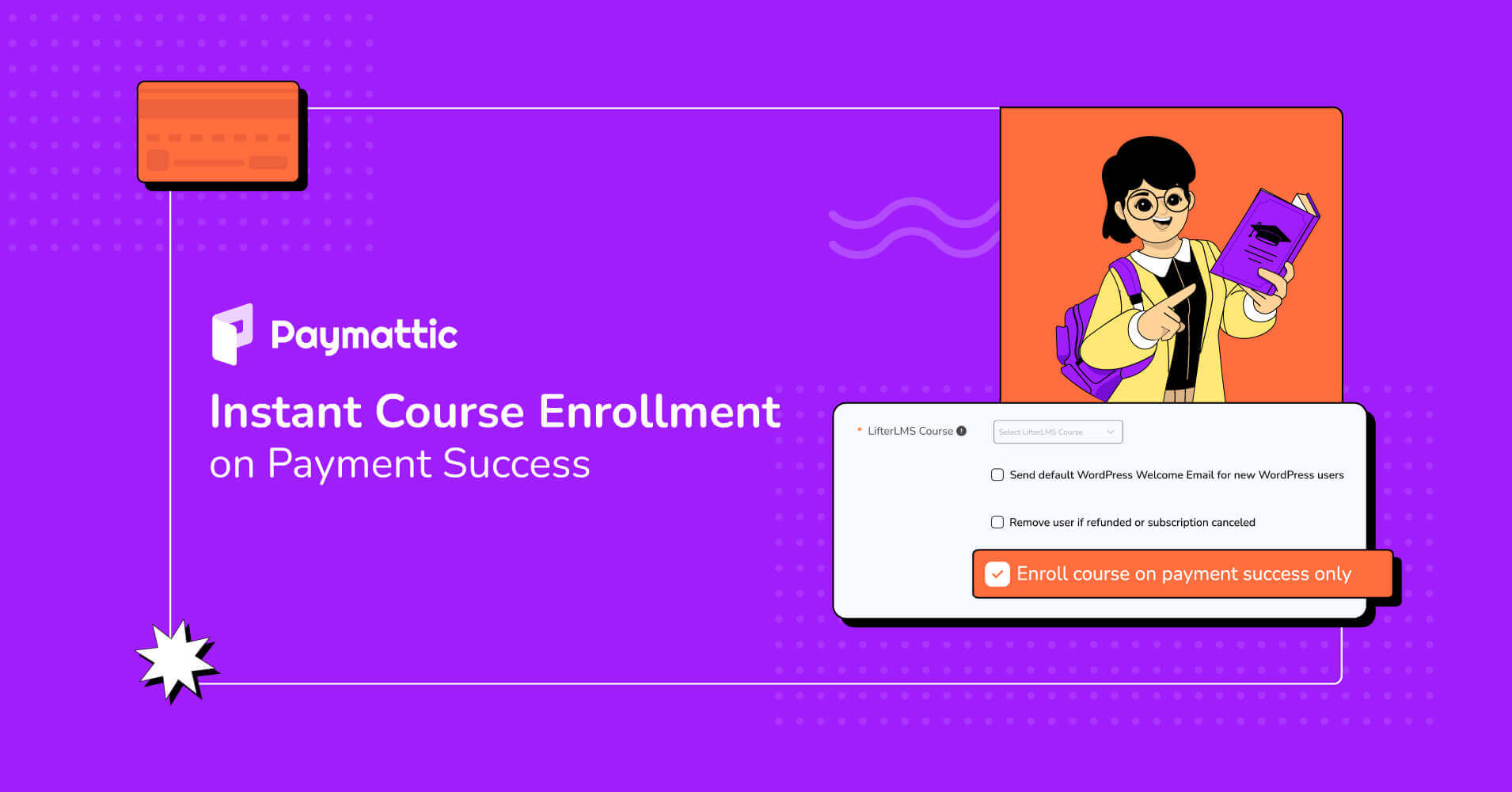 If you are thinking of creating an online teaching website for your users, then a learning management system would be the solution. But choosing the right plugin for an e-learning website is a baptism of fire!
Organizations have invested a massive amount of money and time in making LMS. Many plugins are available; choosing among these proficient LMSs is a very daunting task. Integrating this system enables data transmission between various platforms to streamline processes and improve user experience.
You may not have a clear idea about learning management systems, so before jumping to the topic, let's quickly go through a few basics.
What is LMS?
A learning management system is much more than a virtual library. It's a digital system that provides an environment for training or education. You can think of it as a global learning hub where educators and learners can develop a learning process. It is mainly used for e-learning practice. This plugin is frequently used by educational institutions, organizations, businesses of all sizes, and e-learning based institutions.
An LMS can be used to improve traditional educational methods and also save organizations time and money. It mainly provides instruction to create and deliver content to monitor student participation and performance.
It is a powerful tool, but it can be more efficient if the system is compatible with other applications. Here compatibility means integrating this system.
How is learning management system integration beneficial for you?
People are always looking for an easy and comfortable method in this era. When it comes to education, a comfortable environment must be a great factor. Most of the time, people prefer online education because it offers many opportunities. Educational institutions and organizations use the learning management system. Applications that combine or integrate with your system to improve performance and build a collaborative system can greatly increase the effectiveness and efficiency of your work.
By integrating this tool, you can make company service-related learning available for your user or set up a tutorial for your customer about using your company product.
Best LMS plugins
You must need to select the right plugin for your e-learning website. We can suggest you three best WordPress LMS plugins that you may like.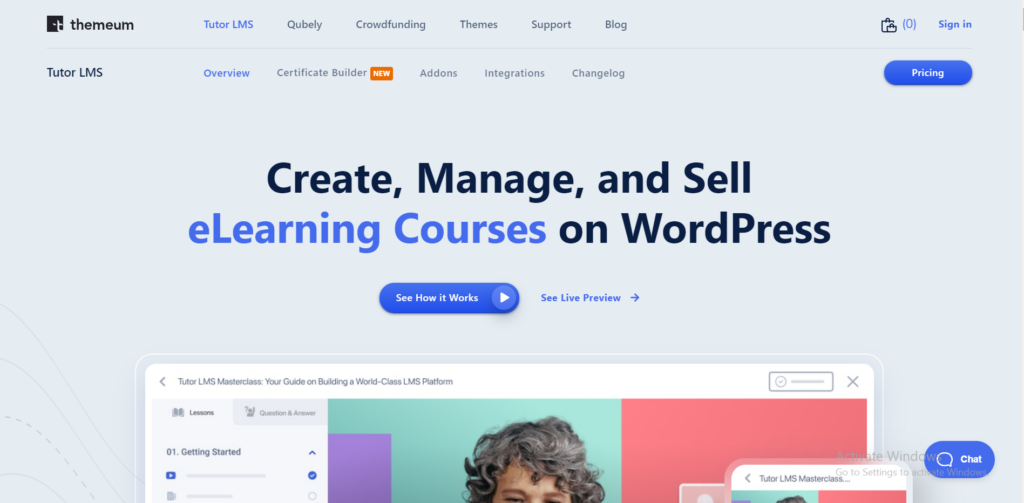 Tutor LMS is a fully Ul-based WordPress plugin. It has high functionalities such as a course builder, a quiz generator with ten different question types, reporting/analytics, and more.
Tutor LMS includes a variety of add-ons, including certificates, multi-instructors, prerequisites for courses, course previews, multimedia attachments, and more. With the help of personalized message templates, admins may easily connect with teachers and students. Students and instructors can monitor all course-related data via the dedicated dashboard.
The entire course creation lifecycle, from publishing to monetizing to managing the course, is the emphasis of this plugin.
Subscribe to Our Newsletter
Join the crowd for more promotional offers, product updates, fundraising tips and tricks.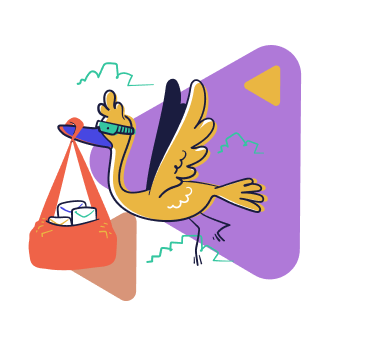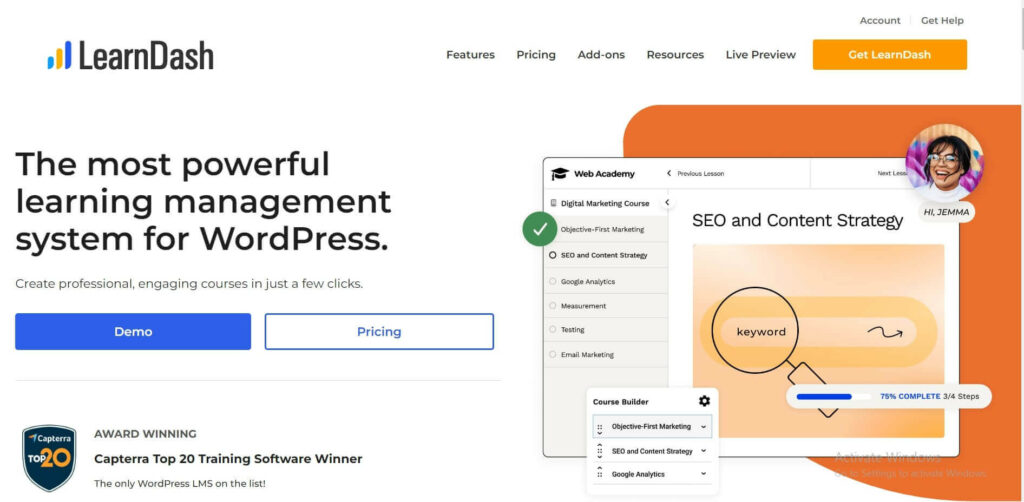 LearnDash turns your WordPress website into a powerful learning management system. You can make and sell courses, monitor user progress, send certificates, give out points and badges, and do so much more in just a few minutes!
LearnDash is the best WordPress plugin if you're serious about providing online courses. It can allow you to create unlimited courses, lessons, required assignments, and much more. It's a very popular LMS plugin for its easy and flexible functionality.
Moreover, LearnDash is the best WordPress LMS plugin that works for solo course creators and academic institutions.
It is not a free plugin, you have to buy a plan to start using it. Their price plan starts from $199, an advantage is they have 30 days money-back guarantee with all of their plans.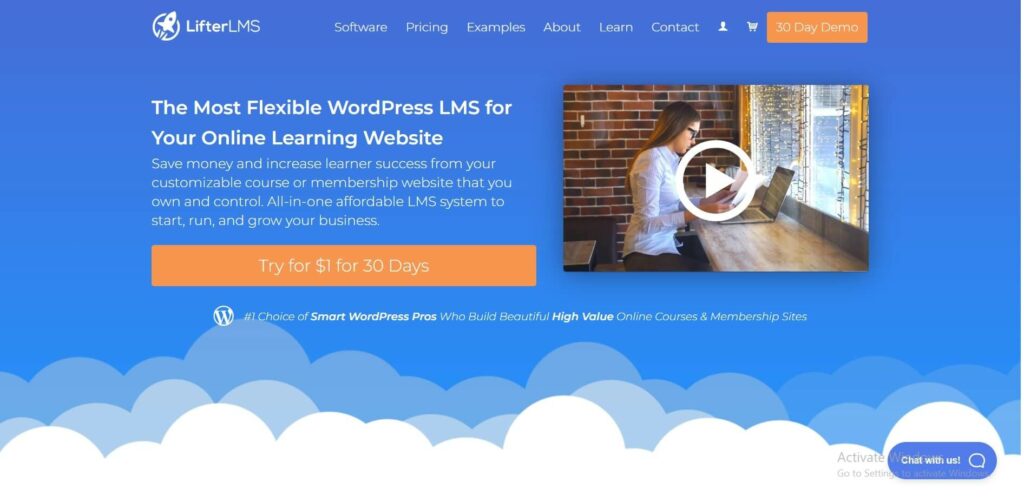 If you are researching the best LMS plugin, you must hear the name LifterLMS. It is a free WordPress plugin for learning management systems that makes it simple to create, market and manage courses on your website.
The free version of LifterLMS provides enough features for a fresher to work with and is a flexible solution for building free e-learning platforms on WordPress.
At least if you want to take things up a notch, you can get various premium add-ons to enhance the core functionalities of this plugin.
For creating courses online, you can use the above LMS plugins. But when it's about selling courses, you definitely need a plugin by which you can collect the registration fees for your courses. Here another challenge appears in front of you – to choose the best plugin by which you can collect payment without any hassle.
Don't worry! We have a solution for you. We will recommend the perfect plugin to you with which you can collect payment for your product without any difficulty.
Many organizations or educational institutions that provide online courses are looking for a user-friendly payment plugin by which they can collect payment from selling their courses. In WordPress, many payment plugins are available to integrate the Learning Management System plugins. But if you ask for a better one! Then we can suggest the WordPress payment plugin Paymattic. Now one question may come to your mind, why Paymattic?
Because Paymattic is a great user-friendly payment plugin, you can collect payments for your product. Here you can create a payment form with a few clicks and integrate provided learning management systems with a very simple step. In Paymattic three types of LMS are available right now, these are:
You can integrate any of these above plugins with Paymattic.
To give you a clear idea, we will share some simple steps by which you can create any form and integrate a learning management system with Paymattic.
Ready to get started?
Experience WordPress payment and donation like never before. Try Paymattic now!
Steps to enroll course on payment success with Paymattic
In this blog, we will illustrate the integration processes of the Tutor LMS with Paymattic. You can integrate any learning management system provided by Paymattic by following the same steps.
Install and activate Tutor LMS
First, you need to install and activate the plugin. For that –
Log in to your WordPress dashboard, go to Plugins, and click Add New.
Search Tutor LMS and install the zip file. Now activate the plugin.
Enable Tutor LMS module in Paymattic
Now it's time to enable the Tutor LMS module before integration. To do so-
Click on Integration and switch on the plugin module.
Integrate Tutor LMS with your form
To integrate, you can use a new or existing form.
Go to the Paymattic dashboard and click Add New Form button to create a new one.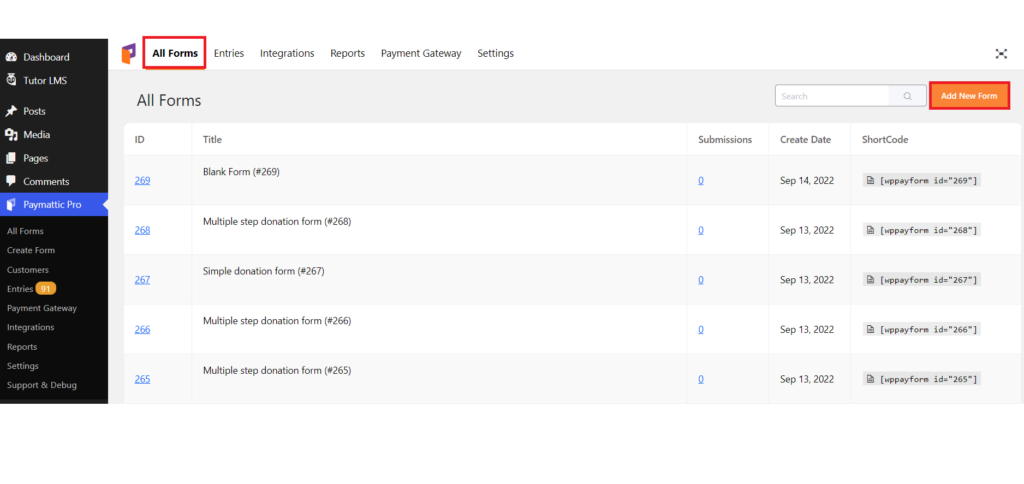 Next, select your form and click on the Edit option below the form name.

Then, go to Form Integrations, click the Add New Integration button, and select Tutor LMS Integration.

Now configure the integration feed with the required information.
Provide a name for the name field.
Select the course from the Tutor LMS Courses option which you want to assign with your form.
In the conditional logic option, you can set conditions if you want to activate the integration based on inputted value.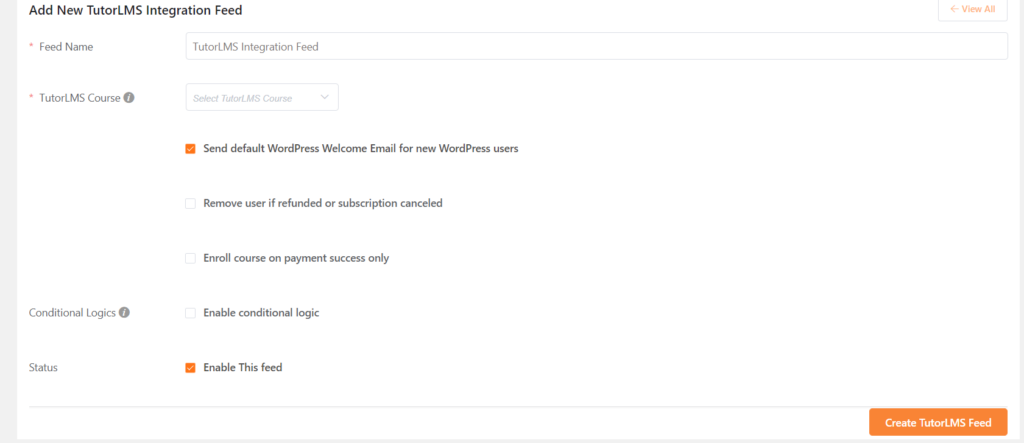 Enable LMS integration on payment success
With Paymattic Pro, you can easily enroll students automatically on payment success, you first need to follow the above process. Then you must select a course from the Tutor LMS Course list, then click on the Enroll course on payment success only checkbox. Don't forget to click on the Create Tutor LMS Feed to save the configuration.

After enabling integration on payment success, your user will get their desired course when their payment for the course is successfully submitted.
That's all! By this simple way you can implement instant enrollment on payment success.
Are you still facing difficulties in enroll course on payment success?
Enroll course on payment success is not so difficult if you choose the right LMS and payment plugin. We already shared the best LMS and payment plugins in this blog.
However, if you started selling online courses and collect payment for the course via Paymattic, you don't need to worry about collecting registration fees. Because in Paymattic, currently 10 payment methods are available to collect your payment! Many more interesting features are available in Paymattic Pro. So why are you still waiting? Try Paymattic Pro.
If you still have any queries regarding this issue, please comment below. We are always here to hear from you.