Can a For-Profit Business Accept Donations?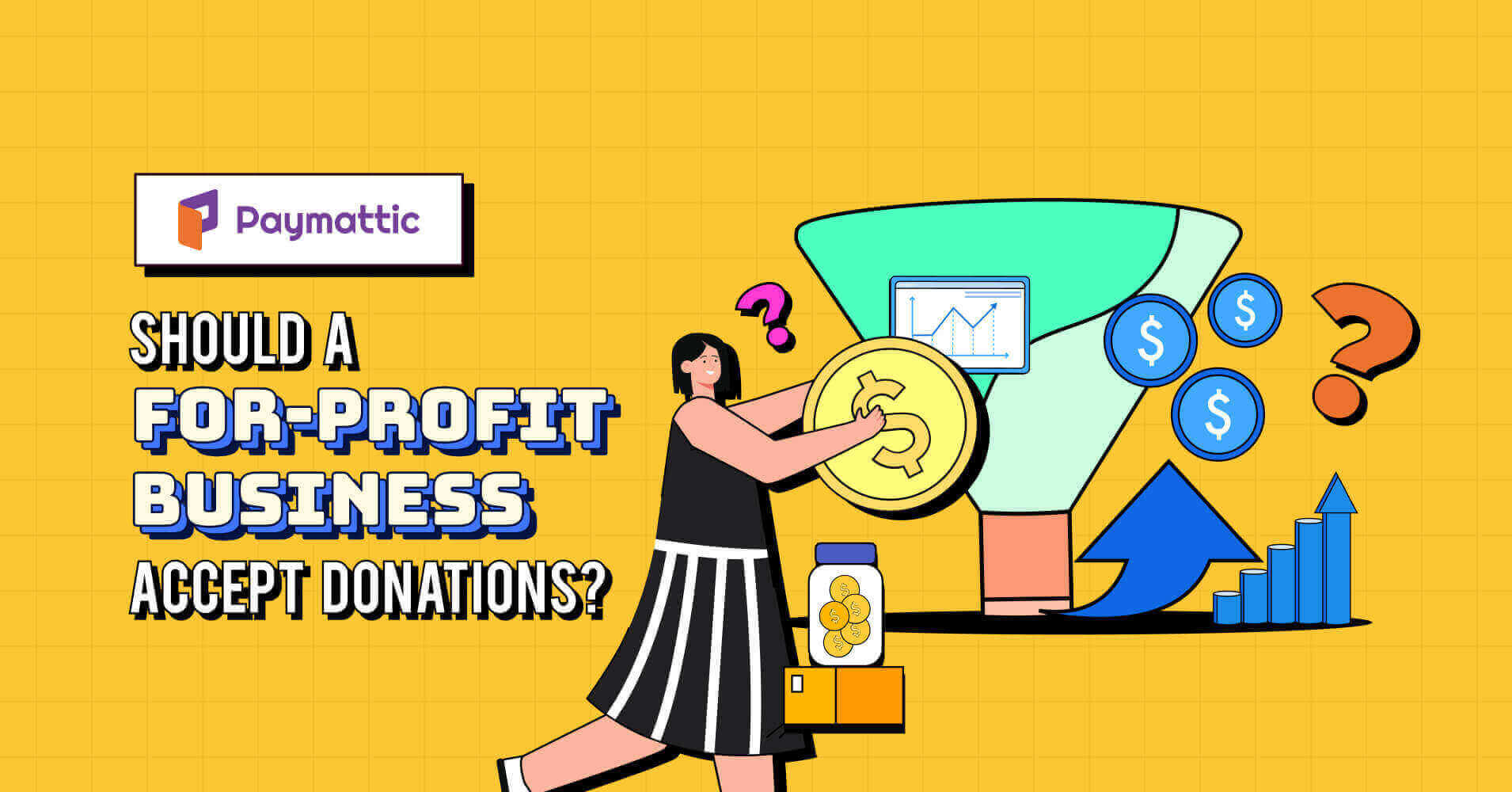 A donation is a beautiful surprise blended with love and kindness. Most often, you may link this practice of sharing and caring to charitable organizations. But now, businesses are contributing significantly to the world of giving.
If you are running a business, you might be wondering, should your for-profit business accept donations?
In simple words, the answer is yes!
Raising donations for your business indirectly helps your business grow. Today, we will talk about how your for-profit business can take advantage of accepting donations and how to legally accept donations.
What is a for-profit business?
A for-profit business is one that operates with the goal of making money. Most for-profit businesses provide a product or service to their customers in exchange for monetary benefit. In general, this business entity earns an income and may distribute profits to shareholders and investors.
A for-profit business can also engage in social well-being by donating to society. Even giant companies like Amazon and eBay donate to communities that they raise from their customers. These companies collect donations during checkout from their customers.
Why should a for-profit business accept donations?
Do you know 94% of consumers believe that businesses should do more than just make money? They should return the favor.
In reality, incorporating a donation program into your business model contributes to increased revenue, customer attraction, and community building. And the best part is tax advantage.
Here are five major reasons why donating to charitable causes can benefit your for-profit business.
Donations boost your sales
A study by Cone Cause Evolution says that 85% of consumers have a positive perception of a brand or company if it donates to a charity they care about. Social consciousness makes consumers believe that your products are of better quality. Thus, doing good for society can translate into increased sales for your business.
Charitable activities build customer loyalty
Supporting charities, whether global or local, increases customer loyalty.
When your business offers to donate a portion of profits to a charity, it triggers a customer to make a purchase. Cone Cause Evolution discovered that 61% of Americans say they would be willing to try a new or unfamiliar brand if it supported a good cause.
It is vital to remember that your charitable efforts must resonate with your customer group. You gain your customers' trust, attention, and respect by supporting the causes they care about.
For example – if you are selling environment-friendly products, promise a donation to Greenpeace on every customer's sale. Support causes that your customers think are valuable to society. It's a surefire way to increase customer loyalty.
Donations aid in building community
Charity work boosts your company's reputation in the community. It raises awareness of your products or services and helps you build a positive reputation in the community.
Giving back to a generous cause is an excellent way to connect emotionally with your customers. It improves brand image and value while also helping to differentiate your company from others in the industry.
Subscribe to Our Newsletter
Join the crowd for more promotional offers, product updates, fundraising tips and tricks.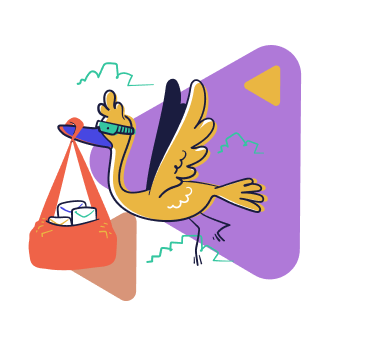 Donations enhance brand visibility
When you are giving back to the community, you get a great scope to uphold your brand name in the community and increase the visibility of your brand.
Companies with a philanthropic principle of corporate social responsibility (CSR) raise positive brand awareness and reputation in the community. The CSR activity also promises a brand's commitment, involvement, and concern about causes.
Donations have tax advantage
The amount you donate to non-profit or other charitable organizations is tax-deductible. In other words, you can claim tax exemptions. Such expenses can reduce your tax bill and taxable income.
However, in order to consider your charitable contributions, you must first complete the following steps:
Donate to a reputed organization.
Donate money or property.
Itemize your tax deductions in order to claim any charitable contributions.
Keep a bank record or other document from the recipient organization that contains the name of the organization, the date, and the amount of contribution.
Not only the amount you donate is tax-deductible. Event fees, parking fees, and travel expenses related to charitable giving can reduce your tax bill.
5 ways to give without harming your for-profit business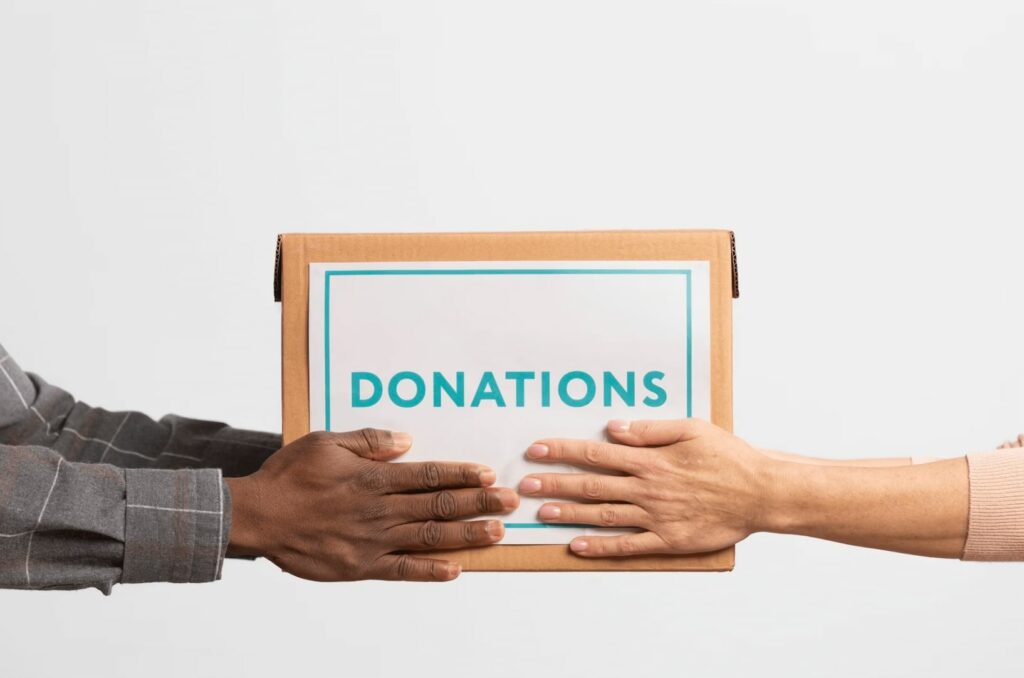 Support good causes smartly that bring no harm to your for-profit business. There are so many ways that you can raise donations and support a charity.
Sounds good. Right? Let us take a look at some of them:
Your little contribution might be a big push for a small charity. So, consider a small percentage of your profit generated from each sale as donation. Make it a regular practice every day. At the year-end, it turns out to be a hefty amount.
Inspire your customers to make some donations while shopping. It can be a drop-down menu while checking out or a simple donate button, whatever you prefer for your online business.
If you are in a brick-and-mortar business, you can place a donation box at the checkout counter. Make it noticeable using a highly visible color such as red, green or yellow so your customers can see it easily. It's better to place it at an eye-level spot right behind your checkout counter so that no one misses it to notice.
Organize fundraising events. It gives you a chance to activate your community as well as exhibit your business activities to your customers.
You can donate your unsold stock. Instead of keeping the old stock, you could offer it to people in need.
If you are in a production business, you get lots of byproducts which has no value to your business. You can recycle the byproducts and donate the scrap value to a charity.
WordPress donation plugin Paymattic for donations
With more than 3500 installations Paymattic WordPress donation plugin is redefining the online donation experience. You can create smooth donation forms to receive donations with this WordPress fundraising plugin.
Check out this blog to learn, how to create a donation form in WordPress?
Paymattic supports 10 payment gateways that let you collect donations worldwide. There are many more thrilling features of Paymattic that can make you feel wow!
Subscription payments
Donation progress item with progress bar
70 pre-built form templates
Custom donation amount
Customizable image upload
Integrations with multiple platforms
135+ currencies support
Form import-export
Multiple LMS integration
Detailed reporting and analytics
Try Paymattic now and unleash all of the pro features of Paymattic today!
Bottom Line
Consumers now have higher expectations of for-profit businesses. They want brands to have a more tangible impact on society. Giving back by supporting charities is one of the most effective ways to increase customer loyalty, brand awareness, and reputation within a community.
If you are going to raise donations on behalf of your business, let us know in the comment, what type of business you are in and how you are raising funds with your business.
Got a new idea? Just go for it. Share funds, share the goodness. And let Paymattic help you through this journey.