LearnDash for WordPress – Everything You Need to Know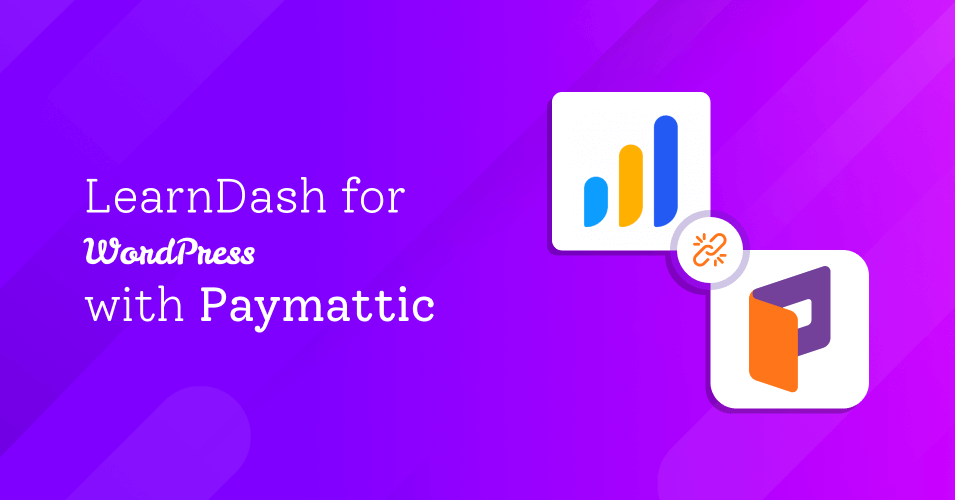 eLearning platforms are some of the most diverse you will come across. Sales, crafts, recipes, or even traditional teaching, there are just so many things you could teach.
So naturally, eLearning experts all over the world have come up with many excellent teaching tools so you can deliver your classes in peace. Today, we will introduce you to one such awesome WordPress eLearning tool, LearnDash.
So hop on to find out the following:
What is LearnDash?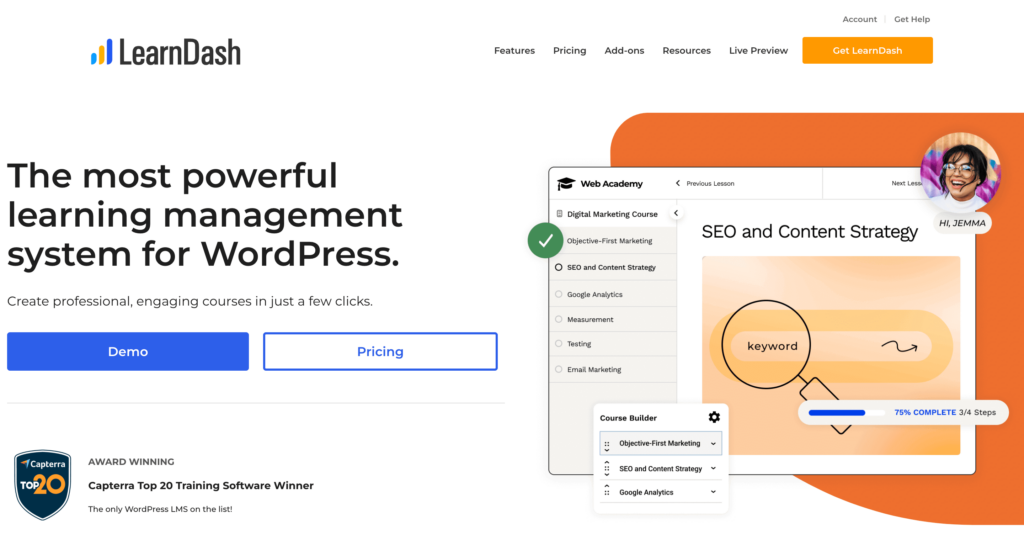 LearnDash is one of the most powerful learning management systems for WordPress. You can use it to create professional and engaging courses effectively. And all it will it take is just a few clicks.
Furthermore, you can enjoy more and control over designing and distributing courses as LearnDash offers more freedom in terms of choosing the pricing model, upselling courses and resources, or setting up reminder notifications. Some advanced LearnDash features that help you boost your sales are listed below:
Maximized content delivery
Superior quizzing capabilities
Immersive learning experience
Reminder renewal
Refund protection, etc.
Why do people use LearnDash?
Thanks to the amazing range of eLearning functionalities, LearnDash is a popular name among the online learning community. This LMS plugin offers some of the most straightforward features and a very clean UI that eLearning professionals absolutely love. Following are some of the reasons why people use LearnDash:
Add multiple instructors
LearnDash lets users add multiple instructors in one go. All you have to do is create a new user from your USERS menu. You can also edit an existing one, and set their role to "Instructor". Do this for as many instructors as you need.
Shared course modules
Shared course steps allow eLearning experts to create new courses from existing content quickly. This decreases bloat from duplicate content. Moreover. by editing a step in a single LearnDash course, one can update it everywhere else.
Forum support
Divide the lessons of every course
Forum support
LearnDash is a popular name among the eLearning community. Hence, naturally, there is a healthy ecosystem of online learning experts from all around. So whenever you face any difficulty or have any question, you will find yourself in a highly cooperative forum support system.
Subscribe to Our Newsletter
Join the crowd for more promotional offers, product updates, fundraising tips and tricks.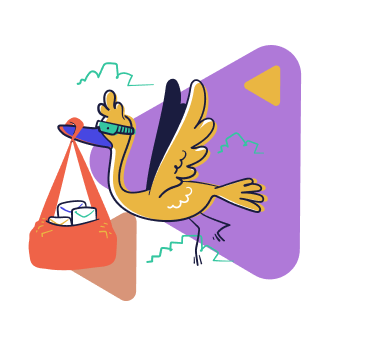 Video lecture integration
Video lectures help with better demonstrations. Online learning professionals all over use course videos to showcase case studies, and interviews or trigger discussions. LearnDash lets users use WordPress supported media like mp4, m4v, mov, etc. Moreover, LearnDash suggests video hosting service like Vimeo to avoid overloading host.
Virtual rewards
One of the most effective way to get better engagements on your courses is through virtual rewards. LearnDash offers ample opportunities in this particular avenue. It lets users add and display achievement banners based on specific triggers. You can also award points to celebrate various acheievements.
One of the most dynamic WordPress simple payments plugins to offer seamless transactions is Paymattic. With multiple payment gateways and plentiful smart payment features, Paymattic has quickly reached popularity across the globe.
One key feature that makes Paymattic stand out from the rest is the LMS integrations. Along with LearnDash, this WordPress payment plugin offers two more LMS integrations. This makes it effortless for eLearning experts to onboard students and distribute course resources.
Some of the most notable payment features provided by Paymattic are:
Subscription payments
One-time simple payments
10 payment gateways
135+ currency support
Detailed reports and analytics
Customer profiles
Coupons
Custom input fields
Form scheduling & restrictions
eLearning support
Moreover, you can automatically enroll students once their payment is processed or instantly unsubscribe them once they have been refunded. These make Paymattic a really unique payment option for LearnDash.
Along with the simple payments features, Paymattic offers some beyond-the-world LMS focused functionalities that make online learning a walk in the park. Enroll, distribute course, refund – these are three of the most crucial aspects of digital learning that Paymattic handles with absolute elegance.
Enrollment – If you have premium courses on your shelf, Paymattic will let you instantly enroll studnets once their registration fee is processed.
Course distribution – Offer all the courses you have available in one neat dropdown menu, and let your students enroll to the one they like.
Refund – Automatically unsubscribe students once their refund is processed with just a single click.

Additionally, you can embrace students by sending them default WordPress welcome emails. Other amazing features like conditional logic help to make your LMS registration form more dynamic.
You can also configure coupons for extra encouragement. Lastly, keep all the data like top customers, payment methods, form performance, etc. in check in the single Reports tab. check out all the nitty gritty details of crucial matrices in the Reports page. And for reports on individual students, there's always the Customers dashboard.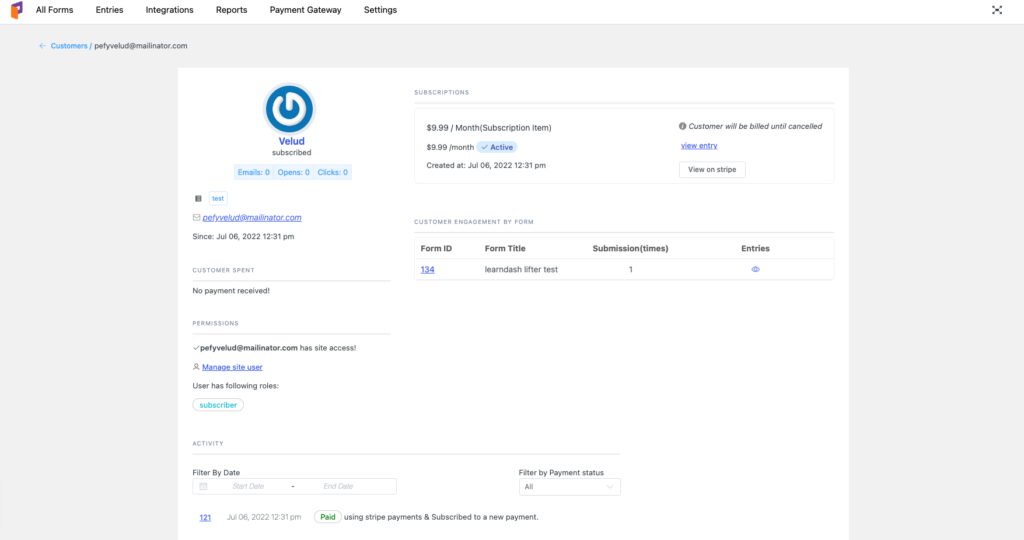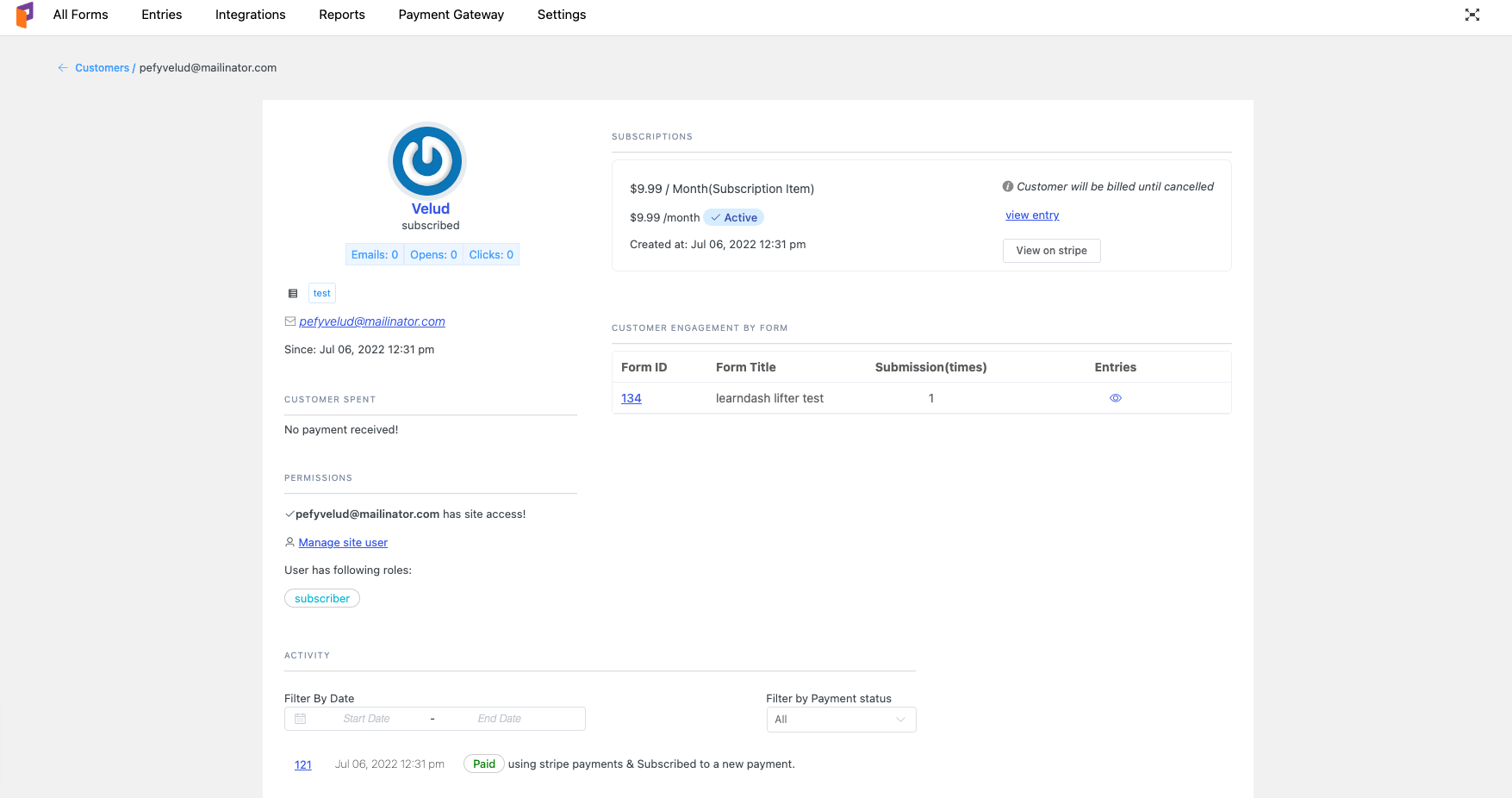 How to integrate LearnDash for WordPress
Integrating LearnDash for WordPress is effortless with Paymattic. It will only take two easy steps. So let's go.

Go to the Plugins section from the dashboard, and install LearnDash.
Go to the Integrations module and toggle on to enable the LearnDash integration module.
And voila! LearnDash has been connected with your WordPress.
How to create a LearnDash feed?
Creating a LearnDash feed will only need three quick steps.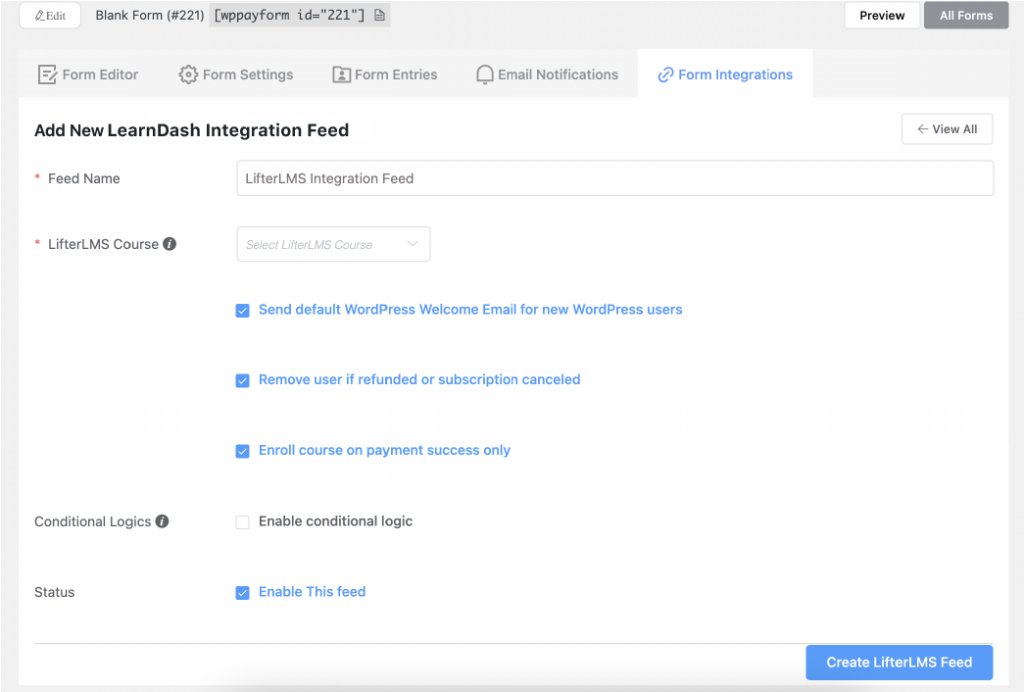 Create a course registration form.
Create LearnDash integration feed.
Configure LifterLMS feed.
And that's it! But please remember to click on the Create LifterLMS feed button to save your changes.
Thoughts on LearnDash for WordPress?
To put it simply, LearnDash is the piece you have been missing on your online learning platform. It's effortless, simple, and efficient. And coupled with Paymattic, you can take your eLearning one step further and easily design courses, enroll students and distribute course materials.
Check out Paymattic Pro to experience next-level payment processing and boost your online learning sales today.