How to Export and Import Form in WordPress Website?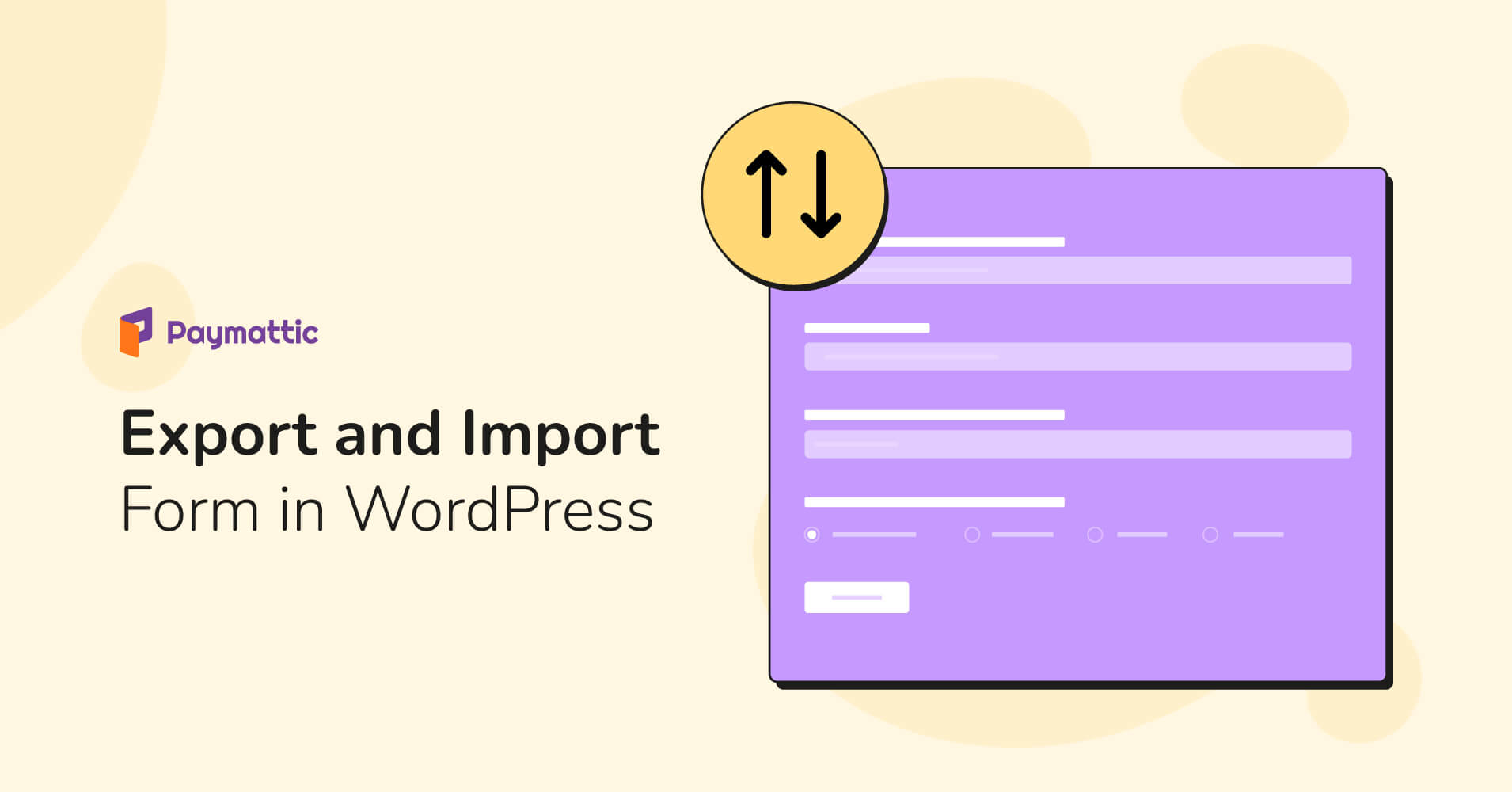 Who wants to waste time on the same thing again and again?
When you create a form for any purpose, it doesn't mean you use it just once. If you make any form in any plugin, you may often need to export it for further use. Once you export the form, you can import it anytime. This export-import feature can save you tons of time!
In this blog, we will discuss how to export and import forms in WordPress websites.
Export-import at a glance
Export and import are essential features for most WordPress plugins. Especially if you deal with loads of data. The export and import form feature of Paymattic also helps you by:
Saving your time
Relieving you from making the same form again and again
Protect your data from losing
If you make a form and export it, you can use it whenever you want. Otherwise, you will lose data and have to make a new form again.
Check out some awesome fundraising ideas that hardly cost any money
Choose a plugin to export and import form
To export-import your form, first you need to choose the most proficient WordPress plugin. You will find lots of plugins available for exporting and importing your form. Here we can suggest you use Paymattic because its user-friendly features will make your journey easy and smooth.
Paymattic is an easy and user-friendly WordPress donation and payment plugin. You can build many types of payment and donation forms in Paymattic. With the export-import feature of Paymattic, you can export your form in JSON format. It helps you from losing your data and doing the same thing again.
Paymattic also comes with lots of form editor features such as:
35+ input fields
Unlimited customizations
Drag and drop
Import-export
Detailed reports and analytics
Pre-built form templates
User registration
Form layout
Scheduling and restrictions
Ready to get started?
Experience WordPress payment and donation like never before. Try Paymattic now!
How to export and import forms with Paymattic?
Creating various forms like donation forms is a straightforward feat with Paymattic. So is exporting and importing them.
So without further ado, let's explore the export-import feature of Paymattic.
Export form
To export any form from Paymattic, first, go to the Paymattic dashboard. Click on the Setting option.
After that, click on Tools.
Once you are here, from the Export Form tab, click on Select Form. Select your desired form, which you want to export. Then click on the Export button.
That's all, your form is exported. All forms are exported in JSON format with Paymattic.
Import form
You can import any form that has been previously exported from Paymattic. To import, go to the Import Form tab.
Now click on the Choose file button and select the file which you wish to import. After selecting your file, click on the Import Form button.
Your form has been imported successfully. You will find your form in the All Form option.
Following these simple steps, you can export and import forms in Paymattic.
Export form entries
Furthermore, you can export all the form entries in Paymattic. To export form entries, first, go to the Paymattic dashboard. Then from the All form option, select the webform you wish to work with. And click on Entries.
In Entries, you will find the Export button. Click on this button and select any format, in which you want to export your form entries.
Currently you can export all of your form data in the following formats:
That's the easiest way to export form entries in WordPress with Paymattic.
Final word
Form export-import is a free feature of Paymattic. So, you can try it without putting pressure on your wallet. However, if you want to export the individual form entries you need to opt for the Paymattic premium version. Try Paymattic Pro and explore all the interesting features for making your fundraising journey more exciting.
Thanks for checking out our blog about how to export and import forms. If you have any queries regarding this issue, you can comment below. We are here to hear from you.