Introducing Paymattic | Best WordPress Donation Plugin & Fundraising Solution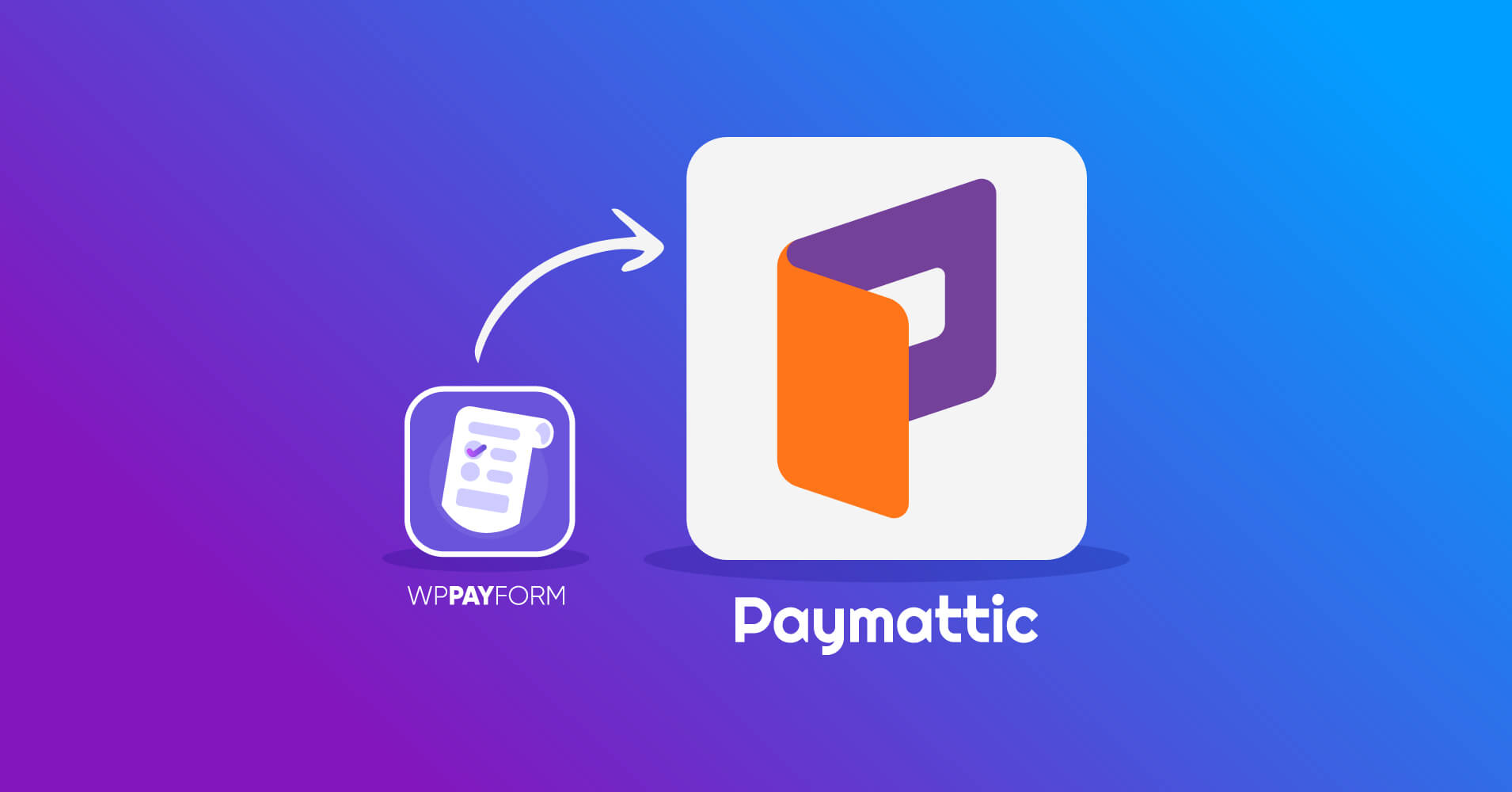 If there's anything we learned during the pandemic, it's either empathy or the power of humanity. People worldwide came together to help the unfortunate by donating cash or non-cash items like sanitizers or masks. WordPress donation plugins helped with online fundraising campaigns too. And payment gateways made transactions smoother.
However, it's not the first time for online payment and donation in WordPress.
Payment and donation plugins have been around for longer than the pandemic, and we bring you the good ol' WPPayForm in a new wrapper!
This plugin is getting huge updates in 2022 so that your online donation or payment process gets even better. We say it's the future of online fundraising!
What changed in WPPayForm?
First of all, the name changed for good! Now we're calling it Paymattic.
The upgraded features are far better this time. We got customizable donation forms and multiple payment gateway options to organize fundraising and charity campaigns.
Last time, WPPayForm was rocking Stripe and PayPal payment gateways. Several more popular payment tools come packed in it this time. Including these two, you get more! Like Mollie, Razorpay, Payrexx, offline payment, etc.
Plus, this upgrade has more SAAS, CRM, and WP Core Modules. You get, FluentCRM, Twilio, Zapier, WP User Registration, etc.
So, in short, Paymattic isn't gonna be just for online product sellers and buyers. Besides payment forms to sell a product, Paymattic is going for worldwide donation and fundraising features!
Now, let's get to know this plugin a little more.
Payment and donation online with Paymattic are much easier and simpler now. Apart from giving you 9 options for subscription payment methods, you get multiple relevant modules too.
WordPress donation plugins should have a few features that compel people to go for it, and Paymattic has it all!
Create a form within a minute
Email notifications
Integrations
Payment methods
Input fields and form editor
Analytics
Organized form settings
ReCAPTCHA
Coupons
Import-export
Terms & conditions
User-friendly interface
User profile
Ready to get started?
Experience WordPress payment and donation like never before. Try Paymattic now!
Create a form within a minute
You get to create a completely customizable WordPress donation form with every necessary input field quickly!
All you need to do is activate the Paymattic WordPress fundraising plugin and pick a form. Paymattic gives you options to select from 70 templates. Here is a list of some most useful templates for you –
A blank form where you can add any field you want
Contact form with name, address, and contacts
Donation form with donor name, donation amount, payment method options, and submit button customization
Event registration form with personal details, ticket and card info, etc.
Multiple items selling form with product names and prices
Pay specifically with PayPal and purchase products
Multiple payment methods to choose from in one form
Since Paymattic has readymade form templates, you just need to add the entries and save the forms. This doesn't take much time, and it's literally effortless!
Moreover, if you want more input fields, just drag one from the side menu and customize your form. And if you want to create one from scratch, try the "Blank Form" template.
Also check out How to Add Donation Forms in WordPress | 5 Easy Steps
Input fields and form editor
Paymattic currently has three custom form fields, and each field has 5+ input fields.
Donation & Product Fields for donation forms. Allow customizing donation amounts and recurring donations from this field. Also, fields for payment item, quantity, tax, coupon added on a product, etc.
A field for choosing payment method fields. Pick from the multiple payment gateway integrations.
General Fields are for the regular form data like name, email address, terms and conditions, password, etc.
These three input fields let you create beautifully organized and customizable online donation and payment forms.
Add a field or more, and even remove the field you don't need. Paymattic is perfect for everything!
Email notifications
A donation and fundraising campaign needs transparency. And a business selling products needs that too. Besides, if you are running a charity campaign or selling a product, you should be notified when your form processes a transaction.
When someone donates for a good cause using a form, both receiver and donor end feel better about themselves.
Paymattic users can get email notifications when someone submits a form. Likewise, the donors get an email that says their payment or donation was successful.
Admin side gets emails about a new product sale or a new donation amount. And the other side gets emails with "Thank you for your order" or a customized message from admins.
Integrations
The SAAS/CRM integrations are easily one of the most distinguishing features in Paymattic. Not every payment and donation plugin gives you all-in-one. But Paymattic comes integrated with a lot you need!
WP User Registration
FluentCRM
Fluent Support
Mailchimp
ActiveCampaign
Twilio
Telegram
Slack
Zapier
LifterLMS
LearnDash
Tutor LMS
Webhooks
Create Mailchimp newsletter signup forms, ActiveCampaign list signup forms, Send SMS in real-time with Twilio, send a notification to Telegram, Zapier, or Slack channel when a form is submitted.
Other donations or payment plugins offer some integrations as paid addons. But Paymattic gives you all of these in one place, without paying extra.
Payment methods
Donating to a charity for a good cause should be a wholesome feeling. When you're putting $5 on an online donation form, you deserve a seamless payment process. So, here's Paymattic ensuring that by giving you a total of 10 payment methods!
Stripe (free)
BillPlz
Xendit
PayPal
Mollie
Razorpay
Paystack
Square
Payrexx
SSLCOMMERZ
One Paymattic form can have all the integrated payment methods or a different one in each form. You can utilize the Offline payment option if you want to receive payment through direct bank transfer, cash or manual instruction.
All these tools have a test mode and a live mode. You can test how it works before selecting a payment tool.
The best part is that you get all the features of these addons alone. Stripe is the only option available in the free Paymattic version. Upgrade to pro for others.
Analytics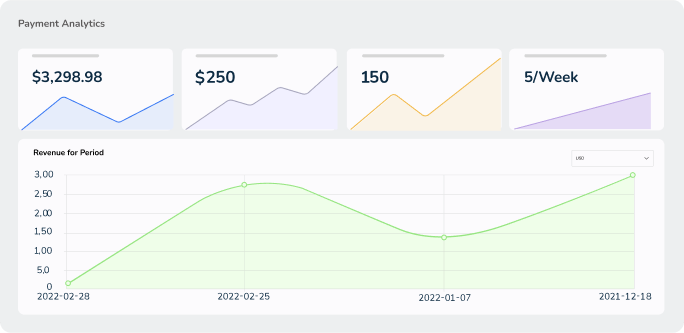 When you're running a donation and fundraising campaign, it's best to keep track of the amount and the progress of the donation goal. This way, you know how much more you need if the goal isn't reached. And also, let the donors know how their participation makes a difference.
Paymattic has detailed analytics reports feature that tells you everything you need to know about the donation or payment forms!
Total revenue
Total customers
New customers
A breakdown of revenue status
Payment method and status
Form performance
Payment activity
Top customers
From the "Reports" tab, you get a polished overview of what's going on. Like the status of payment forms and the progress of donation forms or total revenue and the best performing form.
The area graph shows the revenue over a period and customers' growth.
Organized form settings
"Form Settings" is where you select a confirmation message, currency, form layout design, scheduling, Custom CSS/JS, and manage Zapier Webhook.
The confirmation message is customizable. You can add a nice thank you image or a text. Receipt settings and ReCAPTCHA are also customizable.
Schedule the form submission starting and ending time, enable limited entries, customize the waiting and expired message, and login requirement setting. Paymattic keeps everything in order for you!
Show your CSS/JS knowledge by dropping some codes for further customization. Change the form however and whenever you want from the admin side.
ReCAPTCHA
It's a free security tool from Google that tells humans and bots apart. Add a ReCAPTCHA to a form to avoid malicious bots and spammers.
Get the Site Key and Secret Key from Google and set up the security type- Visible or invisible ReCAPTCHA.
So far, Paymattic only offers ReCAPTCHA. But other tools like this might come soon.
Coupons
Selling a product online means you need customers to keep coming back to you. So, when they purchase a product by filling out a Paymattic form, you can add a discount on it. Discount coupons for recurring customers are a great way to keep them happy.
Paymattic is simple yet rich with features. And the coupon feature is one of the simple features that you can use to satisfy your buyers. The modified coupon module in Paymattic accepts as many coupons as you want for a form.
Choose the discount coupon title, duration, discount amount, minimum purchase to activate the discount, etc. Customize it when your form needs.
Import-export
You can export or import a Paymattic form as JSON format.
Transfer your existing forms to another site, so you don't have to make another. This feature saves time and transfers the data accurately.
Suppose you want to post a Paymattic donation form to some other website to get more submissions. Just export the existing form and import it into your new website as a JSON file.
Not only the form! You can export all form entries in JSON, CSV, Excel, or ODS format. It helps you to deal with the raw data as you wish!
Terms & conditions
Every website gets messy because of spammers. And unfortunately, there are lots of people who harass donation campaign managers if the cause is not something they support. Also, the product sellers get conned sometimes because the payment doesn't get through.
Depending on your organization's situation, you can see a customized "Terms and Conditions" field.
To prevent some unnecessary lawsuits or harassment, Paymattic covers the T&C section for you.
User-friendly interface
Finally, here's one of the most important things you should look for in WordPress donation and payment plugins. Paymattic is interactive, user-friendly, and responsive to every device!
As a result, you can create a form without any hassle, and it will be customizable whenever you want. Forms are also responsive to any device. So, if someone is only using a cellphone to fill up a payment form or donate an amount for charity, Paymattic will adjust to the screen size and still be smooth for navigation.
You can customize everything in the form if you're the admin. Starting from the input fields to notifications and from discount coupons to time periods, it's all in your hands. And for further customization, CSS/JS windows are always there for you.
User profile
WP User Registration in Paymattic creates a user profile when a new form is submitted. The site owner can allocate the user role on the site. Roles like subscriber, editor, author, etc.
This feature helps the site owner send email notifications and other information to everyone enrolled. And the owner can also distinguish among the users because all users will be separated into their specific user roles.
Why use Paymattic for WordPress donation?
Now, after the 13 points discussed above, you can't really be asking this!
Paymattic still has a long way to go since it's fairly new in the WordPress plugin world, especially after the major update. On top of that, there are already several donation plugins and fundraising tools out there. But we can assure you of the comfort of use and more future updates in Paymattic.
If a brand new plugin gives you this much, imagine what it will become when the newer updates come! The 13 features and aspects in this article are merely a sneak peek of what Paymattic holds for the future.
Although Paymattic actually has a lot more usability than the 13 we talked about here. And some more of those you can try yourself after grabbing this plugin.
Conclusion
So far, we have tried to explain Paymattic in short.
You don't need to look for other WordPress donation plugins because Paymattic is an all-rounder even though it's new in the game! Fundraising campaigns, nonprofit, charity, and online payments, whatever is your ultimate goal, it's the best donation plugin for WordPress.
Donors and customers are likely to be impressed by a plugin like this if it has multiple built-in payment gateways and integrations. Transactions just become easier this way.
And there you have it!
Paymattic is an everything-in-one WordPress donation and payment tool for you. Get started with it ASAP.