Add bKash Payment on Website | Sell to Millions of Unbanked Users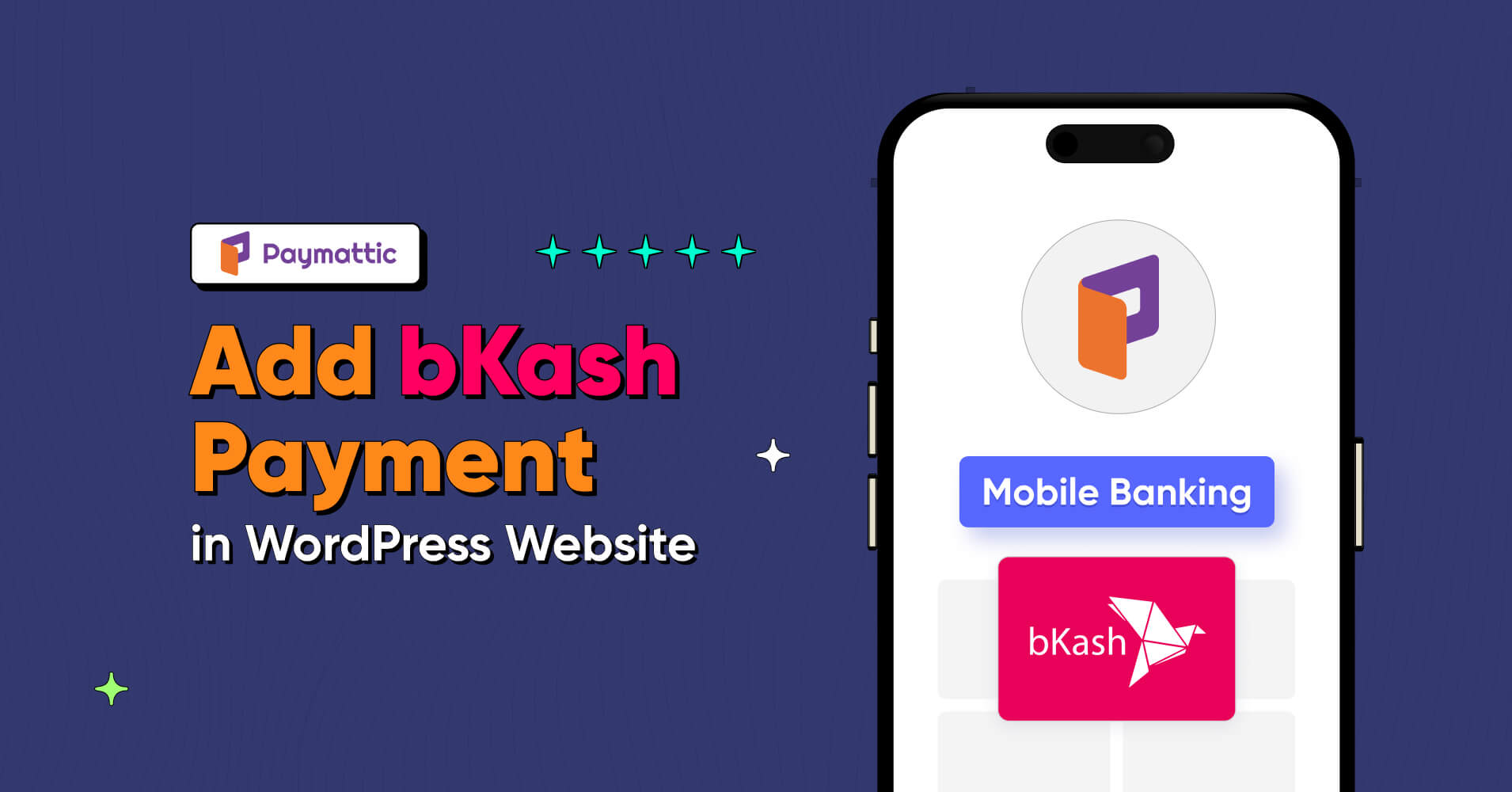 Imagine a world where sending and receiving online payment is as simple as sending a text message. Wow, so amazing, right? Yes, now your customers can make payments on your website without a debit or credit card.
The bKash payment allows your customer to make online payments simply using their mobile phones. But, are you wondering how to add bKash payment to your website without any coding? If so, you are in the right place! You can't even imagine how simple it is to add the bKash payment gateway to your Website.
In this blog we will share the ins and outs of the bKash payment gateway and how you can integrate bKash payment into your WordPress website using the Paymattic plugin.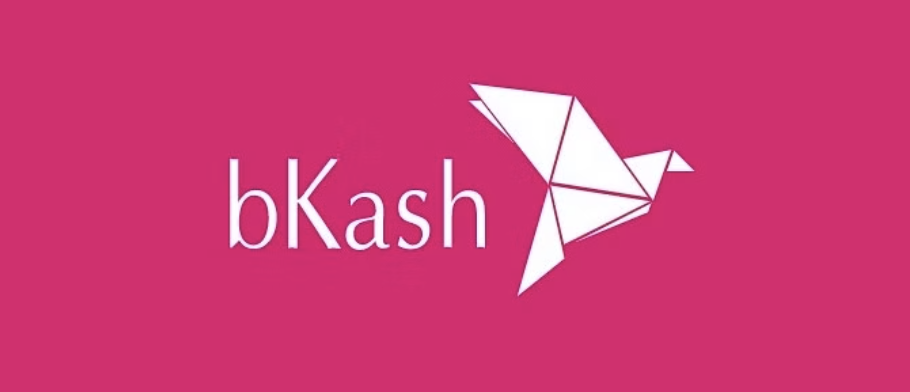 bKash is a seamless and secure mobile financial service that has swept across the digital payment industry of Bangladesh. Developed with the mission to empower people with easy access to financial services, bKash has become a cornerstone of the digital payment revolution in Bangladesh.
It allows users to make various types of financial transactions through their mobile phones, providing a convenient and secure way to manage their money digitally. bKash is not just a payment gateway but a full-fledged mobile financial service.
Besides, adding the mobile banking payment gateway to your website has tonnes of benefits both for you and your customers. It costs no transaction fees for your users on online payment. Besides, it helps you to take payments from customers who don't even have a bank account.
bKash has been a game-changer in the financial industry of Bangladesh, promoting financial inclusion by providing mobile-based financial services to people who may not have access to traditional banking.
Paymattic WordPress payment plugin to accept bKash payments
Paymattic is a popular WordPress payment plugin for donations & online payments. It is the best WordPress payment plugin for accepting online payments. You can accept donations and create payment forms with Paymattic in just a few clicks. Besides, you don't need to use any other plugin to use Paymattic. It is a completely independent plugin that requires no other plugin to use all its features.
You can receive bKash payments through the SSLCOMMERZ payment gateway using Paymattic. SSLCOMMERZ is the largest payment gateway aggregator based in Bangladesh. It supports all debit cards, credit cards and prepaid cards including mobile banking such as bKash, Nagad, Upay and other internet banking systems.
Other than SSLCOMMERZ, Paymattic supports 9 other popular payment gateways in the pro version. However, you can get the Stripe payment gateway in the free version. The payment gateways include –
Stripe (free)
PayPal
Square
Mollie
Razorpay
Paystack
Payrexx
Xendit
Billplz
However, you can set instructions for cheque or bank account payment in the form using the offline payment method option.
Most of the available WordPress plugins for bKash payment are the add-ons of the WooCommerce plugin. Paymattic is an independent plugin that allows you to add bKash on your WordPress website.
This is a multi-purpose plugin that can be used to accept payments for a product or service as well as to collect donations. The Donation Progress Item feature adds a dynamic progress bar to the form. With the Tabular Product Items field, you can create a product table in the form.
There's more! Paymattic accepts 135+ currencies. So, you can accept payments from any corner of the world with any type of currency you wish!
Subscribe to Our Newsletter
Join the crowd for more promotional offers, product updates, fundraising tips and tricks.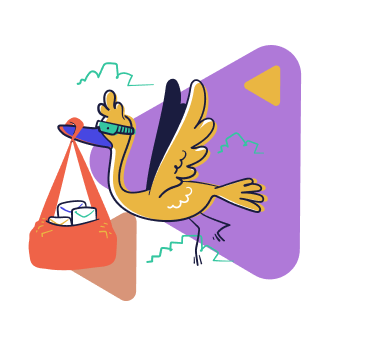 How to Add bKash Payment on the WordPress website
Adding bKash payment to the WordPress site is as simple as a few mouse clicks. Follow the steps below and learn how to integrate the bKash payment gateway into your website –
Install & Activate Paymattic Pro
First, you need the Paymattic Pro WordPress plugin to accept bKash payments in WordPress. To install the plugin –
Go to your WordPress admin dashboard and click on Plugins → Add New. Click on the Upload Plugin button and upload the Paymattic Pro plugin. If you do not have the Paymattic Pro plugin you can download it here.
Ready to get started?
Experience WordPress payment and donation like never before. Try Paymattic now!
Create a payment form
Once you have activated the plugin, you must create a payment form to receive payment. You can use this payment form as a checkout form. Let's see how to create a payment form in a blink.
Have a look into this blog to learn how to create a payment form in more detail
Add payment method
Adding a payment method in Paymattic is simple like adding a form field. Simply, click the "+" icon and select the payment method. You need to add specifically the SSLCOMMERZ payment gateway to receive bKash payment.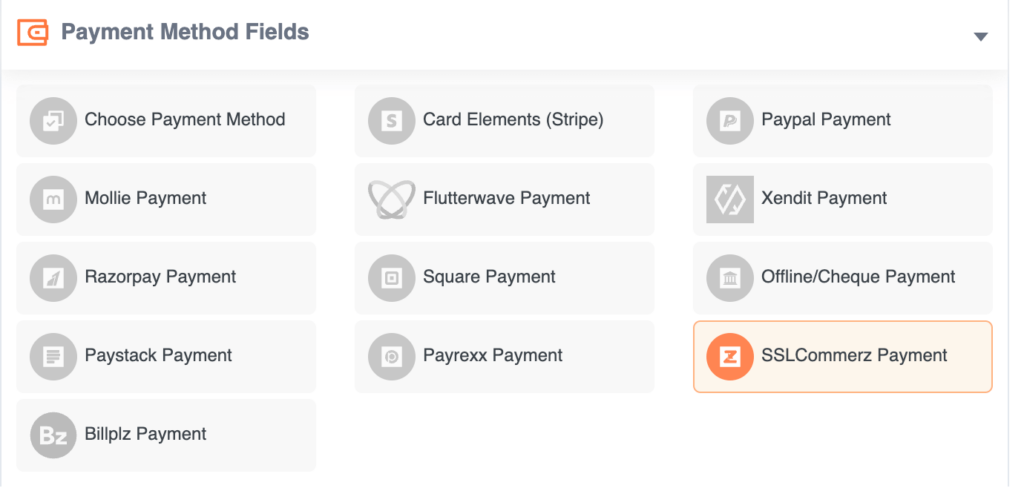 Remember, it's required to configure SSLCOMMERZ with Paymattic to function all the payment processing properly. Read this blog to learn how to integrate SSLCOMMERZ with Paymattic
Publish the payment form
You are nearly finished! You have created the payment form & added the SSLCOMMERZ payment gateway. Now, it's time to publish the form on your checkout page. To do so –
Go to Paymattic → All Forms & select the form you want to publish on your payment page.
Copy the shortcode of the payment form & paste it on the payment page.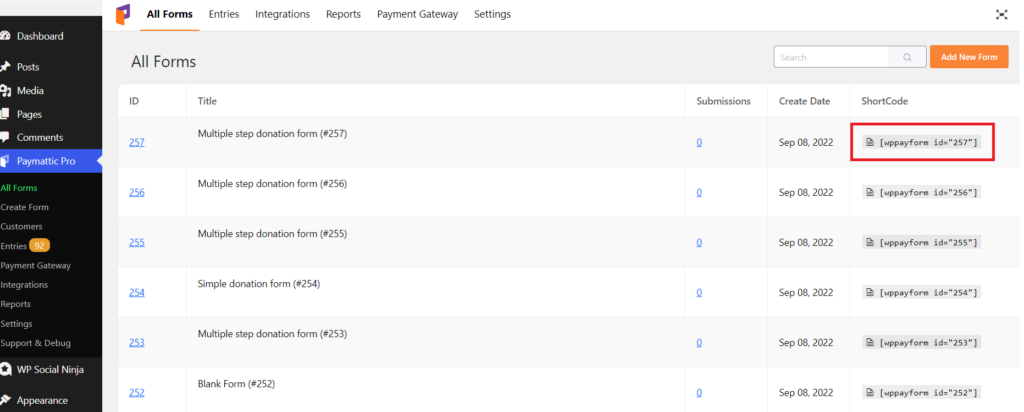 Finally, publish the page & you are ready to accept payment with bKash! Here is a sample preview of how your bKash payment form may look like.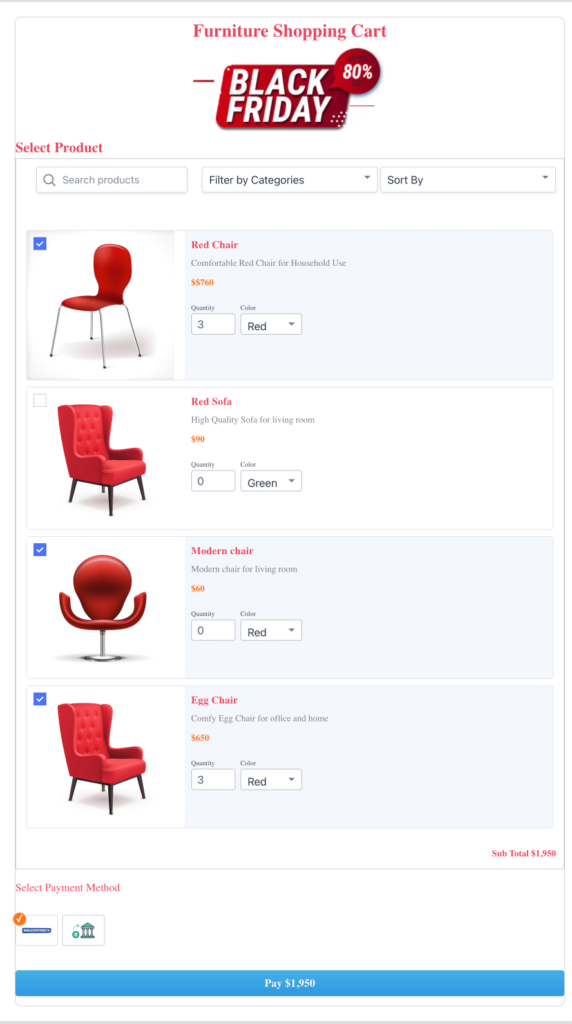 When your users submit the form they will be redirected to SSLCOMMERZ checkout page. Here, they will select the bKash option in the mobile banking tab.
Now, the bKash payment pop-up will appear here. Your user will input the bKash number they want to pay with and other required credentials such as PIN, bKash verification code etc.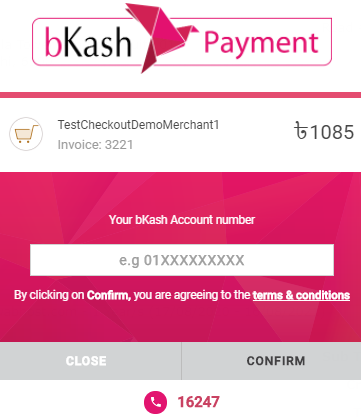 That's it. You will receive payment to your bKash merchant account instantly.
Final words
Throughout this blog, we explored a lot about bKash payment & how you can integrate bKash into your website. Moreover, it played a pivotal role in driving the nation's transition toward a cashless economy.
The combination of the Paymattic WordPress plugin & bKash payment is the perfect tool to reach millions of unbanked users for any type of website such as e-Commerce, ticket booking site, online stores, e-Learning sites & more.
Try the Paymattic plugin today and start selling your products instantly with bKash payment.
Happy selling!