Paymattic comes up with the Form Scheduling and Restriction feature. This feature allows you to limit the number of total responses and schedule the form to be active at a specific time period. You can also set login requirements mandatory to fill up the form enabling the Login Requirement Settings.
To access the form Scheduling Settings select a form and click on the Settings link.

Now, navigate to the Scheduling Settings tab from the left sidebar. It has several options to deal with. Let's have a look at the options below –
Maximum Number of Entries: This option lets you limit the number of form submissions for a specific form within a pre-defined time interval. It deactivates the form after a limited number of entries have already been submitted. You can set the limit based on submission type such as paid, processing, pending, failed, refunded, or abandoned.
You can also put a custom message that will be shown to users when the form exceeds the maximum number of submissions.
Form Scheduling: This option specifies a time period when the form is active. The system will maintain the scheduling based on the server time.
You can define the Submission Starts Date and Submission End Date. Put a custom message in the Form Waiting Message field to be displayed before the form is active. You can also set a Form Expired Message to be shown when the form submission time is over.
Limit by Payments: Enter a number in the input box below to limit the number of entries allowed for this form. The form will become inactive when that number is reached.
Login Requirements Settings: Toggle the switch to make login requirements mandatory for users to fill-up the form.
Require user to be logged in: Check this option to require a user to be logged in to view this form.
Require Login Message: Enter a message to be displayed to users who are not logged in (shortcodes and HTML are supported).
Form Display option when restriction is met: Here you set the form status when a restriction is met. You can select one of the three choices such as hide the form, hide submit button or make form validation failed after submission.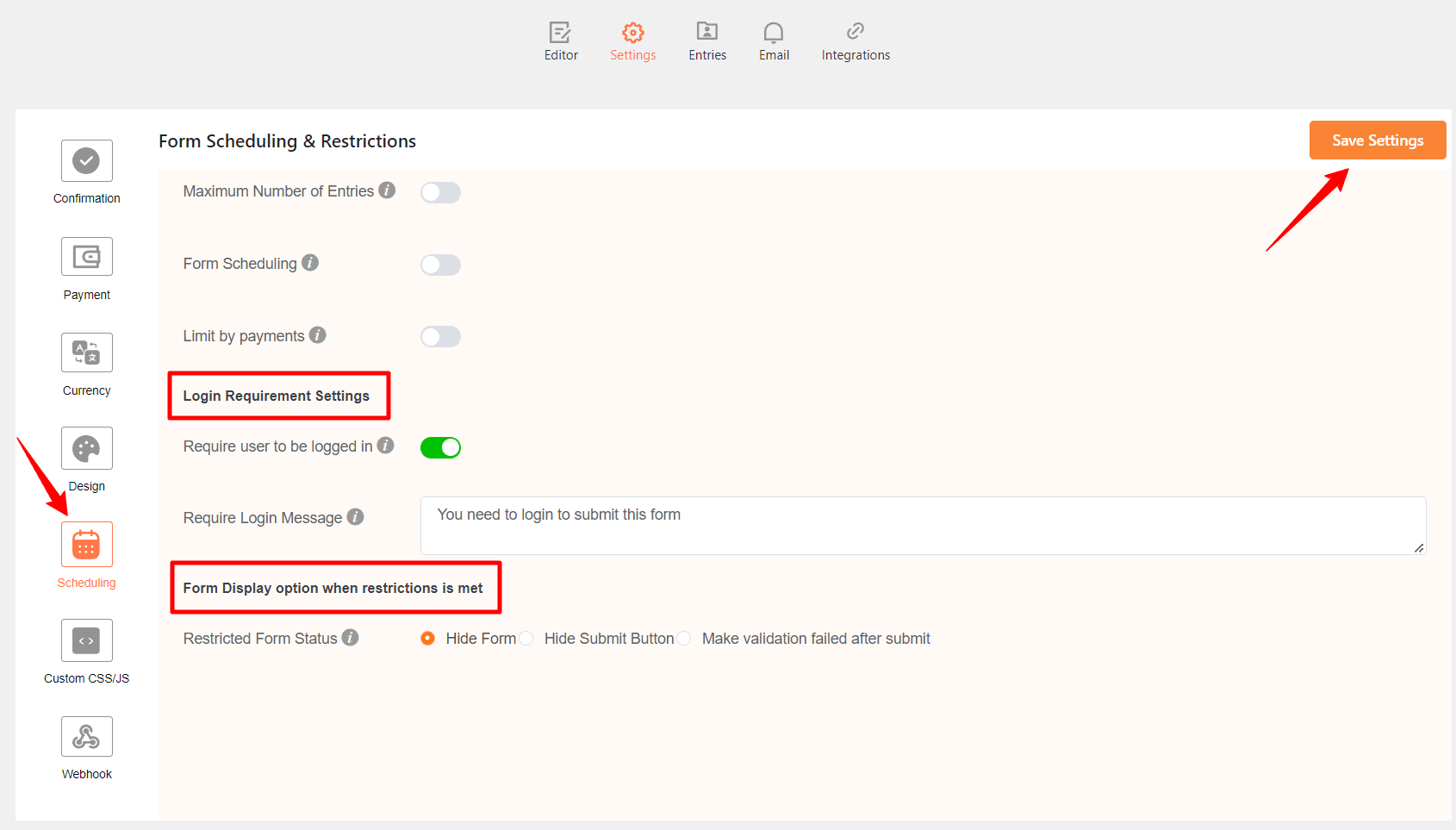 This is how to set Form Scheduling & Restriction Settings in Paymattic!