Paymattic comes with a smart feature, the Coupon field. This field allows you to add coupons and apply discounts to your payment form. This full-fledged coupon module helps you add as many coupons as you like from the backend.
Let's go through this easy guide to learn how to add coupon fields in Paymattic.
To begin with, go to Paymattic → Settings from your WordPress dashboard.
Next, click on the Coupons tab from the left sidebar.
Then, press the Add New Coupon button.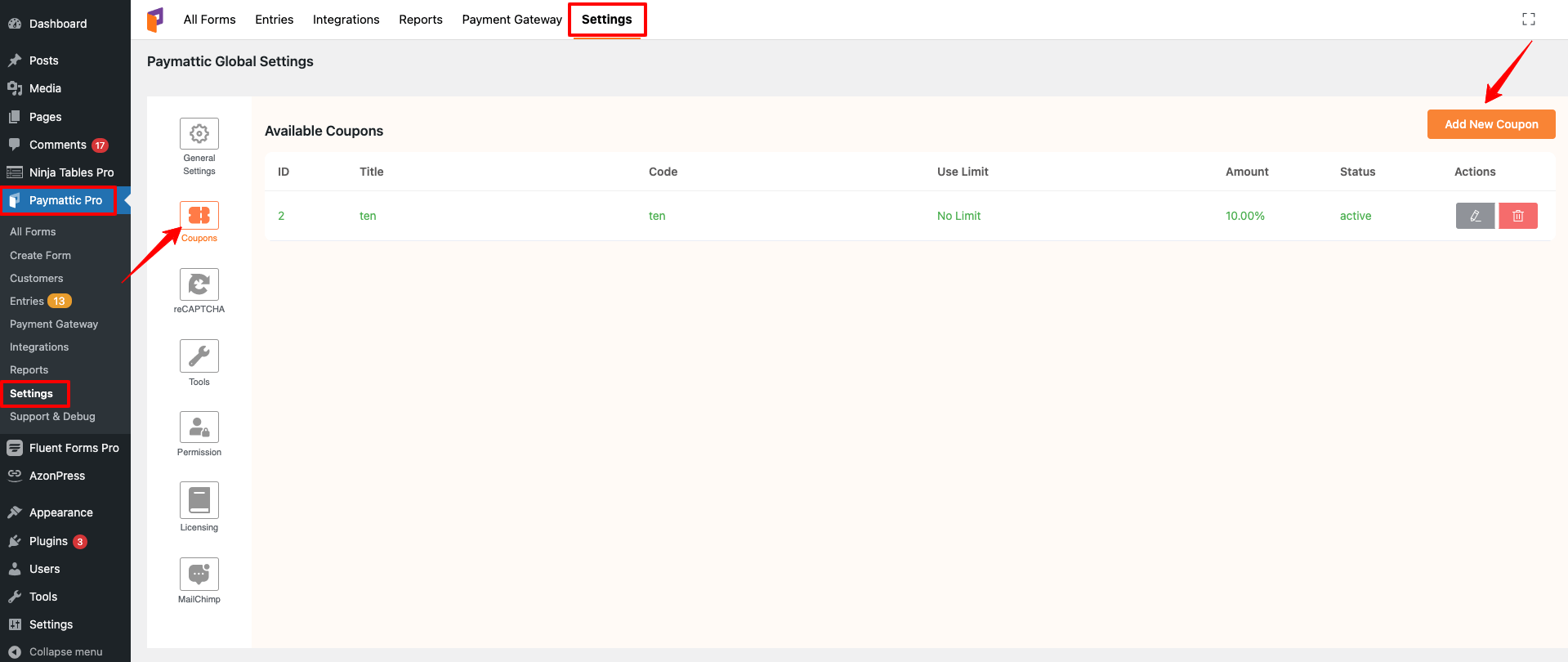 A pop-up window will open up to set your coupon code. Follow the steps below to configure your coupon-
Add a title of this coupon in the Coupon Title field.
Put your coupon code in the Coupon Code box, such as CHILL25. You can add only alphabets or numbers as coupon codes.
Select your discount type – Percent-based discount or Fixed discount.
Put your discount amount in the Discount Amount/ Percent field.
In the Min, Purchase Amount field specifies the minimum amount that must be purchased to avail of any discount. Leave blank if there is no minimum amount requirement.
Switch the Stackable option, yes or no, if you want to define if the coupon code can be used with other coupon codes.
Enter the Start date for this coupon code in the format of yyyy-mm-dd. Leave blank if there is no start date.
Enter the End date for this coupon code in the format of yyyy-mm-dd. Leave blank if there is no end date.
Limit Per User (Email Based): Set the number of times a specific user can use this coupon. Leave this field empty or enter zero for no limit.
Click on the Applicable Forms option to specify for which form this coupon code is applicable. Leave blank to apply this coupon code for all forms.
Switch the coupon code Active or Inactive from the Status field.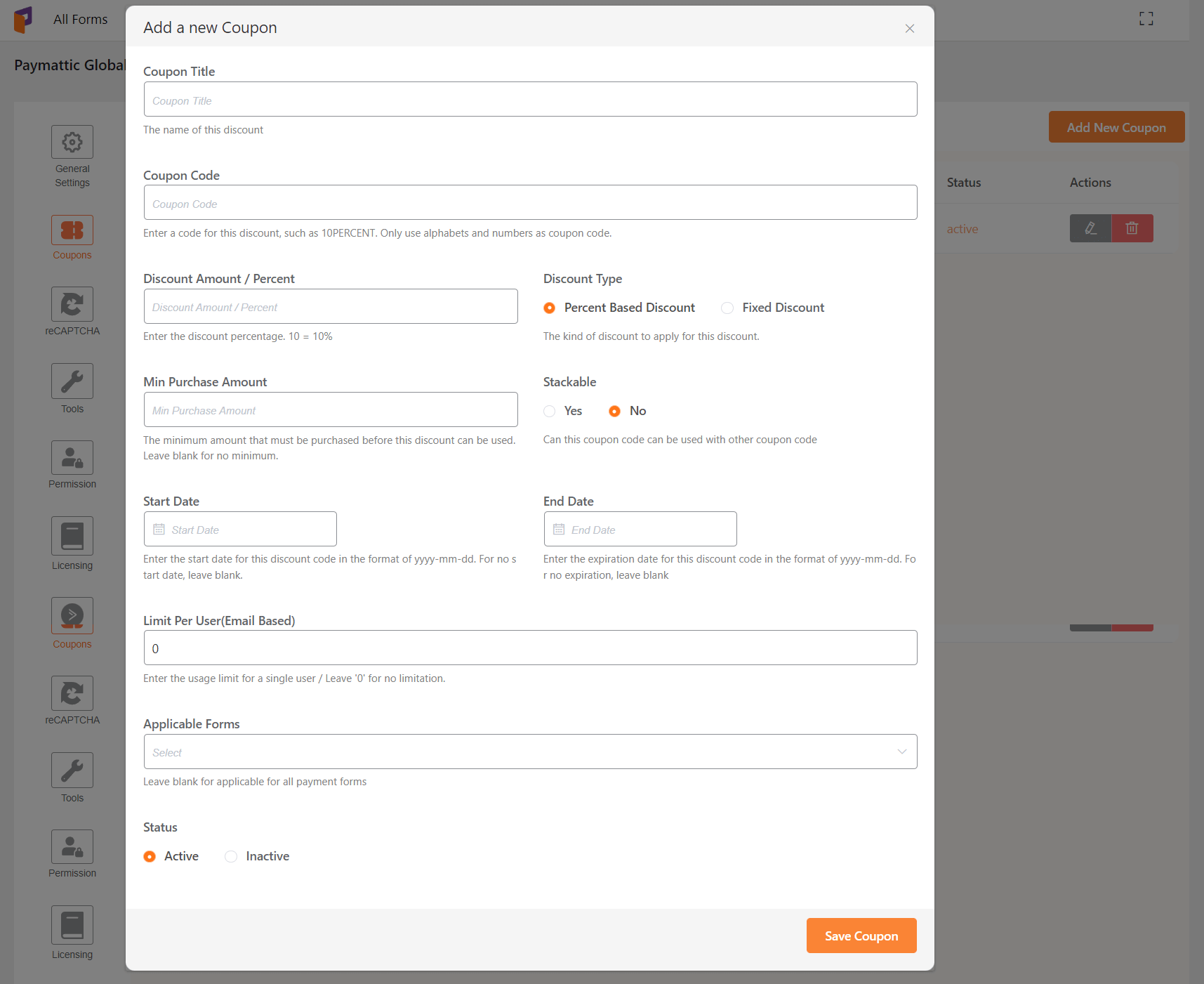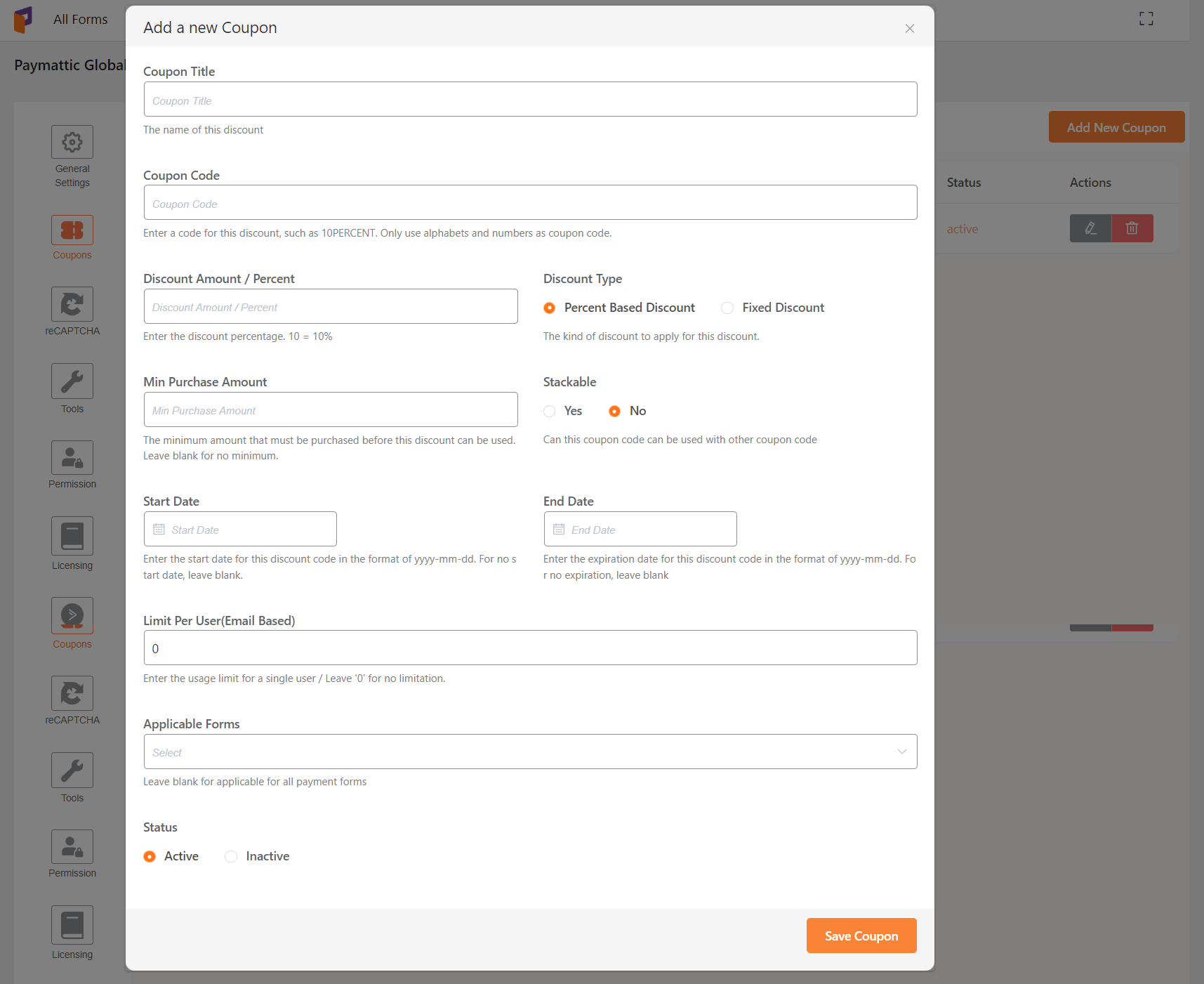 Finally, click on the Save Coupon button to finalize your settings.
After you have successfully created your coupon code, it's time to integrate this coupon code with your payment form. To do so –
Go to Paymattic → All Forms from your WordPress dashboard.
Create a new form or select an existing form.
Click on the Edit button below the form name.
Add your desired fields to the form.
After adding all the fields, add the Coupon field under the Donation & Product Fields section.

At last, click on the Save button to save the form.
This is how easy it is to configure a Coupon Code for your payment form.