If your website offers subscriptions, it is a big challenge for you to effectively manage subscriptions. With Paymattic you can easily manage your subscribers even those who want to make payments through direct bank transfer.
This simple guide will cover how to manage subscriptions with direct bank transfers in WordPress.
[Subscriptions management is a pro feature of Paymattic. Upgrade to Paymattic Pro to use this feature]
To manage subscriptions directly from the WordPress dashboard –
Go to Paymattic (Pro) → All Forms and hover on your subscription form.
Press the Entries link below the form name.
Here, all the entries for this subscription form will appear.

Click on the view icon of the entry that you want to manage from the right side.

Press the Sync button to refresh all subscription details for this specific customer.
You can see the latest billing information in the Related Payments section. For example – if a user subscribed 3 months earlier and chooses a monthly billing plan, his billing details will appear here for every single month individually.
Click the Action button so that you can change the payment status for individual subscription bills after the payment is made through direct bank transfer.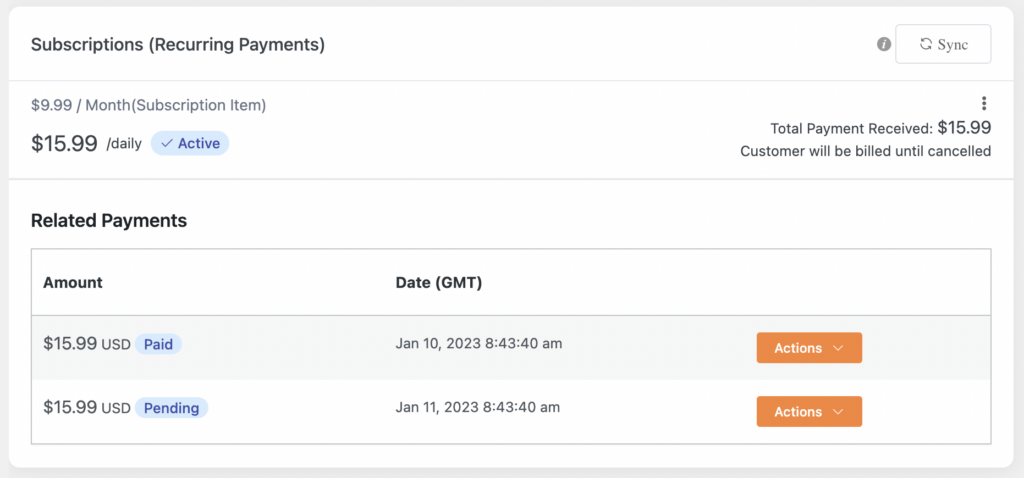 Set any payment status such as – Paid, Pending, Processing, Failed or Refunded.
If the subscriber pay through online payment methods such as Stripe, you can see a button View on Stripe. Click the button and it will take you to the Stripe dashboard. Here you can cancel the subscription for this user.
Click the Confirm button to save the changes.
That's it! This is the simple process to manage subscriptions from the WordPress dashboard with Paymattic.